Follies in architecture are buildings constructed primarily for decoration.
In the traditional use of the word, these buildings had no other use but mere decoration however from the 19th to 20th centuries, the term was also applied to highly decorative buildings which had a secondary or practical function such as housing, shelter or business.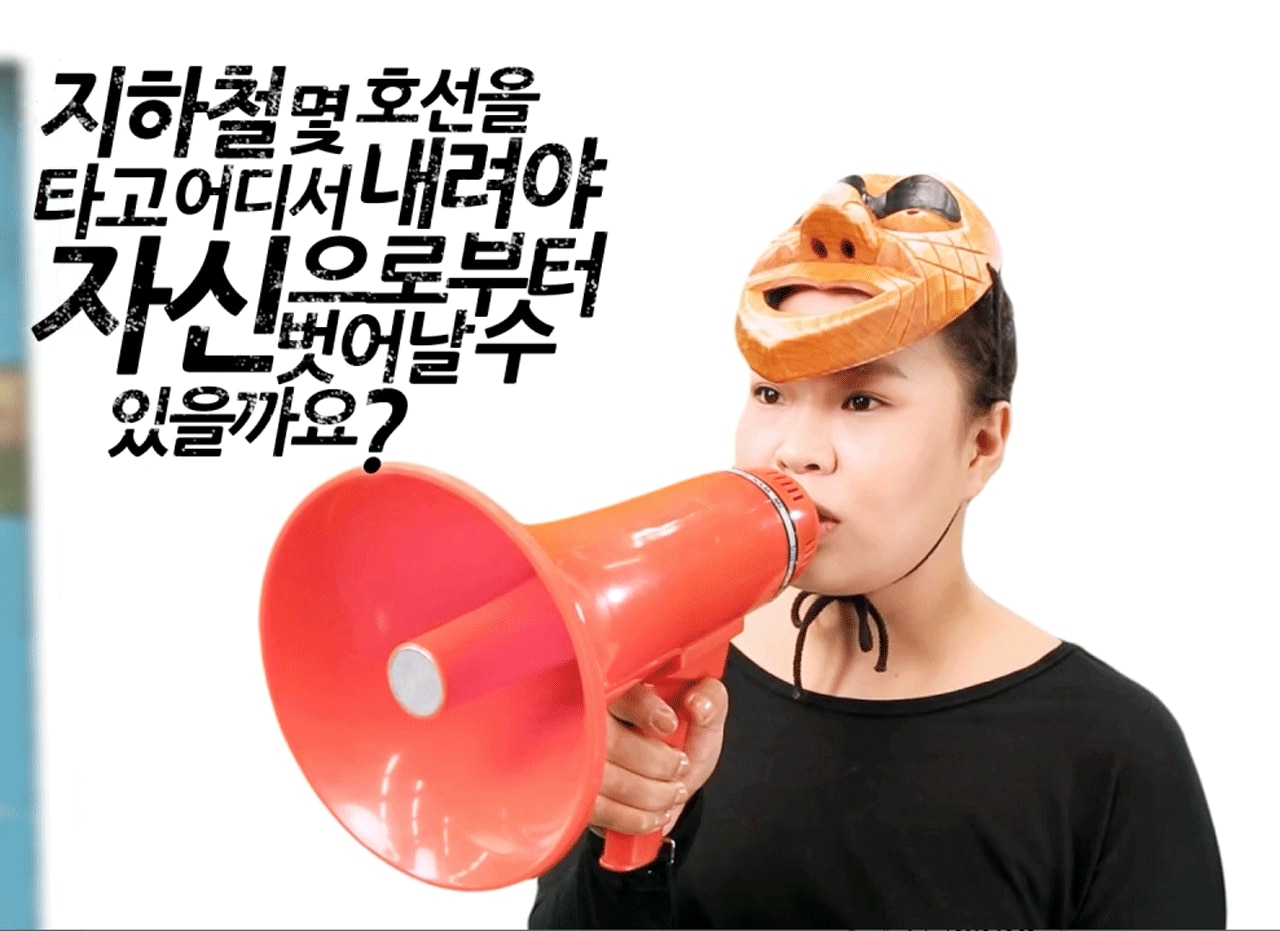 The Gwangju Folly Project, which began in 2011, takes this definition as its starting point but rather is interested in the tension between form and performance. Each folly accommodates a certain function within the context of the city of Gwangju, while retaining its potential as an independent entity operating and read as an object. In 2011, ten follies were installed in the heart of the city as a means of revitalization for the city's center.
This year's folly project, led by Städelschule and Portikus Kunsthalle Director Nikolaus Hirsch, reflects upon the new autonomous status of the exhibition (positioned in-between the art and design biennales, respectively) and is based on the morphology of the city itself.
Involving a variety of practitioners including artists, architects, and writers, whose work is focused around an interdisciplinary and collaborative approach to design, the realized follies activate the space and create discourse through the object itself as well as through the experience produced by its inhabitants.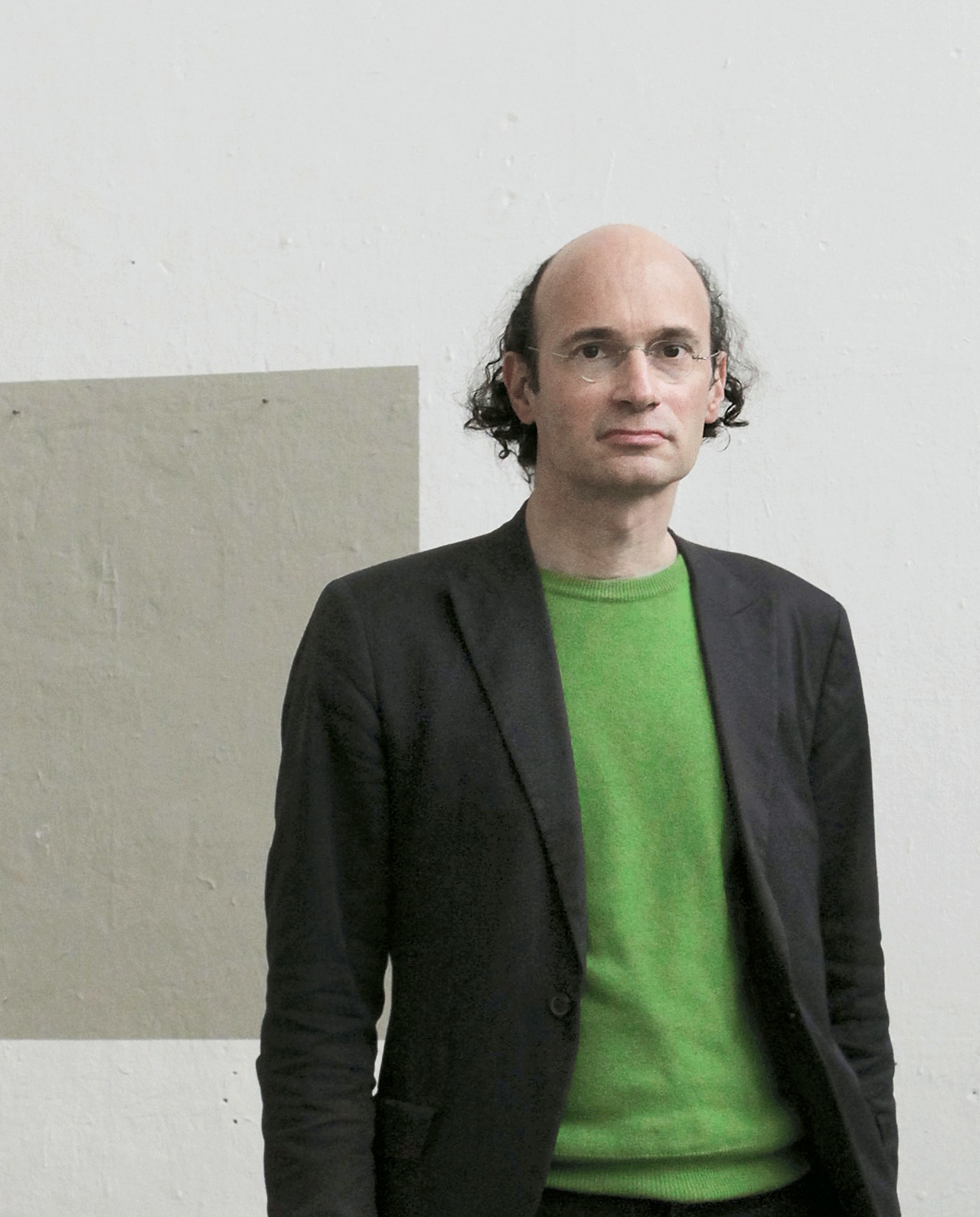 Danielle Rago: The Gwangju Folly Project is now in its second year. The first, led by H. Sang Seung and Ai Weiwei focused on the folly as icon. What is your interpretation of the folly project and how has your specific approach to directing and curating this year's folly project differed from last year and what are you hoping to achieve in this iteration?
Nikolaus Hirsch: My starting point is the question of objects and things in public space. In a prevocational way one might even say there are already too of them. I'm interested in the critical condition of objects: to what extent can they trigger a story or conflict? Can follies embody something that enhances discussions around the idea of public space. I am less interested in follies as a kind of useless object. I am more interested in an aesthetic experience that is linked to the political dimension of public space. This is the link to Gwangju and its history of the May 18th uprising.

Public space was the arena for Korea´s democratization movement, as it is today in cities like Cairo and Damascus.
Gwangju, recently acknowledge as city of human rights by the UNESCO, now finds itself in a situation of historization and preservation. Yet, question remains what is social political activity and human right in today´s public space? On the basis of these questions we developed an approach that tries to understand the folly as something that can produce a conscious act of rupture that creates new perspectives and reflections upon the world. So for me, the relation between uselessness and use has to remain in conflict. It can't be just one or the other. There is a logic of autonomy in the folly, simultaneously a logic of agency.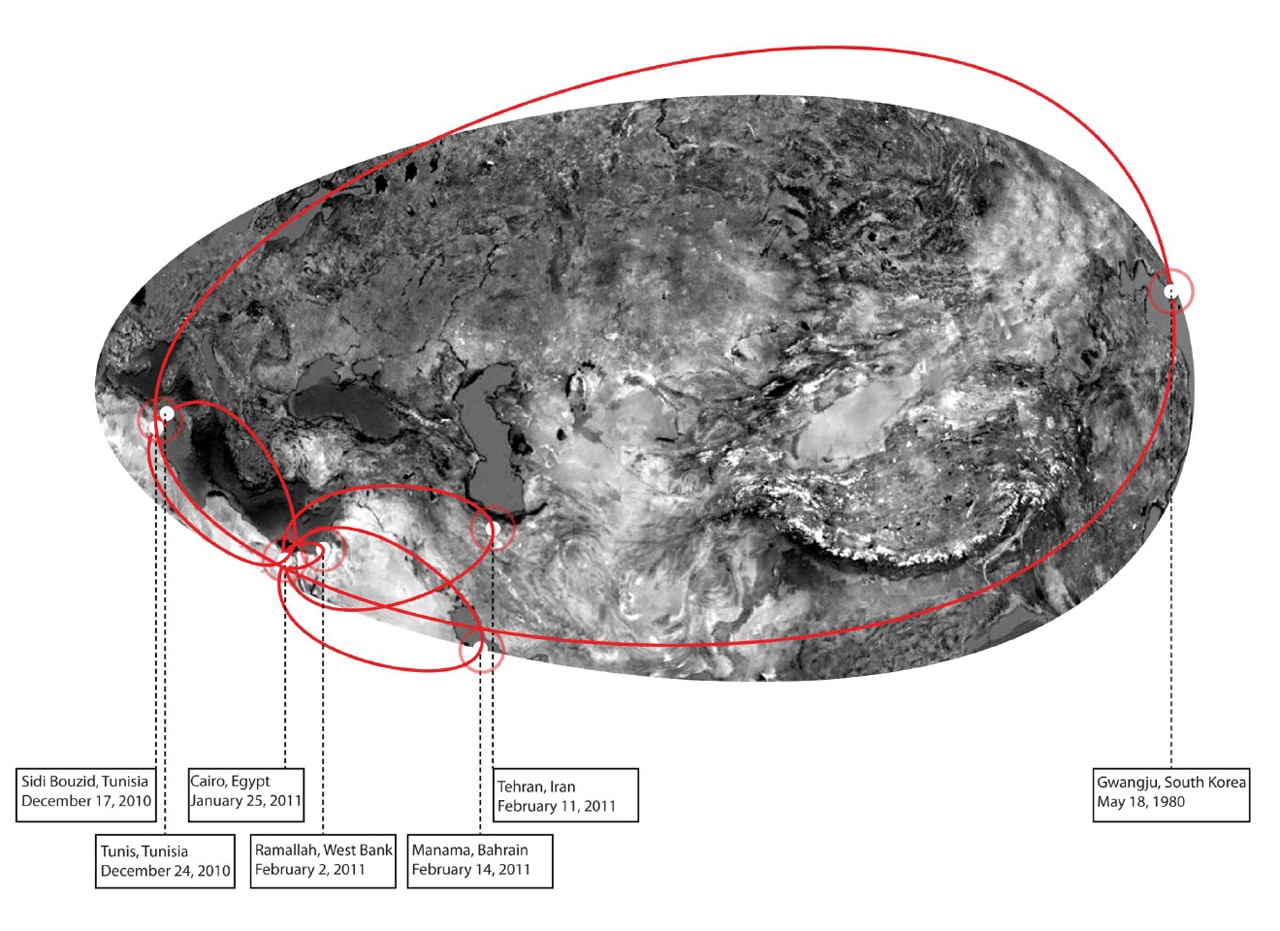 DR: Given the extremely sensitive location of Gwangju, South Korea historically speaking, how were individual sites selected within the city?
NH: Together with co-curators Euy Young Chun and Philipp Misselwitz, the team of the Gwangju Biennale and local experts I made several proposals for sites, some more obvious, others under the radar. The process involved several site visits as well as discussions, but ultimately each site was selected by the artists and architects. Anything else would be counterproductive – this is not a standard client-architect situation. The choice of a site and the agenda are not given but part of the architect´s or artist´s work. This process increasingly involved local groups from Gwangju.

We will produce eight new follies, yet if you look at the map of sites it doesn't deliver an immediate or obvious urban pattern.
The urban reading is more focused on particular topics and sites. In terms of site strategy this is a major difference to the first folly edition which was guided by an idea of urban morphology as an attempt to revisualize and revitalize the old fortress of Gwangju center. On the basis of this clear urbanistic approach we took the freedom to take a different direction and to look into the relation between public space and follies beyond the question of morphology. Our first realized folly, Do Ho Suh's In-between Hotel exemplifies this new approach quite clearly. His folly is fixed into a particular urban pattern – it is mobile, can be booked for a sleepover and uses existing gaps between houses. In a similar way, we will have two other projects by Ai Weiwei and Raqs Media Collective that will be dealing with the idea of a mobile folly. We explicitly develop a tension between on the hand rather static and mobile follies on the other. I am interested in exploring the relation between the logics of permanence and movement in this new Gwangju Folly project, or in other words: between stability and instability.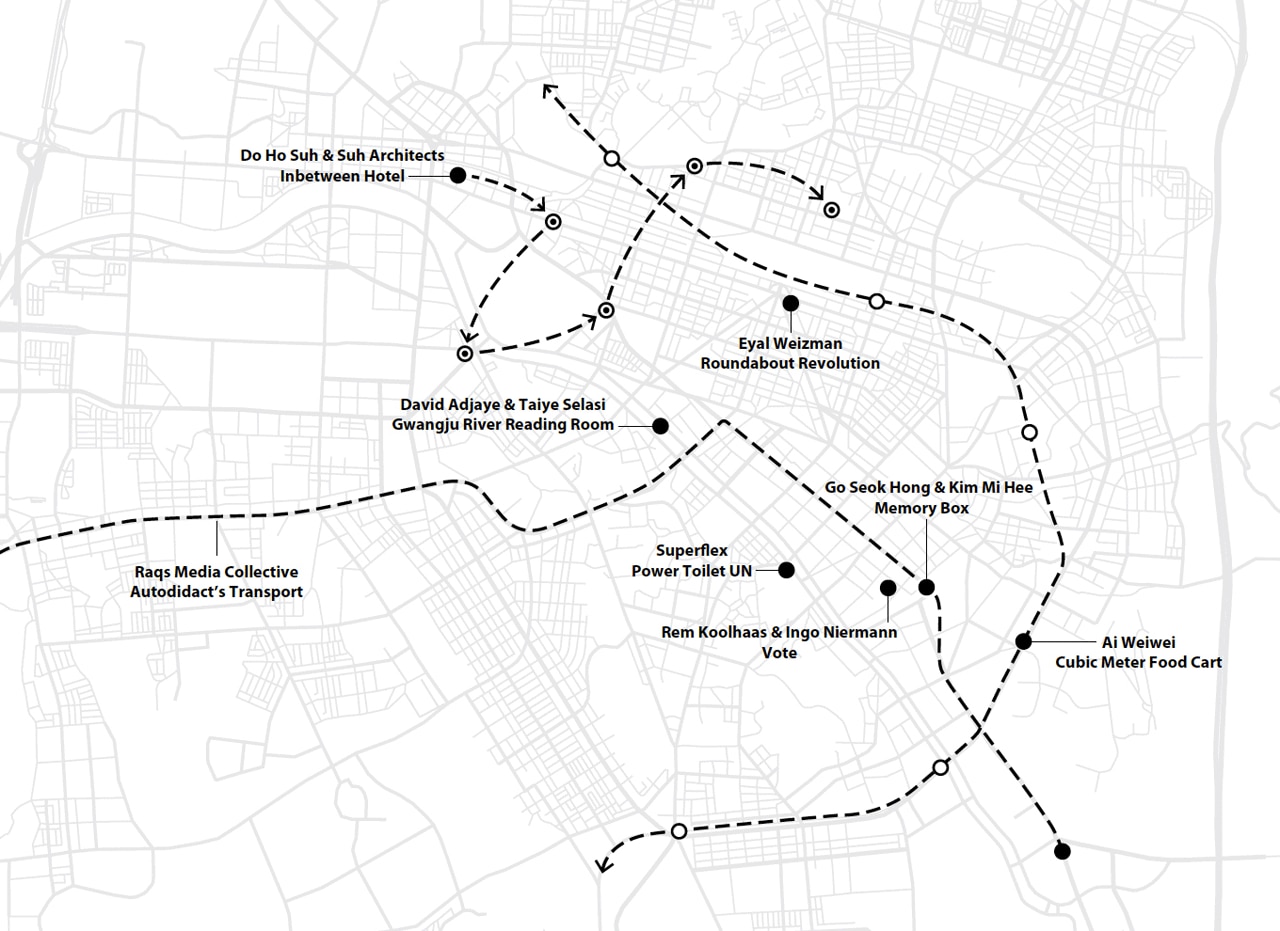 DR: This year's Folly Project includes practitioners whose work is somehow on the border or boundary between art and architecture. There also seems to be a political agenda to many of their practices. Can you elaborate on this year's participants? How were they selected and how their projects are developing alongside this year's concept?

NH: Searching for an idea of the folly as a critical object/thing, I thought that the limitation of participants to architects only was narrow minded, ultimately wrong. Why? Being an architect myself but also a curator and teacher I came to the conclusion that architects are not necessarily the sole specialists of public space. Public space is a contested, conflictuous space. It's a space of debate where everyone has a say. Its input cannot be reduced to only one discipline. In contrast to the first folly project last year I was more interested to have different viewpoints, even hybrid positions. Therefore, we have invited participants who are interested in working in a slightly different way, practitioners who are used to collaborations or who are part of a collective. The architects who are part of the list of participants such as David Adjaye and Rem Koolhaas are teaming up with writers. David Adjaye will be collaborating with Rom-based Taiye Selasi and Rem Koolhaas will collaborate with New York and Berlin-based writer Ingo Niermann.

Public space is a contested, conflictuous space. It's a space of debate where everyone has a say.
Writing is a very different approach to architecture but it reflects something crucial for follies: narration. Follies are historically very much related to literature, in particular to the gothic novel. The idea of the folly in the English landscape is connected to ideas of romanticism, gothic novels, etc. I'm quite interested in this potential for the folly as a tool for narration. In other cases, participants like Raqs Media Collective from Delhi or Superflex from Copenhagen are artist collectives which have multiple voices, have been very much interested in public space. Superflex, for example, has been increasingly worked within the public realm in past few years. They just finished a huge park and playground with Bjarke Ingels in Copenhagen. Generally we were looking for architects and artists who can problematize the question use and uselessness that is inherent to the notion of folly.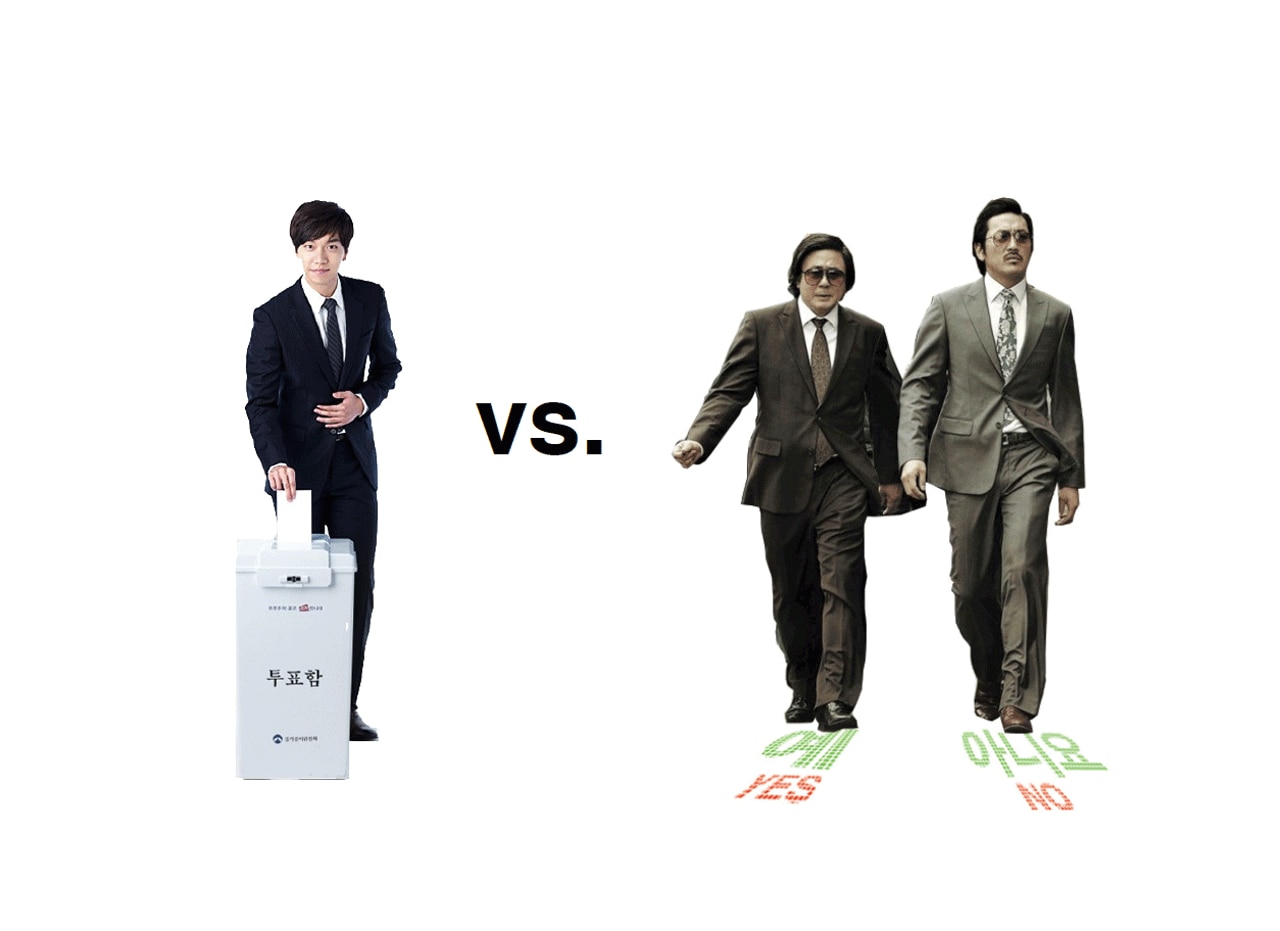 DR: Can you talk about the context of the project and how these artists, architects, writers and collectives were influenced by site-specificity if in fact they were?

NHG: The question of site is another important aspect for me.  In fact, I believe that the site oscillates between two conditions: site specificity on the one hand and decontextualization on the other. The folly is never really site specific or identical with its context, nor is it totally detached. Both here and there. The 21st century site simultaneously exists in different scales. In Gwangju and the world.  This reflects a modus operandi of the folly. There is a moment of de-contextualization or re-contextualization. I think of the way Superflex bring together different territories and geographies. Artists and architects can make contributions to precise locations like Gwangju, but at the same time relate to another context. I think this parallelity is something quite important when you think about objects in public space. They are never only in the place you see them – they equally belong to other references systems and locations. This is true for the project Eyal Weizman will develop. Eyal is an architect and at the same time one of the leading thinkers when it comes to the question of space. He stands for a new generation of architects who maybe don't build so much but nonetheless are incredibly influential in the reading of space and interpreting space and relating in this case to political questions. Being involved in human rights activism, which is a very dominant discourse in Gwangju, his project will investigate the public space between the moment of uprising and consensus, between revolution and round table.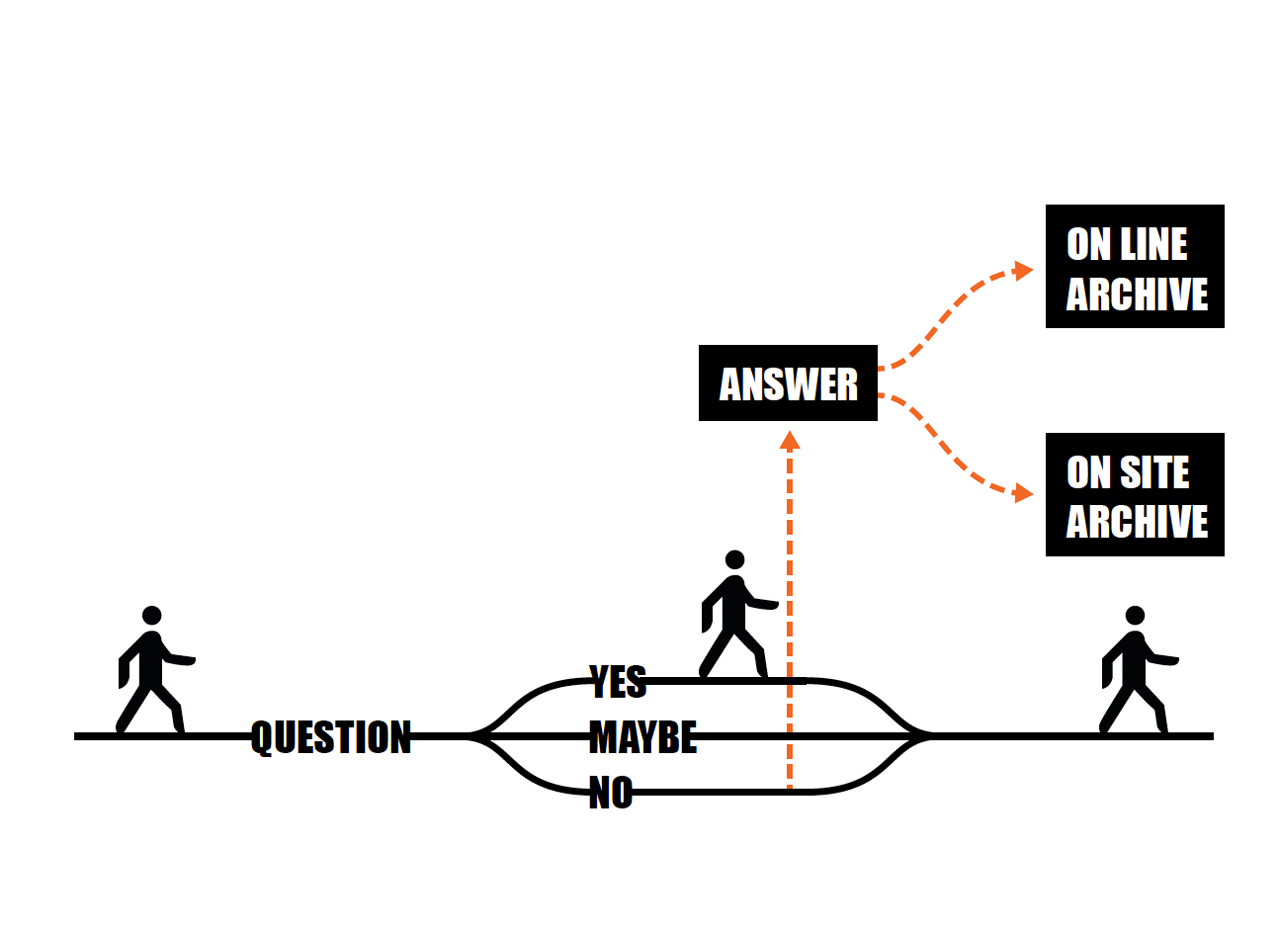 DR: The Gwangju Folly Project falls directly between the Art Biennale (which recently closed in November 2012) and the Design Biennale (beginning September 2013). Can you talk about the positioning of the event between the art and design biennales? Is there any direct reference to either and/or both?
NH: There are no ties to the design biennale nor to the art biennale. Gwangju Folly has become a third, stand-alone format commissioned by the Gwangju Biennale Foundation. This is a crucial difference to the first folly project. There are particular reasons for this. One of the reasons is that working in a public space, even on the small scale of a folly, demands a different logic of time than the temporal idea defined by the duration of an exhibition. It requires the logic of the unregulated time. This implies a totally different approach to public space and to citizen involvement. The group of artists, architects and writers who were selected for the folly project reflect this condition. Their projects are exposed to the public and also to a broad and uncontrollable public critique. Compared to a biennale, which happens in the safe environment between white walls in a museum-like building, the follies have to take risks by addressing the critical status of objects in public space.