Since the 1930s many artists involved in the European avant-garde have used the daily act of sharing food and drink to promote their aesthetic interests and engage critical with the cultural structures of the day. Ranging from the Italian Futurists and Gordon Matta-Clark to Marina Abramovic, Rirkrit Tiravanija and Suzanne Lacey, artists have devised hospitality experiences — combining food, location, conversation in a particular moment — to shift perceptions of identity and relationships with social, commercial and political structures beyond the meal itself. Feast: Radical Hospitality in Contemporary Art, an exhibition curated by Stephanie Smith at the Smart Museum of Art, Chicago (on show until 10 June 2012), focuses on 26 artistic shared experiences historically and today. One of these was a site-specific lunch in the city's famous derivatives exchange staged on 23 January 2012.

Architect Simon Dance designed a modular table and chair system in collaboration with the conceptual artist Mary Ellen Carroll. The idea was to hold a lunch to discuss various topical issues. This is the latest in a long running project in which she creates site-specific installations involving meals around the concept of Itinerant Gastronomy, first staged in New York City. Last year her work prototype 180 was staged in a suburb of Houston, involving the lifting and pivoting by 180 degrees of a 1960s ranch-style family residence, questioning normative ways in which housing is built.

Carroll, who decided collaborate with the chef Ron Jean Gilles for the occasion, chose the theme of food stuffs production for the conversation, which was filmed, and invited figures from across sectors, serving them a menu reflecting that. An artist, a museum director, a pig farmer, an economist, a comedian, the Mayor of Chicago, the head of CME Group, and Michelle Obama were all invited. "Hospitality is about pleasure, the unexpected and moments of grace", she says. The venue she chose was the CME Group Visitor Gallery in the historic Chicago Board of Trade Building, an archetypal place of a trading market photographed by Andreas Gursky and others, and since the 11 September 2001 attacks, out of bounds to the public.
The upper level Financial Gallery overlooks the trading floor and has a good visual relationship with it. It was a good place to get visitors involved without any interference with the proceedings in what is a big black box functioning like a seismograph, responding to everything — fluctuations and flurries in stock movements, politics and weather.

The commission was called Open Outcry, which refers to the method of communication between stock traders in the pit of the trading floor of a stock exchange, which is lowered for that reason, and looks like a miniature amphitheatre. A system that may in the future become obsolete as digital processes take over, it involves shouting and the use of hand signals by the traders, who wear different coloured jackets to indicate their function, it is a long standing, reliable method of transferring information about buy and sell orders, even though it looks chaotic and confusing to onlookers.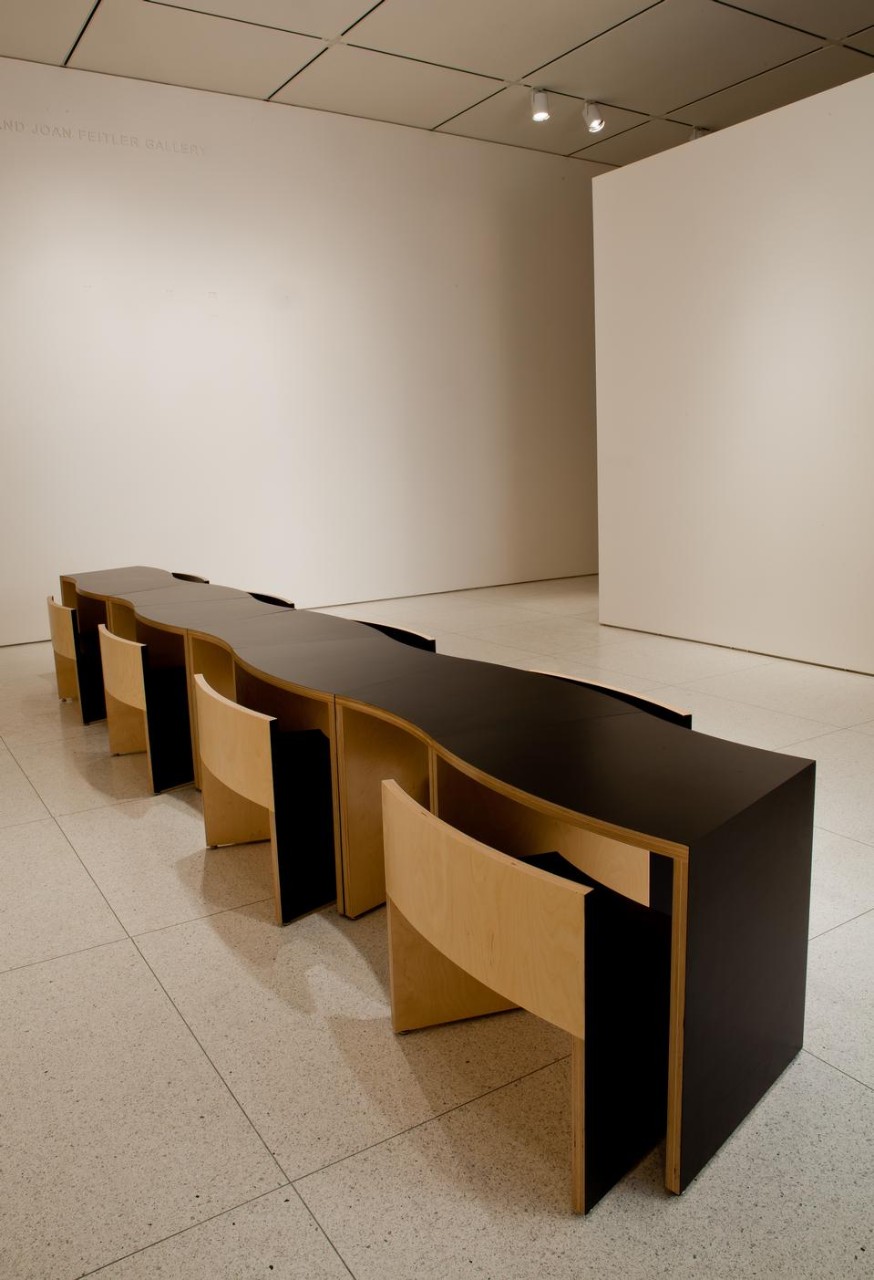 The 8 person seating arrangement was to have a table for the chef in the centre. Its design resulted from a two stage process. Initially the artist asked mathematician Philip Ording, a specialist in knot theory, to explore on paper the ways in which various seating configurations might assist different possibilities for interaction by the guests. "The process is the unifying thing" of her Itinerant Gastronomy series, says Carroll, and with Open Outcry interaction and design are a key part of that.

Simon Dance of Simon Dance Design was invited to be involved in the collaboration last September. His initial ideas for the table and chair's geometry and configuration were inspired in part by Ken Adam's table for the Stanley Kubrick film Dr Strangelove, the bar scene in his film The Shining and the set design of 2001 a Space Odyssey, as well as the Greek theatre Epidaurus at Argolis, and a table designed for diplomatic negotiations. Design sketches and study model options were evolved through a number of stages and inspirations, including Shaker furniture, Sol Le Witt, AG Fronzoni, Donald Judd, Gerrit Rietveld, Charles Rennie Mackintosh — getting all the archetypes "out of the way". "Good design is about understanding what went before and learning from it", he says.
The commission was called Open Outcry, which refers to the method of communication between stock traders in the pit of the trading floor of a stock exchange, which is lowered for that reason, and looks like a miniature amphitheatre
In a back and forth process of discussion with Carroll not unlike the "open outcry" trading system, he worked up and they discussed other configurations for the individual table/chair sets, and their arrangement when stacked. A former collaborator with architect John Pawson for nearly a decade, Dance has designed furniture, interiors and architectural projects internationally for many artists, art galleries and collectors, including painter Callum Innes, and Richard Burbridge. He favours the concept of "design upon design", which, like Frank Lloyd Wright's work, aspires to "a total, multi-scalar design" using modern materials, and with a timeless spirit. "Because sometimes the design overtakes the purpose. The environment you're in dictates your feelings."
Dance chose materials that reflected the commodities traded at the CME Group, a combination of Baltic birch plywood, in white clear lacquered birch with plywood end grain veneer, with a Formica ColorCore black laminate finish. Its hollow core allow the pieces to glide easily across the floor; and the pieces have a lot of hidden detailing in their finely tuned fabrication by CYB Furniture in Houston, a German craftsman-based firm. "I'm very interested in standards and how they evolve or not", says Carroll.
The final configuration of the furniture is horseshoe-shaped, so that people can be as close as possible to the chef who "didn't want to mediate the conversation too much", and it is as commodious as Carroll wanted. Strong, purposeful and a bit stately yet modest, it can also be arranged in a sinuous configuration on other occasions as well as in separate chair-table pairs. The prototype employed for its single lunch appearance is now in the Museum's collection, while Feast will go on tour after its Chicago showing, and there are plans for a limited edition. Lucy Bullivant