Five meters by twenty, closed on three sides, is a stringent constraint for a lot that has to house a new villa. Even though working with empty space may appear the obliged choice to bring light and air to the interiors, the patio designed by Práctica Arquitectura fits poetically within a system of full and empty spaces that make this house in Monterrey a powerful architectural organism. In the yard, the limit between inside and outside, room and corridor, pausing and moving, seems to dissolve and succeed in generating a unified sequence of different spaces.
This environment, suspended between the abstraction of the spaces and the realism of the objects that populate them, is empowered by the study of the section: a game of floors cast on different levels generates greater interpenetration between rooms, passages, covered areas, and vegetation. Similarly, the internal flush-to-wall windows accentuate the massiveness of the volumes, in contrast with the dematerialization of glass surfaces of the living and corridor spaces.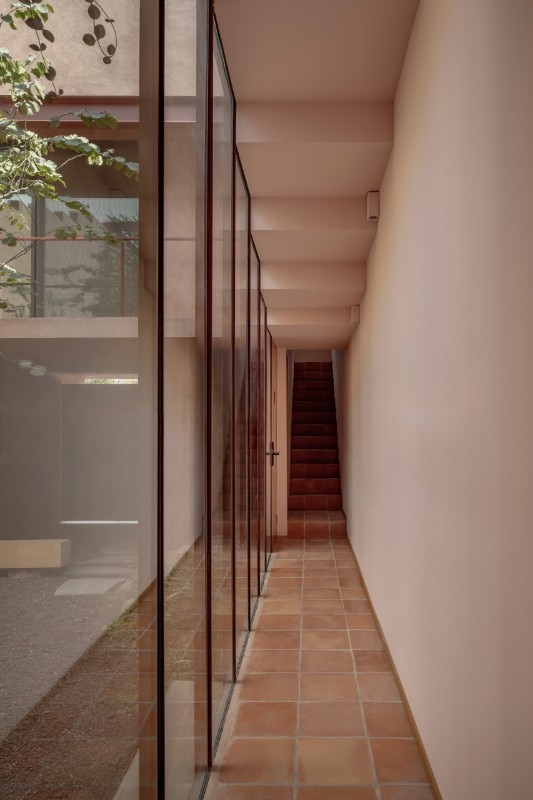 Using shades of red, then, is an explicit reference to the local volcanic stone tradition but also a chromatic strategy to ignite a dialogue with the vegetation and, for the couple who will live here, an allusion to the season of rebirth typical in Turkish and Balkan culture. The paths unfolding through the two volumes conclude in both cases with open spaces: the introverted patio in the case of the volume housing the master bedroom and a panoramic terrace overlooking the mountain landscape in the case of the slimmer body on the street. Here, the upward movement is accentuated by the composition of the architectural elements, particularly the chromatic contrast of the base, the vertical cut, and the shape of the staircase parapet leading to the roof.