The Genbu-do Park in Toyooka City, west of Hyogo Prefecture in Japan, is a geo-park with so-called columnar joints, geological structures – polygonal prisms or columns – formed more than a million years ago as a result of the cooling and solidification of magma. The redevelopment of the park was entrusted to the Case-Real studio to shape new pathways that would allow visitors to safely admire the caves and the unique sculpture-like geological formations.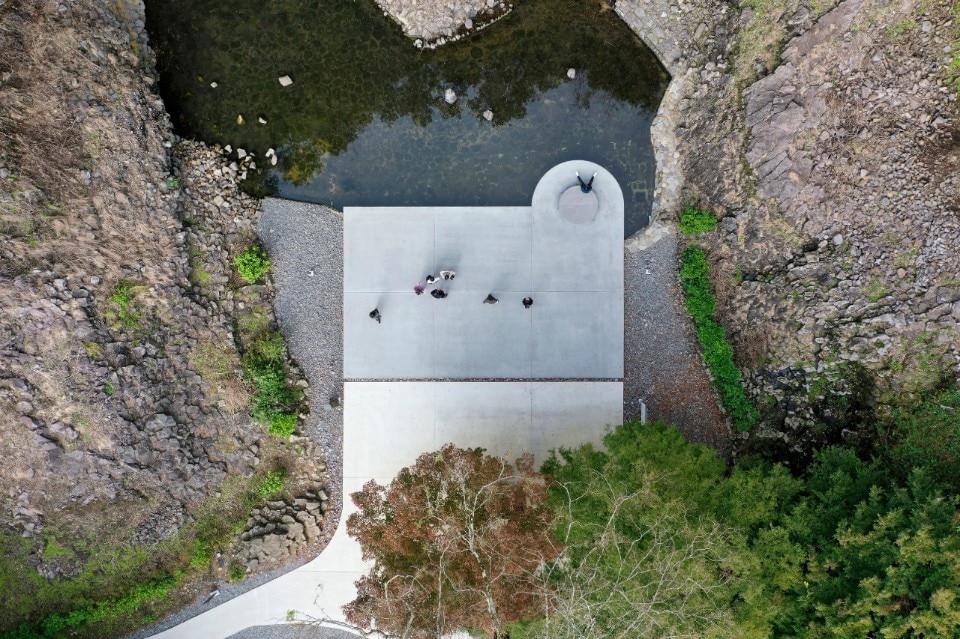 The fulcrum of the project are the sandblasted concrete platforms in front of the "Genbu-do" and "Seiryu-do" caves, the seats from which they can be observed and the paths through the area, also made of rough concrete. The pedestrian surfaces, characterised by shades of grey, follow the natural path, acting as squares and viewpoints. 
A challenge for the Japanese studio was the presence of previous fences, which prevented visitors from entering the caves while not allowing a good view of the them: iron tubes, perfect for blending in with the landscape, were thus inserted in place of the fences. 
Stairs, handrails and ticket office have been redeveloped through the use of colour – neutral tones have been chosen in contrast to the originals – and the revision of shapes, which are now perfectly integrated in the context, just as the graphics have been modified and unified. 
Project :

Genbu-do Park

Location :

Hyogo, Giappone

Program :

Park and public space

Architects :

CASE-REAL / Koichi Futatsumata, Koichi Shimohira, Ritsu Shibata

Deatil design :

Kitai Sekkei, Matsuda Architect Office

Construction :

Civil Works / Nakagawa, Building Works / Seiwa, Construction Supervision / Shinei

Lighting design :

Tatsuki Nakamura (BRANCH LIGHTING DESIGN)

Graphic design :

BOOTLEG / Fumikazu Ohara, Takuma Fukuda

Client :

Toyooka City

Area :

14,700 sqm

Completion :

2022