A space for relaxation with a view of greenery: Objekt Architecten extended a private residence in Lebbeke, in the Belgian countryside, and transformed the existing two-place garage into a cosy space open to the garden. 
The studio added to the original two-storey, L-shaped house a new 60 square metre volume covered with Swedish red aluminium profiles – a shade called Faluröd – in contrast with the cement grey of the existing structure: the same facade has been used for the adjacent garage to give uniformity to the new project. 
The plan of the block, initially rectangular, was divided diagonally to provide more space inside the garage, which has become a small storage area for gardening tools and bicycles. The volume has a sloping green roof where vegetation grows, visually united with the garden and provided with a large window at the top.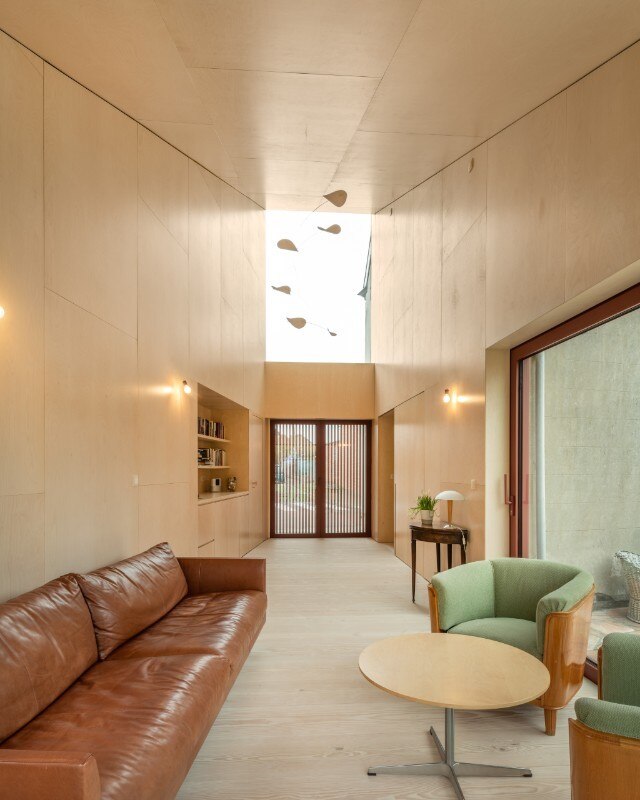 Large windows open up into the volume, on one side screened by metal profiles – to see out but block the view in – and on the other open and angular, designed to receive the sunlight coming in from the south. Inside the annex, wood was chosen for walls, ceiling and fixtures, as well as for the sliding door connecting the garden room to the home. 
Project:

The garden room

Location:

Lebbeke, Belgium

Program:

Garden room

Architects:

Objekt Architecten

Area:

60 sqm