"A playful 'art museum' that saves the boring city with anti-rational humor": through these words Li Wenqiang, the founder of Pig Design, sums up the wit of Ya Space!. Located in the Chinese metropolis of Hangzhou, the showroom is an ironic architecture, that intentionally emphasizes the ambiguity between container and content: intended to display a selection of Memphis objects, it installs them in an interior which is designed exactly like a Memphis object.
Rooms within Ya Space! are a full-fledged postmodern extravaganza, flooded by an excess of archetypal and whimsical signs, of elementary and complex geometries. As several symmetrical compositions accumulate and intersect, vanishing points multiply in a well-thought visual confusion. The walking surface is fragmented in a patchwork of platforms at different levels, articulating the lower floor space in a sequence of differently shaped stages. According to Pig Design, Ya Space! pays a tribute to Memphis by offering an update version of its formal research, also based on the rejection of minimalism and good taste.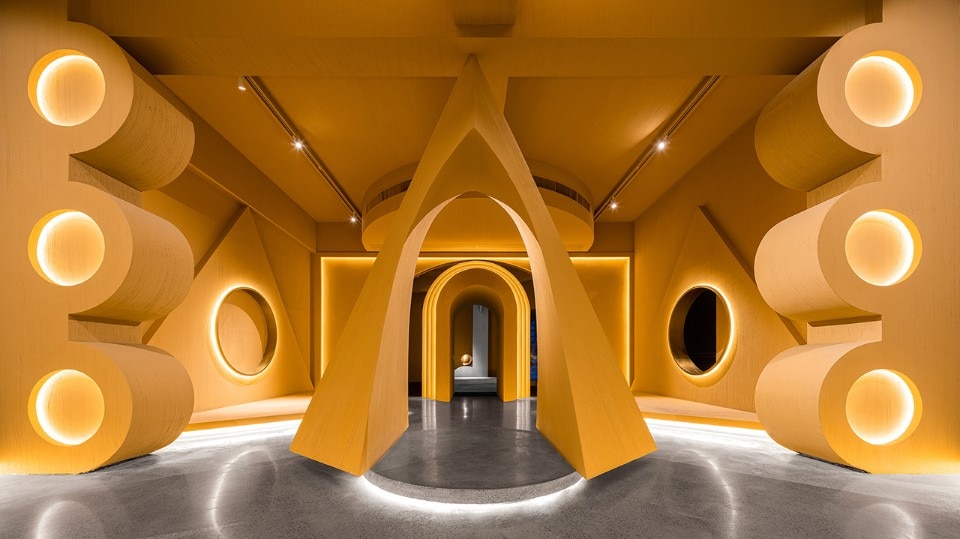 The building's envelope is worth some further comment. The reference to Memphis gets more allusive here: Ya Space! is modeled as a cliff because the America city, that indirectly gave the Italian group its name, is known in China as the "Cliff City". This slightly specious connection, though, is the occasion to design a skin of great effect, that is a multifaceted and glittered surface made of the juxtaposition of triangular stainless steel panels.
Ya Space! is a boisterous mini-monument screaming its existence to the city, an exercise that for its conceptual and material "levity" seems to exist more as a temporary pavilion than as an architecture made to last.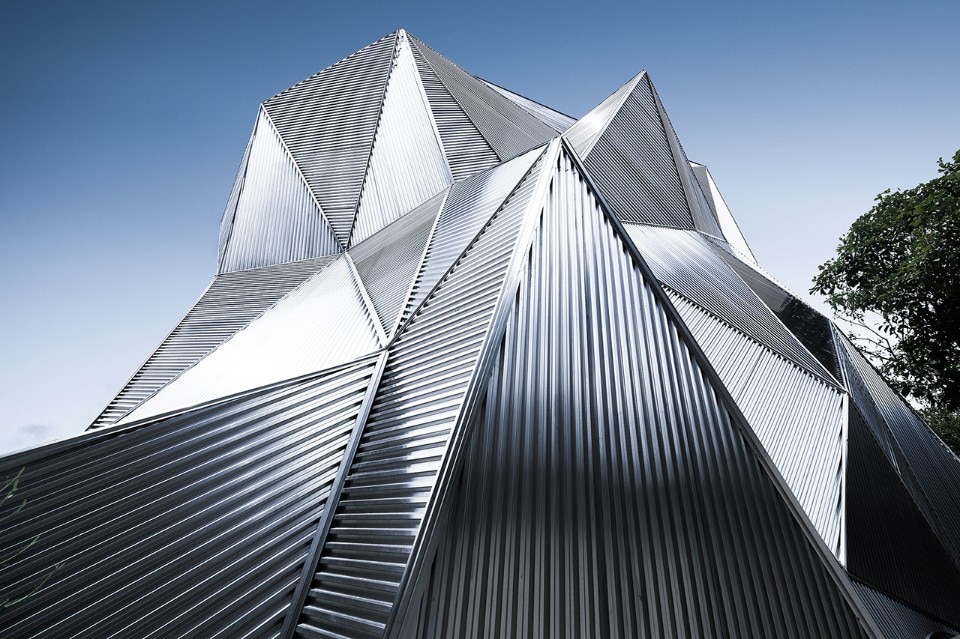 Project:

Ya Space!

Program:

exhibition space

Location:

Hangzhou, China

Architects:

Pig Design

Founder Pig Design:

Li Wenqiang

Team Pig Design:

Tan Shijie, Cheng Liang, Zhu Yiyun, Chen Yunyun, Liu Ruonan, Wang Keke

Construction firm:

Hangzhou Dianchang Decoration Engineering Co., Ltd.

Lighting design:

Hangzhou Licheng Lighting Engineering Co., Ltd. / Young Lighting Design

Furniture:

Memphis

Completion:

2020