Trefoil House is set in a pine forest on the edge of the Atlantic Ocean in Aroeira, just south from Lisbon across the Tagus River. The two-storey home designed by Double O Studio for a retired couple relocating to Portugal takes the form of a concrete cylinder from which volumes have been subtracted and added. This fragmented form, full of nooks and projections, is part of the studio's "anti-facade approach" for the home, which has no primary outward focus.
"The envelope is conceived as a cinematic scroll, a filmstrip section where time is rendered elastic and non-chronological with no fixed beginning or end," says Double O Studio, which is led by architects Olivier Ottevaere and Elsa Caetano and based between Lisbon and Hong Kong, where Ottevaere is an associate professor at the University of Hong Kong Faculty of Architecture.
The construction of largely windowless board-marked concrete reveals little of its interior spaces. Described by the practice as "a house for the sun", all spaces instead project upwards towards the sky with rooms arranged around three circular courtyards from which the house earns its name. "The unusual form of the house is informed by addressing the sky as the only facade for the project," Ottevaere tells Domus.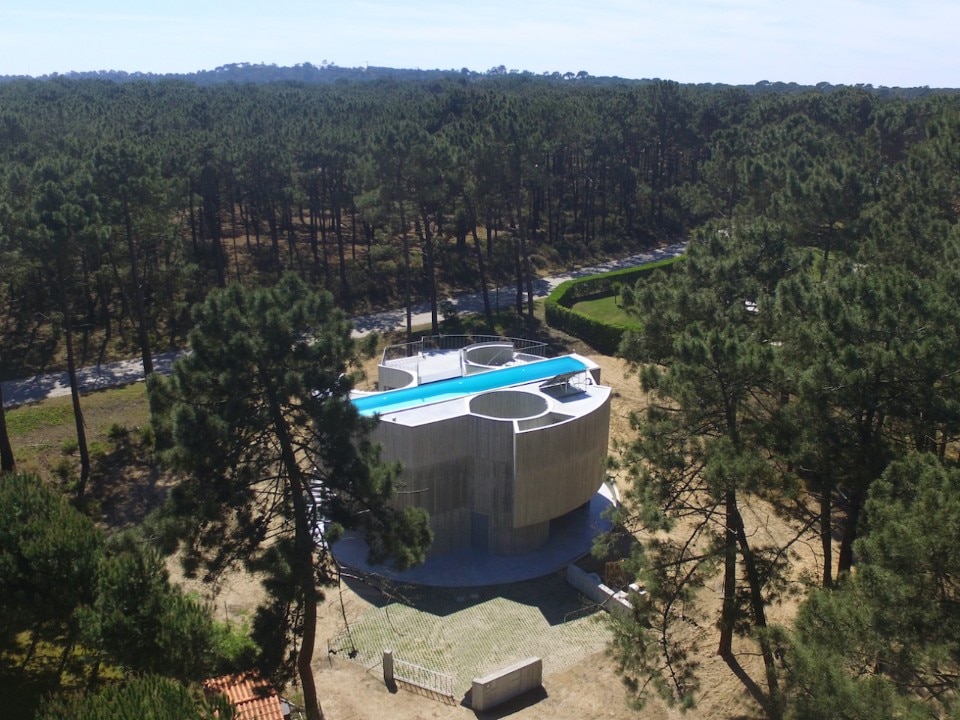 Windows frame views into the courtyards or small snippets of the surroundings, of the trees' trunks or foliage, but always drawing the focus inwards and skywards. Irregular corrugations in the walls of the courtyards create dramatic light and shadow plays throughout the day.
"The house produces its own introverted world facing the sun, with private yet mutable spaces rendered intermittently by Lisbon's brash light," says the practice. "The house doesn't take any posture towards its site. There are no privileged vistas, no distant horizon and no strict physical boundaries to address; no front, back or side divisions. In place, it negates its context by vertically addressing its immediate environment. The sky is the site's only vantage point."
Rooms with a hexagonal plan are warped by the interjection of the curved walls of the adjoining courtyards. A living room, dining room and kitchen are interspersed between courtyards at ground level, while three bedrooms and corresponding bathrooms, which curl around the courtyards, are set above. Stairs spiral through an additional hexagonal hallway at the centre of the plan, which culminates in a sun-drenched roof terrace sliced by a linear swimming pool set into the concrete like a "beam of water".
Project:

Trefoil House

Program:

house

Architectural design:

Double O Studio

Design team:

Olivier Ottevaere and Elsa Caetano

Client:

private

Area:

300 sqm

Completion:

2020