The Japanese design company founded by Sato Oki, designs a two-family residence for the first time in fifteen years.
In approaching the theme of the residential unit, the firm – now famous for its minimalist furniture collections – decided to design a single protagonist object, around which the truly functional spaces were then places.
In a residential district of Tokyo, characterized by a dense fabric of buildings, the house is located at the end of a narrow public street. The intuition they had, therefore, was to build a large structure, which simulates the appearance of a staircase. This starts directly from the courtyard of the house and continues to rise parallel to the street.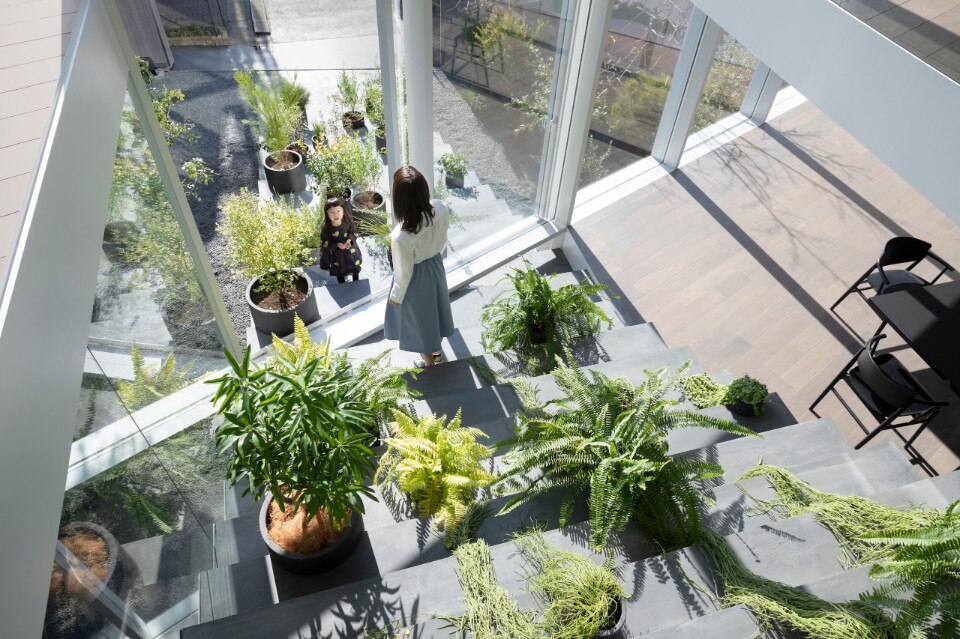 The element with the parabolic section narrows as you climb up, creating a deceptive perspective effect, emphasized by the play of light from the skylight at the top of the staircase itself. Moreover, as you walk down it, it becomes not only impractical but almost dangerous, while the steps are transformed into a succession of shelves where a series of objects, such as indoor plants, can find space.

All the collective functions face out towards the glass facade of the residence, pierced by the staircase. Given the need to separate two generations of the same family, the designers placed the elderly couple on the ground floor, with their eight cats free to roam around the garden, while on the first and second floor the young couple with child. Finally, inside the black staircase, in contrast to the candid white of the cube and the walls, are positioned the functional units of the bathrooms and the distribution.
Project:

Stairway house

Location:

Tokyo, Japan

Design:

Nendo

Completion:

2020