A spaceship has landed in Istanbul's rundown Dolapdere neighbourhood: the Arter centre for contemporary arts opened to the public in its new location last September, on time for the Istanbul Art Biennale 2019.
The centre is run by the Vehbi Koç foundation, funded by Turkey's largest industrial conglomerate, known for its inconspicuous opposition to the government. Arter is considered a reference point for contemporary art and non-aligned culture in a country where freedom of expression is narrowing.
Designed by Grimshaw Architects, the building includes exhibition galleries, a performance hall, educational facilities, a library, and an auditorium, arranged around two architectural voids. With its angular volumes, perforated geometric ceramic panels and triple-height openings, it is in striking contrast with the surrounding urban fabric of dilapidated houses and informal constructions clinging onto the hillsides, with family living rooms opening onto the streets and children playing football in the alleys between small-scale factories, inexpensive groceries, scrap dealers and smoky tea houses.
A few blocks from Arter, the decadent Evangelistrias Greek Orthodox church – badly damaged in the 1955 pogrom – and Turkey's last pork-selling butcher evoke the bygone days when Dolapdere was a mainly Christian neighbourhood. Its original population disappeared during the XX century, and got replaced by subsequent waves of migrants. The area acquired a notorious reputation for poverty and crime.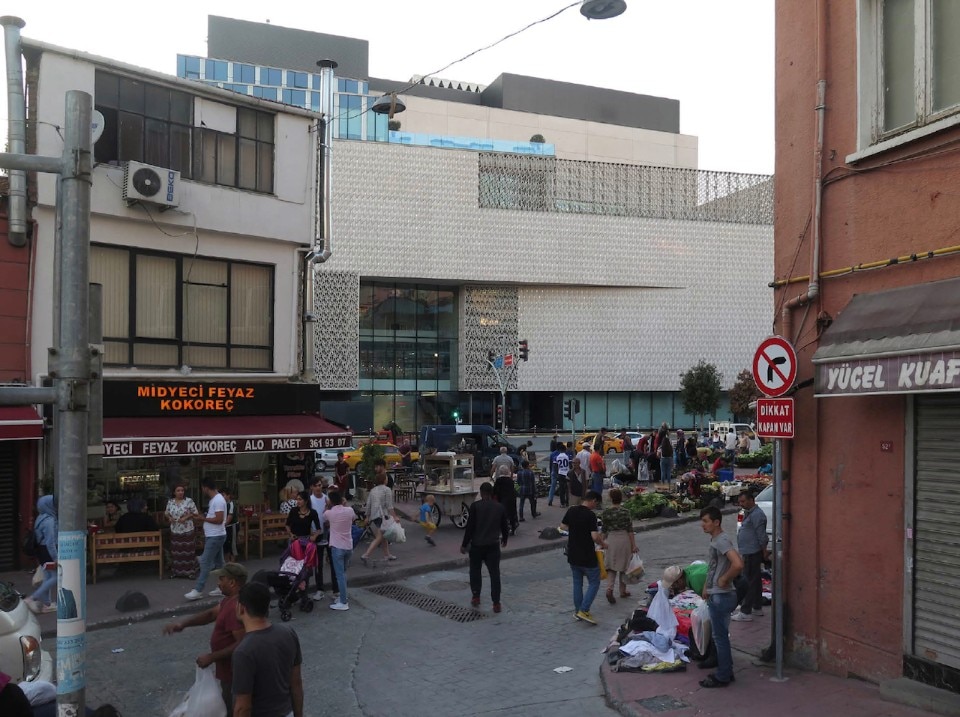 On Sundays, a heterogeneous crowd animates Dolapdere's hectic vegetable and night flea markets: Roma sellers, Kurdish women and penniless youngsters jostle with middle-class alternatives and African or Syrian migrants in this multicultural microcosm just a stone's throw from Istanbul's shopping and entertainment centre.
Since Bilgi University inaugurated its campus in the area two decades ago, hotels, office blocks and art galleries have been replacing factories and filling up idle plots along the bottom of the valley. Arter, located on the site of a multistory car service structure, constitutes the capstone of this urban restructuring.
There are concerns that the arrival of such a sophisticated cultural venue may propel the transformation further, ultimately expelling the low-income population from one of Istanbul's last central working-class districts. While urban renewal in Istanbul often happens through government-backed, real estate-driven interventions, gentrification in Dolapdere may instead be fuelled by a privately owned philanthropic institution.
Mainstream media tend to portray Arter as an alien element which will hopefully recover a problematic neighbourhood. Milliyet describes it as "an oasis", implying that Dolapdere is a cultural desert, while a Hürriyet columnist – who had admittedly "never thought of coming to Dolapdere before" – claims it will bring the area "back to life", as if this was a dull, soulless district. Haber Türk thus illustrates a visit: "As soon as you get through the door, leaving behind all Dolapdere's chaos, you feel as if you got onto an 'art island', a Neverland… Getting out from Dolapdere through a door, you get into London's Tate Modern, so to speak!"
There are concerns that the arrival of such a sophisticated cultural venue may propel the transformation further, ultimately expelling the low-income population from one of Istanbul's last central working-class districts
Well aware of the delicate context the centre is going to drop in, the Koç foundation has been careful not to display such a dismissive attitude and to mitigate the impact on the existing social fabric. Arter director Melih Fereli emphasizes how the museum "does not turn its back on the neighbourhood, but rather invites [it] in". Consultation sessions were conducted, allegedly incorporating the residents' views into the programme. A "Neighbour Card" grants free gallery access and discounts on educational activities.
The Arter building was conceived to express architecturally such an inclusive rhetoric. According to Grimshaw Architects, "the heart of the design hinges around spaces for everyone to access": architectural voids and transparent surfaces create visual and physical links between the city and the museum, opening it to the street and making it "accessible and welcoming to all".
From the triple-height glass entrance the visitor can indeed glimpse across the building to the rear and upper gallery, but an elongated fountain running along the whole front prevents access, directing you to a side security check. The "back garden" is a fenced off open space, its perimetral rail camouflaged with a laurel hedge. And although the design skilfully takes advantage of the building location at the bottom of Dolapdere valley, with window openings framing striking views of the densely built slopes, the neighbourhood remains only a scenery. The building in itself seems to be more a parody of transparency rather than a truly inclusive space, falling short of its stated aims of openness to the local collectivity.
The new Arter is definitely a cultural asset for Istanbul in the arena of global cities. However, it may end up radically altering the balance of this historical and vulnerable neighborhood which, with its distinct character, is part of the city's popular culture and identity.
Project:

Arter

Program:

art museum

Architects:

Grimshaw

Area:

18,000 sqm

Completion:

2019