Located in Toronto, Canada, Avling Kitchen & Brewery is a restaurant designed by LAMAS (Lee and Macgillivray Architecture Studio) in a building originally served as a grocery store in the first half of the 20th Century and rencently used for bean sprouts cultivation. The project is a renovation of a "dark and wet space", as described by studio partner Vivian Lee, so it added light through oversize openings both on the facade and the roof.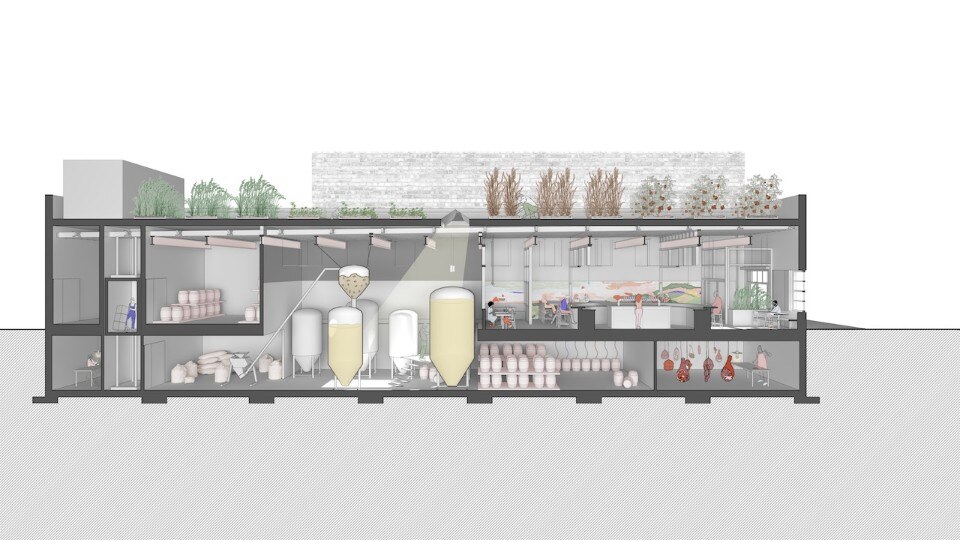 The architecture studio had to to include 22,000 litres of beer in the basement and 4,000 litres fermentation tanks, 5 meters high, not that easy to install in a store from 1949. According to this, the structural work consisted in adding beams between the exisiting ones to sustain the roof. The space includes a roof garden, that provides ingredients to the restaurant and uses water from the brewery for irrigation. A resident butcher, house made ferments and a beer lab are located in the basement, always following the idea of self food production.
Interiors are light and open thanks to windows and glazed walls watching fermentation tanks. Tubes on the ceiling are visible from the restaurant area and beams have been painted pink. Placed on a wall, a murales by Madison van Rijn, inspired by Canadian geography and nature.
Project:

Avling Kitchen & Brewery

Location:

Toronto, Canada

Program:

Restaurant and brewery

Architects:

LAMAS (Lee and Macgillivray Architecture Studio)

Executive architect:

MGBA

Structural engineer:

Blackwell

Mechanical Engineer:

Spline

Contractor:

BLT Construction

Mural Artist:

Madison van Rijn

Client:

Avling Kitchen and Brewery

Area:

975 sqm

Completion:

2019