At first sight, the Bed & Breakfast Santulan seems to seamlessly blend into the gently waving countryside where it stands, to follow its variations, to stress its horizontality. On the contrary Santos Bolívar's design relentlessly challenges the ground level of its plot.

The buildings, seemingly common volumes made of brick (more precisely of BTC, compacted earth blocks), are actually elevated over glowing, mirroring, trimmed podiums, which make them float a few meters above the ground. The walkways connecting them simply touch on the soil, but one of them sinks between two concrete walls, converging towards the sky, as it leads to an underground geodesic dome.

The latter, conceived as a place for meditation, is the most distinctive space of the entire facility, which is largely inspired by the Hindi culture and its concept of balance (Santulan).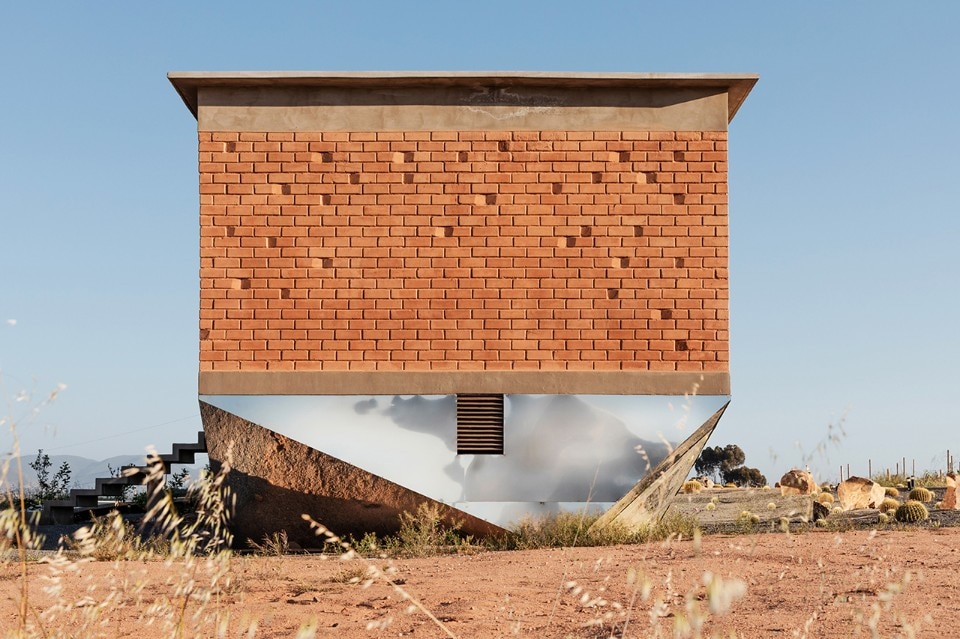 Santos Bolívar interprets this notions in terms of a peaceful relationship between private and collective life (the main building, hosting eight rooms, is complemented by a yoga pavilion, a common kitchen and living room and a small art gallery) and between architecture and nature.
Therefore, architectural volumes rotate and gather to frame a few selected views on the surrounding vineyard landscape, whereas a set of technological devices (green roofs with low maintenance endemic plants, a fog-catcher tower, an organic orchard and the greywater reuse system) ensure the most respectful symbiosis between the building and its context.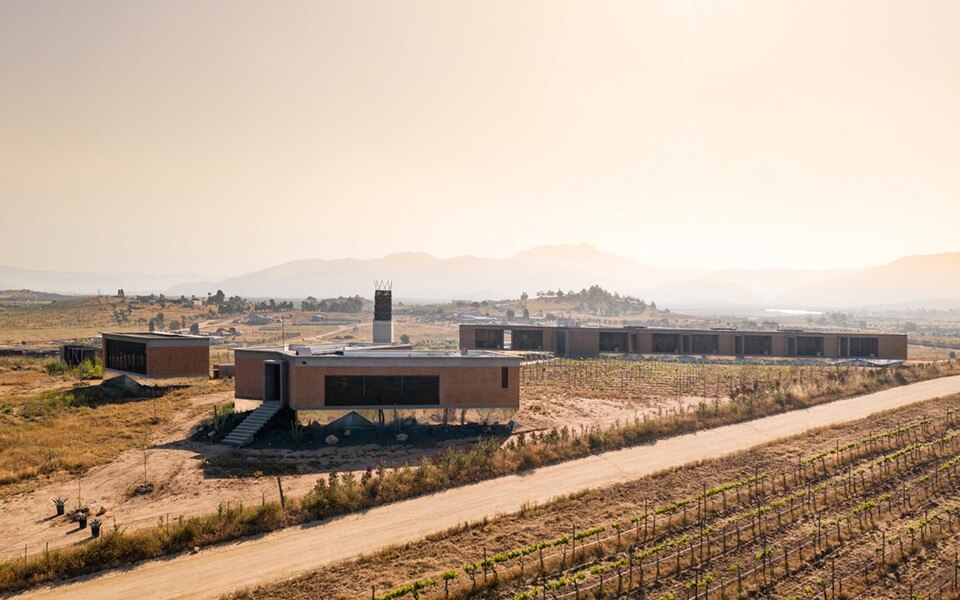 Project:

Bed & Breakfast Santulan

Location:

Baja California, Mexico

Architects:

Santos Bolívar

Project leader:

José Antonio de los Santos Bolívar

Project team:

Roberto Amaya Alvarado, Tayde Chan Ojeda, Armando gallardo, Armando Quevedo Jordán , Carlos Fernández Robles, Diana Orozco Milanez , Roxana Alvarado Ávila

Area:

1,000 sqm

Completion:

2019