This article was originally published on Domus 1071, September 2022.

As argued in my book Climax Change! How Architecture Must Transform in the Age of Ecological Emergency (Actar, 2022), the scope of changes that building practices must undergo within the next two decades is massive. With the unavoidable need to decarbonise our economies, the architecture world requires a course change that is comparable to, if not faster than that of Modernism and the International Style one century ago. With deglobalisation on the go, we need to reinvent the market logic of 20th-century architecture.

With the building sector contributing 38 per cent of greenhouse gas emissions, and cement alone enjoying an astonishing 8 per cent share of the ongoing ecocide, architects must utterly shift what makes them tick. Fortunately, there are now many pathways through which architecture can reverse to a more ecologically friendly practice. 
As shown in my Nordic-focused "Architectures of Transition" exhibition, from net-zero and net-positive buildings to the integration of nature, or from interspecies designs to alternative greener materials, there are now many options from which to choose and mix, if architects want to start a change in their practices. One thing is for sure: we must go beyond the worn-out, commercial mantra of sustainability.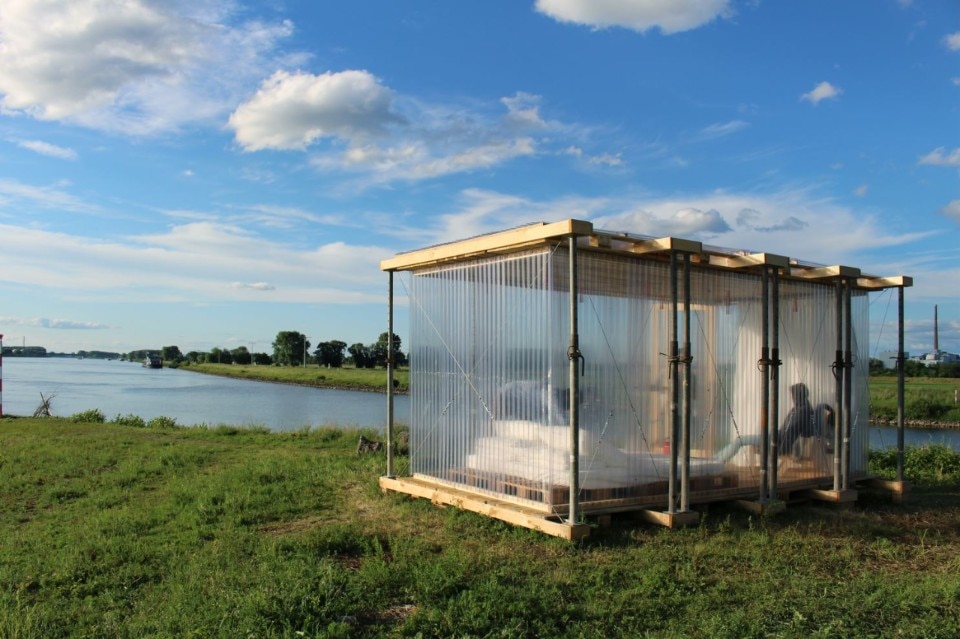 Where we stand, architecture now needs to be resilient, adaptive and preferably regenerative. Where we are heading, even if technological innovation remains on our side, architecture will also often need to go back to a pre-modern sensibility to place, local climates and scarce resources. Naturally, there is still resistance to change. Architecture is a stubborn medium.
Even with rising waters, heat waves and brutal weather events – but also with energy wars, supply chain crises and the skyrocketing prices in building materials – architects will still bet nothing will change in their practice. They will resort to every type of excuse before even considering such a move.

The Portuguese architecture scene provides good examples of such a state of affairs. A well-known, Pritzker-awarded architect once famously declared that "good architecture is, by definition, sustainable". That surely means that, if you consider yourself a "good architect", you don't have to do shit about what's going on. This is the same architect who, in order to have a terrain that would fit his recognised building recipe, used the whole budget of a house to rebuild the site's landscape, both to the client's despair and to no known environmental purpose. The metric of the existing rural walls, the reasoning went, was "wrong" for the architectural proportions that this master builder usually deployed. For me, that was the swansong of Portuguese architecture's acclaimed respect for the idea of place.
What in the earlier generations of Fernando Távora and Álvaro Siza Vieira was a gesture of resistance against Modernism's homogenisation, i.e. the features of a site as a trigger for architectural design, fell prey to the whims and wastes of personal style. Where Siza's exquisite architecture was conducted by landscape, vistas and the care for a nearby tree root, recent Portuguese "masterworks" became more often only a formal exercise in navel-gazing.
There are many such fallacies in some Portuguese architects' defence of their practice's status quo against the need to re-evaluate their guiding principles. One is the notion that if your architecture is durable, then it is automatically sustainable. This might have been the case when resources such as stone or wood were abundant and locally sourced. Not when stone has been locally exhausted and now comes from a quarry in China. Nor when concrete, now acknowledged for its huge contribution to global environmental damage, remains the aesthetic symbol of permanence. 
Fortunately, there are younger generations who are increasingly aware of the huge challenges they face. While mindful of the best practices they have inherited from previous generations, they also want to become part of an ecologically healthy building market. As I claim in an exhibition under preparation for the Center for  Architecture in New York,there are emerging practices in Portugal that, while connecting back to local traditions and the spirit of a "soft modernism", are finding new meanings for the depleted idea of sustainability. 
Whether exploring new ecological materials, revising construction methods, using fewer resources, addressing climate justice or reintroducing nature as a guiding tenet in impactful urban interventions, the practices in "Generation Proxima" hopefully point to a much-needed environmental turn that may put previous aesthetical and ethical principles of Portuguese architecture back on the map. 
As things move fast, one of the pioneers of ecological design in Porto, ten-year-old architecture and art collective Skrei, has already split into two different offices, with both retaining a spirit of on-site experimentation that questions modern construction traditions.

The first studio, Pedrêz, is named after an indigenous Portuguese chicken because of the species' ability to fabricate a shell out of anything they grab on the ground. They often re-explore traditional soil-based materials. But they have also built their first hemp house, using a concrete substitute based on a fibre that was once widely grown in Portugal – and is now returning, albeit for so-called pharmaceutical purposes. 
On the other hand, the Gorvell workshop has recently started experimenting with on-site recycling, proposing a machine that creates new agglomerates out of demolition materials in the scope of an apartment retrofit for an American artist living in Porto. With their interdisciplinary crossover of craftsmanship and architecture, they advocate for a radical zero-kilometre building system that skips most of the emissions happening on a typical building site.
While not carrying such a declared ecological agenda, there are also other offices that, by way of their design strategies, end up demonstrating how "sustainable architecture" can divert from, and potentially go beyond, the minimum good-feel factor of LEED certifications. Ateliermob is a studio that has been around since 2005, consolidating their commitment to "working with the 99 per cent" through the Trabalhar com os 99% collective formed in 2016. In their Marquês de Abrantes Palace retrofit, akin to Pritzker-winners Lacaton & Vassal, they reveal how a lack of resources can be a powerful aesthetic and political statement. Similarly, Nuno Pimenta resorts to off-the-shelf timber and recycled industrial materials to build temporary structures that, as opposed to illusive notions of permanence, evoke traditional Japanese architecture's proximity to natural cycles.
Warehouse are an art and architecture collective focused on participatory experiments. In their Ma Bibliothèque project, in Dakar, they enter the logic of climate justice and share their ecological insights and architectural skills with a community of deprived school children, so as to assemble a community structure based on found materials. Madeira-based Atelierponto are probably the ones closest to the minimalist expressions of the most typical, recent Portuguese architecture.
However, their concerns with nature, biodiversity and local geological and botanical resources lead them to more sensitive approaches to site conditions, as seen in their FAD Award-winning Inbetween ephemeral intervention.
And not to resort to only small projects, which may arguably lack the ability to scale up to mass-market solutions, Porto-based OODA have increasingly shown that corporate responses to big clients and programmes can fully integrate ambitious natural solutions – as epitomised in their recent collaboration with MVRDV for the colossal regeneration of a prior oil refinery, just a few hundred metres away from Siza's pioneering Leça tidal pools. 
The environmental turn in architecture is inevitable. Let's hope these are only the first successful signs of such change arising from a much-respected architectural tradition. 
Opening image: Douro Hotel , Winery. Courtesy © Fusao e OODA