A City Architecture Forum event last September organised by the City of London explored the idea that art and culture are increasingly used as tools to enhance the value of cities and quality of life of residents. Here Stephen Barrett of Rogers Stirk Harbour + Partners argued that art in public space can support our relationships and build local identity by allowing people to share in a unique experience of a place.
In an interview Barrett expands on these ideas to give examples of ways in which architecture, public space and art can facilitate rather than overwhelm social interaction.  
Why do you think art can be a humanising force for people who live in a city? 

It is a topic I and others take for granted.  We read a number of things into art and public art. The investment of that art in a city implies is that someone is looking out for the environment we live in. Someone is making an effort to do something to contribute to the environment beyond the utilitarian, it implies a level of development, sophistication and governance. It signifies a degree of wealth that is also public and shared – that has all kinds of ramifications in terms of how we are civilised, how we have authorised structures and we organise places we live in in order to make that possible. 
You have previously differentiated between the idea of the object in space and then the idea of many objects in sequence in space. A lot of the time people think of public art in a very sporadic way, not with how they are all mapped together in a network. Could you describe in a bit more detail what you meant? 
When the art and its space are in perfect synchronicity there is a real potency to the work. When we were working on one of the masterplans for Paris, one of my colleagues Mike Davis mentioned the power of sequenced art that is linked by corridor, like the Vasari corridor in Florence. This corridor extends for 1km, from the Uffizi and over the bridge. The idea of a kilometre of art is very powerful, particularly due to the implication that someone – in this case patrons in renaissance Florence – organised such a thing. But there is a great deal of power in putting things in sequence, it is an organisation principle in a way. Like many narratives they get their power from being organised in time and space, so you discover things in a certain way. When we are talking about our larger scale master plan you have a series of things that are connected and in London the primacy of pedestrian space and walkable space is important because with some exceptions you only discover art at walking or cycling speed.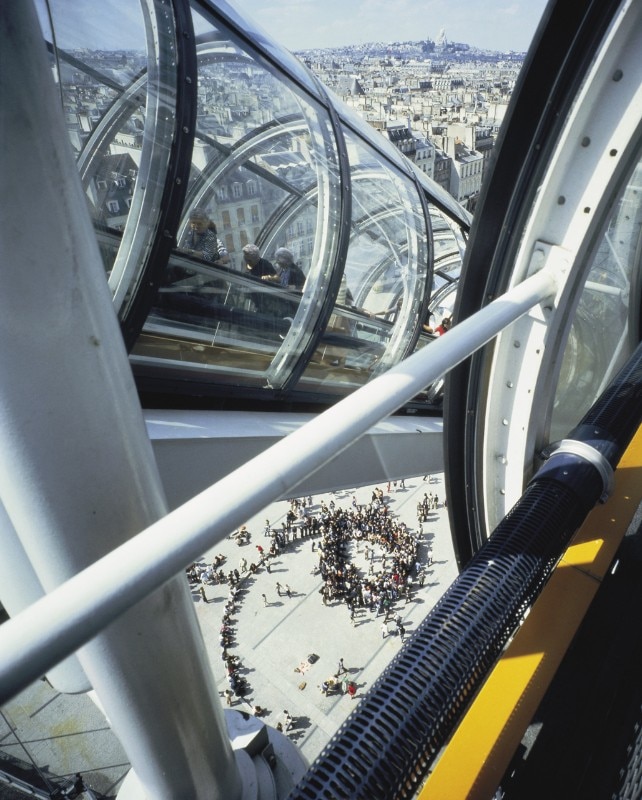 Would you like to reimagine the way public art is distributed around London, so it connects the different pieces? 
"London as it could be" was a speculative project from our practice at the time – under the Richard Rogers Partnership. At the time there was such a predominance of disconnected public space in London and it was all dominated by the car. Instead this project was imagining a pedestrianised Trafalgar Square, a pedestrianised embankment along the river Thames. It was a really radical idea that you could find ways of concentrating the vehicular traffic in such a way to allow continuous pedestrian routes around the heart of London. Since then Trafalgar square has been substantially pedestrianised and there are better routes through the centre of London for pedestrians. This is important, as to be isolated either at home or at work or in between in a car is not the same as seeing other people, exchanging with other people, random bumping on a social level. 
We worked on a kind of business park campus for a large Spanish energy firm called Abengoa in Seville in Spain and the whole design of that was to try to generate the creativity that just comes of bumping into your colleagues. In many buildings that only happens in the lift or the lobby or occasionally the washroom. Trying to do that at a campus level meant that we tried to design a space that was very much an echo of Spanish public space but quite tightly planned so you have got a lot of shadows and lush plants. In the era of Google, Apple and Facebook campuses where a lot of that is encouraged to happen inside the building, I think there is a recognition that bumping into one another is of great value creatively to a company.
I was interested in the notion that our engagement with and expectations of public art can be very superficial. There is a clear tension with the notion that art should be challenging and not just a visual spectacle – how do you manage that tension in your projects?
Elegant icons and Instagram moments – there's nothing wrong with that. But good art can have a wider role and more power when it challenges, when it provokes. 
It has been said once different areas of the city have equalised in terms of things like access to public transport, people start thinking about other thing that make that space attractive, such as public art. Would you like to comment on how places can use art to make themselves competitive?
Going back to the beginning of our conversation, the sheer fact that someone has invested in art, in public art, in shared art, is a statement of confidence, a statement of belief, a statement that someone has a vision that goes beyond meeting utilitarian needs. I think we respond to that either consciously or not, as you are more likely to want to invest in and share than in somewhere which doesn't have the level of care and concern in relation to where you are going to work. The thing about art is that it is not simply a luxury but it goes beyond need – its added value and added quality and I think we respond to that as citizens. 
Header image: St Helen's Square looking towards the Leadenhall galleria and Lloyd's of London. Photo by Peter Shannon