Babina has become well-known for his astute animations of architecture, from iconic buildings and architects to film sets and even a structural Kama Sutra. Now he takes on the task of animating 10 architectural and design movements key to Domus' 91-year history. 
Babina takes key visual components of each movement and lends them a persona for our series Arch Snapshots. 
Follow Domus on Instagram to see the first animation in the series – Bauhaus – and stay tuned over the coming weeks to see Babina's depictions of Modernism, Constructivism, Metabolism, Organic architecture, Minimalism, Postmodernism, High Tech and Parametricism.

To mark the launch of the series, we spoke to Babina about his role as an illustrator in demonstrating that "architecture is not just for architects".

"I like the idea of making the architecture more permeable, accessible to an audience not necessarily made up of architects," he says in the following interview. 
How did you get into architectural illustration?
Sometimes I am an architect with a passion for illustration and sometimes I am an illustrator with a passion for architecture. I don't take off my architect's clothes to wear my illustrator's costume.

The common denominator of my work is "me". My approach and way of working does not change according to the work. Whether it's an illustration, an object of design or a building, my creative process is similar and follows common rules and the same trajectories. the creative process of an architectural composition responds to mechanisms that move and set in motion the machine of any intellectual work. An architect must be a good illustrator. The ability to communicate visually is an essential tool.
Drawing is the first way to give shape to an idea. Ideas are sculpted, modelled and transformed through illustration. I was born with the illustrations of fairy tales, I grew up with the traits of comics and I matured with the design of architecture. Illustration is part of my imagined and imaginary world. I enjoy transforming architecture into an illustration and an illustration into a small architecture.
You've illustrated a broad spectrum of architectural and design periods for us. Do you resonate particularly with any movement?
I'm interested in the history of architecture, every artistic/architectural movement is a box full of surprises, pleasant and sometimes unpleasant. Taking a journey through the history of architecture is an interesting and stimulating experience.
Tearing through a series of illustrations is like composing a mosaic. All the pieces of a mosaic are fundamental in the overall composition.
What's your starting point for each animation?
My background and education has helped me in this way. It was rather a search for a synthetic and incisive language capable of transmitting an artistic language through the use of geometry and colour.

How do you settle on your compositions?
My idea of the animated "pills" was to work on an image of the artistic movement in the form of an abstract portrait. An image in balance between an anthropomorphic figure and an abstract architectural one. Working on an illustration that can be a geometry, a building or a portrait according to the input we send to our brain to interpret it.

In these images you can read architectural references or simply let your mind get lost between the lines and colours for more imaginative readings. The idea behind these illustrations is to summarise in an intuitive and sensory exercise some of the main architectural movements through a few graphic gestures. The simple geometries, the use of colour, the hint of materials, the writings and the decorations participate in the construction of a composition that is a small homage to architecture.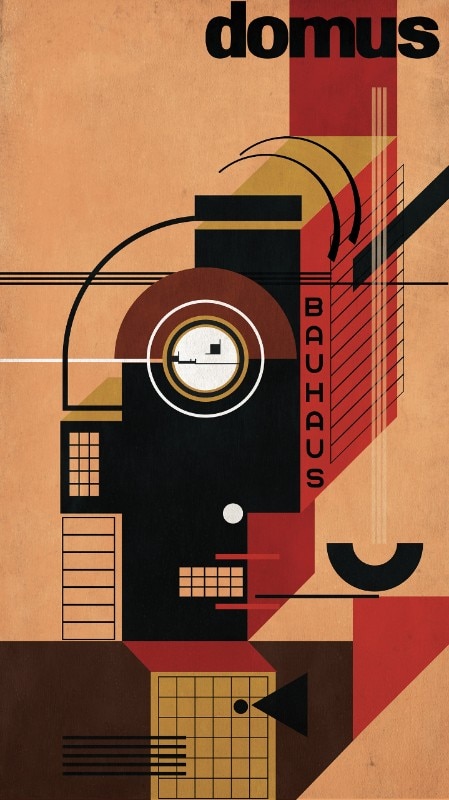 What does your illustration bring to architecture and design? Do you see your work as playing a role in widening the scope of architecture?
I like the idea of making the architecture more permeable, accessible to an audience not necessarily made up of architects. I love the ability that has an illustration to make people travel with the imagination. If I get at least a little of this I am quite satisfied.

Architecture is not just for architects. In my images I try to establish an imaginary and imagined dialogue between different disciplines. The threads that unite and weave relationships can be subtle and transparent or robust and full-bodied. A heterogeneous and imaginative plot that connects architecture with apparently different worlds in an illustrated "unicum".

You have become renowned for your catchy architectural animations. What is architecture to you?
Architecture changes with society, follows it, and in some cases guides it. The challenge of architecture is to make our lives better. Every day we live, observe, breathe, and touch architecture. I like it when architecture can surprise me and awaken unexpected sensations.

Architecture must be able to communicate but above all to listen. I love the silences of architecture. I have many lovers in architecture but I don't like to marry anyone.
What architectural books and films inspire your work?
The most interesting books and films about architecture are those that do not speak directly about architecture. Reading Calvino and watching Tarkovsky's films can reveal the architecture hidden in parallel universes.
Find out more about the series on Instagram.