Earthbox is the pavilion that Equipo de Arquitectura, a Paraguayan firm based in Asunción, builds to host its own activities. For Horacio Cherniavsky and Viviana Pozzoli, who are both the project's clients and authors, the design of this small-scale architecture is an occasion of formal and technical experimentation.
The basic square plan is entirely wrapped up by a single spiraling wall. It retracts in order to open the main entrance to the office, and by doing so it bends around a little restroom. A towering, pre-existing guavirà plant rises from the patio which divides, though with blurred boundaries, the working spaces from the kitchen. A large skylight window breaks through the building's shell and let the gentle shade of a flame tree screen it from the sun. 
The issue of the connection between the vertical rammed earth surfaces and the concrete roof is addressed with an act of consummate mastery. Only 20 out of the 30 centimeters of the walls' thickness support the horizontal plan, whereas the remaining, thin section of the partition borders and completely hides the cement slab. The meticulous study of the details, enriching the simple starting concept, also shows in the layout of the libraries, suspended and slightly detaching from the room's perimeter.
Earthbox is in many ways a built manifesto of Equipo de Arquitectura's research themes: it seeks for low-cost and optimized solutions (for instance, all of the furniture and doors are made of recycled wooden forms), as a result of a clever stance rather than on the basis of an actual economic constraint; also, it witnesses an interpretation of architecture as landscape, a seamless integration between interior and exterior, mineral and vegetal materials.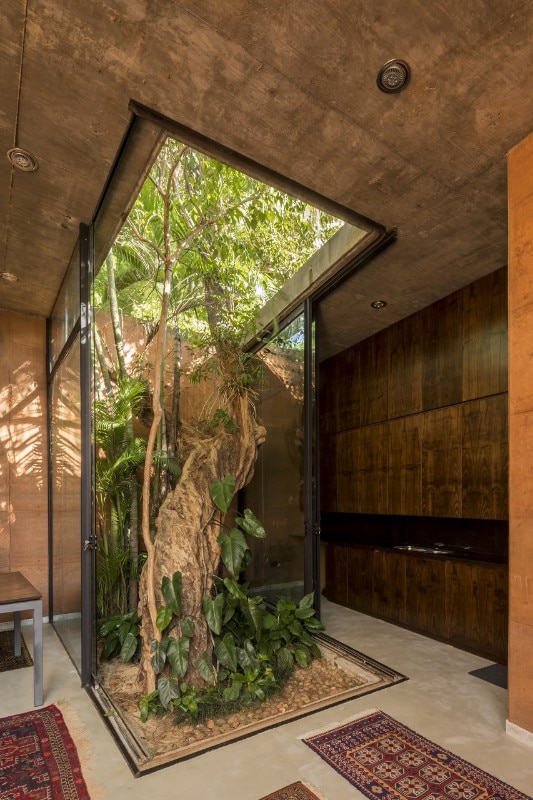 Project:

Earthbox

Program:

architecture workshop

Location:

Asunción, Paraguay

Architects:

Equipo de Arquitectura

Design team:

Horacio Cherniavsky, Viviana Pozzoli

Structures:

Emilio Richer

Rammed earth consultant:

Yago García-Enríquez

Blacksmith:

Javier Gimenez

Concrete:

Gerardo Pérez

Carpenter:

Marcial Careaga

Completion:

2018