Hideaway in Raval is a sporadic living studio, designed by Sarriera + Weinstock for a young entrepreneur based in Barcelona who travels continuously for work. He was in search of a space inside the city center where, if wanted, he could get contaged by the cities' vibrance and at the same time, when in need, isolate himself by using it as a rest&work hideaway.

As the existing groundfloor access door generated a very violent connection between the road and the studio, it was essential to integrate an intermediate buffer garden area. This garden buffer area serves as a way to get light inside and also act as an acoustic and privacy barrier from the street. This buffer is created by having two opposing layers of facade. The space between these two skins can be totally o partially opened, with a large number of variations. A metal built-in bench completes the setup, ideal for reunions and dining or simply smoking and reading or chilling when in desire to look and gaze at the wonders of melting pot street life.
Once inside, the studio is divided into two areas. A front living, dining and working area which opens to the street garden and a more intimate and quiet back area where the bedroom is placed. Built-in furniture is generated to both act as partitions and to optimize the existing space thus granting a greater sense of breadth. One of the studios most inconvenient trait was the low ceilings which automatically made one feel they had to duck once entering the space, thus, it was decided to use a continuous ethereal flooring material which could reflect the space and create a greater sense of amplitude. This was done by using white epoxy resin flooring with an extra coat of gloss to strengthen the reflection and create the effect of a floating floor, countering the perception of low ceiling and enhancing the feeling of a cozy haven.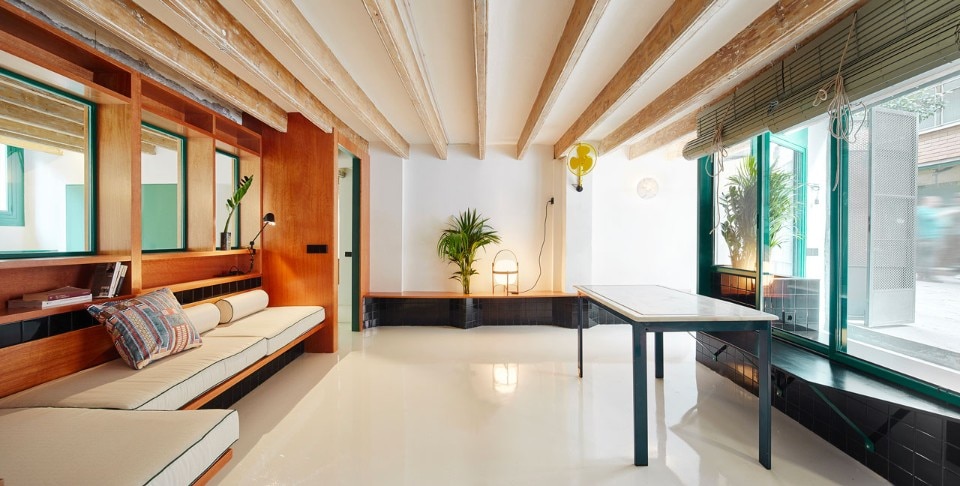 Raval Hideaway, Barcelona
Program: apartment
Architect: Sarriera + Weinstock – Mariana de Delás and Marcos Duffo
Area: 55 sqm
Completion: 2017