Like many German cities, Bremen is confronted with an increasing housing shortage and a growing demand for affordable housing. In response to this, the largest Bremen Housing Association, GEWOBA, has prudently taken on a supplementary extension to their existing 45,000 plus housing stock.

The urban niches are activated by the punctual integration of four-storey timber cubes. With a surface area of only 13.35 x 13.35m, the cube houses react sensibly to the existing buildings, granting the character of the green open spaces of the estate to keep their appearance. The new buildings are designed as a modular timber prefab system. This system allows flexible layout possibilities for site specific needs and responds to individual demands. The houses can adapt to different apartment combinations, surface area, circulation, facade and building form requirements.

From the conceptual idea through to the finished and final serial housing typology, an intensive design process has been applied. With a 44 – 58mq  living area (two to three rooms), these small apartments succeed in providing affordable housing with a higher than average standard of living, timber construction system, generous window openings, spacious private outdoor areas and optimised south-west orientation. The new buildings represent an upgrade to the housing stock and the local area, and afford existing tenants intergenerational equity, specifically for those requiring barrier-free design solutions.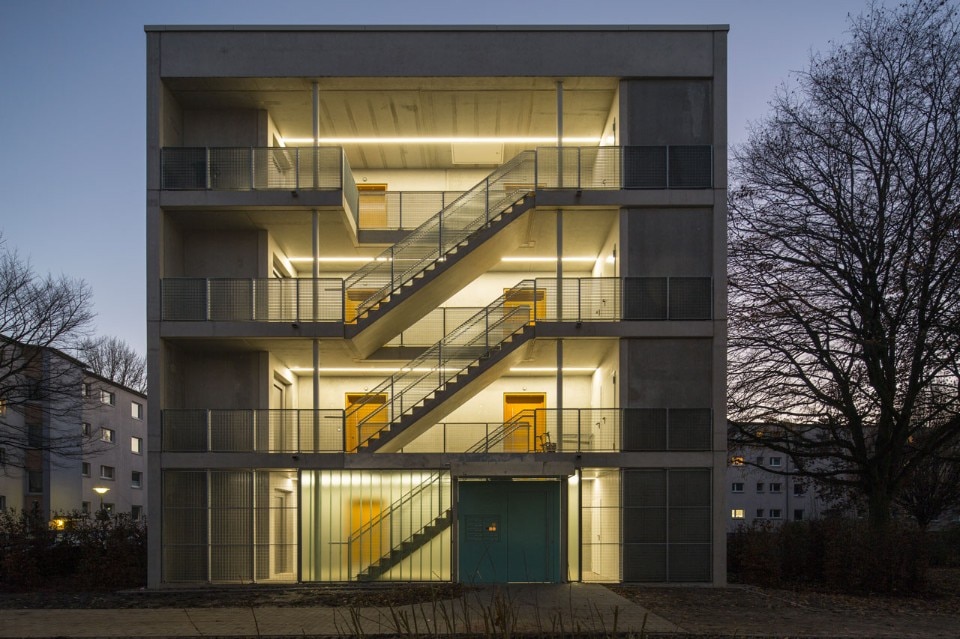 Cube House, Bremen
Program: housing
Architect: LIN Architects Urbanists
Design team: Giulia Andi, Finn Geipel, Philip König, John Klepel (Project Management), Tobias Schlimme, Mattis Krebs, Maja Lesnik, Ines Dobosic, Bruno Pinto da Cruz, Daniel Nissimov, Jan-Oliver Kunze, Anna Heilgemeir, Veljko Markovi
Execution Planning: Architect Dipl.-Ing. Kahrs
Structural engineering: Pirmin Jung
Landscape: Atelier Schreckenberg
Area: 427 sqm
Completion: 2017