Oh Lab designed a house that looks for the maximum energy efficiency, adapting itself to the program, the solar orientation, the views and the slope of the terrain in Gènova, Mallorca. The project optimizes the program grouping it in four boxes – kitchen, living and dinning, main bedroom and guest bedrooms – which can be used together or independently. 
Each box is placed carefully on the ground and rotates on its axis with precision to find the best views and orientation for their use. Each box has large openings towards the best orientations and sights, and smaller openings on the opposite façade allowing cross ventilation and taking advantage of the east-west breezes of the place. The South openings are recessed to let the sun enter in winter and block it in summer, while the East and West openings have exterior shutters.
The house has been designed according to Passivhaus standards to achieve the maximum energy efficiency. Monitoring the building's performance has been key to value the results and satisfaction of the clients. Finished in September, still in April the clients didn't turn on the heat at all, reporting an interior temperature for the winter between 21 to 24 degrees Celsius, with exterior temperatures between 5 to 15 degrees.
The pitched roofs have a system for collecting rainwater, three of them get water for irrigation and general use while the fourth roof is "the clean one" and collects water for consumption. With this measures the house is completely autonomous in terms of water. The garden includes a vegetable patch, low maintenance native vegetation and deciduous trees along the south of the house to protect from the summer sun.
The project has been made with a low construction budget and a very low cost of energy maintenance. It is a home that promotes environmental and sustainability values, reporting savings and comfort without incurring additional economic effort.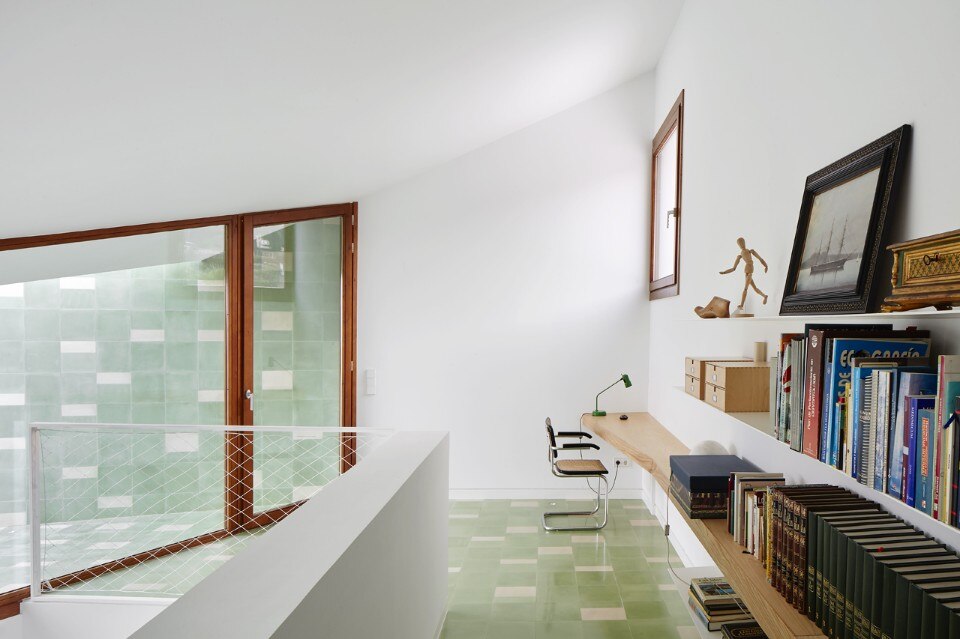 Oh Lab, MM House, Gènova, Mallorca, Spain, 2015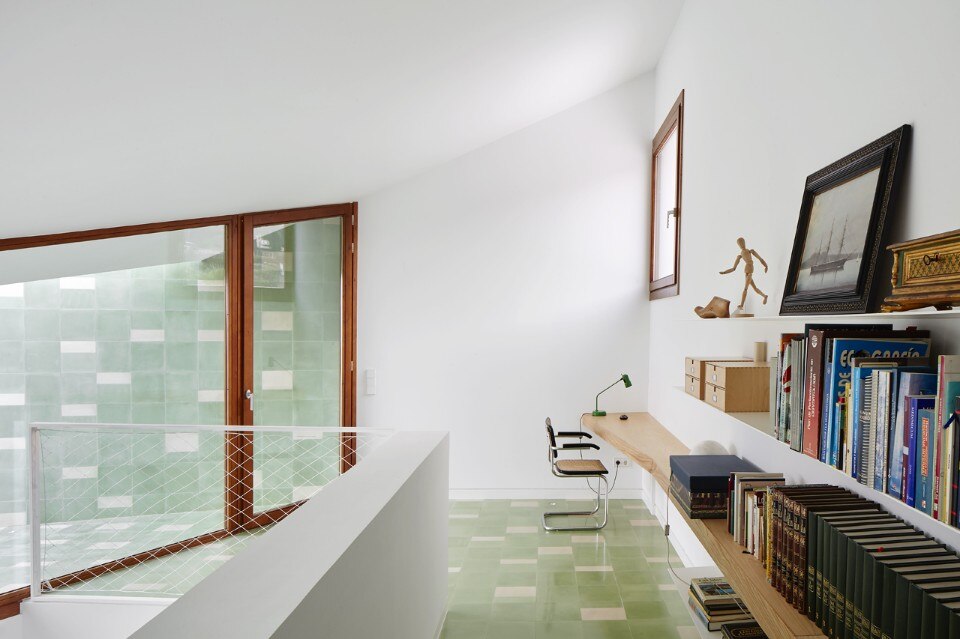 Oh Lab, MM House, Gènova, Mallorca, Spain, 2015
Oh Lab, MM House, Gènova, Mallorca, Spain, 2015
Oh Lab, MM House, Gènova, Mallorca, Spain, 2015
Oh Lab, MM House, Gènova, Mallorca, Spain, 2015
Oh Lab, MM House, Gènova, Mallorca, Spain, 2015
X:\PR public\proyectos\15_03 casa MM\01. IMAGENES\02. DRAWINGS\cmm A1-1 construcción proyecto ejecución Model (1)
Oh Lab, MM House, ground floor
X:\PR public\proyectos\15_03 casa MM\01. IMAGENES\02. DRAWINGS\cmm A1-1 construcción proyecto ejecución Model (1)
Oh Lab, MM House, first floor
AXO.A4
Oh Lab, MM House, axonometry

MM House, Gènova, Mallorca, Spain
Program: single family house
Architects: Oh Lab
Design team: Paloma Hernaiz, Jaime Oliver, Rebeca Lavín, Walter Brandt, Sergio Rivero de Cáceres
Quantity surveyor: Jorge Ramón
Structure: Jesús Alonso
Energy efficiency advisor: Anne Vogt
Completion: 2015