The building designed by Made in Earth in Thiruvannamalai, Tamil Nadu, India, is a home for HIV positive children, who are orphans or have been abandoned by their family, or with parents who cannot take care of them.
So the main requirement was to give the project a sense of a family home, a joyful place where to grow up with the other kids. The building should have been also suitable for the particular climate conditions of the context, a place that can be very hot during a big part of the year.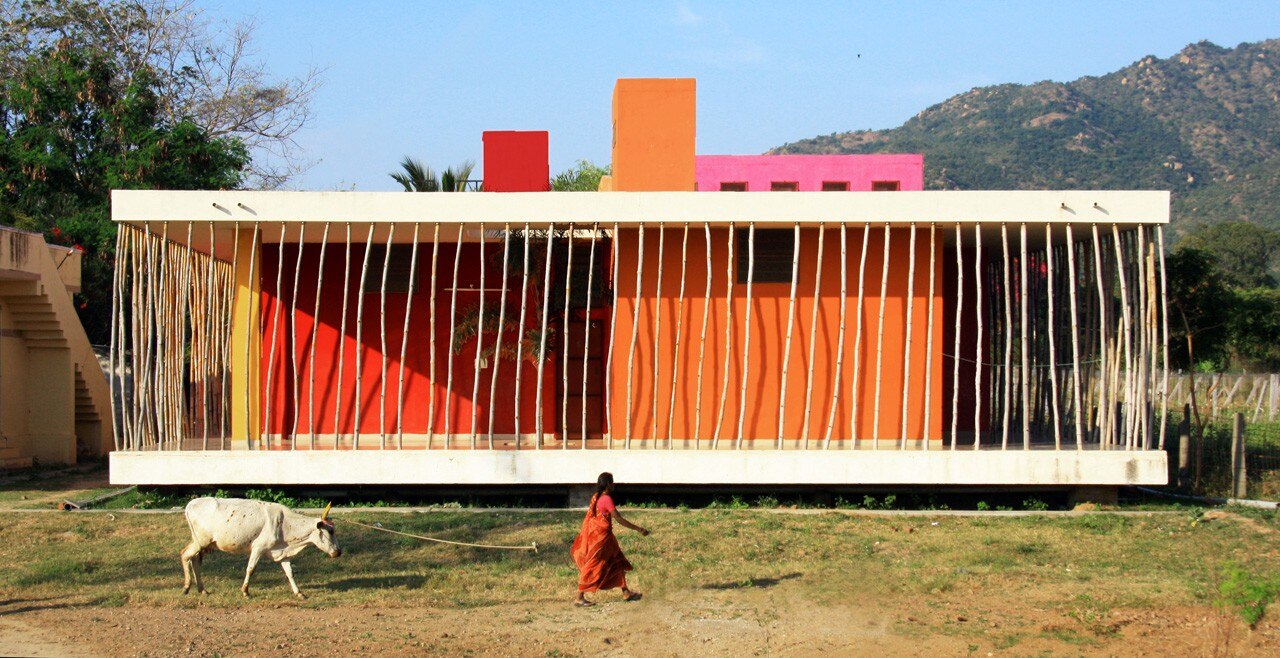 The structure is composed by two big concrete slabs, the floor and the roof of the building. The first one is detached from the ground to avoid flood. Between them, five colored boxes are freely disposed, containing dormitories, bathrooms and a kitchen, while the free space in between becomes the common and distribution area. Boxes are positioned according to the prevailing winds, to enhance the natural cross ventilation.
Other colored volumes emerge from the roof as skylights and chimneys for ventilation, completing the overall look of a construction toy. The building is enveloped by a bamboo curtain, which creates shadowed areas between indoor and outdoor spaces. Structure was made in concrete, realistically the more convenient and rapid material, that also suited the open and airy layout of the project. Walls were made with hand made bricks, that ensured a good insulation, beside involving local workers and factories. The waterproofing was made using a traditional technique, a mix of broken bricks, sand, water, cement and a liquid that comes from the seeds' fermentation of a local plant.
The perimetral curtain was made in bamboo, much more sustainable than wood, for its fast-growing peculiarities.
The idea was to create a dynamic, various space for the children. A place that is itself a toy, to be discovered and exploited. A place where children can feel free to gather or to stay alone, that follows them in the many different moments of childhood. The bright colors of the walls refers both to the well-known Indian culture of colours and to a big, oversized toy.
They also help to give an identity and appropriation feeling to the little inhabitants.
Made in Earth, Casa Rana, Thiruvannamalai, Tamil Nadu, India
Made in Earth, Casa Rana, Thiruvannamalai, Tamil Nadu, India
Made in Earth, Casa Rana, Thiruvannamalai, Tamil Nadu, India
Made in Earth, Casa Rana, Thiruvannamalai, Tamil Nadu, India
Made in Earth, Casa Rana, Thiruvannamalai, Tamil Nadu, India
Made in Earth, Casa Rana, Thiruvannamalai, Tamil Nadu, India
Made in Earth, Casa Rana, Thiruvannamalai, Tamil Nadu, India
Made in Earth, Casa Rana, Thiruvannamalai, Tamil Nadu, India
Made in Earth, Casa Rana, Thiruvannamalai, Tamil Nadu, India
Made in Earth, Casa Rana, Thiruvannamalai, Tamil Nadu, India
Made in Earth, Casa Rana, Thiruvannamalai, Tamil Nadu, India
Made in Earth, Casa Rana, Thiruvannamalai, Tamil Nadu, India
Made in Earth, Casa Rana, Thiruvannamalai, Tamil Nadu, India
Made in Earth, Casa Rana, Thiruvannamalai, Tamil Nadu, India
Made in Earth, Casa Rana, Thiruvannamalai, Tamil Nadu, India
Made in Earth, Casa Rana, Thiruvannamalai, Tamil Nadu, India

Casa Rana, Thiruvannamalai, Tamil Nadu, India
Program: home for HIV positive children
Architects: Made In Eart (Giancarlo Artese, Sebastiano Gorini, Diego Lama, Cristina De Gennaro, Adriana Raguso)
Consultants: Livio de Santoli, Energia & Ambiente srl
Beneficiary: Terre des Hommes Core Trust
Donor: Roberto Grassi
Cost: 70,000 €
Area: 400 sqm