As part of the urban renewal of the Auvry Barbusse district, in the city of Aubervilliers, the construction company Bouygues Immobilier launched in January 2011, an architecture competition for the project management of 39 multi-family housings, three craftshops, and a carpark.
The architects were given the constraint of using wood for the building structure and to team up with the appropriate contractor in order to work from the early design with their know-how and construction processes.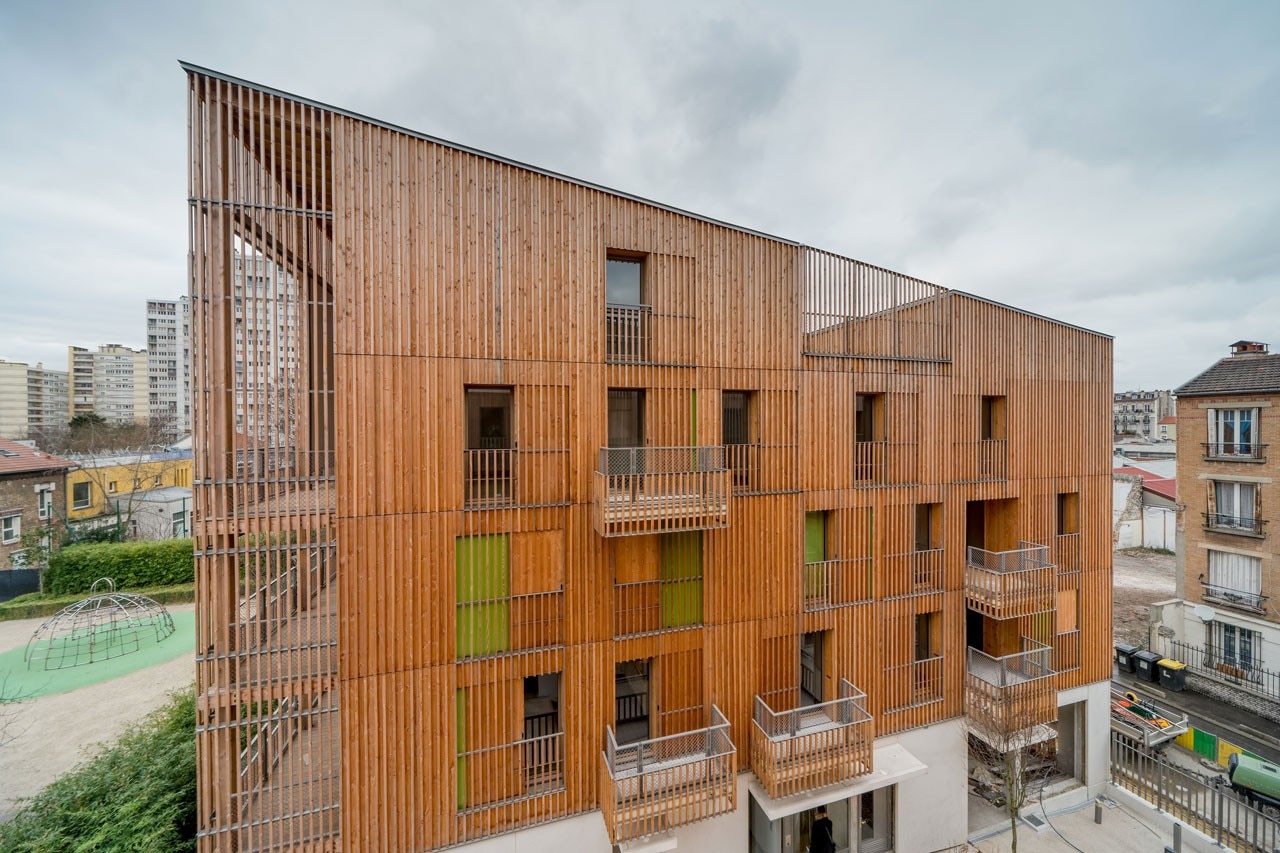 The project site is located at 25/31 Rue Auvry. It was occupied by former industrial premises. The shape of the site provides a long facade linear on street side, suitable for commercial premises, and a direct access to the Square Jean Ferrat on the other side, offering views on the gardens.
The architecture firm Tectône, associated with the Houot Company for wood framing, wins the competition with a project respectfull of the master plan of the urban planners (TOA architects – Olivier Meheux). The design takes inspiration from suburban houses and faubourgs walkways. Thus, there are three buildings and two walkways allowing crossings from street to gardens and offering a great convivality.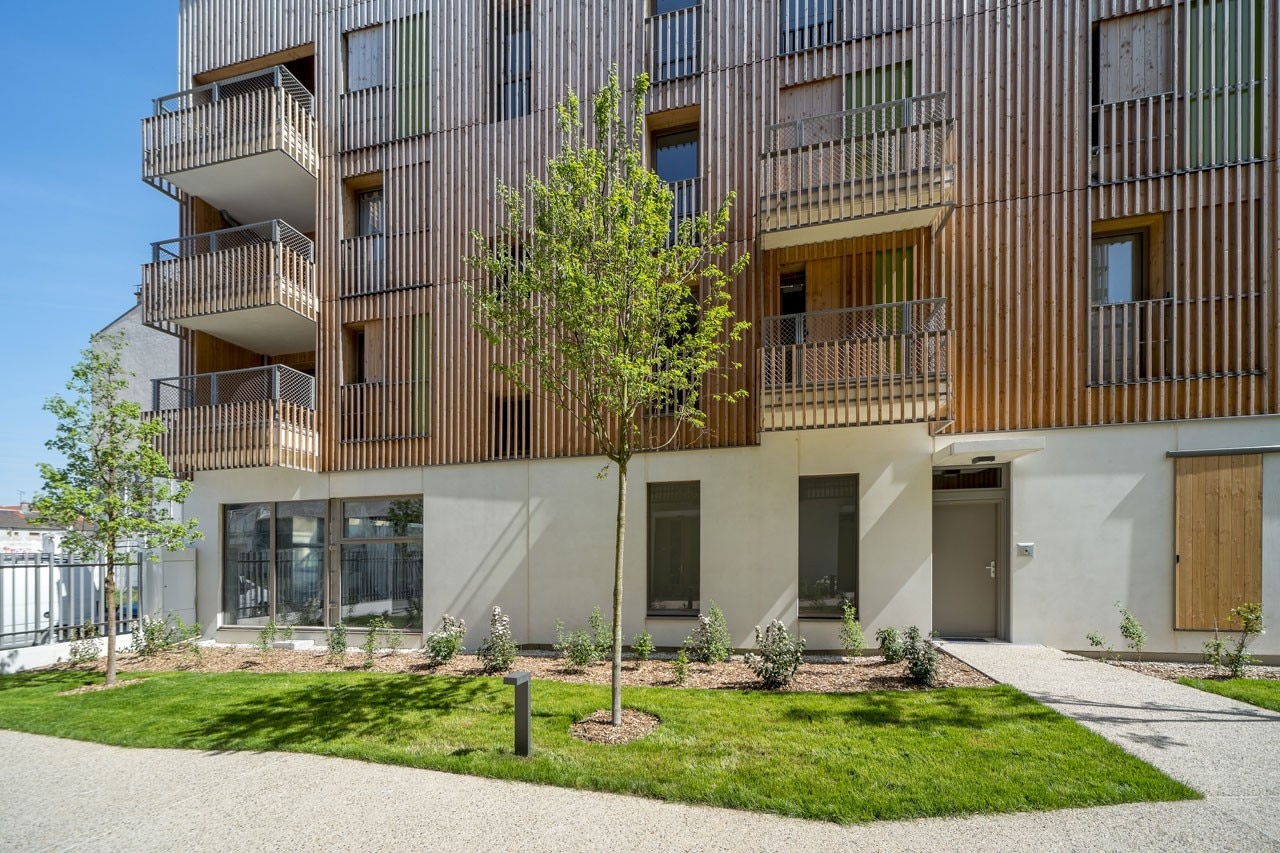 The building structure is mixed: both concrete and wood. The entire infrastructure, the ground floor and the stairs and lifts cores are made out of concrete. The ground floor has an exterior finish of a very neat white concrete, including efficient thermal insulation. The construction of the two-storey flats at top floors is entirely made of wood.
Wood frames of the facade are pre-made in factory. Then they are cladded with a no-treatment pine, giving therefore natural finish that will evolve over time. The double skin has a protective role: shading from the southern light and maintaining a comfortable temperature during  summer; as well as ensuring privacy from the outside. The wooden shutters slide into the gap of the double skin, in order to protect the shutters from bad weather.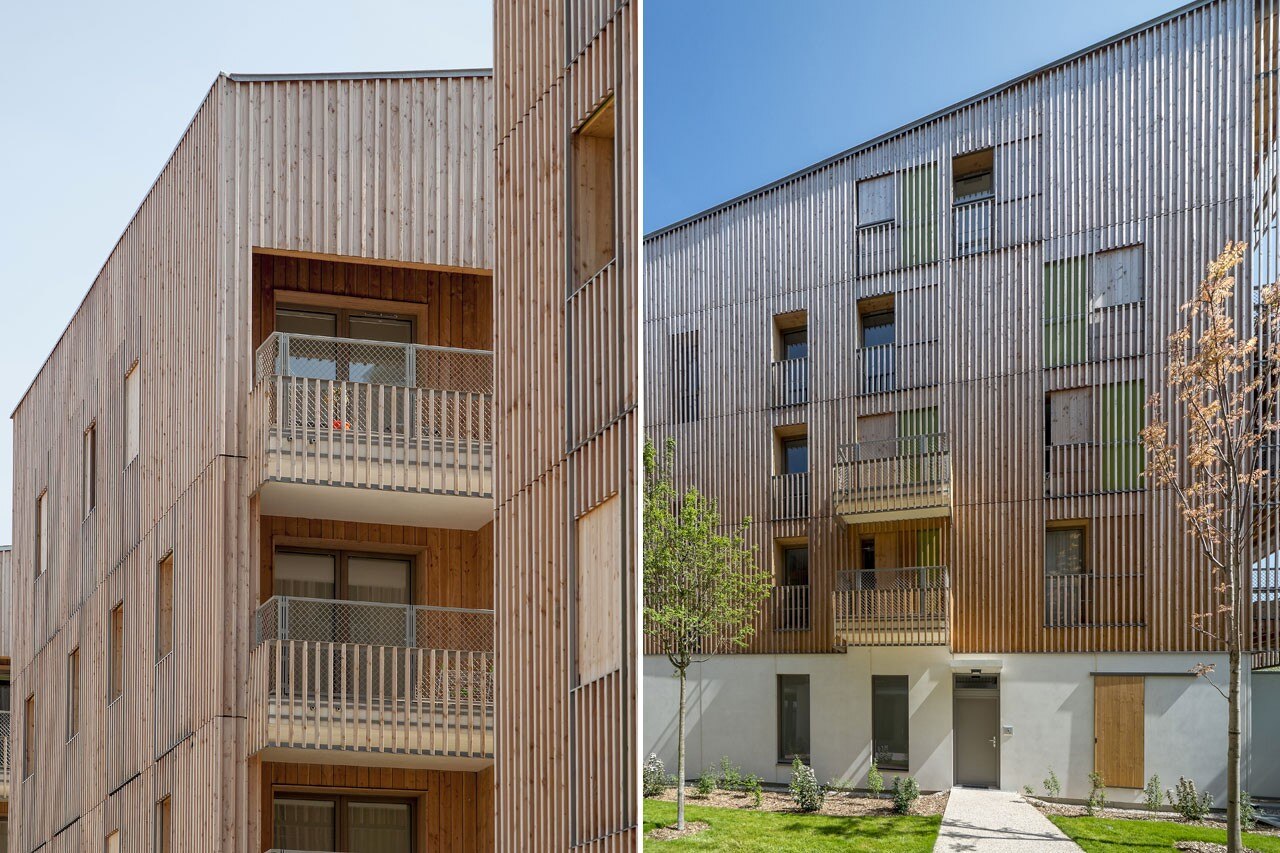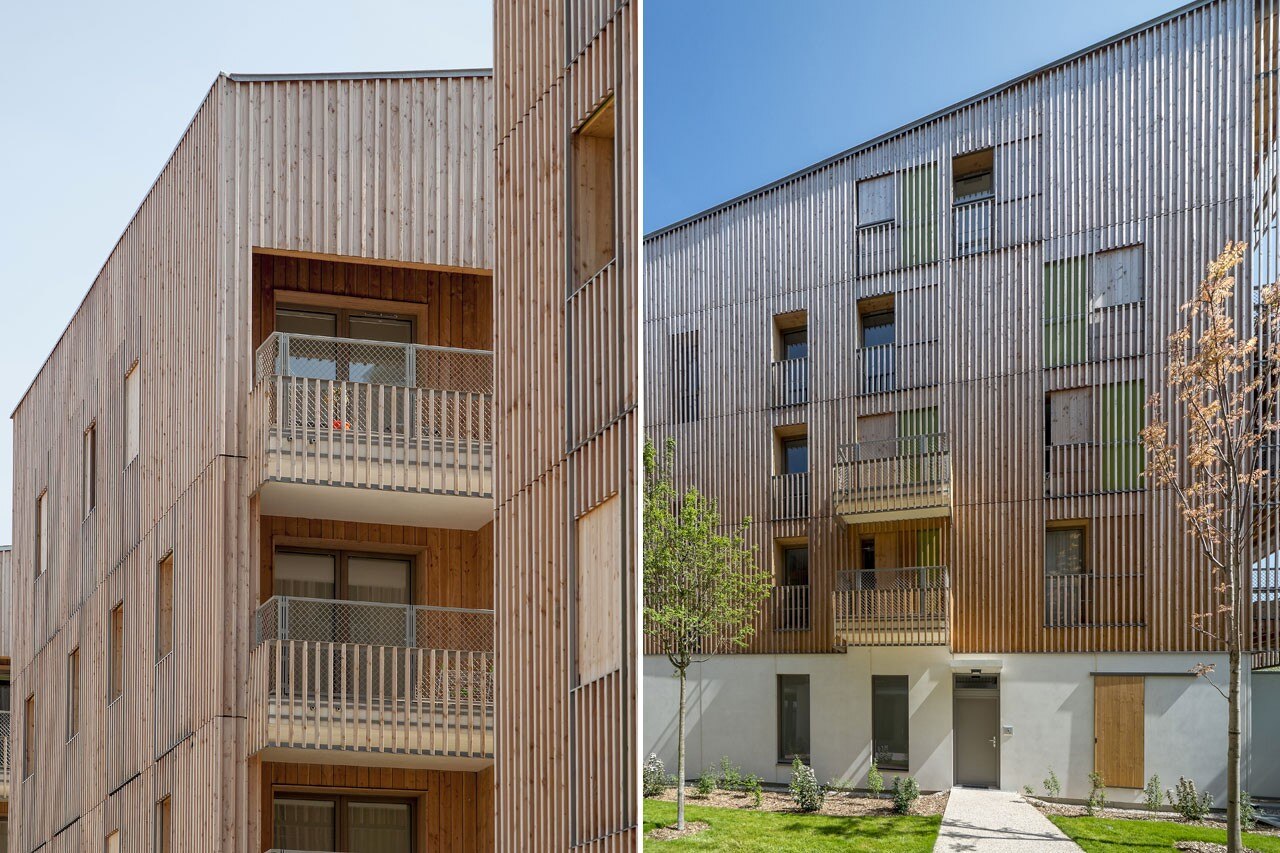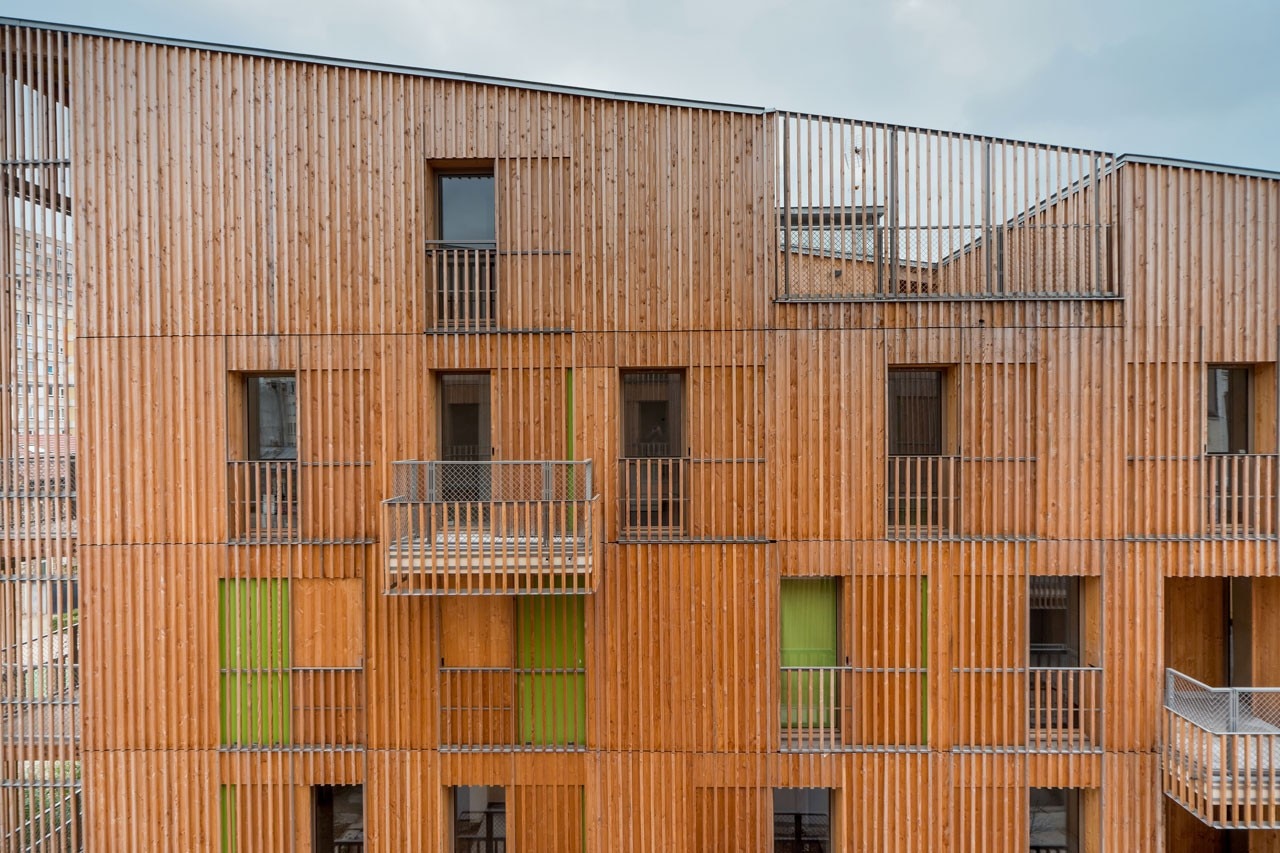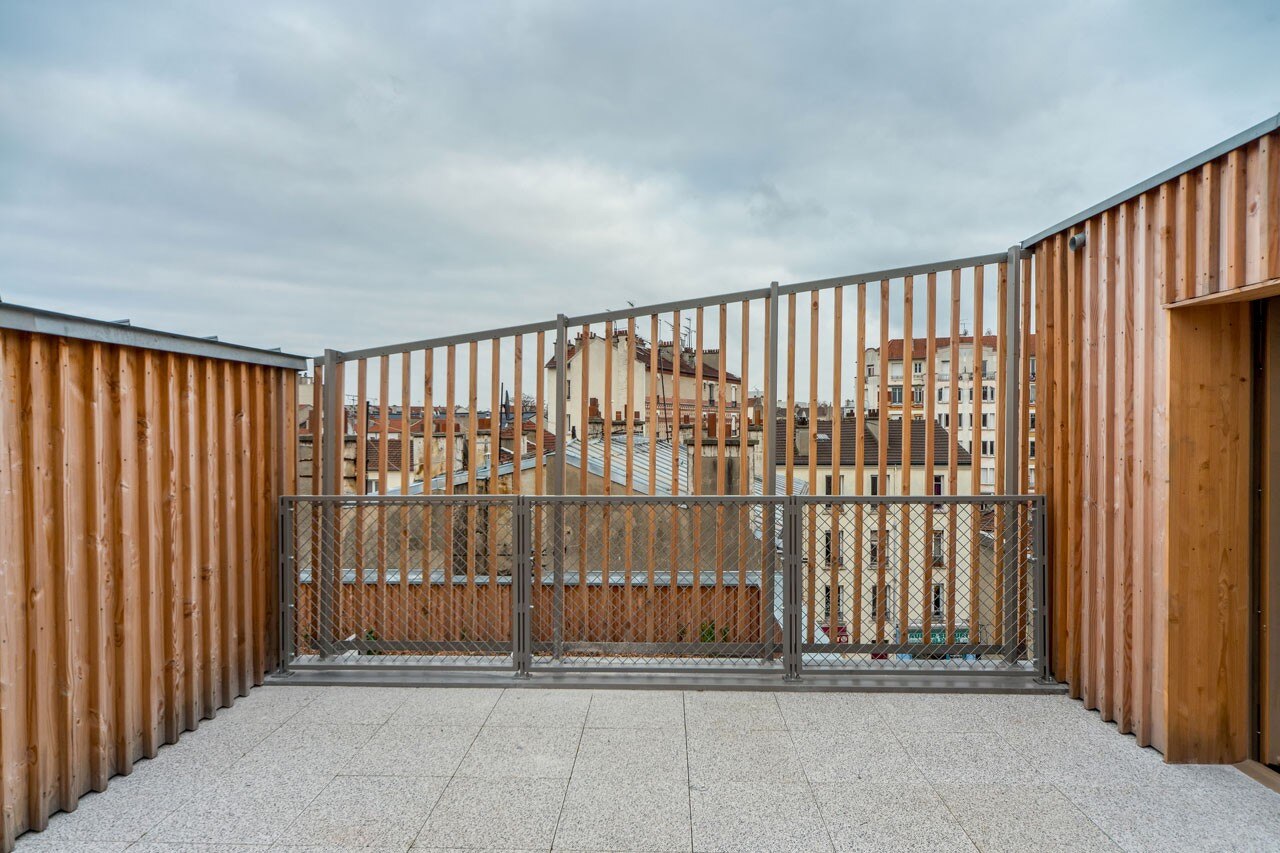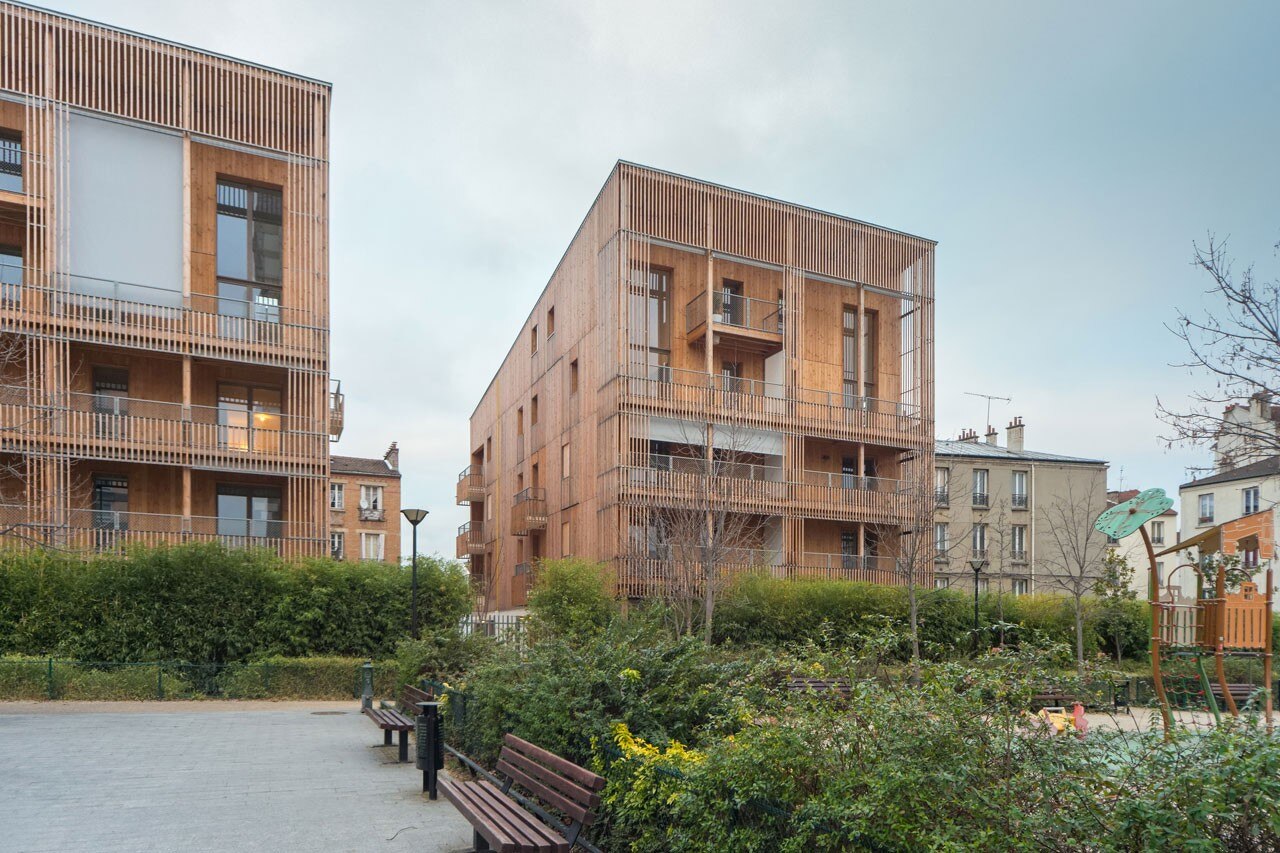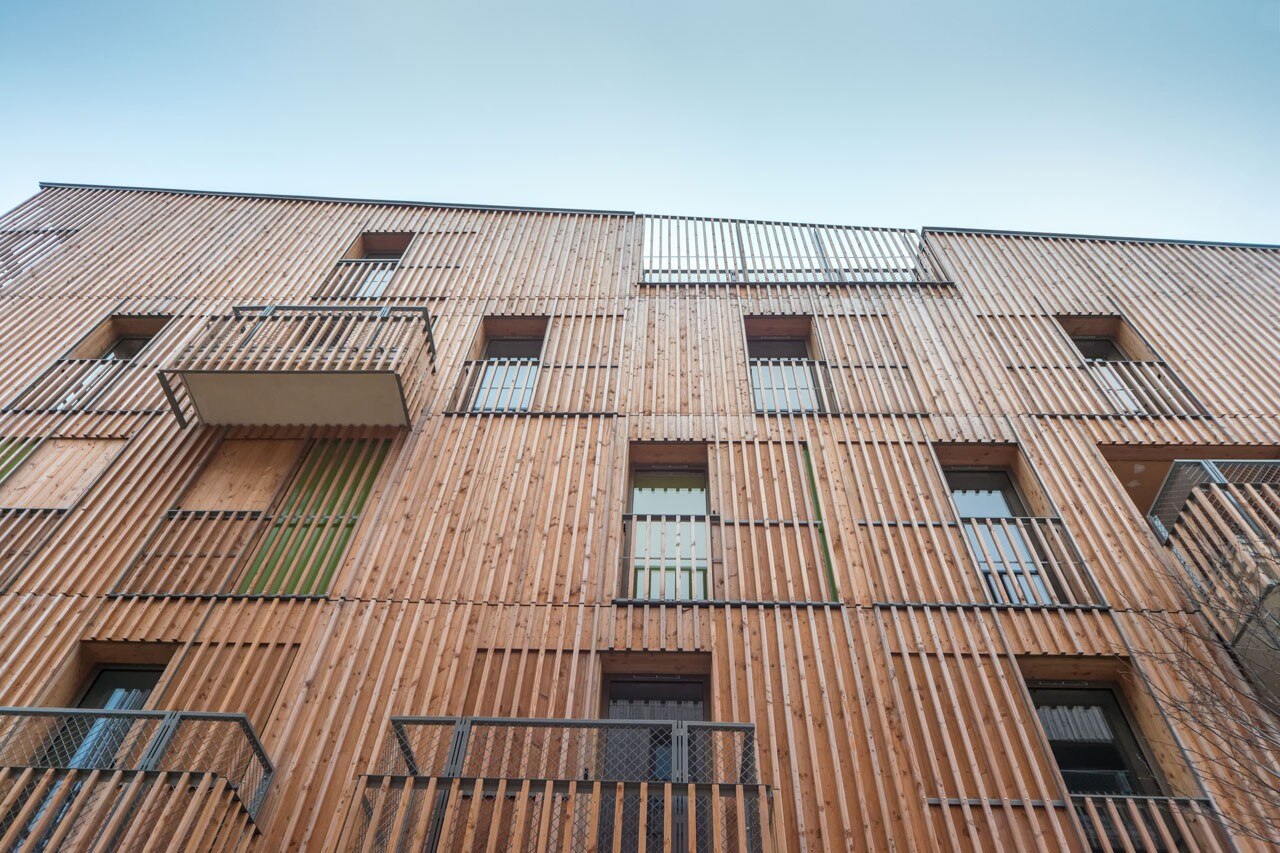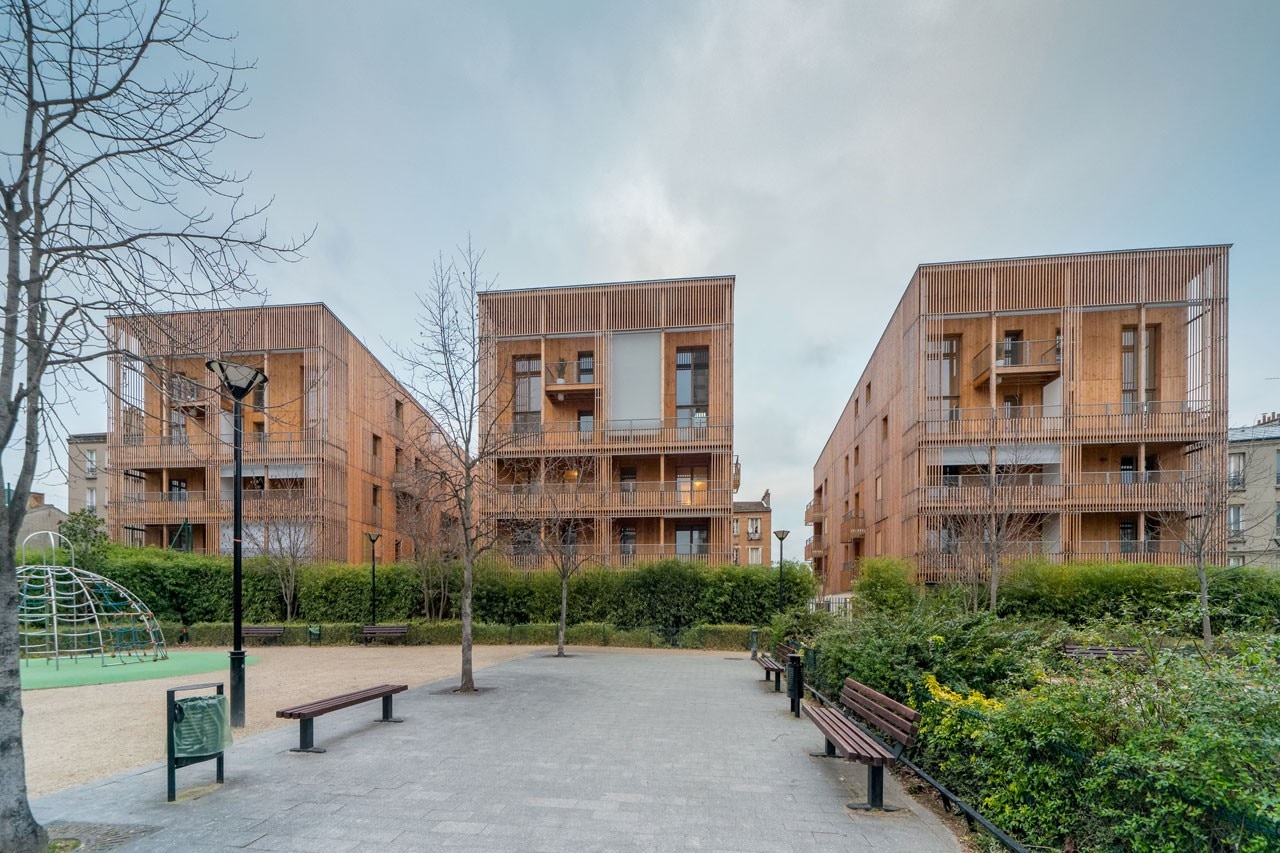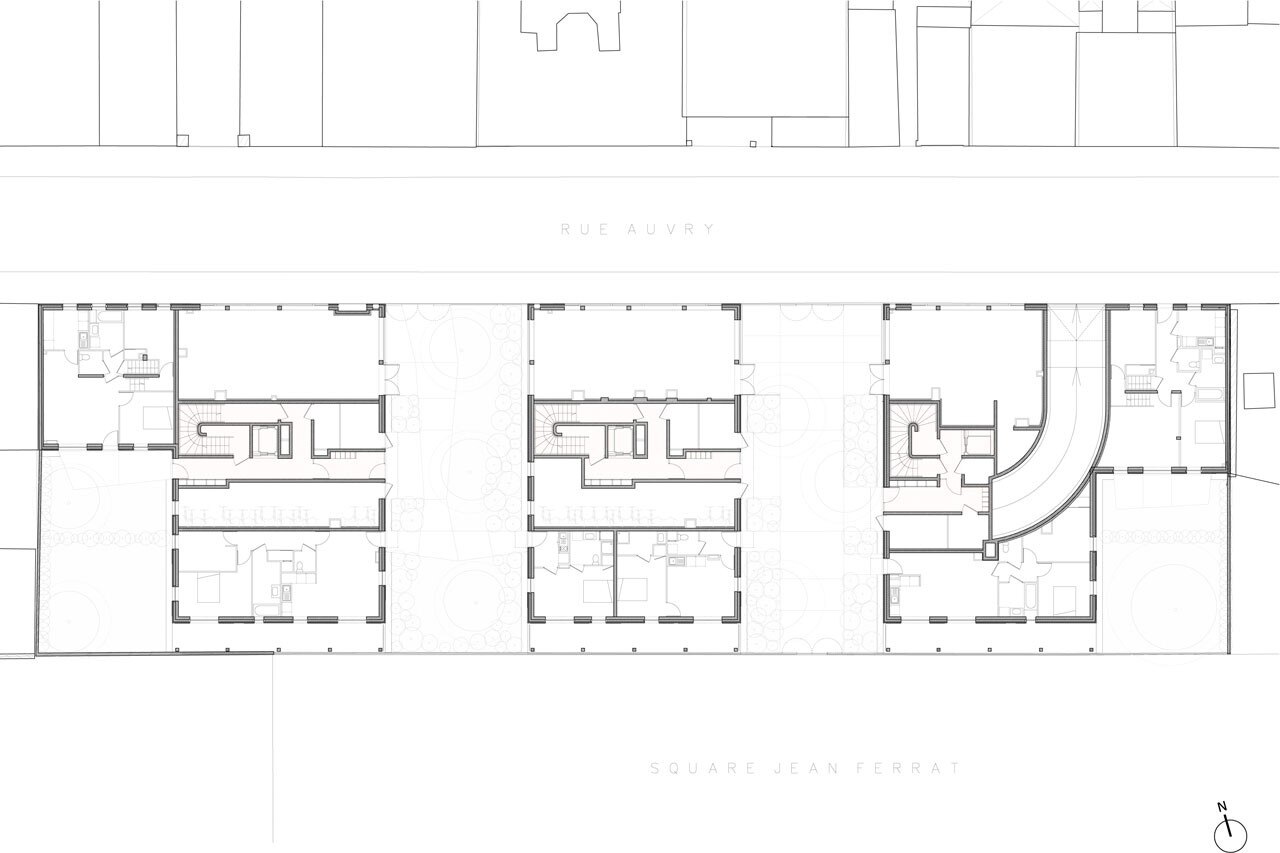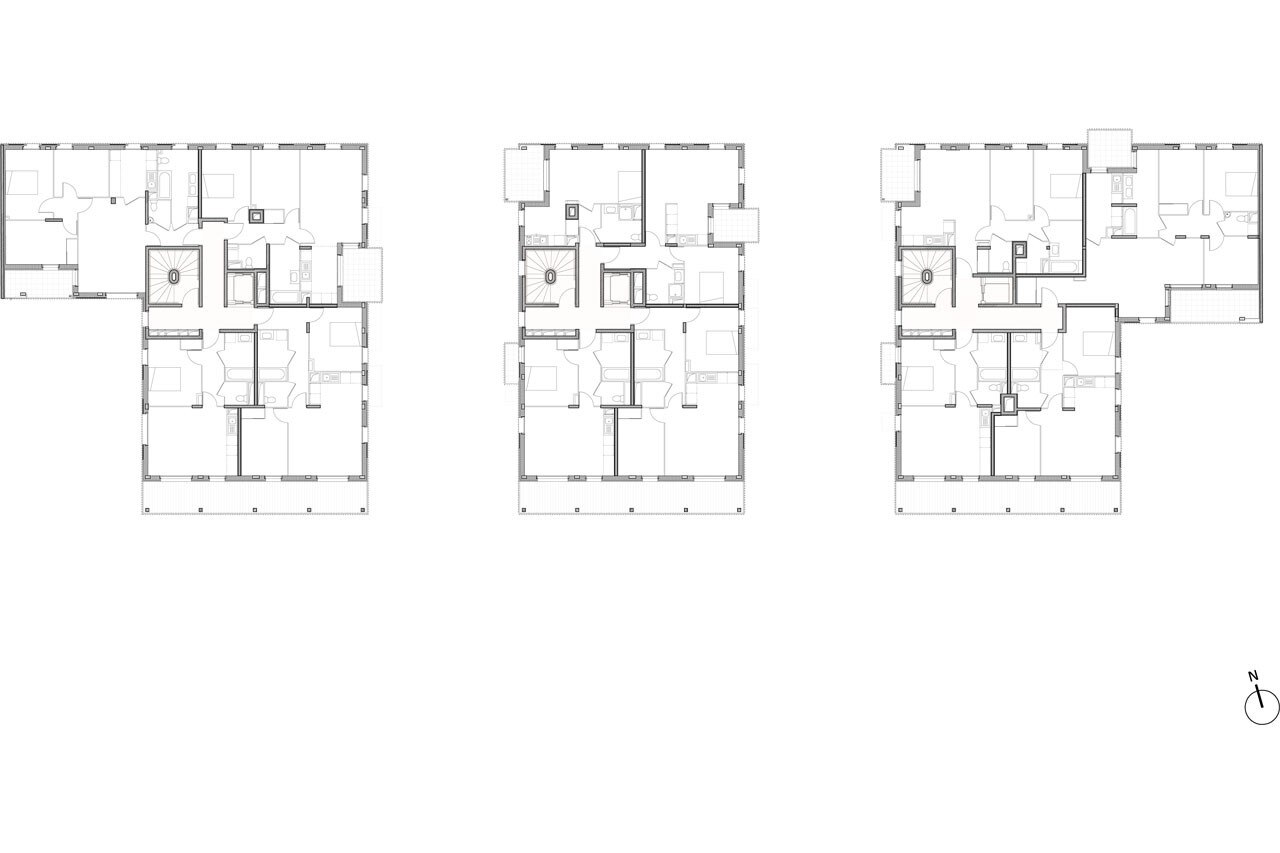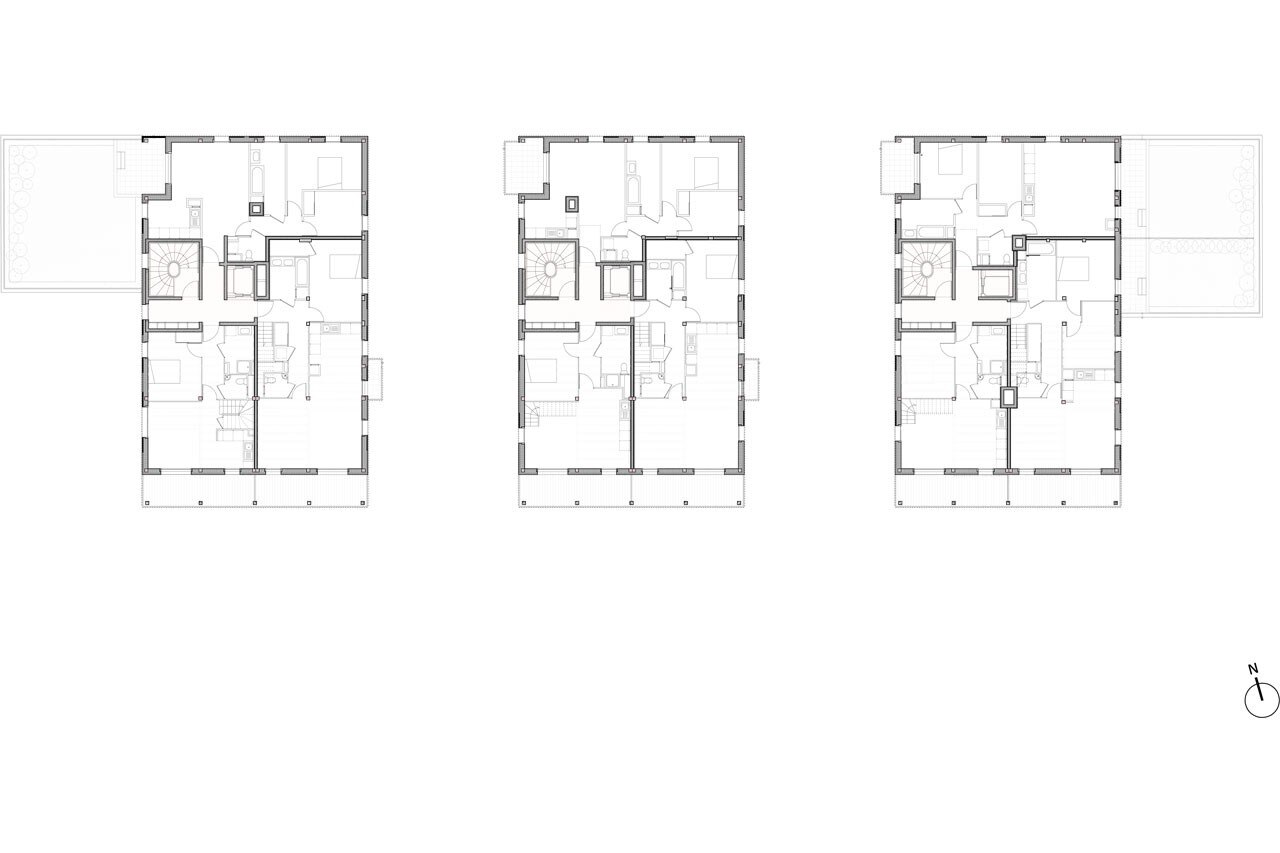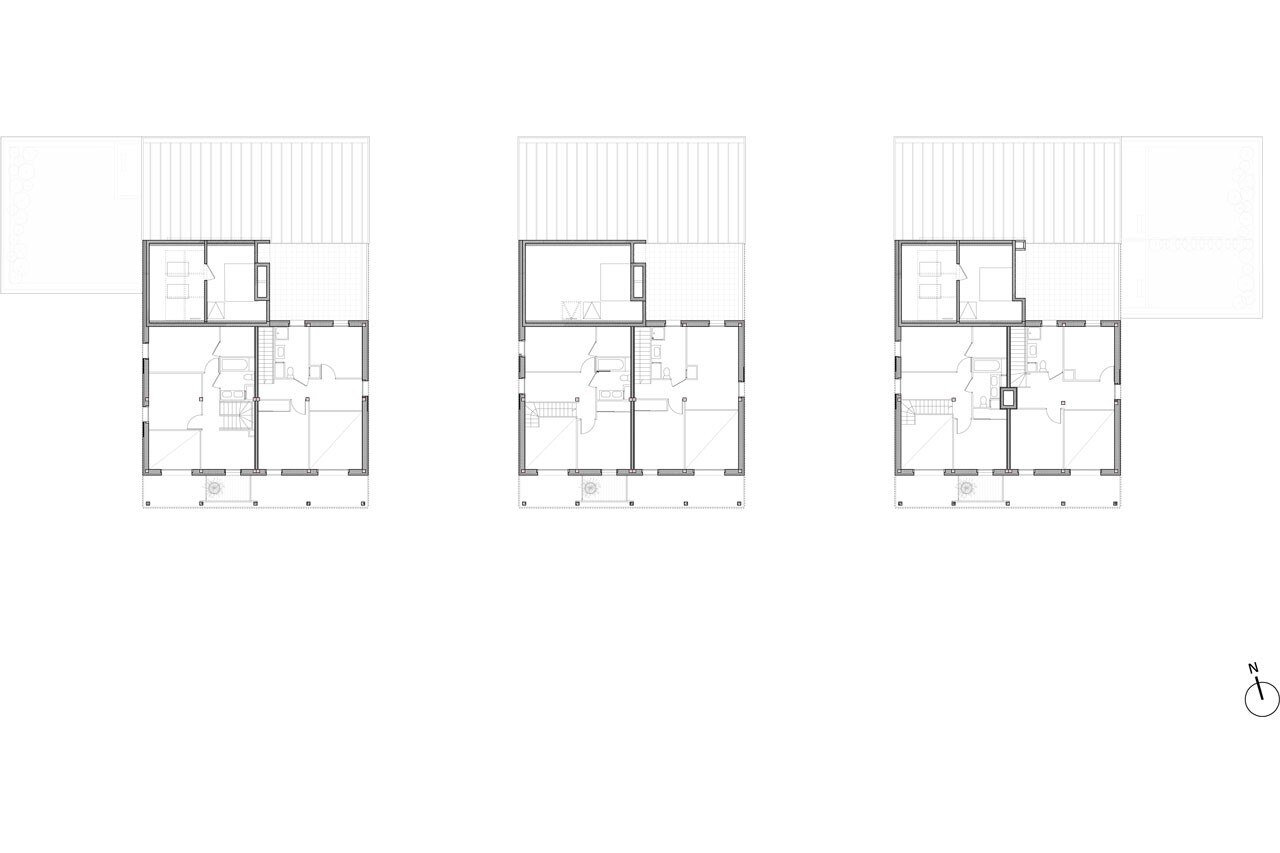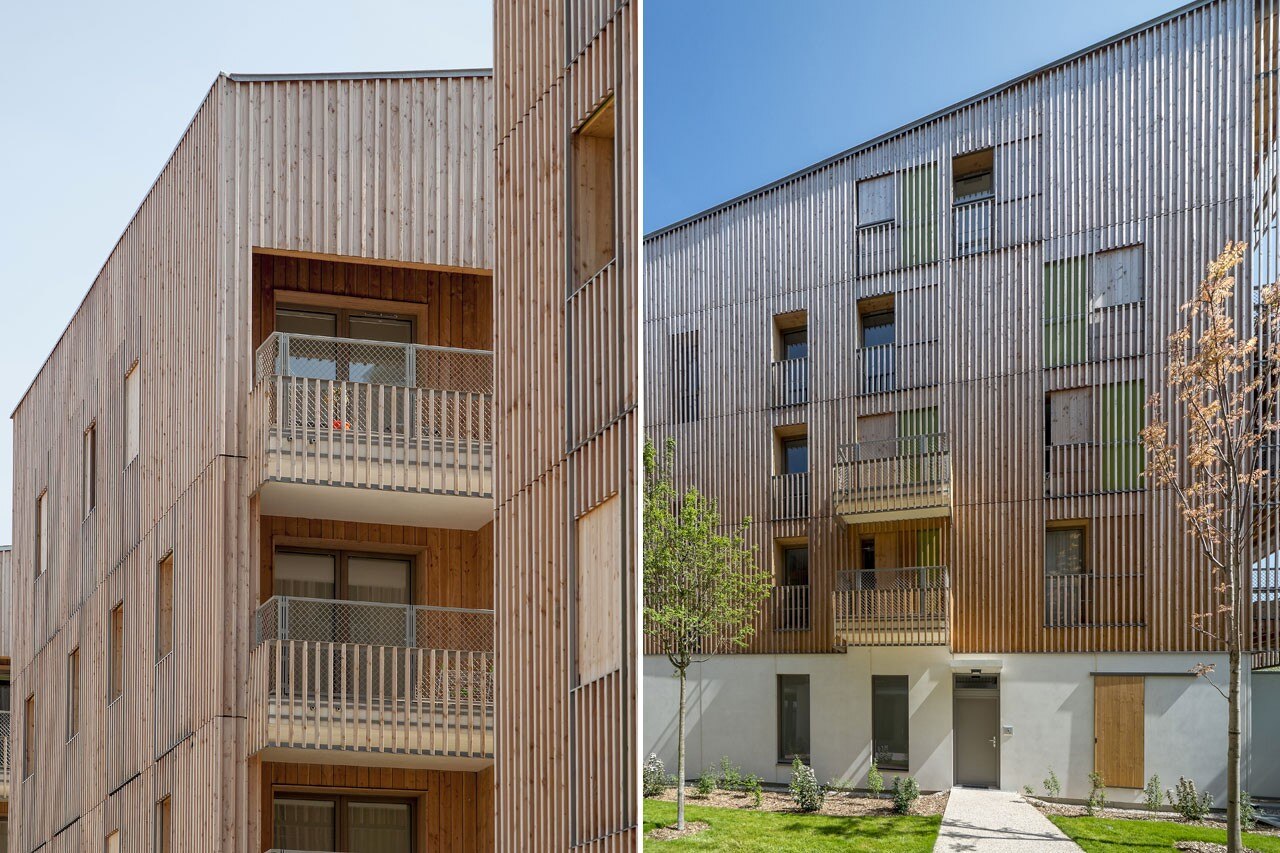 Tectône, Auvry Barbousse, Auberville, France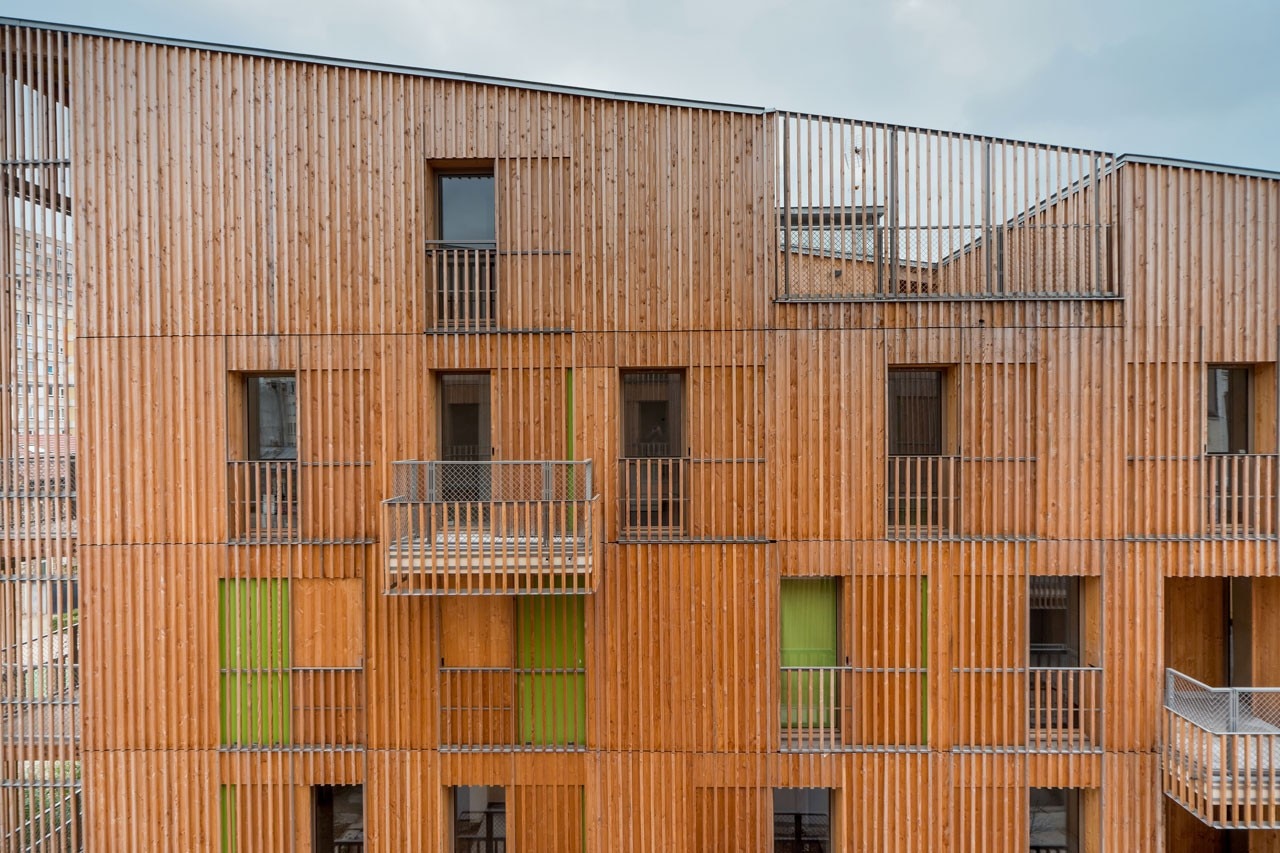 Tectône, Auvry Barbousse, Auberville, France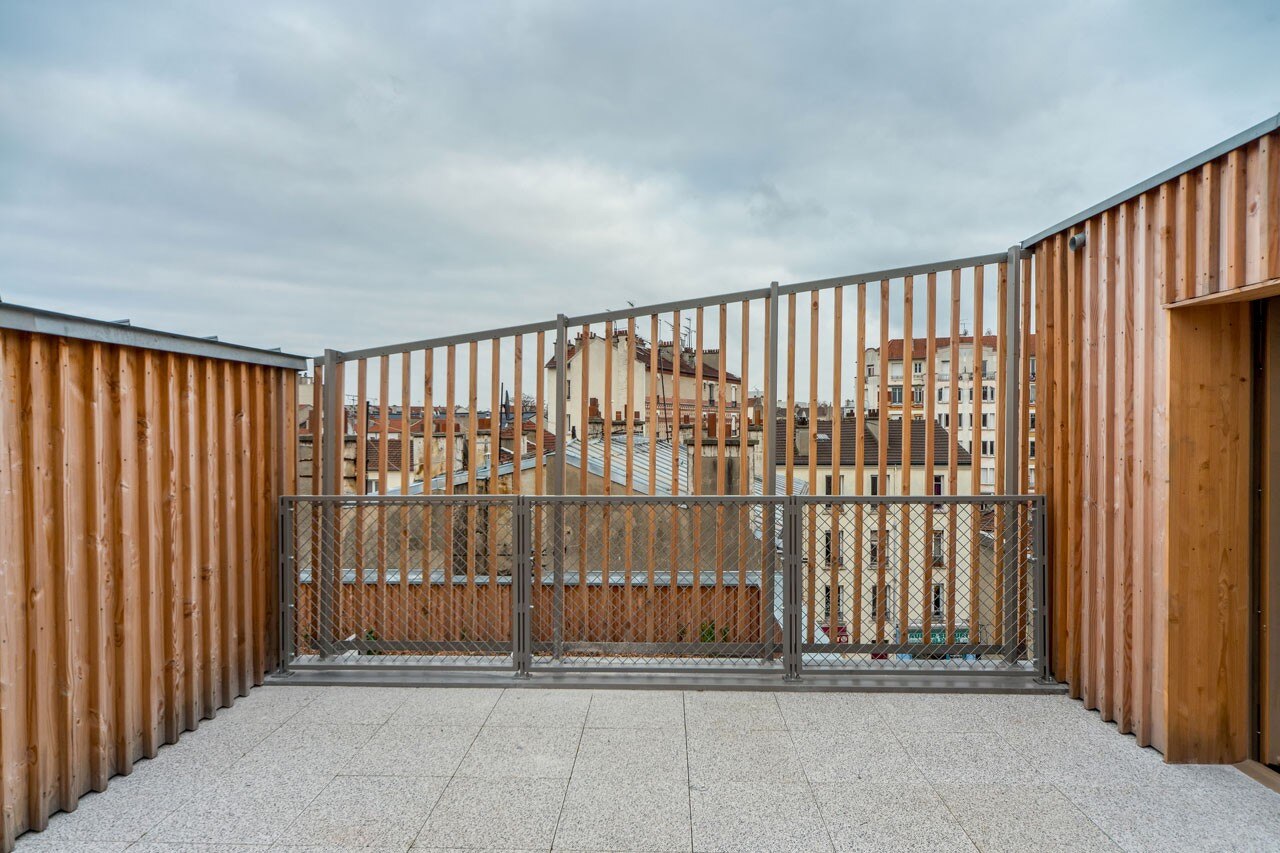 Tectône, Auvry Barbousse, Auberville, France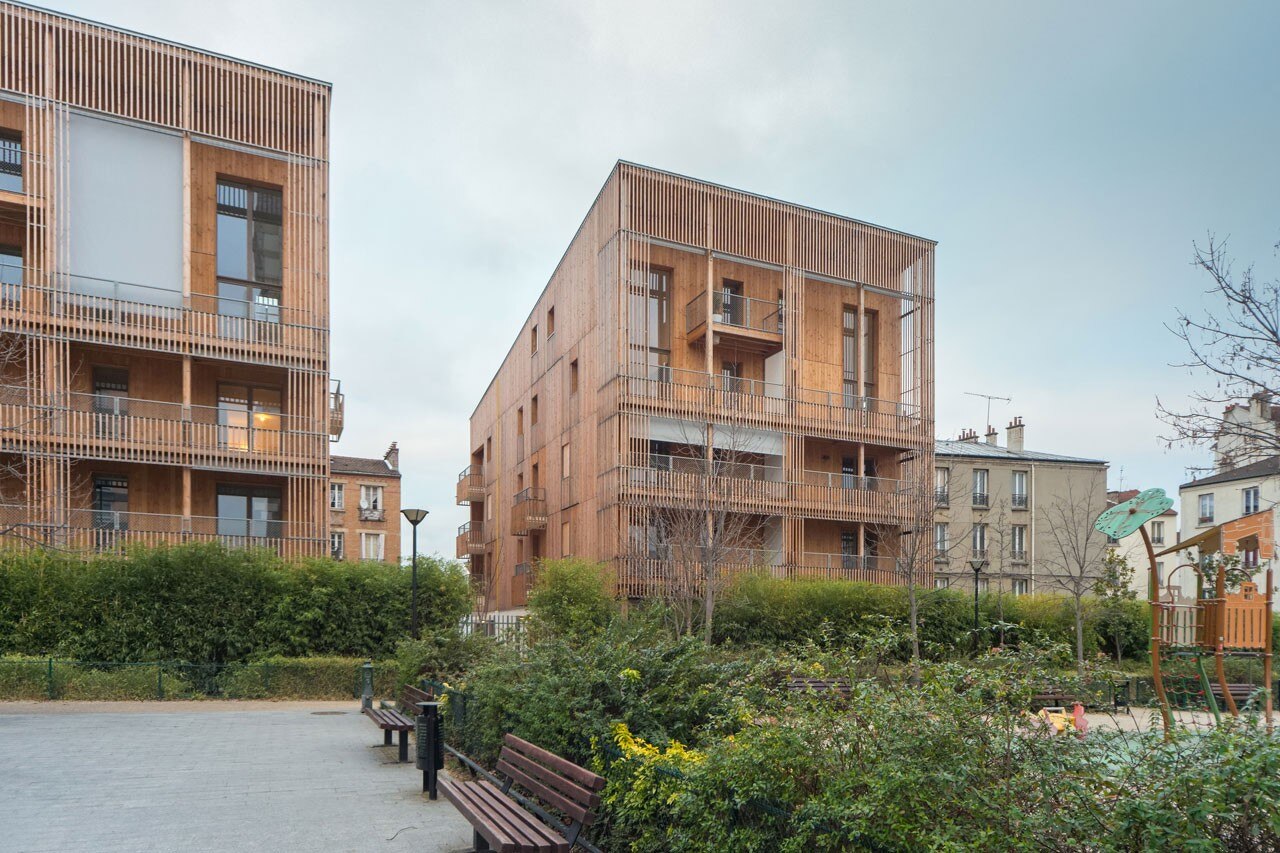 Tectône, Auvry Barbousse, Auberville, France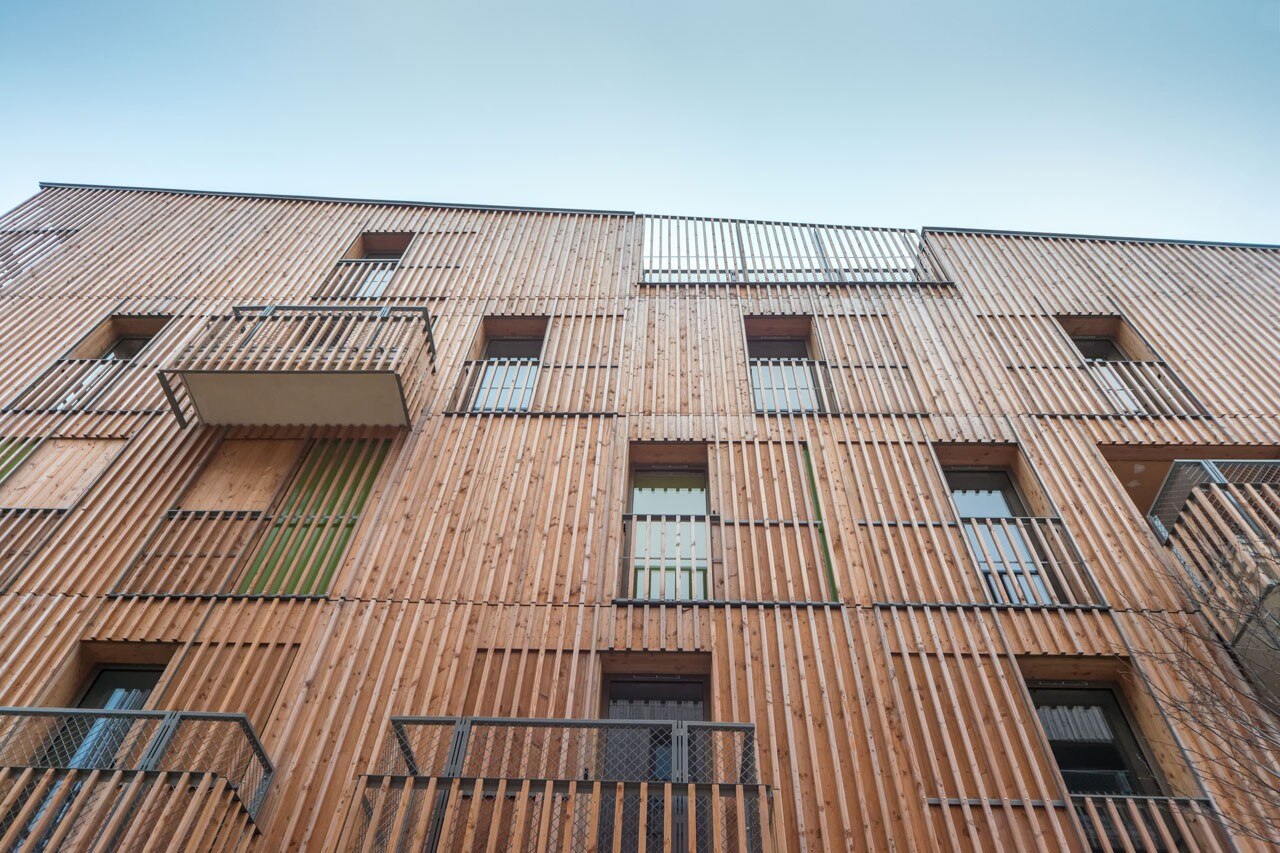 Tectône, Auvry Barbousse, Auberville, France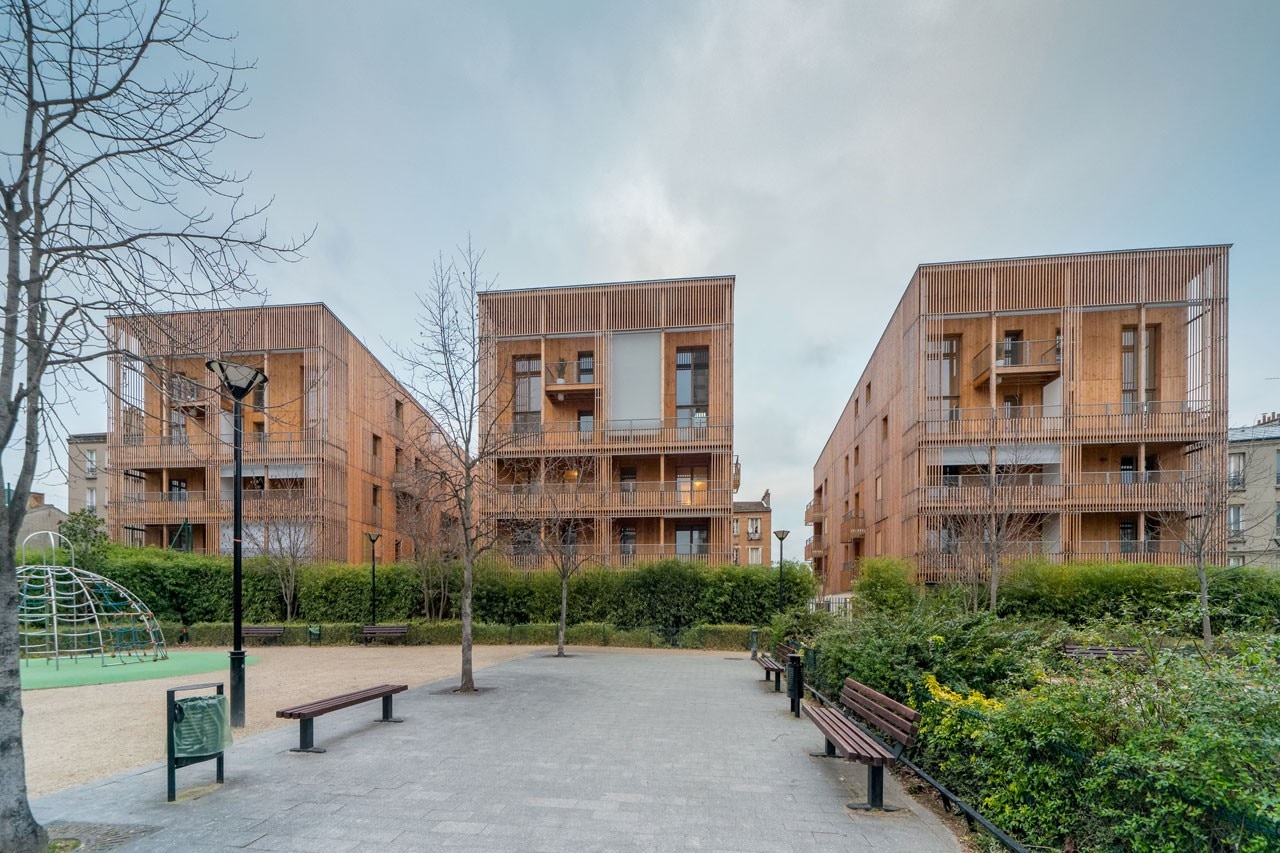 Tectône, Auvry Barbousse, Auberville, France
S:\@stockage\pascal\communication\com_1_images\C1_im_projets\C1_im_081_aubervilliers_auvry_barbusse\C1_im_081_plans\plan_masse 500 (1)
Tectône, Auvry Barbousse, Auberville, France. Siteplan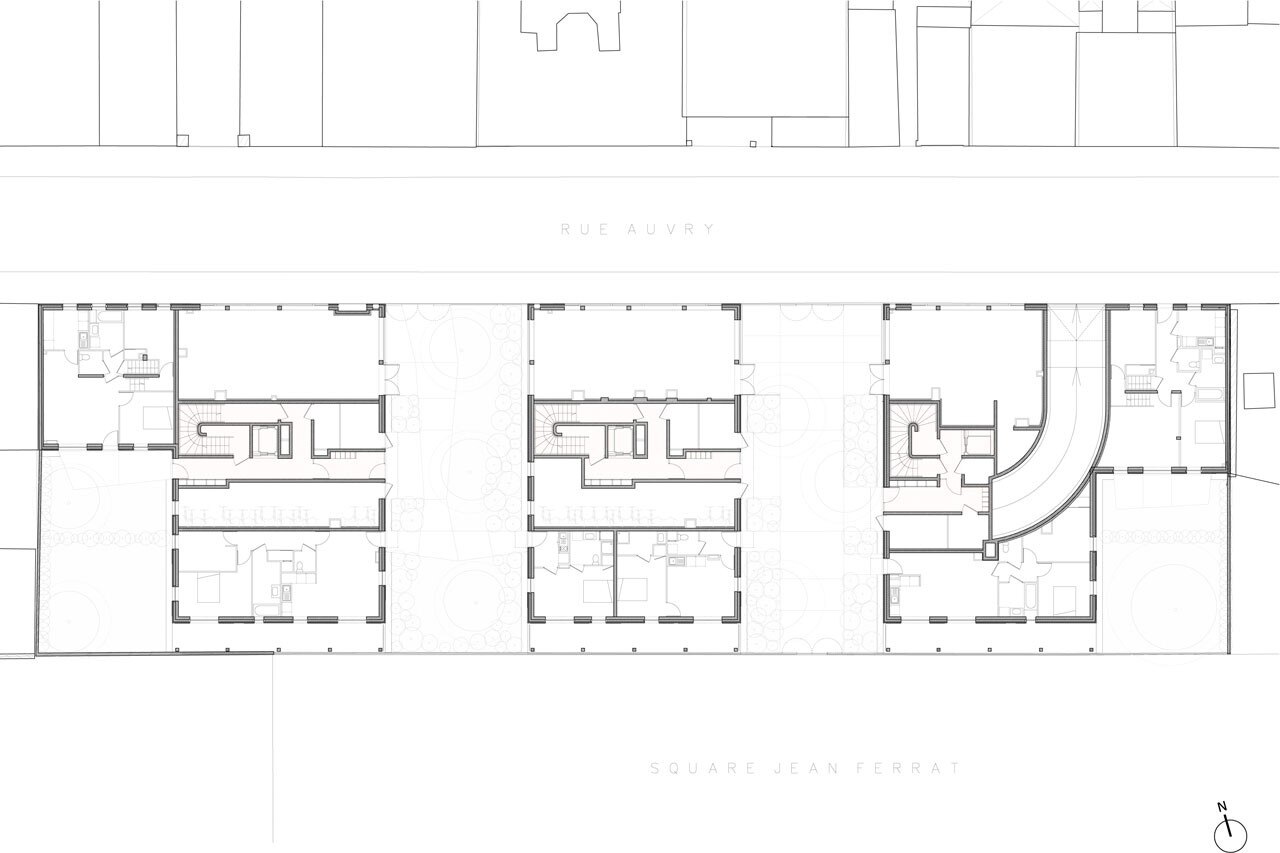 S:\@stockage\pascal\communication\com_1_images\C1_im_projets\C1_im_081_aubervilliers_auvry_barbusse\C1_im_081_plans\plan_niveau_0 A3_niv0_20
Tectône, Auvry Barbousse, Auberville, France. Ground floor plan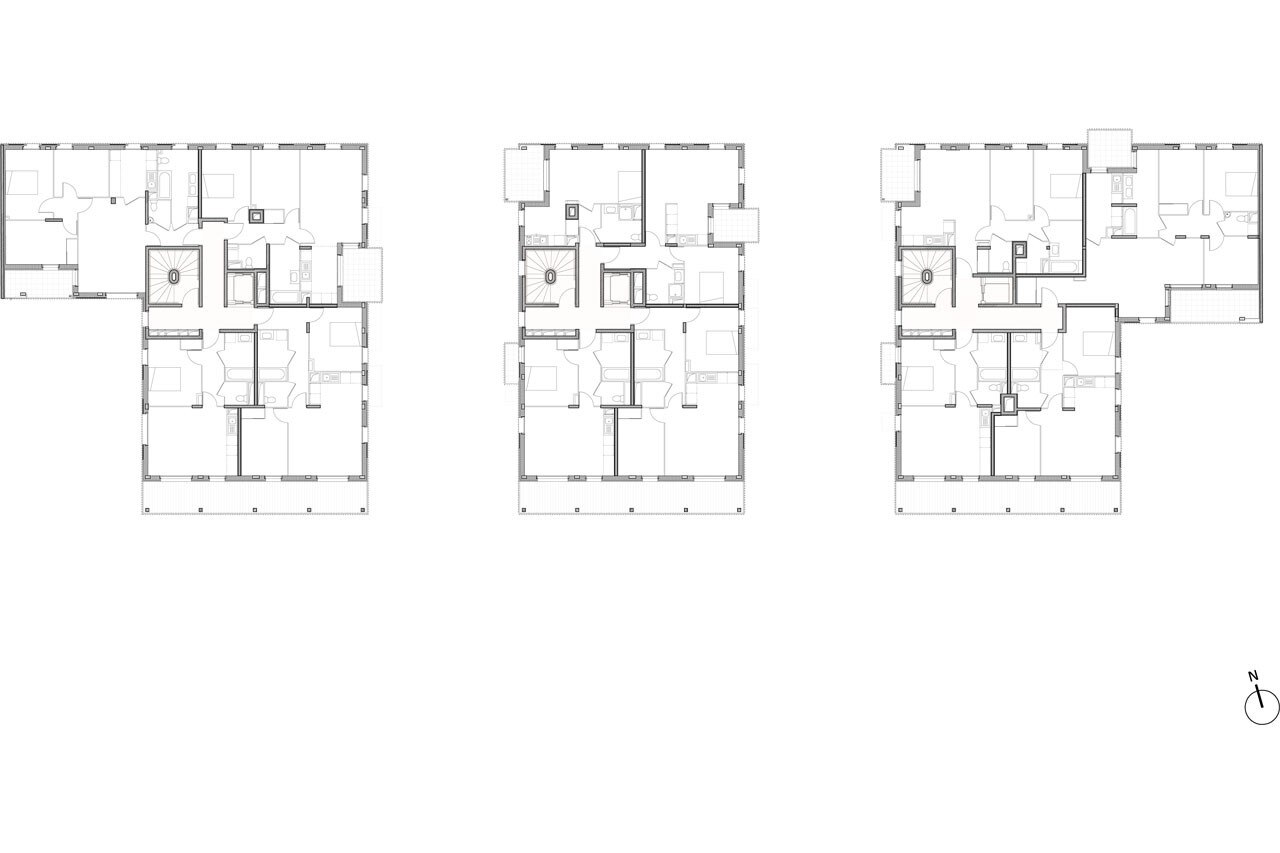 S:\@stockage\pascal\communication\com_1_images\C1_im_projets\C1_im_081_aubervilliers_auvry_barbusse\C1_im_081_plans\plan_niveau_2 A3_niv2_20
Tectône, Auvry Barbousse, Auberville, France. First floor plan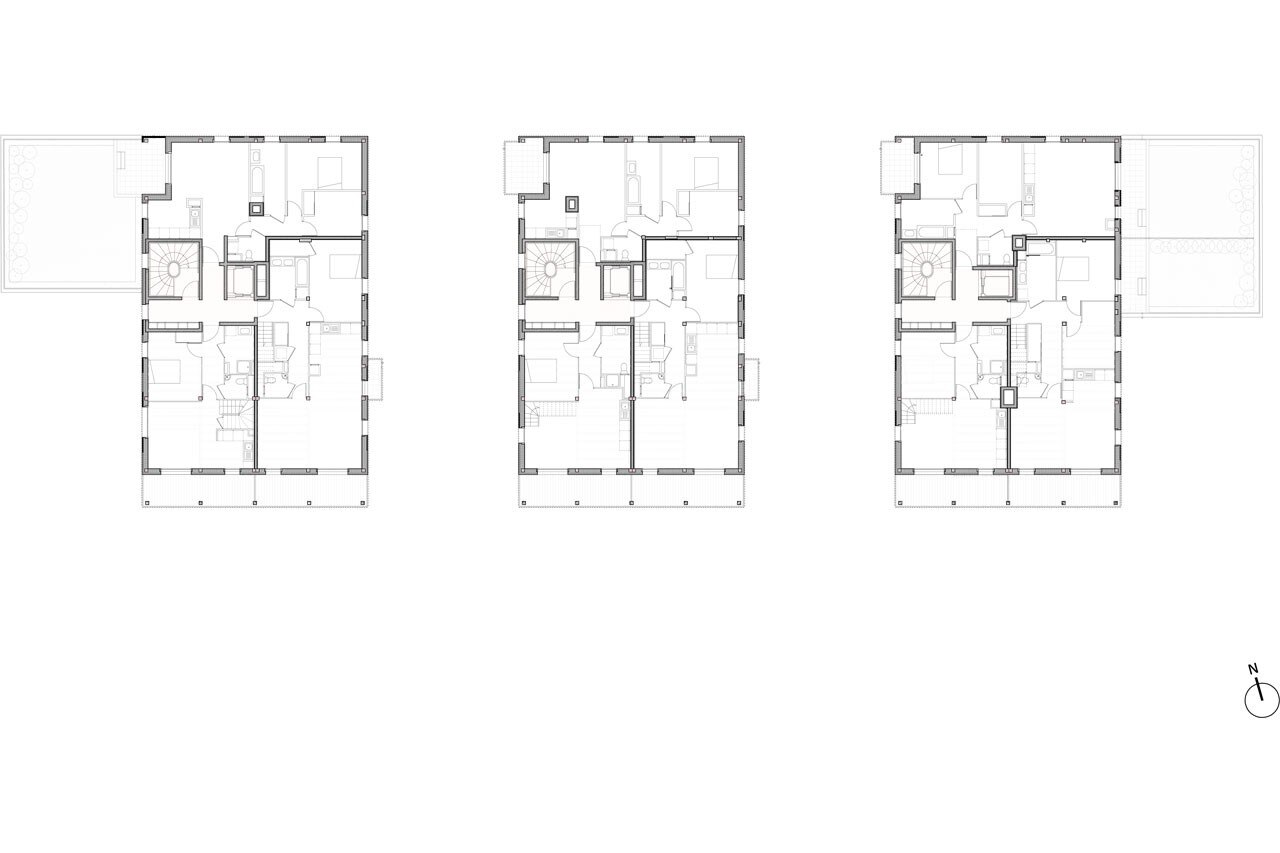 S:\@stockage\pascal\communication\com_1_images\C1_im_projets\C1_im_081_aubervilliers_auvry_barbusse\C1_im_081_plans\plan_niveau_3 A3_niv3_20
Tectône, Auvry Barbousse, Auberville, France. Second floor plan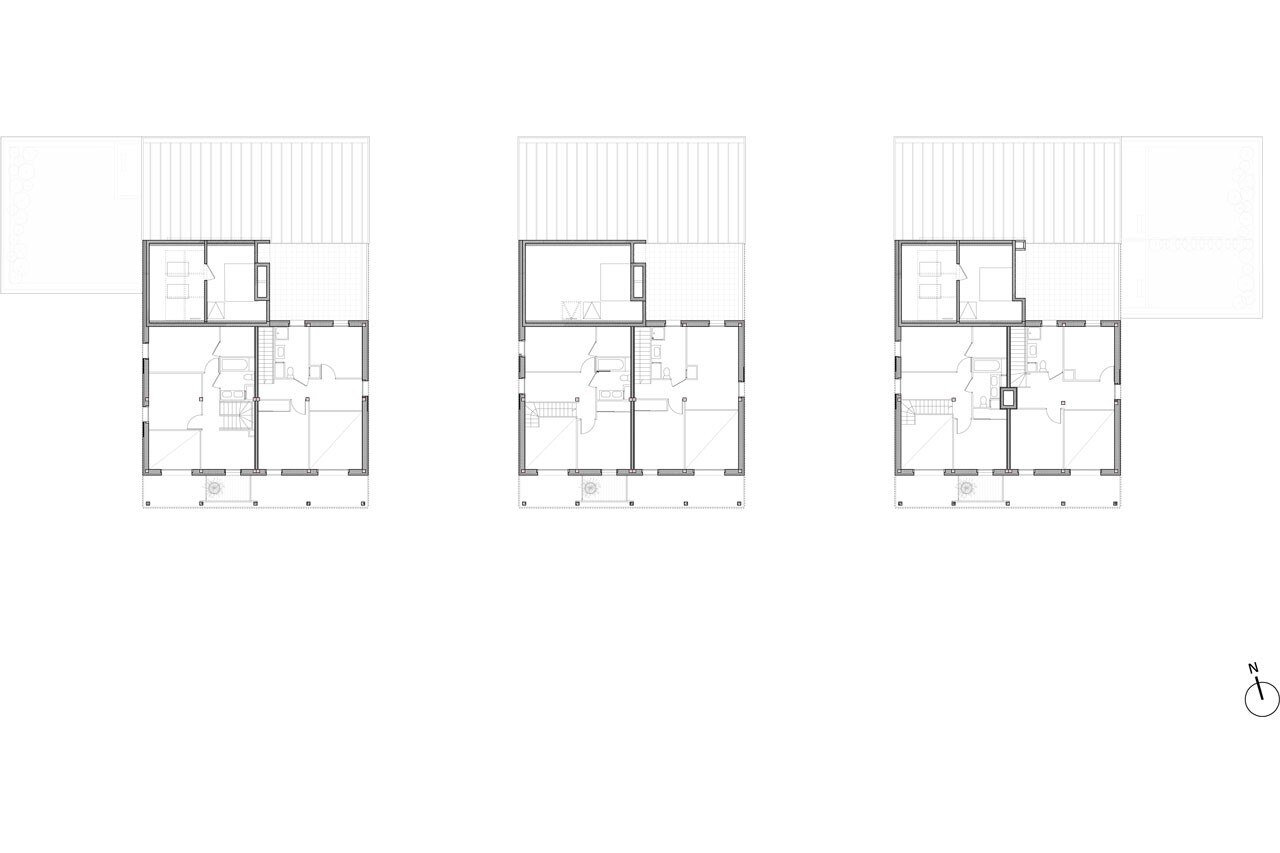 S:\@stockage\pascal\communication\com_1_images\C1_im_projets\C1_im_081_aubervilliers_auvry_barbusse\C1_im_081_plans\plan_niveau_4 A3_niv4_20
Tectône, Auvry Barbousse, Auberville, France. Third floor plan

Auvry Barbousse, Auberville, France
Program: residential
Architects: Tectône
Client: Bouygues Immobilier
Construction Management: B3P 
Engineers: Elithis Ingénierie, Eléments ingénieries, Buchet 
Budget: 5,700,000 EUR
Area: 2,450 sqm
Completion: 2015