The originally very beautiful location is now a fast-growing and disorderly old city – an urban-sprawl all the more conspicuous because of the fine quality of the original core.
Alatri, the ancient Aletrium, was one of the main centres of the ancient Hernici and is mainly known for its pre-Roman Acropolis, surrounded by still well preserved megalithic walls.

The first encounter with the hillside site was both traumatic and stimulating. Looking from it towards the Monti Ernici, the valley below seemed to be bustling with ants.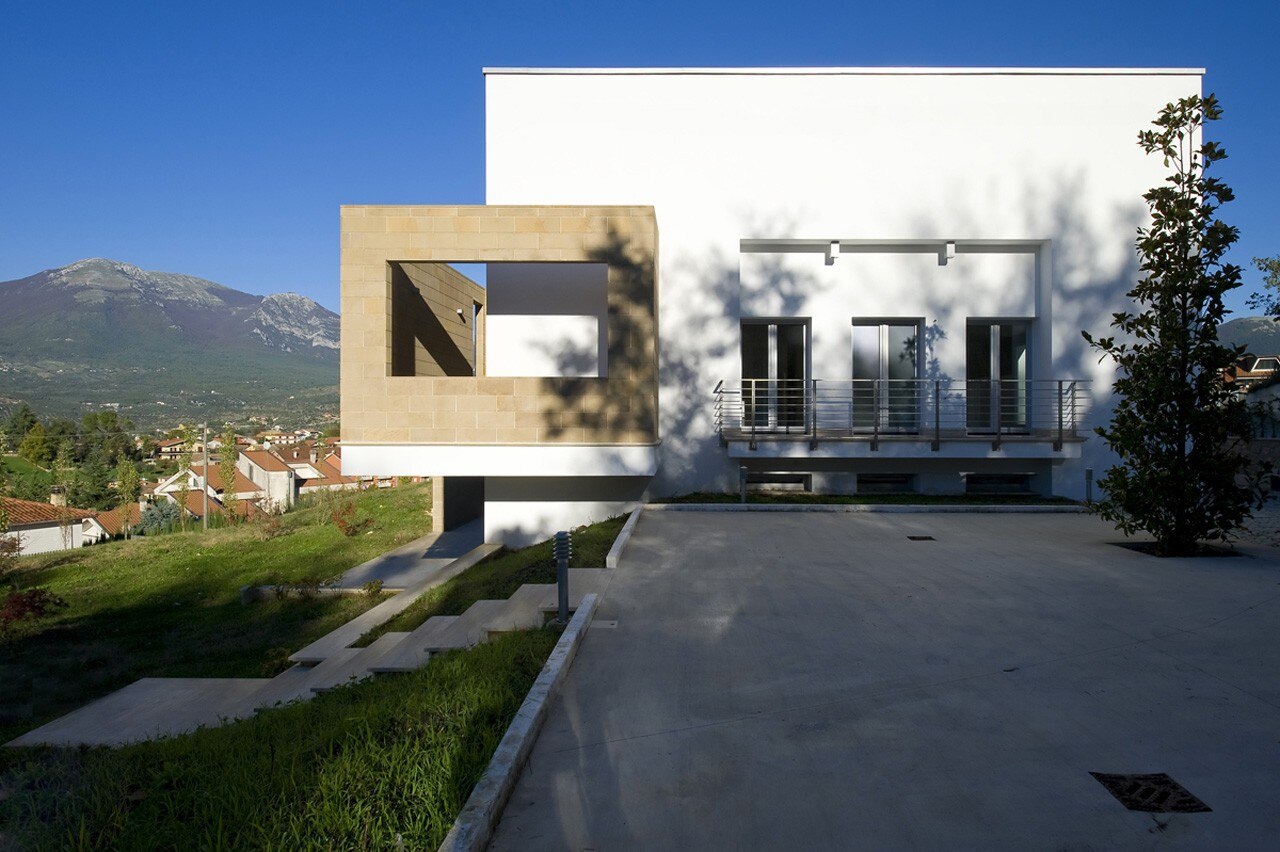 The client requested a house that was open towards the mountains but, equally, a private and intimate place, and the geometry developed for the building clearly responds to this dual objective.
The house is a parallelepiped resting on the slope with a number of large terraces and the ensuing spaces create a lively interior/exterior dialogue; the severe box-shaped mass is not undermined by visible roofs as these are incorporated into the outer walls for a lighter effect. It enters into a dialogue with the exterior via large picture windows that add a sense of introversion and extroversion with the garden above and below.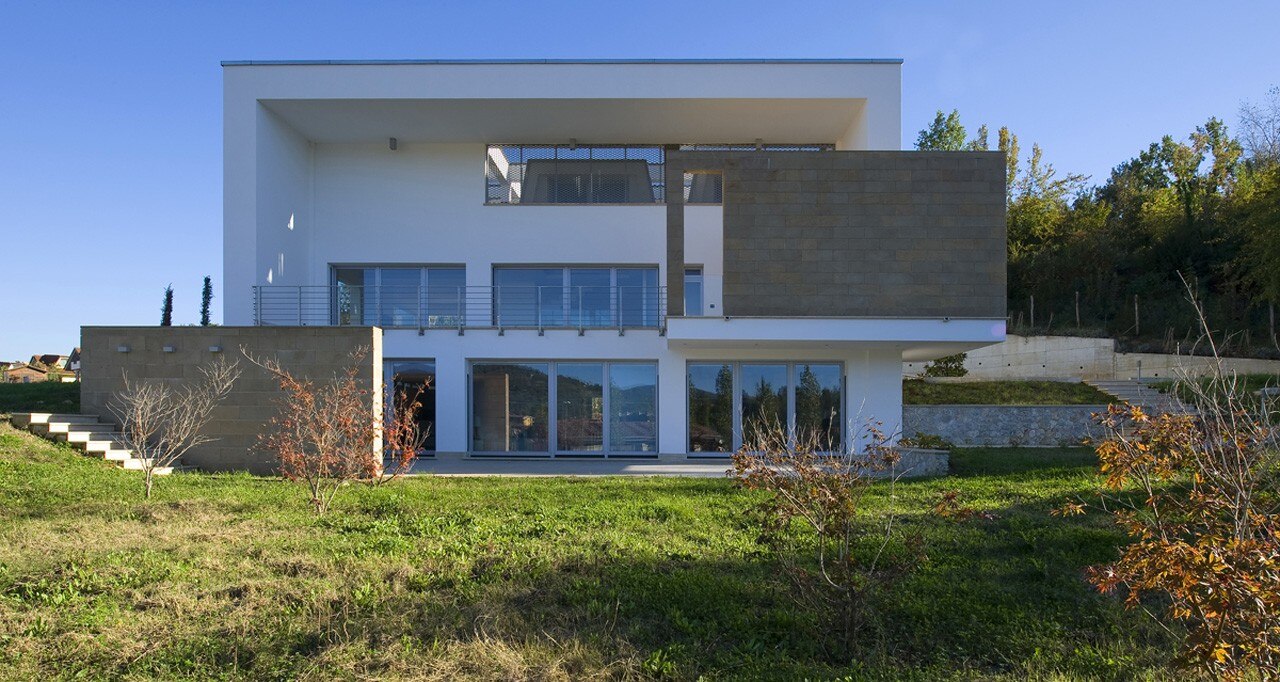 Access via the south-facing main entrance, on the long side of the upper rectangle, is across a large terrace, enclosed between two facing walls clad with Santafiora stone. The brise-soleil pergola - made with lamellar timber planks resting on a steel grid anchored to the vertical walls by set screws – creates a delightful play of light and shade that becomes specular to that produced by the expanded-metal panels on the second floor.
Lower down, a suspended loggia clad with Santafiora stone commands a sweeping view of the landscape as far as the Monti Ernici. At the same time, it protects the bathrooms in the sleeping area against the cold.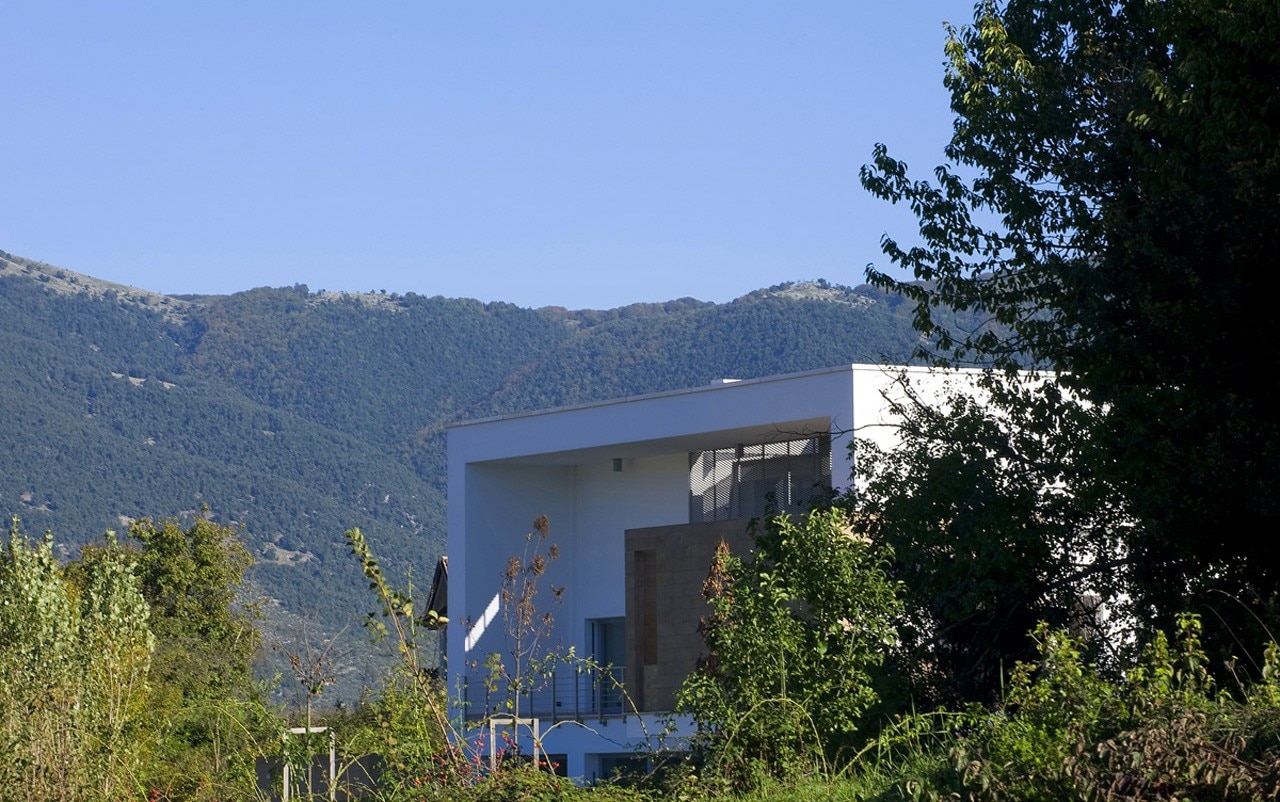 The upper and lower facades feature a marked contrast, achieved by a dense play of solids and voids that generates a pleasing chiaroscuro effect.

The voids plunge deep into the construction and create strong shadows on a composition with no flat fronts. By contrast, the two side elevations are simpler in design. Featuring the clarity of smaller, white windows, they slope down following the morphology of the terrain.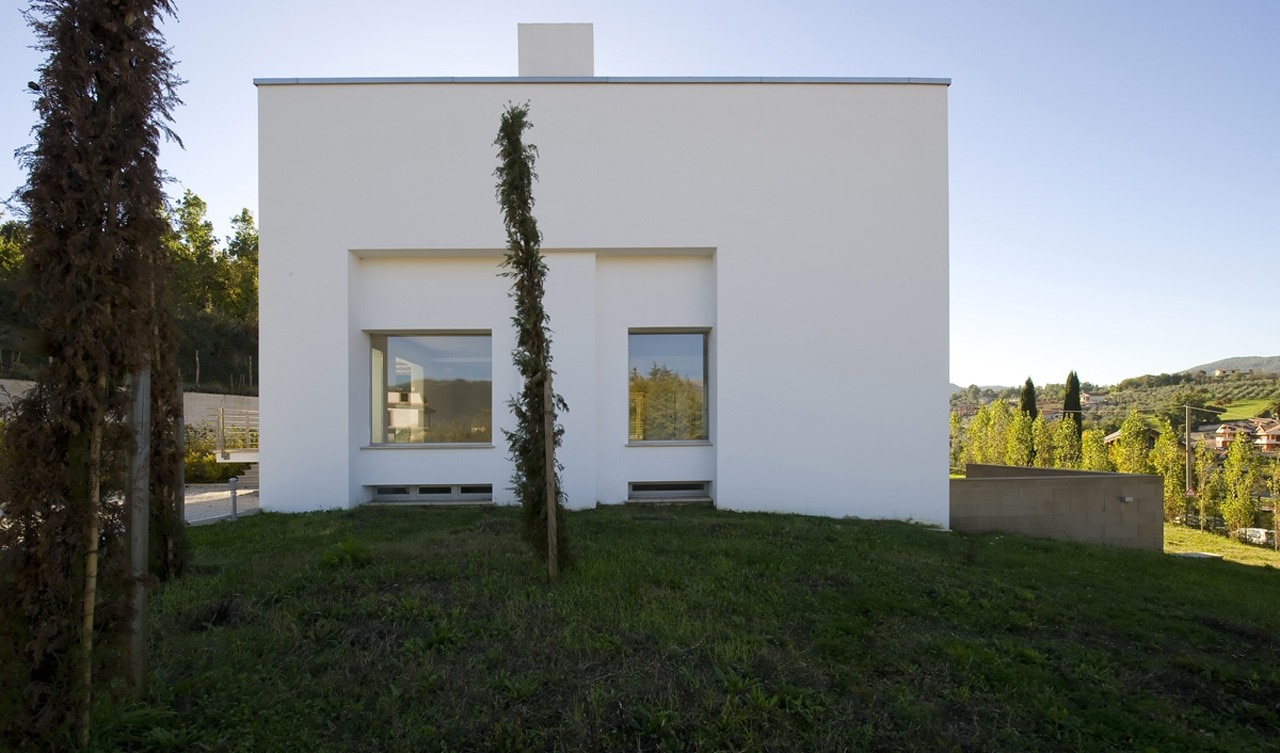 Materials play a key role in this quest for clarity in the masses and spaces – all proportioned in a limpid exchange of solids and voids, and open and closed spaces in which the prevalent white render contrasts with ochre Santafiora stone and chestnut wood.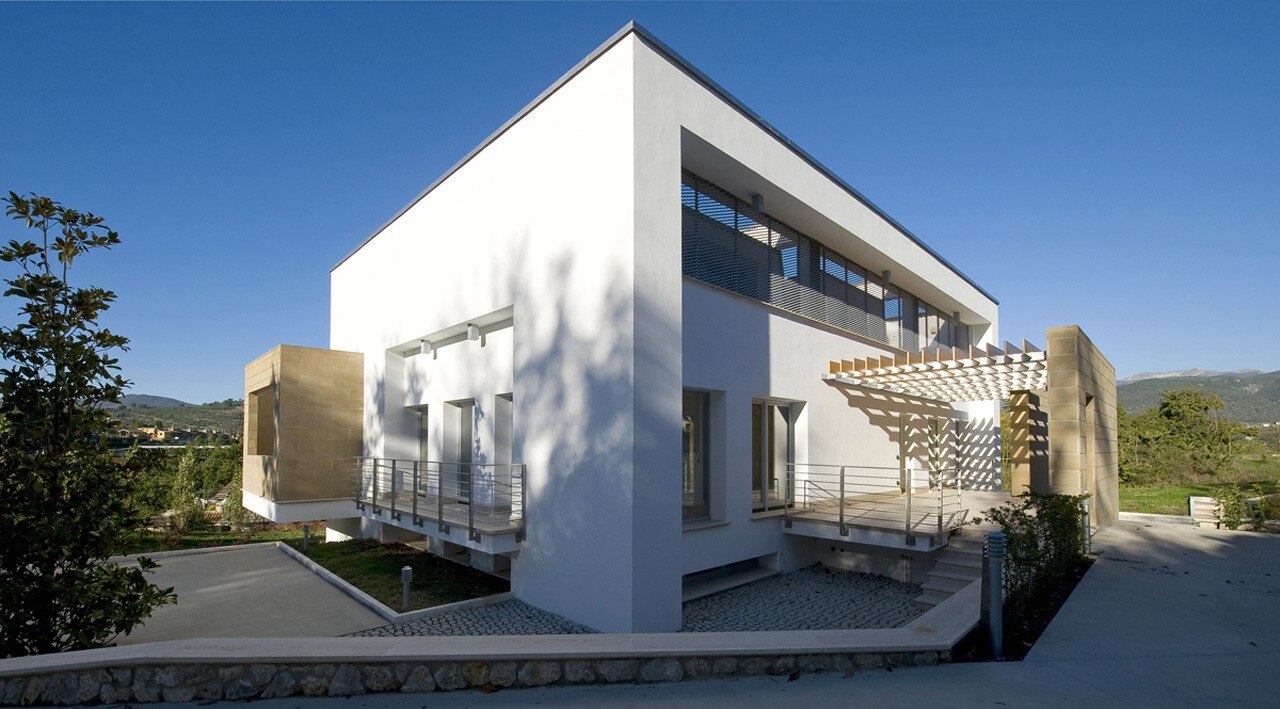 The house is formed of a basement, housing technical and storage spaces, and accessed from the outside via a ramp and two fights of steps flanked by vegetation; a ground floor with living room, dining room, kitchen, cloakroom and master bedroom with en-suite; and a service loft.
The three levels are linked by a wooden staircase, prefabricated and assembled on site. Structurally, it features stepped stringers with planks forming risers and treads, all anchored to a reinforced-concrete frame.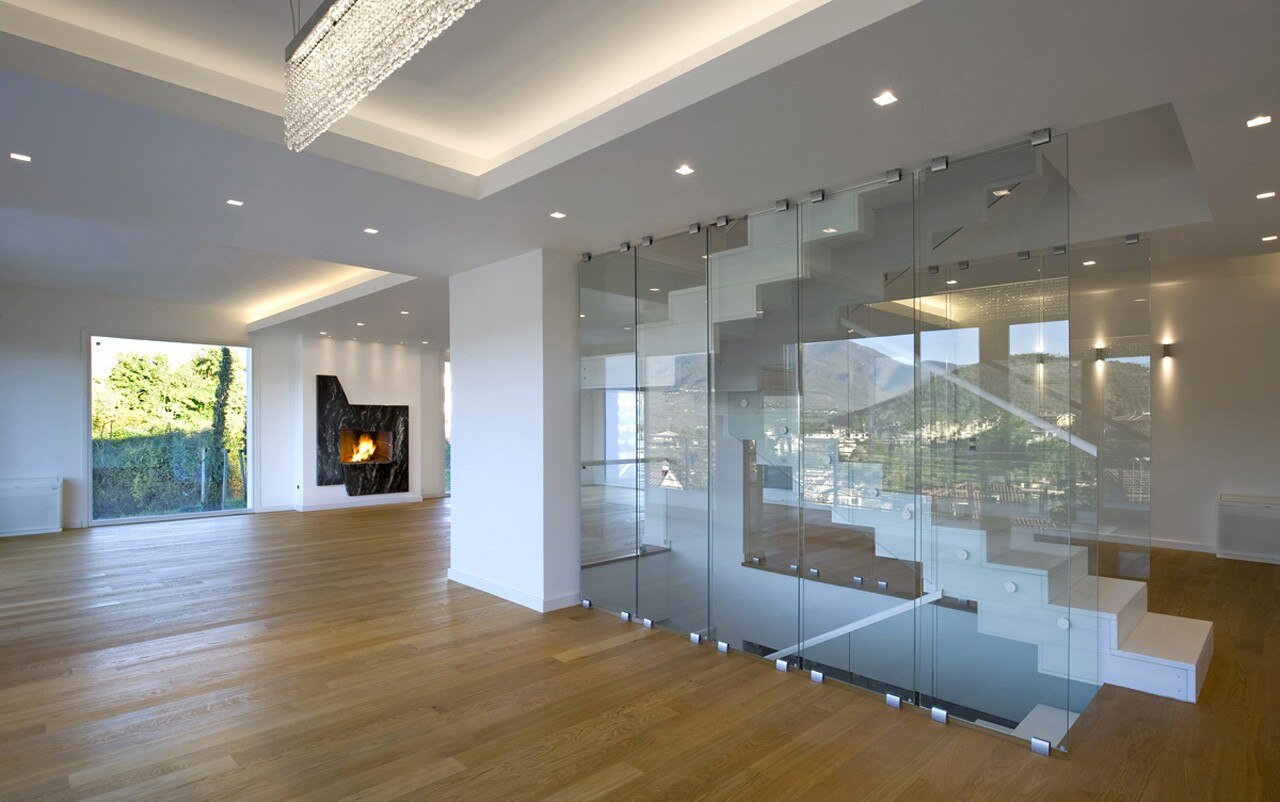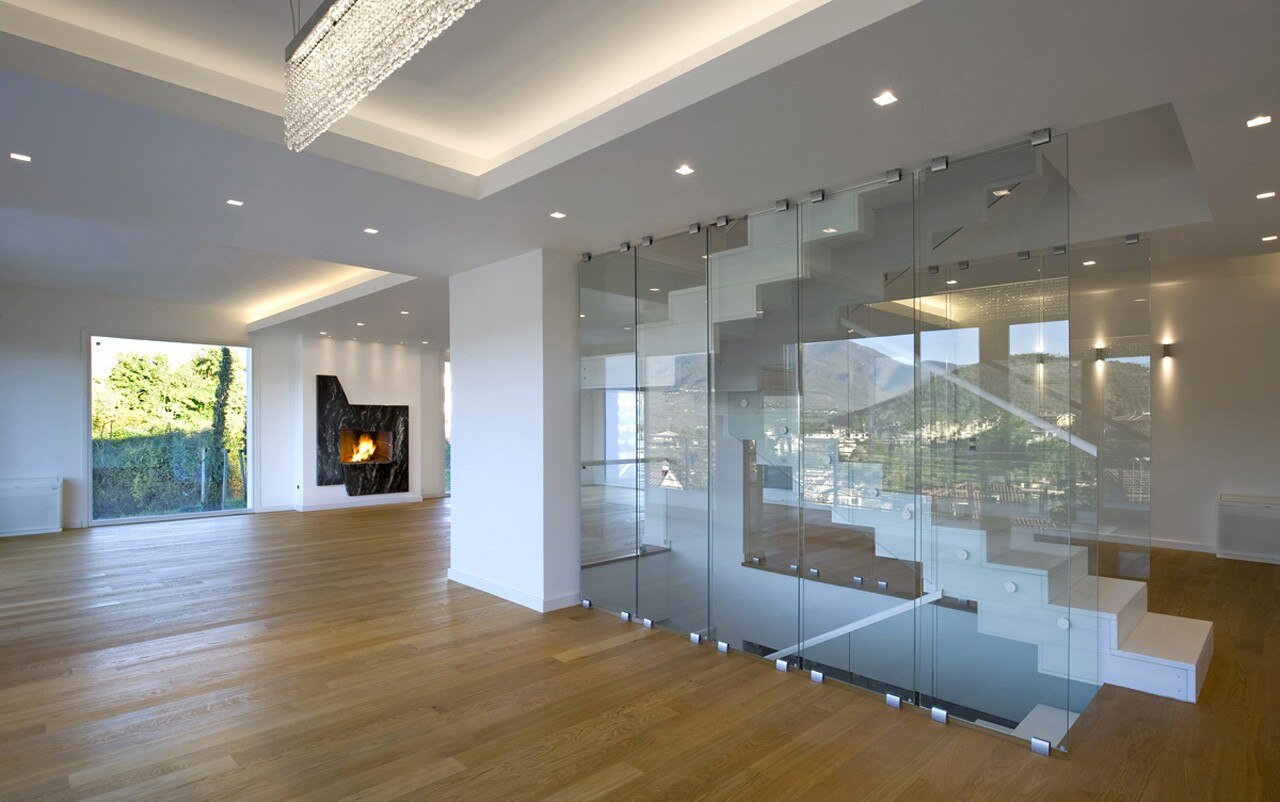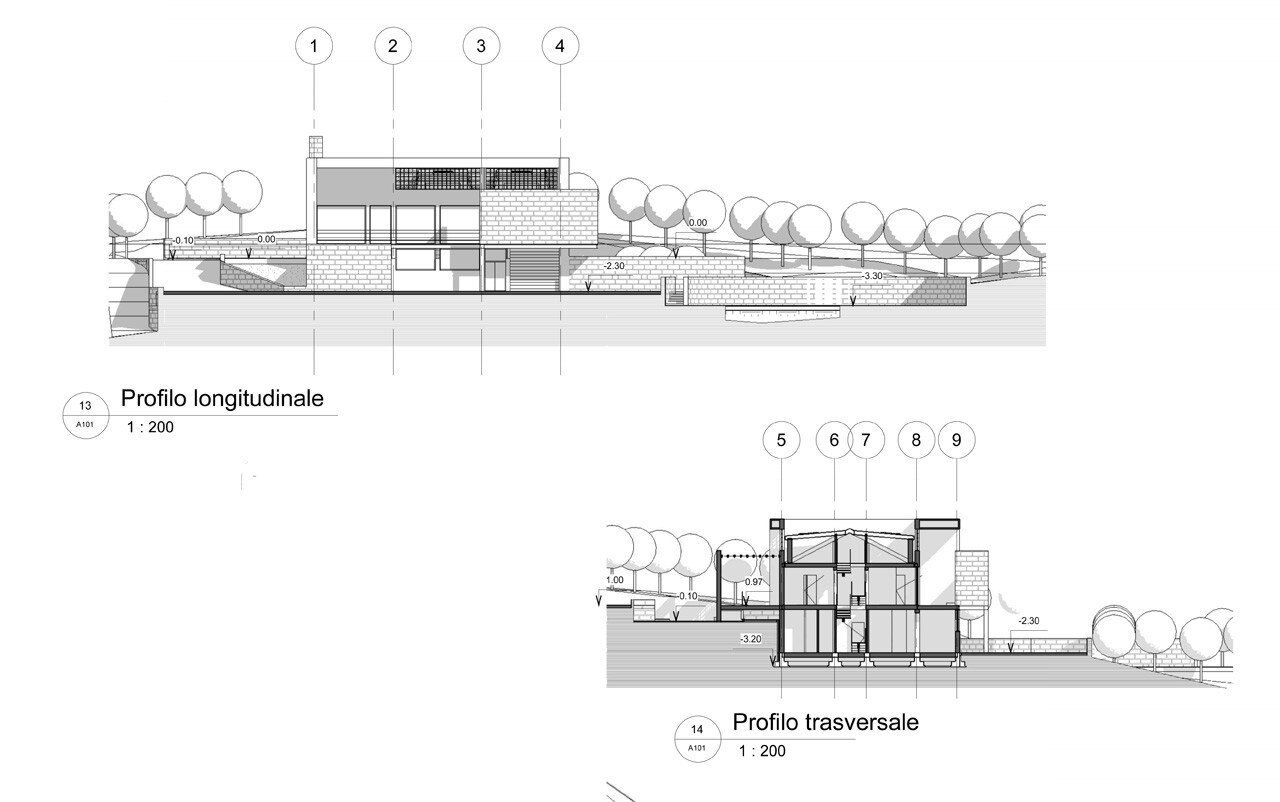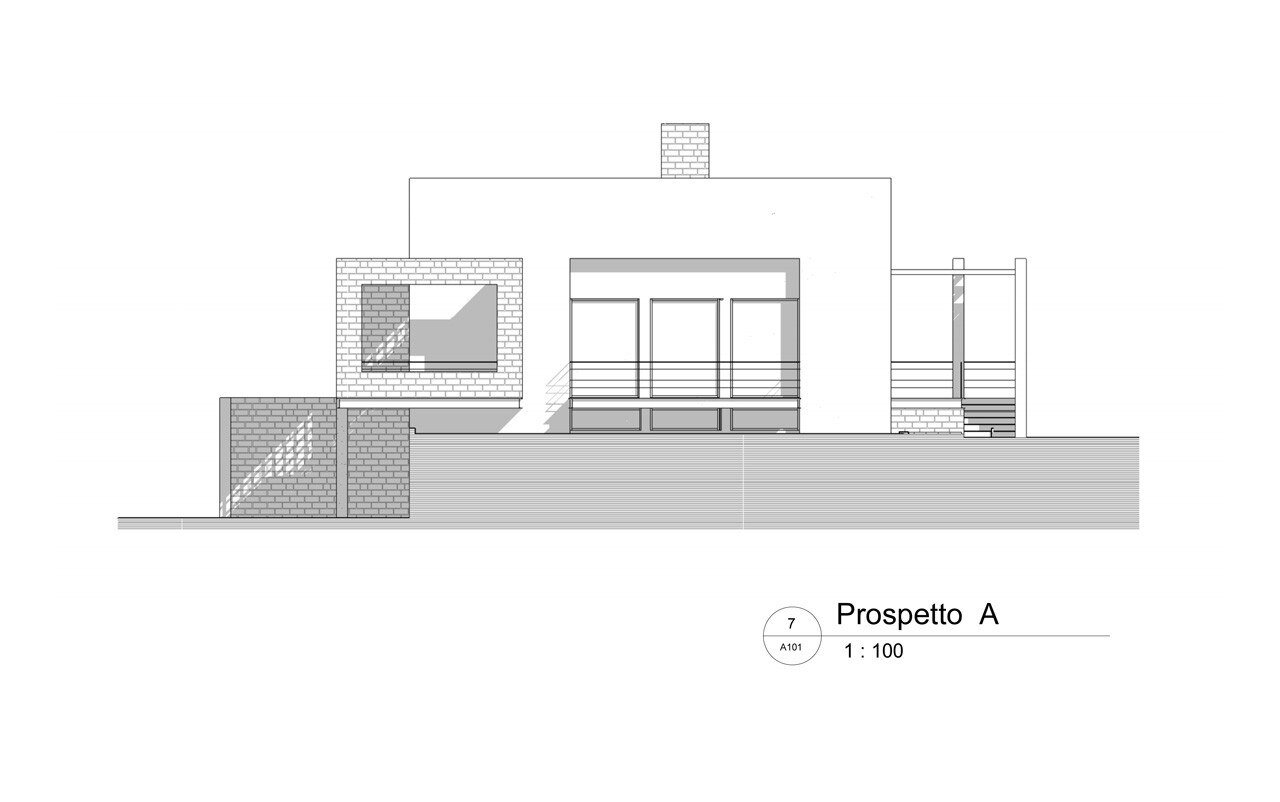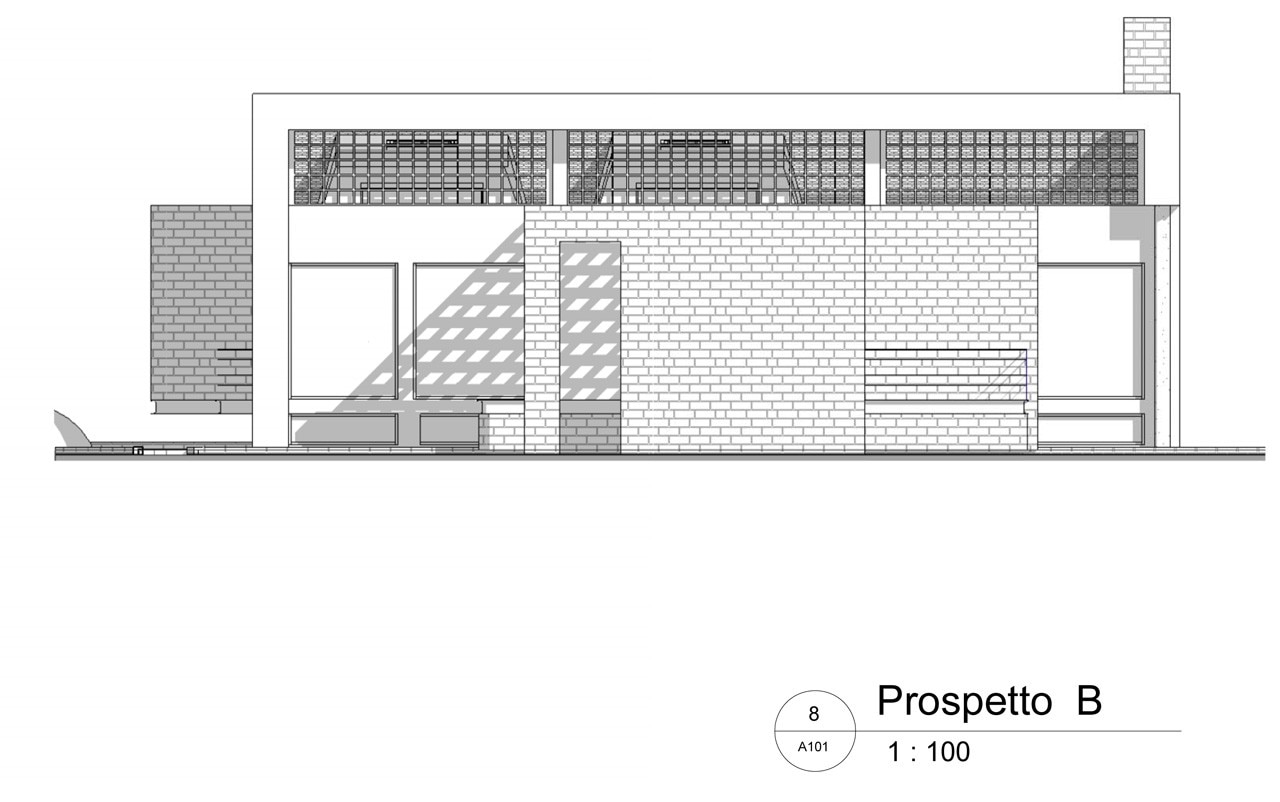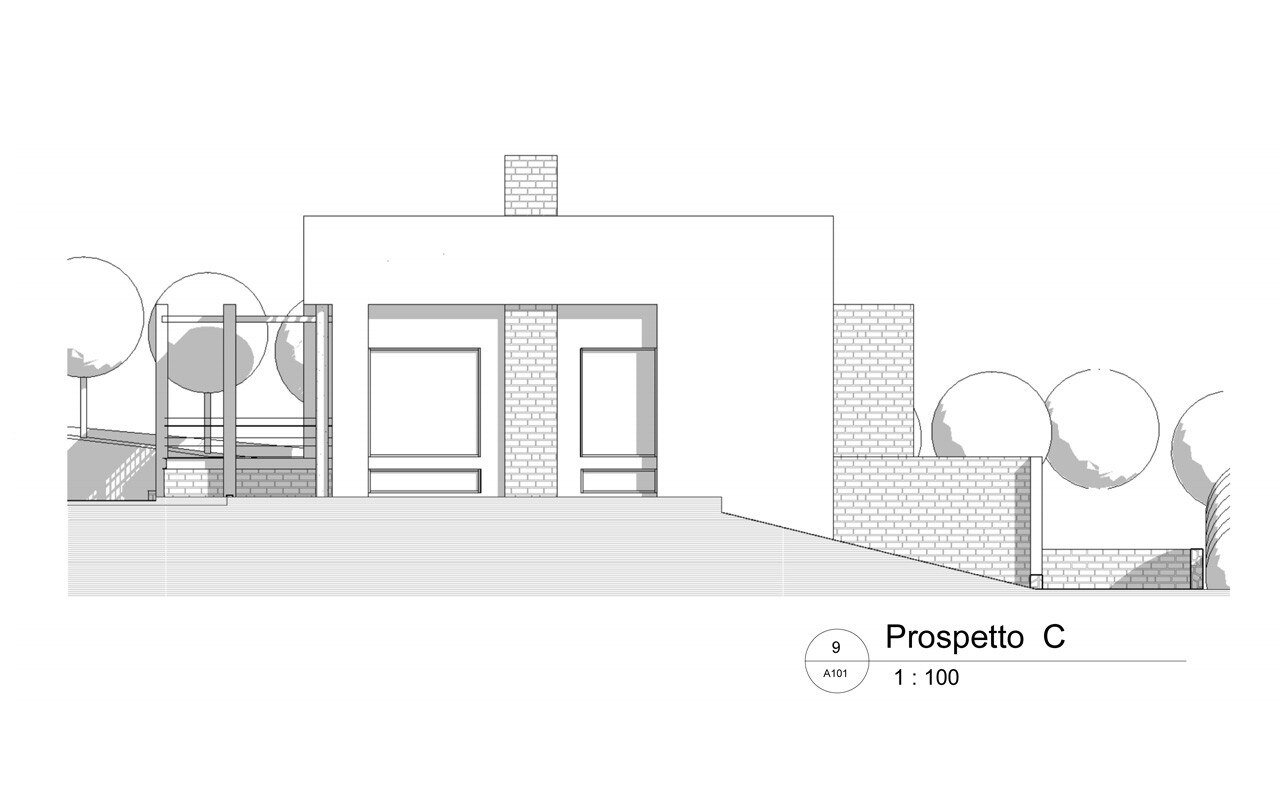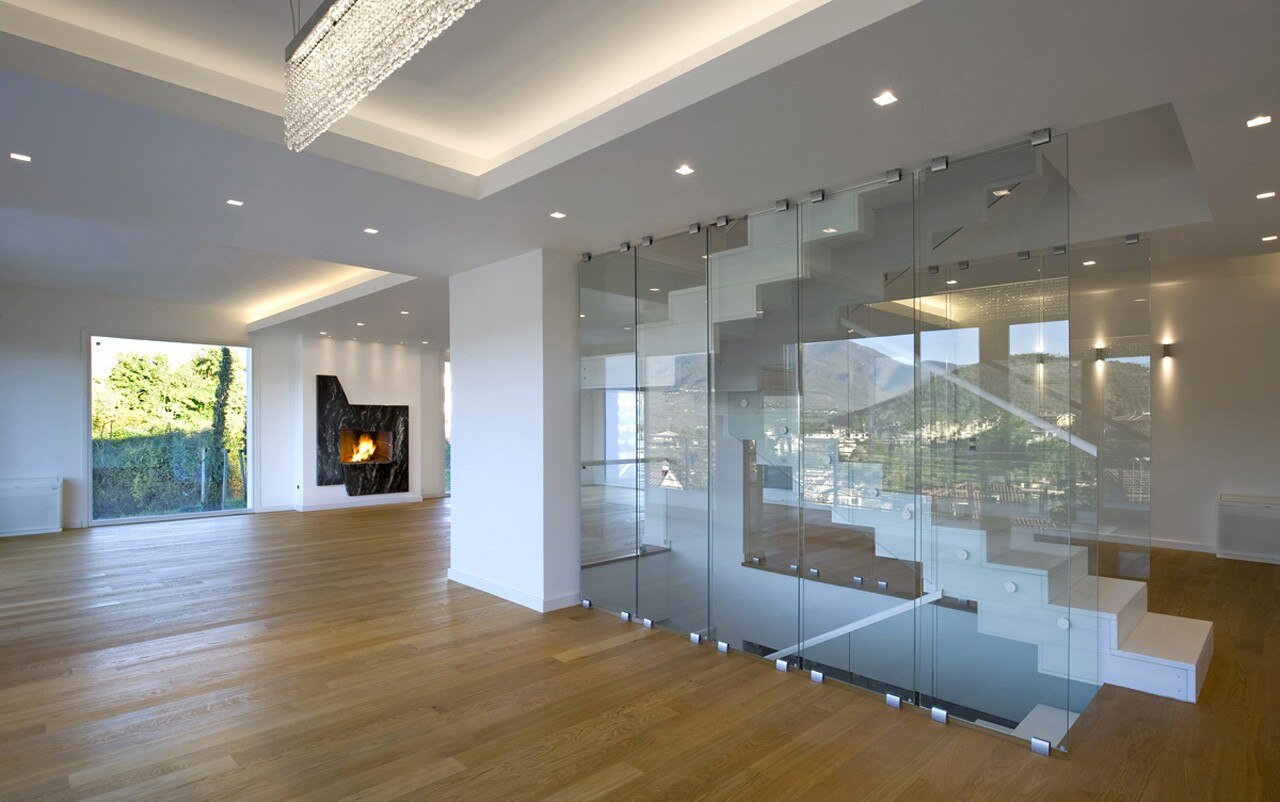 Arch. Danilo Lisi - Casa Privata - Frosinone
Danilo Lisi, House in Alatri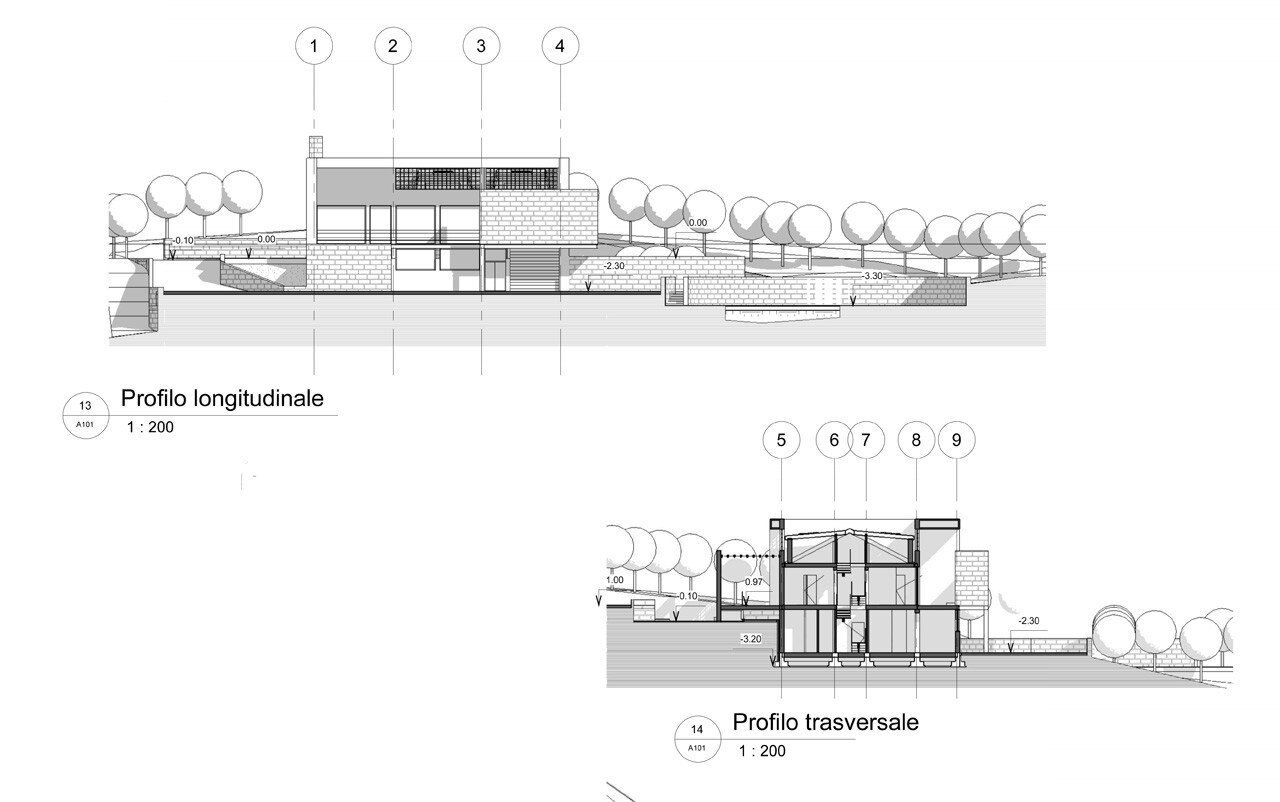 D:\Scansioni\Nuova cartella\percomune-ok-rvt-Tavoladidisegno-A101-Senzanome-Tavoladidisegno-A101-Senzanome.dwf
Danilo Lisi, House in Alatri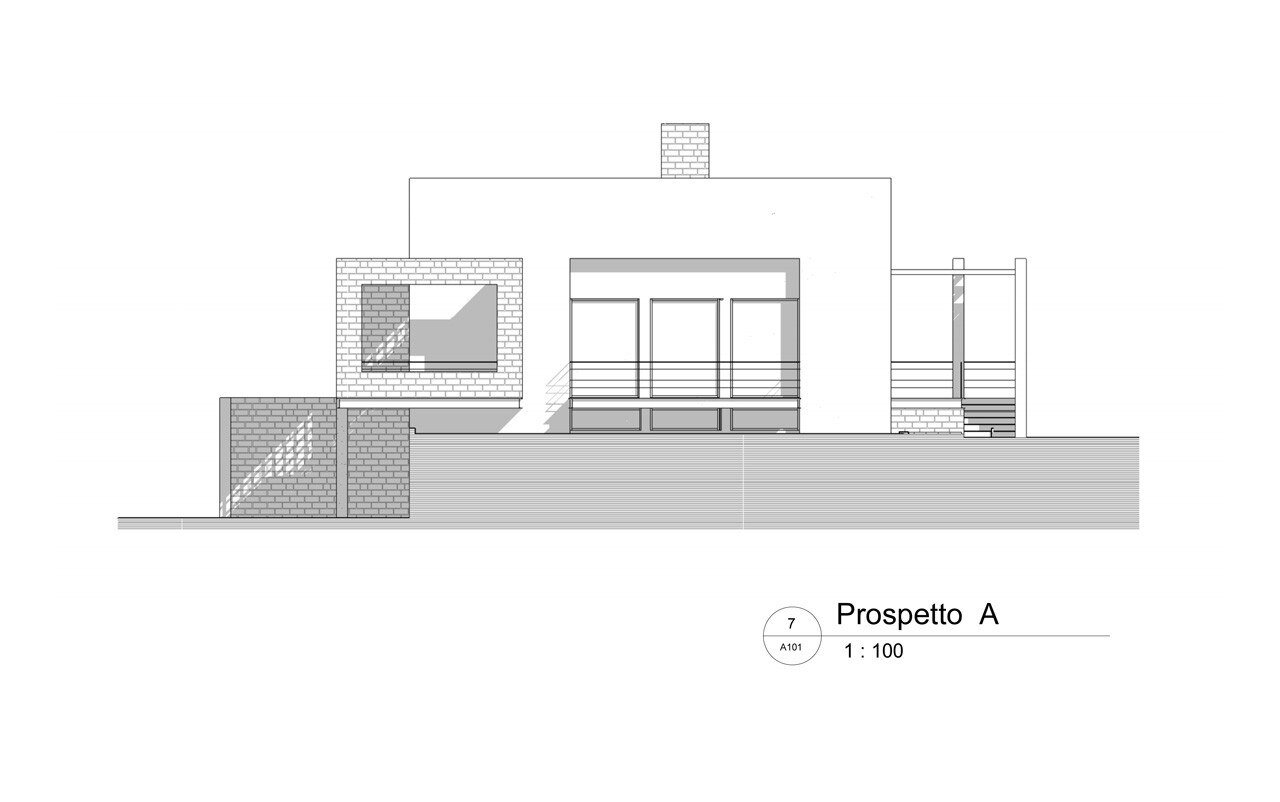 D:\Scansioni\Nuova cartella\percomune-ok-rvt-Tavoladidisegno-A101-Senzanome-Tavoladidisegno-A101-Senzanome.dwf
Danilo Lisi, House in Alatri, elevation A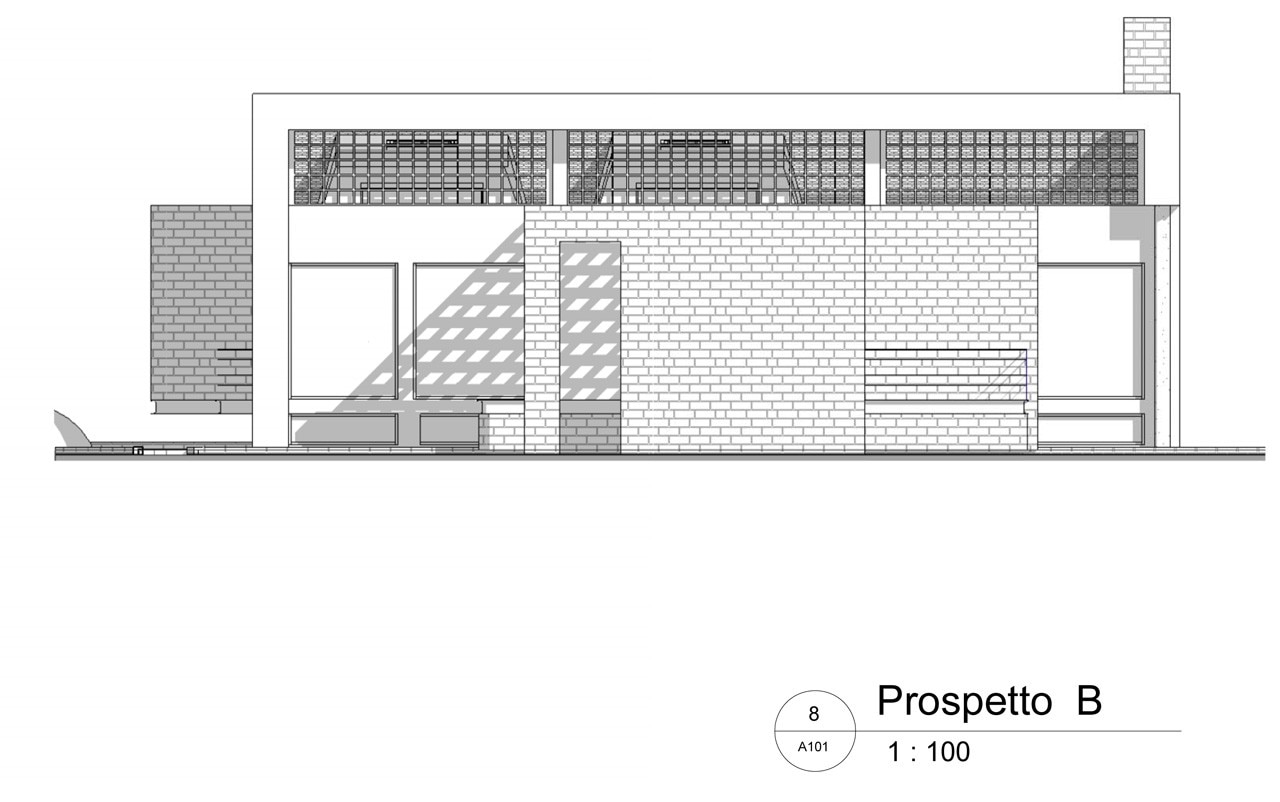 D:\Scansioni\Nuova cartella\percomune-ok-rvt-Tavoladidisegno-A101-Senzanome-Tavoladidisegno-A101-Senzanome.dwf
Danilo Lisi, House in Alatri, elevation B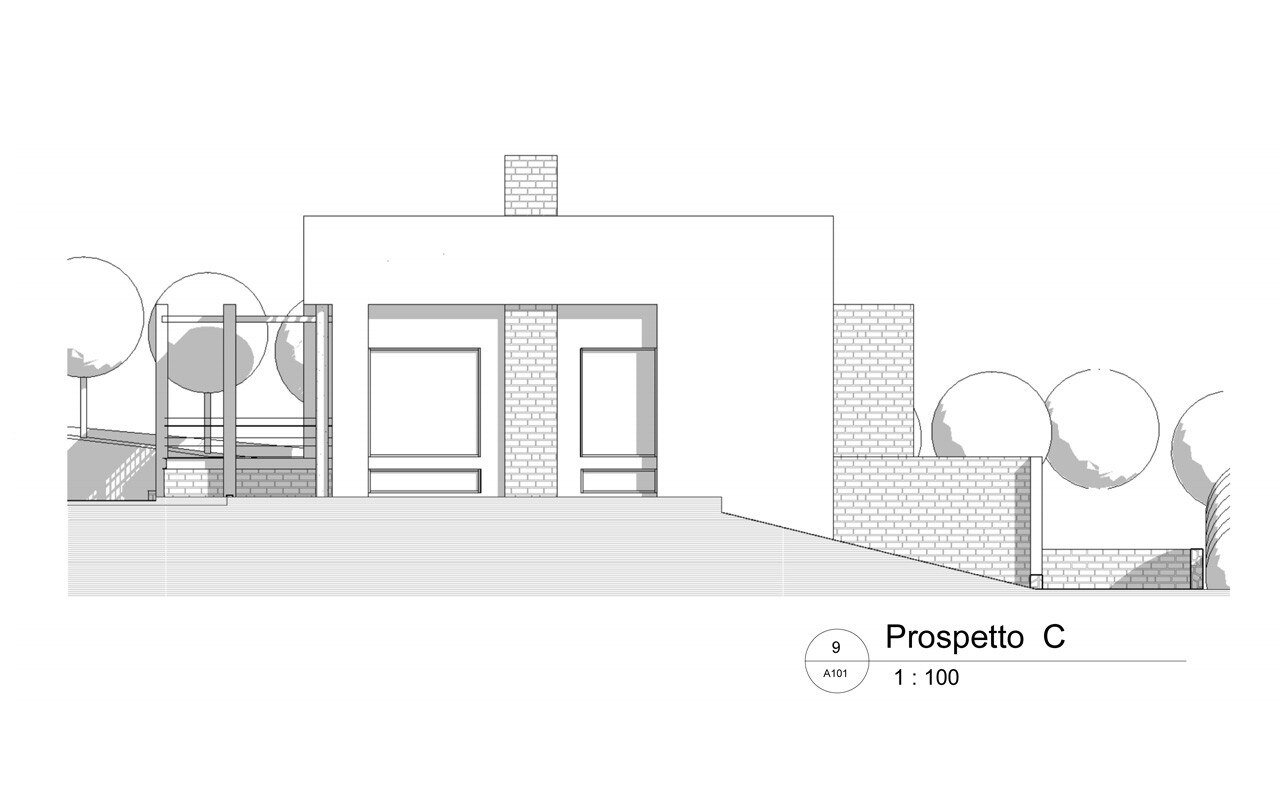 D:\Scansioni\Nuova cartella\percomune-ok-rvt-Tavoladidisegno-A101-Senzanome-Tavoladidisegno-A101-Senzanome.dwf
Danilo Lisi, House in Alatri, elevation C

House in Alatri, Frosinone, Italy
Type: single family house
Architect: Danilo Lisi
Structures: Architetto Giovanni Fontana (reinforced concrete), Ingegner Marco Spaziani (steel and wood)
Completion: 2013