There's a short Korean children's song, similar to an Italian filastrocca with its art of rhymes, which roughly translates like this: "Monkey's arse is red, red is apple, apple is tasty, tasty is banana, banana is long, long is train, train is fast, fast is a plane, plane is high, high is mountain." Any apparent order of things is not as certain as it may seem. Similar to Benjamin's propositions and surrealist projects, architect Hoon Moon questions the accepted categories and order of this world. For him, drawings are a manifestation of "creative terrorism", opposing the monolithic and neutral world that institutions would have us believe is the only possible reality.

Moon conceptually and physically challenges the commonplace notion of the architect and architecture. Never seen wearing black apparel like the majority of his Starck-esque colleagues, he prefers a red-hot F1 bodysuit. The son of a geologist, he grew up near a coal mine in Jeongseon, in the eastern part of the peninsula near Pyeongchang. Later he moved to Tasmania, following a complex formative itinerary thanks to his scientist father. He recalls observing the sublime and impressive sight of extracted coal falling from a conveyer belt into a vast, musky space where bright sunlight filtered through slits in the slate roof. Gastronomically speaking, he sketched out diverse architectural references in his diary from 1986 to 2010, describing an "Architectural dinner: my primary diet dish with psychedelic drink included". With intentional misspelling and wordplay, a list of gastronomic ingredients reads like a recipe for a Korean bibimbap: visionary architects sauce, Jean Nouvel na, OMA dear, Lebbeus Woods ter, Meier sauce, Piano + Rodgers spice, Ando Tadao shi, Le Corbu sauce, contemporary fashion spice, Barragan, hanok, BIG, etc.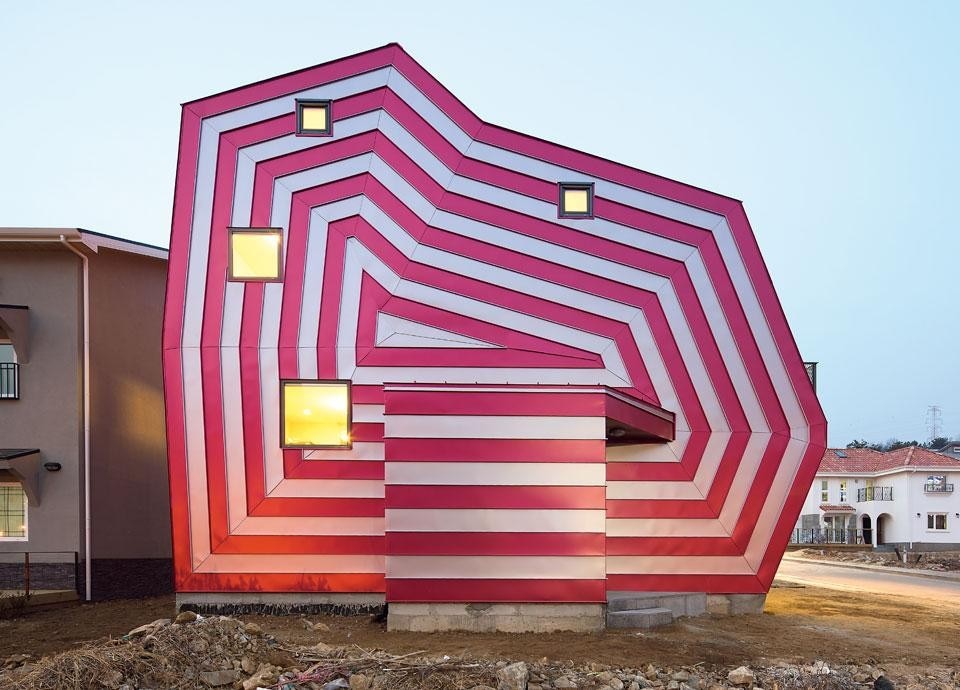 His deliberate reference to these architects is subjectively selective and specific on projects, such as phallic towers and gaping CCTV. So, as the previous oriental filastrocca suggested, SpongeBob is suddenly as important as Le Corbusier or Louis Kahn, and genital organs are more closely related to architectural forms than we might have thought. His idea of making architecture as a continuous flirting with the client or a collective orgy with all the people involved in the architecture can be traced to his MIT graduation thesis in 1993.

Titled Beyond the Opposite, his project proposed a parasitical structure on the pre-existing Dongho Bridge over Seoul's Han River. At this time Moon was fully immersed in Hinduism and Indian philosophy, but he also admired the architecture of Tadao Ando and Lebbeus Woods. He was fascinated by the landscape of Varanasi, where sacred and profane, life and death, cremation and bathing coexist. This state of commixture is also reminiscent of an aphorism by Korean intellectual Jiha Kim, known as Ddong Bada ("An excremental ocean"), it praises faeces as a sincere manifestation of the human life cycle: from meal to shit, then to soil, then from meal to shit again, in an eternal recurrence. He gave his project hybrid and multiple functions, including a crematorium, love hotel, suicidal bridge, night club and, last but not least, an antenna on the summit for theosophical contact with unknown beings. Furthermore, this project proposed an idea of temporal synchronicity in which diverse dimensions of multi-realities, archaic symbolisms and plausible futures coexist. Unfortunately, Professor Charles Correa despised most of Moon's academic projects and even tried to dissuade him from becoming an architect. Having barely graduated, Moon had a hard time finding a job since no one would write him a letter of introduction.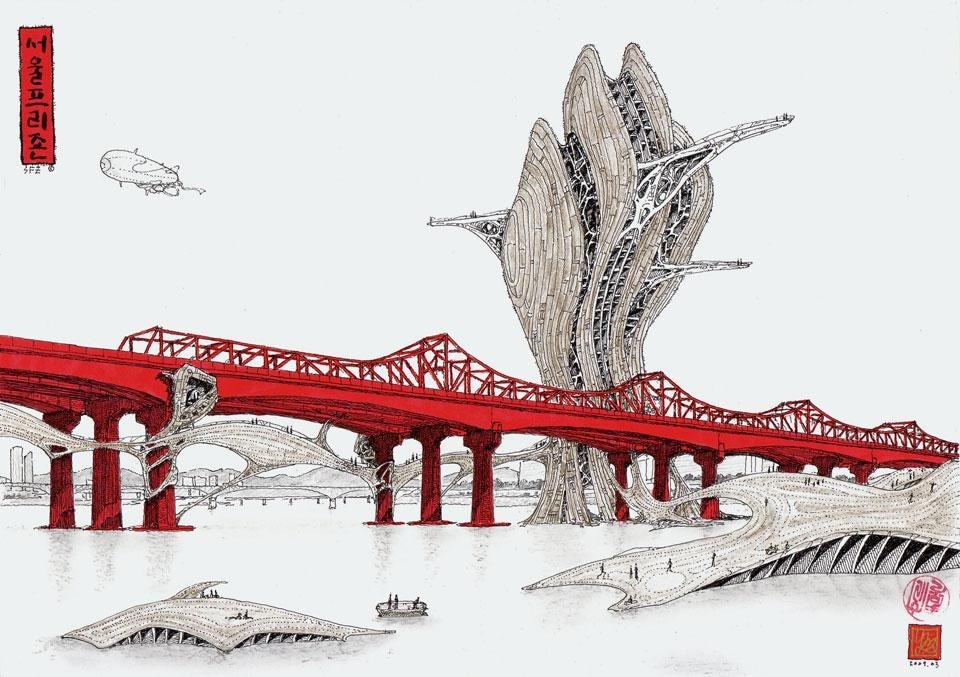 In his following ventures the lesson he had learned remained firm: that everything is essentially connected. This idea also emerges in one of his notes: "Blur, mystical experience, shamanism, surreal art, Hindu architecture, esoteric Buddhism, fractal, tantric Mandala, psychedelics, LSD, art, Islam architecture, geometry, icon, symbols, mystic, animism, occult, genius loci, religion, hallucination, totem existentialism, subconscious, text, emancipation."

Drawings are like a mediating medium to acknowledge and auto-suggest that a possible world could be realised, through fragments of thoughts that compose a momentarily different "other" reality. Like a buffer zone, these drawings let a person refuse obsessions of success, wealth and fame. In the ancient oriental painting Murungdowon ("Oneiric Peach Field Amusement"), drawing is not a utopia of withdrawal but a containment of aspiration with multiple points of tangency with what is real. Hence drawing becomes a medium of meditation and mediation marked by daily instinct, reconciliation and delayed pleasures.
Never seen wearing black apparel like the majority of his Starck-esque colleagues, Moon prefers a red-hot F1 bodysuit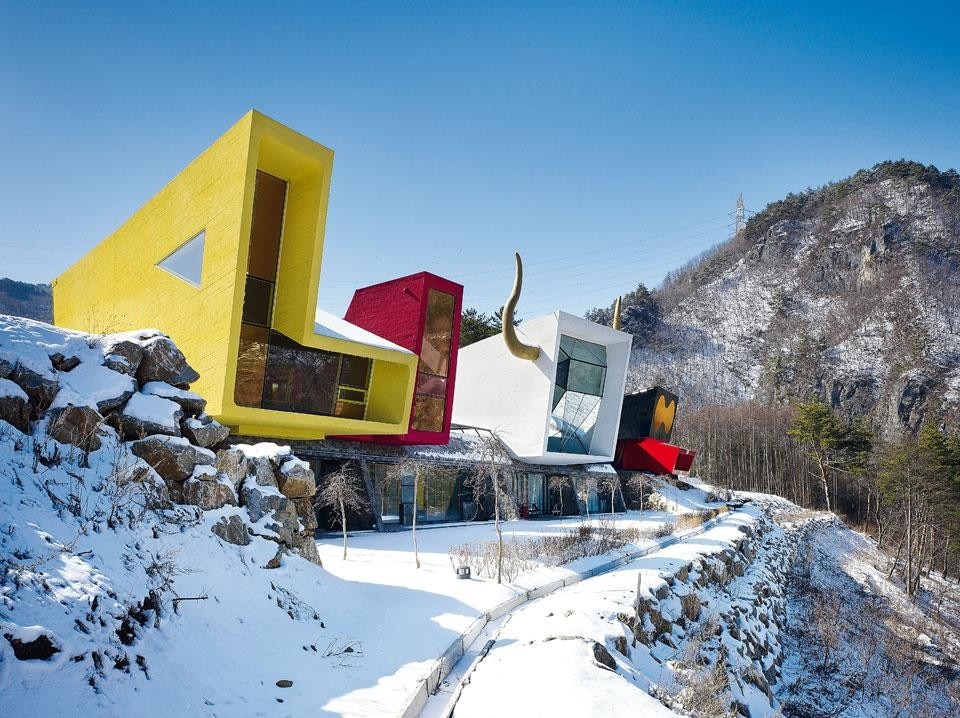 Moon places drawings on the same level as real constructions, since both are different manifestations of an identical desire, only different in their means of expression. He spends most of his time drawing, especially during the weekends, filling double A4 pages in his diary with eight hours of yoga-like drawing practice, or tricotage as he calls it. Like needle punctures made on a subtle and delicate surface, these drawings use a traditional technique of perspective representation that tends to maximise the visual perspective effect with a selective use of colours, emphasising the elements that constitute the figurative forms and volumes. One of Moon's intimate genres of painting is ancient oriental erotic Chunhwa, or "spring paintings", which actually feature prohibited representations of intimate couples engaged in sexual acts, often suggesting a voyeuristic presence. Moon considered it futile to distinguish between nature and artifice, body and machine; for him it was more worthwhile imagining how to transform a body into a machine and transpose an organism into a mechanism. For him, any object with a void could be penetrated, from a machine to a maison, not by chance both grammatically feminine words. In the field of architecture, the Jeongja is a building type that often appears in landscapes in traditional Korean painting.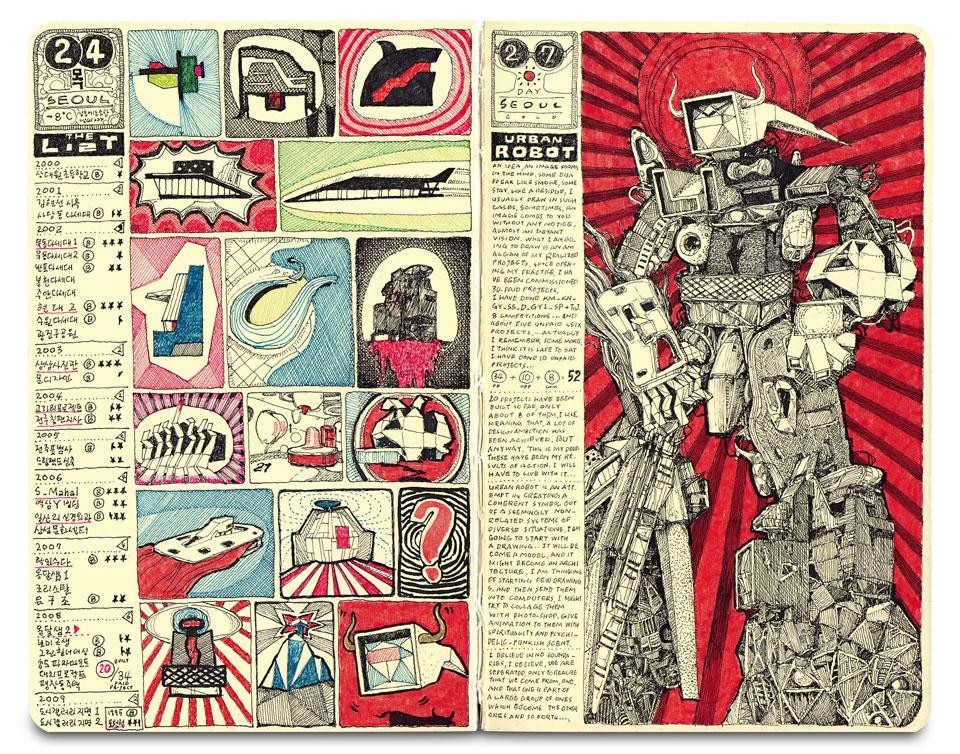 With the same pronunciation in Korean as the word for spermatozoid, which Moon often emphasises, a Jeongja is an empty pavilion with no specific function. Like a primitive hut, a Jeongja is both a metaphysical place and utilitarian object. A series of architectural projects from the Hyundai High School annex in 2003 to the more recent Lollipop and Panorama houses, Moon seeks to subvert the obvious idea of typology into something intriguingly perceptive in iconic terms. The intimate transparency of cloth and mesh is applied in the S_Mahal and Mookdong Multi_Housing projects respectively. His Sangsang Museum, a single building conceived as an agglomeration of various parts, received an award from the Korean Institute of Architects in 2004.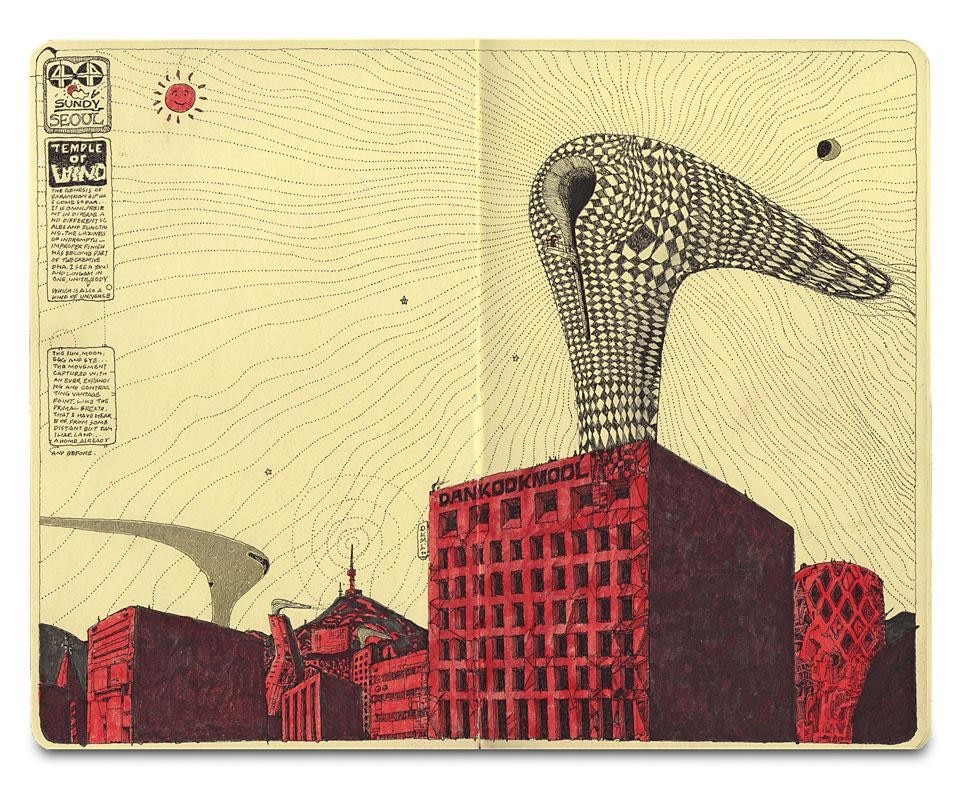 One of his most interesting projects is Rock It Suda, meaning "Let There Be Rock", like the famous 1977 song by Australian rock band AC/DC. The client for this building was a member of the homonymous rock band who wanted a rehearsal and concert space, but also somewhere to accommodate travellers and like-minded comrades. This type of building is known locally as a pension, but with a slightly different connotation. As elsewhere, a pension is a type of boarding house, but here it is a rented weekend habitat for urban dwellers who want to escape suffocating offices and the Korean apatu ("apartment") high-rises to experience collective relaxation or a brief get-away. Regarding that phenomenon, Moon has written, "Whereas an apartment or house is often the result of the conflicting interests of its builders and occupants, this short-stay accommodation is a theatrical overstatement." One could choose from distinct and autonomous ambiences ranging from Ferrari to Barbie, each with a kaleidoscopic space.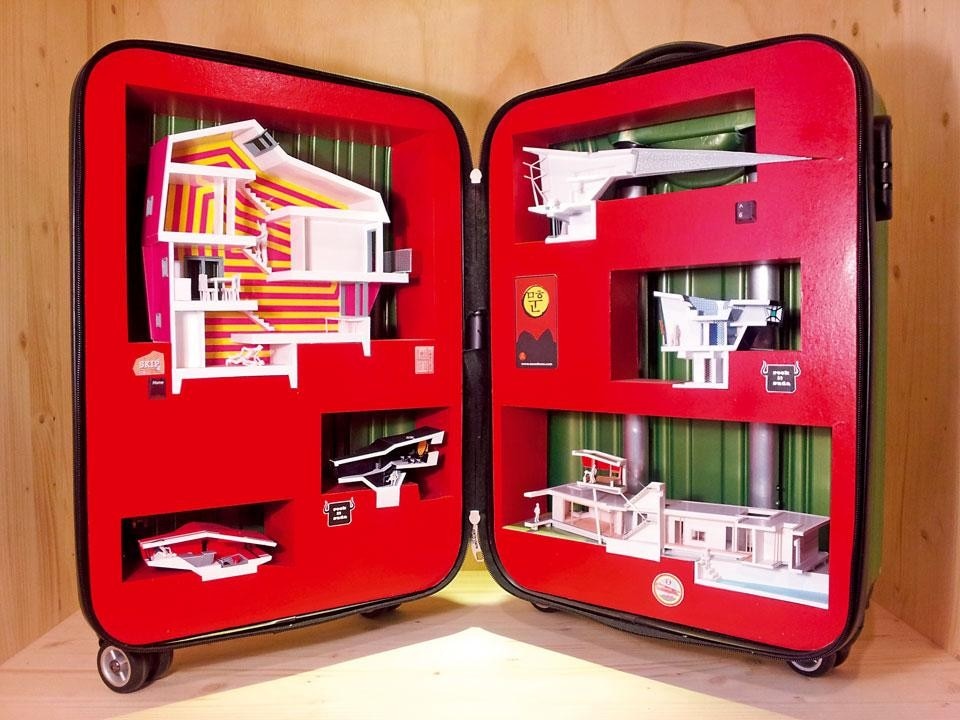 Staying in one of these rental resort pensions is like an archiplay, a reversed act of cosplay, momentarily becoming whatever you desire. Each environment has a tail, a kind of anchor made of mesh material, almost as if the building were threatening to take off and defy gravity.

His favourite part of the building is the thematic area dedicated to Spanish blue, an architecture with horns or, better yet, an architecture "wearing the horns". A building with a pair of horns is indeed exceptional, with the only precedent perhaps being the Palace of Knossos. "The moment I mounted those giant horns on the walls, I felt as if the entire structure had come alive," says Moon. "I'm intrigued by virtual space. I like to think of buildings hovering above the ground, flying around. Take a look at the nets and hammocks I've installed inside these structures—I call them 'softies' or 'action architecture'. They have a great potential for movement, interaction, evolution." Recently he had a chance to show his work in a collective exhibition in Japan. Six sectioned models were prepared in a suitcase with miniatures of couples in Kama Sutra poses. It took him two seconds to prepare his booth while others struggled for an entire day, giving him free time to visit the AV shop nearby and catch up on the latest. Ilhyun Kim, Associate professor at Kyung Hee University, Korea