"I move therefore I am." This is the axiom of our time, according to Eva Franch, director of Storefront for Art and Architecture. It was also the motif for a rapid-fire symposium entitled DrawThinkTank: Emerging Territories of Movement 15x360 Manifestoes, hosted by Storefront in collaboration with the Audi Urban Future Initiative, and held inside raumlabor's inflatable Spacebuster on 7 May as part of the Festival of Ideas for the New City. How does mobility shape the contemporary city, and how can designers in turn reshape the way we move collectively and individually? Such were the challenges explored in three successive sessions of five distinguished panelists each. Like the festival's heterogeneous street fair taking place on the streets of the Lower East Side, the three-hour event had an energetic informality as well as striking juxtapositions, curiosities, and predictable fare. The zeppelin-like elliptical bubble served as a pop-up marketplace of manifestoes in which words and images were the sole currency.

Mobility was discussed in terms of self-guided vehicles, data, ecologies, dynamic surfaces, commodity flows, technological miniaturization, and camouflage, among other themes. For sociologist Saskia Sassen, a city's chief asset is its perpetual "incompleteness" and ability to continue evolving indefinitely. Therefore she encouraged "open-source urbanism" and grassroots technology. Molly Wright Steenson invoked e. e. cummings' famous line, "Progress is a comfortable disease," and condemned technologies of movement for their complicity with the circulation of capital. Artist-architect Mark Shepard similarly called for more critical practice, declaring, "the smart city is not so smart." On the other hand, David Benjamin of The Living argued that intelligent building skins and other sentient surfaces (e.g. rivers, streets, and tableware) should "offer an interface to our public, collective thinking" by collecting and then displaying data about the urban environment. Domus editor Joseph Grima framed the city as a living body of information exchange, observing that most of us remain "unaware of the city's response to who we are," from surveillance systems to mobile communications and ATM transactions. "Vast data sets already exist all around us," said Grima. His manifesto was "a low-tech strategy of subversion toward the technological manipulation of the landscape."
Automobiles, not surprisingly, were the subject of much deliberation ranging from blistering criticism to passionate reformism to imaginative speculation. Although the event was sponsored by Audi, numerous panelists located the future of mobility in the end of driving as we know it. Axel Timm and Matthias Rick of raumlabor conflated heavy automobiles with obesity and danger. As an alternative they envisioned lightweight and flexible vehicles that augment rather than replace human locomotion, for example bicycle-car hybrids. These could be designed in gradating sizes and types, owned collectively, and accessed on demand according to the needs of the moment. Audi's two representatives in the event, Christian Schüller and Mirko Köhnke talked about data integration, optimized traffic management, and automated driving that could improve the safety and efficiency of cars.

But must these intelligent controls necessarily reduce the human traveler to a totally passive role? Jürgen Mayer thinks not. In his "Poke-City" concept, the driver is cocooned inside a personalized data cockpit which allows for sensory experience as well as networked interaction with other people and the built environment itself. The windshield begins to behave like a touchscreen as well as a window. With traffic signals obsolete, Mayer would "give the street back to people and architecture." Architect and designer Mitchell Joachim of Terreform One reviewed his computer-guided "soft car" concept which combines cushy materials with social flocking behaviors. And the seemingly pragmatic solution of car sharing was promoted by sound designer (and Domus Mixtape curator) Daniel Perlin and Annegret Maier. Perlin linked cars with "clouds"—not only in terms of atmospheric gases, but also in terms of the virtual data cloud in which car sharing could ostensibly become as participatory and self-sustaining as social networking. Is sharing a ride as good as planting a forest?
Fake Industries' Urtzi Grau and Cristina Goberna Pesudo voiced a "challenge to the technological optimism of contemporary mobility" and thus resolved to design "forums instead of futures." Echoing Virilio and Parent's theoretical work on "the function of the oblique" from the 1960s, Fake Industries manifested an architecture of "friction" as an antidote to the prevalent condition of seamless mobility. Could the introduction of "unavoidable obstacles," as they claim, restore to our movements a sense of agency and volition, or in psychogeographic manner, invite improvised wandering and adventure? Bjarke Ingels exhorted architects to design in terms of entire cultural-material ecosystems rather than 2D facades or 3D objects. Sustainability should be fun, he said, and "architecture must speak to the heart, mind, or genitals—whatever drives people."

Throughout the event, the manifestoes were accompanied by projected imagery generated by a new app called DrawThinkTank. Collaboratively drawn in real-time by architecture students using a Storefront iPad platform, the app was designed especially for the event with artist Joshue Ott.
As the day's various investigations wound to a close, the Festival continued into the night by exploring the capacities of light as a design medium for public art and architecture.
The day's other mobility-related event saw a unique New York twist added to the traveling exhibition of the Audi Urban Future Initiative, which hit London and Venice before landing this weekend at Openhouse Gallery on Mulberry Street. Inside the white-box gallery there extends a glowing white model of Manhattan, 15m long, which folds up onto ceiling due to lack of floor space (truly a Manhattan condition). Curated and constructed by Stylepark and Architizer, the original part of the exhibition featured proposed interventions in the Manhattan grid by five young New York firms: Abruzzo Bodziak Architects, Peter Macapia, Leong Leong, Matter Practice and Marc Fornes. The other part of the exhibition shows urban design proposals by J. Mayer H., Alison Brooks Architects , BIG, Cloud 9, and Standard Architecture.

The most distinctively and ingeniously "New York" of the new series may well be the Abruzzo Bodziak project for the East Side / Turtle Bay, which finds raw materials for a fresh parti in Manhattan's zoning codes. "A maximized build-out of Manhattan…need not be bleak," reads the statement, "We see the existing city as an armature onto which the new, dispersed systems must attach and integrate." The proposal uses algorithms to analyze the difference between existing building envelopes and their maximum legal potential, à la Hugh Ferriss. Then it shows how these forgotten remainders—which are often left unexploited due to their irregular geometries—could be reclaimed with greenhouses, algae gardens, photovoltaic arrays, water collection systems, and other interstitial spaces. "The zoning rules, scripted for specificity in regards to each building and the ever-changing skyline, are not merely restrictive, but also productive, encouraging the addition of biological and technical systems that work to support the city."
As the day's various investigations wound to a close, the Festival continued into the night by exploring the capacities of light as a design medium for public art and architecture. The play of light and shadow has always animated architectural facades, but until recently this happened only by day. After dark, architecture would either go blank, reflect the murky light of streetlamps, support neon signage, or glow like a lantern from the inside out. Contemporary artists and architects are exploring how to use dancing light not simply to transform buildings into image-surfaces, but also to reveal latent rhythms and stories within the architecture itself. In the process they may be rediscovering and redefining architectural ornament.

Flash:Light was a curated exhibition of light, sound, performance, and projection art that appeared suddenly at nightfall on the streets of Nolita on the final evening of the Festival of Ideas for the New City—and promptly disappeared by midnight. Curated by Nuit Blanche New York, the project had three simultaneous parts: One, a collaborative projection on the New Museum façade, which challenged the participating artists to address the SANAA-designed building's monumentality, its zig-zag silhouette, its minimalist cladding, and its role as an art museum. Part two comprised projections on the exterior and interior of St. Patrick's Old Cathedral, followed by a midnight organ program. And part three consisted of fifteen installations along one block of Mulberry Street. These latter catered directly to the pedestrian scale, creating a luminous corridor of art that played on the concept of the street festival.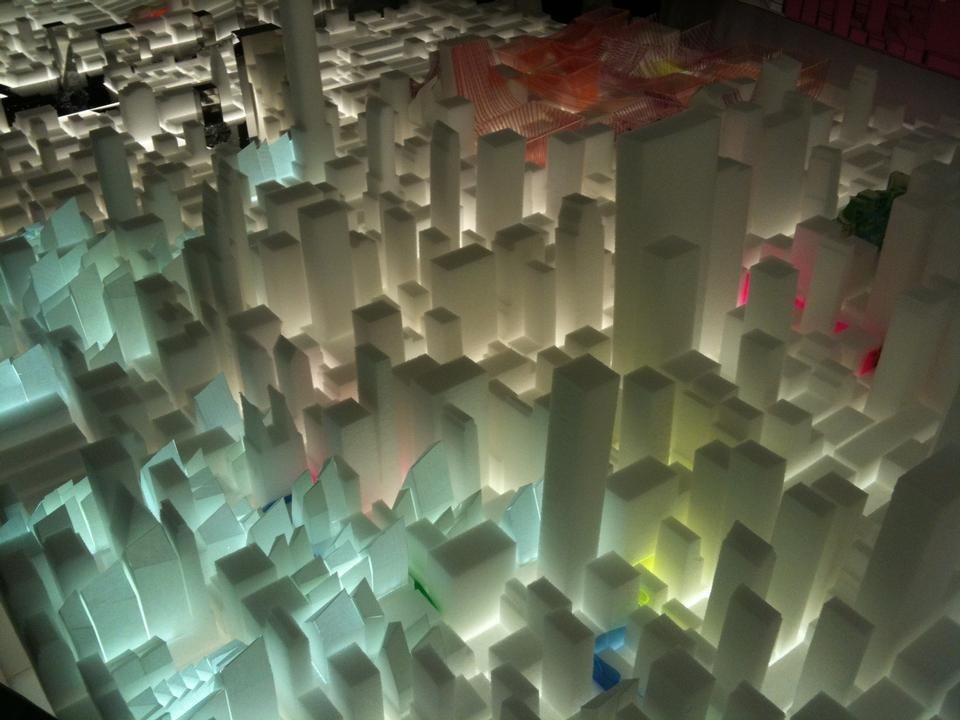 For the collaborative work entitled "Let Us Make Cake," twenty-five artists and artist groups were asked to interact with scale models of the New Museum building, approaching it as canvas, sculpture, and/or environment. The resulting footage was beamed onto the 174-ft. (53m)-tall aluminum mesh façade while Saturday-night traffic continued streaming along the Bowery below. Marilyn Minter presented the spectacle of silver slime oozing down the front of the building. In another sequence, the gigantesque figure of Daniel Arsham is seen boxing himself into the museum—an illusion created using reverse footage of the artist breaking out from within a hollow scale model. Meanwhile, SOFTlab created a pattern of fluorescent color strips using hand-layered bands of tape. Like several shorts in the series, it blended the tactility of painting with the immateriality of light. The full program and credits can be seen here.

These site-specific projections begin to suggest a possible "synthesis of the arts" for the 21st century. Research on such a synthesis has gone relatively dormant since the 1950s, when figures such as André Bloc, Fernand Léger, and Le Corbusier tried with little success to reintegrate the "plastic arts." Of course the combination of architecture, sculpture, and painting has long been taken for granted in the design of theatrical stage sets. "Who can resist this threefold magic, which addresses almost all the affections and sensations known to us?" wrote the 18th-century French architect and theorist Nicolas Le Camus de Mézières, one of the first spokesmen for "effects" in architecture.
Momentarily transforming urban landscapes like open-air stage sets, Flash:Light offered a synthetic visual experience. While the New Museum façade requires no embellishment, the projections honored it by engaging it. And artists got a rare opportunity to make spectacular public art on a grand physical scale—in the context of a festival that was itself a celebration of creative synthesis for "the new city."