The first ThinkPad laptop was launched back in 1992. Over the years ThinkPads have become lighter, more powerful, equipped with bigger and more colorful displays; they have incorporated either magnesium, carbon fiber reinforced plastic or titanium, but the design language has remained faithful to the idea Richard Sapper outlined in the Nineties for the original ThinkPad 700c, whose concept originated from the Japanese bento and was the idea of an anonymous box which only revealed its content when you opened it. Until now, at least. First leaked in May 2019, and then partially unveiled at CES 2020, ThinkPad X1 Fold, the first foldable PC, has finally hit the shelves. Heir to a long tradition, it could also mark the beginning of a new era in personal computing.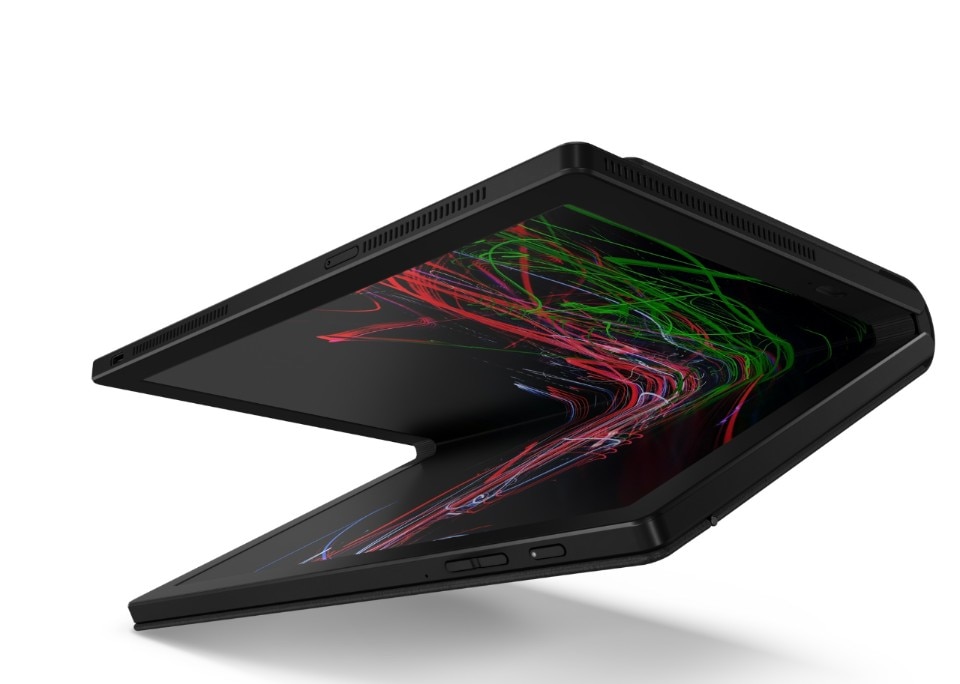 "It's a device that can adapt to many different uses", says Brian Leonard, VP of Design at Lenovo and head of the team that designed the ThinkPad X1 Fold. We first talked about the foldable PC back in 2019, in Berlin, and this is "the second chapter of our open conversation", he points out, from his home in the USA. A second meeting that couldn't happen in person as we had imagined before the pandemic. "My life has changed a lot" because of the current situation, he says, "I was living on airplanes and stuff like that, but it's okay". He smiles into the computer window ,the wall behind him covered with design posters: "I enjoy being at home. I can eat lunch with my wife every day". He laughs. Brian Leonard wears his hairlonger than when we first met, but I totally recognize the person I met in Berlin: even through the screen Ican feel his characteristic empathy and appreciate the eagerness he shows when talking about his work.
Basically, the X1 Fold is a computer built into a screen that folds itself. This innovative design opens various possible user experiences, you can "use it as a tablet, as a mini notebook, or set it up in a full screen mode", says Brian Leonard. The magnetic mini keyboard transforms the X1 Fold into an updated ultra-powerful version of a mini-laptop – does anybody remember the craze for netbooks at the beginning of the century? –, but can also be used to provide a desktop setup when the device is completely unfolded. "All of those things bring a flexibility we really don't get with a traditional notebook". As you can read on Lenovo's website, the idea is to design a single device, whereas people today jump back and forth from smartphones to tablets to PCs. "Even myself, there are times I work on a notebook or tablet or my phone, but this device has the ability to transcend multiple devices into a single one", says Brian Leonard. "That flexibility is a step forward into things that we've never been able to do before". And therefore, a big part of the job on this device was to enable different user experiences that people today achieve through the use of multiple devices.Updating the meaning of "personal" when talking about a computer.
You have been working on this device for a long time. 
My journey with this specific product literally started the first week I joined Lenovo. The team was already talking about foldables. I did some initial sketches back in March 2016.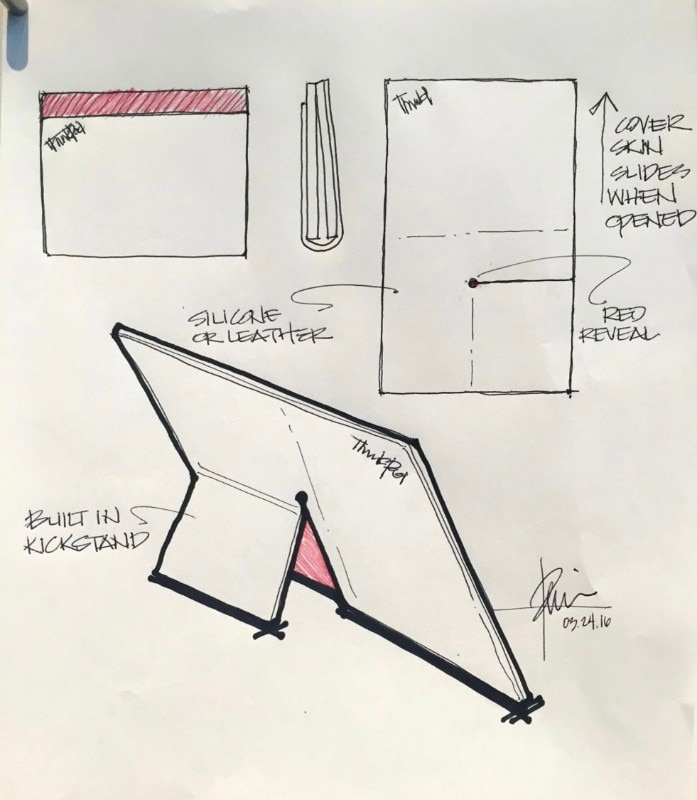 What's your feeling about it 5 years later, now that it's on the shelves?
I'm super happy with the device. I often worry about these long projects because they tend to take very big turns left and right. 
Did it change a lot through all the design process?
It's really odd, because I went back to those sketches and the device that you have today is extremely close to a sketch I did five years ago. It's one of the most human pieces of technology I've ever worked on.
When we met in Berlin, you highlightedthe relevance of Moleskines as a referencein designing the X1 Fold. Now that I hold it in my hands, I can understand why. It's not only about the looks, it's also the feeling.
We had a lot of debates about the cover and showing the hinge and things like that, butwith such a strong piece of technology, bringing a sense of humanity and trying to really create that emotional connection between the person and the device was super important.
Lenovo ThinkPad X1 Fold, form factor exploration
Lenovo ThinkPad X1 Fold, concept prototype
Lenovo ThinkPad X1 Fold, concept prototype
Lenovo ThinkPad X1 Fold, concept prototype
Lenovo ThinkPad X1 Fold, concept prototype
Lenovo ThinkPad X1 Fold, quick protos to make improvements
Lenovo ThinkPad X1 Fold, quick protos to make improvements
Lenovo ThinkPad X1 Fold, quick protos to make improvements
The device is literally wrapped in leather.It's unexpected but it suits it perfectly.
We listed out a lot of other materials, but there's something about leather… the way it feels when you carry it, just like an old book or a Moleskine that doesn't wear out, but wears in, and starts to take on some of your personality.
Something that I didn't really expect was a detachable physical keyboard. 
I love having the choice to have a keyboardor not, which we really don't have with laptops. In certain moments I want to be able to type on something, while in others I don't really need a keyboard and I don't want it in the way. 
So you don't think of it as some kind of compromise, a bridge to a future when we'll only type on touchscreens?
I felt implicitly it was a great solution and I think that we'll see how much people use it, and as the software capabilities improvewe'll see what happens. But I don't think right now we should restrict them one way or another. What I like about this device is that it's full of possibilities.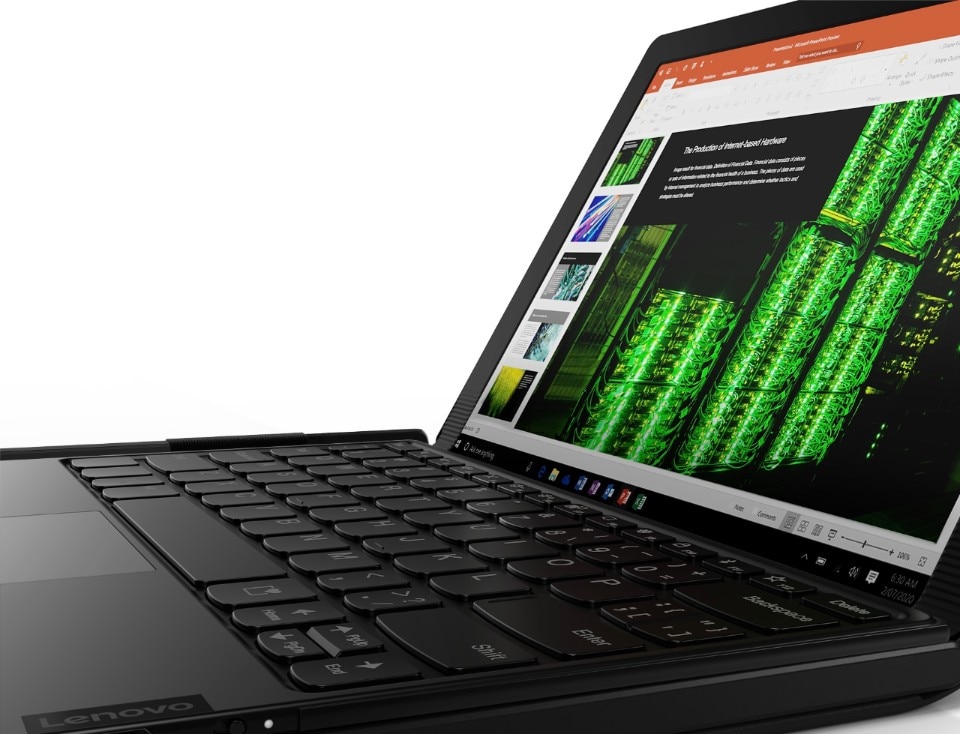 And what about the bento box concept that inspired the original ThinkPad? Did it have any role in the design process?
I had a lot of conversations with myself about what would Richard Sapper think about this device. How would he approach it? He was so fascinated by the way things work. I can imagine he would have spenttime with engineers that would haveexplained to him how the hinge works. He was fascinated with leather, and the way things felt, the way it smelled, and I can imagine that he might tell me that… leather is brown (he laughs).
Talking about the engineering: how complicated is this device?
This is an extremely complicated product mechanically, and the magic is this fusion of purpose and beauty, and how we make those things inseparable, so you can't tell where the form begins and the function ends, where the form ends and the function begins, as if they were the same.
What was the most challenging aspect to design?
One of the things that you don't realize is that when you open and close the device, you can see how much the cover has to move. A book's cover doesn't change, it has seams and you don't think about them. If you look at that leather cover of the Thinkpad X1 Fold when it's closing you'llsee a strip of glass. And then, when you close it, the glass disappears. That tells you how much that cover has to change to adapt as it opens.
The thing that I've learned working from home is how much flexibility this type of device has
Are you planning to scale the device?
I think that in a normal world this size would be pretty perfect for someone that moves around a lot. But now that I'm working from home, I would enjoy a much larger screen, that instead of folding down to the size of my Moleskine, would fold down to the size of a notebook. So, I'm interested to see how large it can be and how the experiences can be defined in a different way depending on the screen size. 
You just introduced a topic that's really relevant to me. You designed this hyper-futuristic piece of technology for a pre-pandemic world. 
Originally, we designed this device for somebody that is super mobile, who uses it for a hour or two when traveling, then closes it, and goes to a meeting. I can imagine myself being on a plane and pulling this device out…
… and everybody says "wow"!
Yes, and instantly you have ten new friends! (he laughs) But the thing that I've learned working from home is how much flexibility this type of device has, when it sits on the easel and it's powering a larger screen and everything's functioning together in the rightway. When we designed it, we never saw multiple screens as actually being the center of the everyday experience.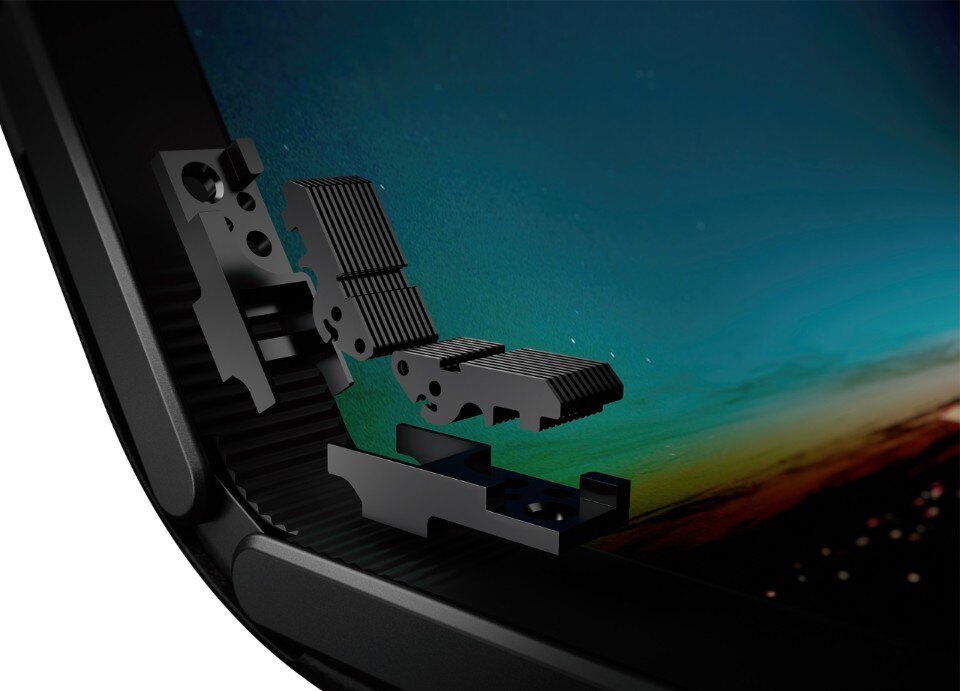 That's something biologists call exaptation, a shift in functions during theprocess of evolution.
As a designer I feel like we have a huge opportunity to rethink technology and the solutions we give to people, and how these pieces of technology work together. We have a responsibility to improve the experiences. 
And our experiences have totally changedin roughly a year.
Every day I learn more about the things that I design because I'm using them in moreways than I ever have. It's such an exciting time. Design team is super energized and we talk new things every day. 
How did you rearrange the workflow of your teams during the pandemic?
Now we actually have permission to meet in the studio and I'm there every Friday. We have just a few team members come in, depending on what's going on. We're very careful. But when it started, we would take models to each other's homes and leave them on the front porch, it was as strangest thing ever.
With such a strong piece of technology, bringing a sense of humanity and trying to really create that emotional connection between the person and the device was super important
Models, we already talked about how much you use them. Did you make many of them for the X1 Fold?
You can imagine how many little paper and cardboard and leather models we made… I spent way too much budget on this. But the physical aspect of it was so important, and the different leathers, and making sure that we got the leather from a sustainable source. 

Richard Sapper theorized a computer that disappears behind the screen. But the X1 Fold look like an item that doesn't want to disappear. Or at least, that's how I'm experiencing it.
It's actually an object that you want to show.And I love that, because it's one of the most honest designs that I've done for a long time. It's super easy to understand, it's very elegantly designed, it's not trying to be something, it just has its own personality.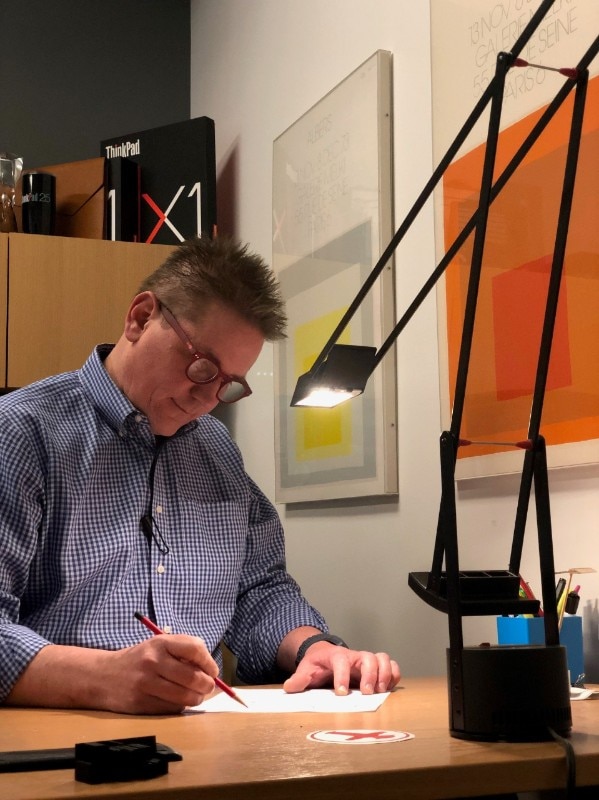 For me it's all about possibility
Brian Leonard
VP of Design at Lenovo
Back in Berlin we talked a lot about the relevance of customization in the user experience. 
This device has the ability to fuse fashion and technology. And also, that in the future we might start to personalize not only thecolors, but the way it looks and feels, whether it has a little shoulder strap or a hand strap, and really integrate into a kind of fusion fashion.
Is there something you would like to add to it, if you could?
No. I've absolutely no complaints about it. Design is about simplifying things to their essence. Every meeting I go in, people want to add more and more and more things. But I'm there to remove things, that's how you find the beauty of design. 
Do you think users will understand such a disruptive device? 
Everybody uses it differently. For me it's all about possibility.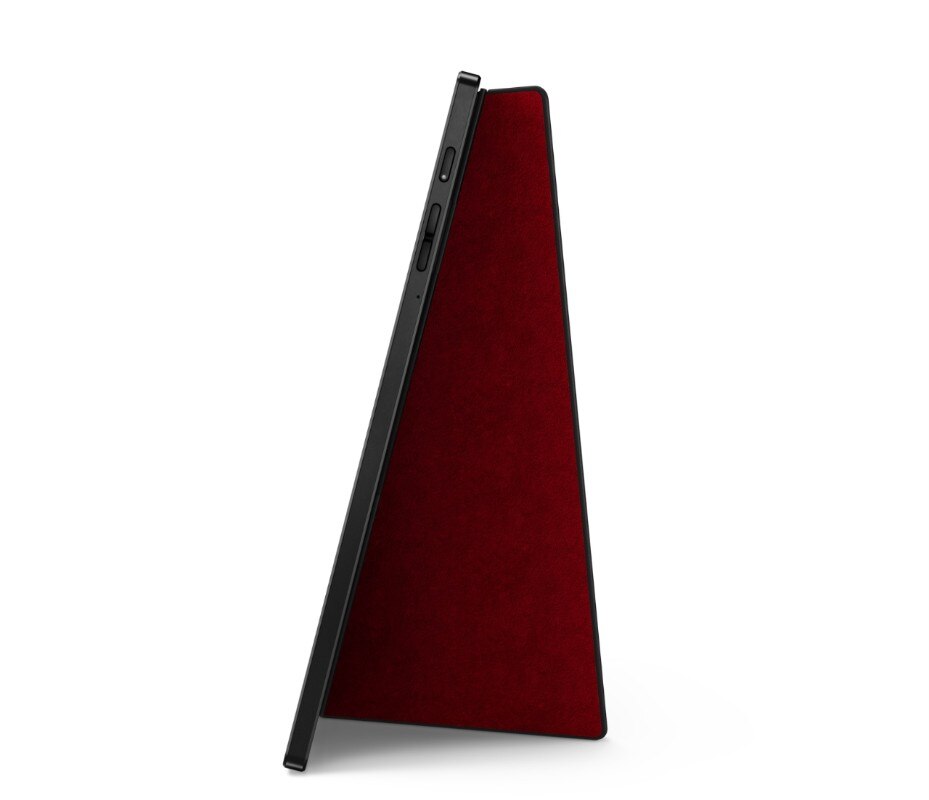 You made a leap forward. Trying out the device, I love the hardware, but I can feel the lack of an up-to-date software.
I think the experience with the software is going to get better and better. What I'm focused on is how to drive adoption at a much larger scale. I'm looking forward to the moment I'll be able to say there are millions in the world.
But this was the right time to launch.
Everything has a right time, you know, and I feel that this is the right time for the foldable, even if it came during the pandemic.
Is there any lesson that you learned whiledesigning the Lenovo X1 Fold that you think it's important to share?
What I tell young designers is that you have to have a story about what you're trying to do, and you have to build relationships with the people you're working with. If you don't have a point of view and you don't have a story, then you don't know where you're going. We had the vision of a device that related to a book, something that felt amazing when folded in your hand. And we carried that through for five years and never let go of that vision.