During its "Unleashed" event, Apple has unveiled two new MacBook Pro laptops powered by the company's proprietary M1 Pro and M1 Max chips. 
The new Apple-designed components are a graphic designer, videomaker or 3D modeler's dream. They both sport up to a 10-core CPU configuration and come with 16 and 32 GPU cores, respectively.
Specs aside, these two new chips are unbelievably fast. According to Apple, they're able to match comparable Intel chips performance with a fraction of the power consumption, thanks to their ARM-based infrastructure and Apple's advantage in optimizing macOS to leverage the chips' full power.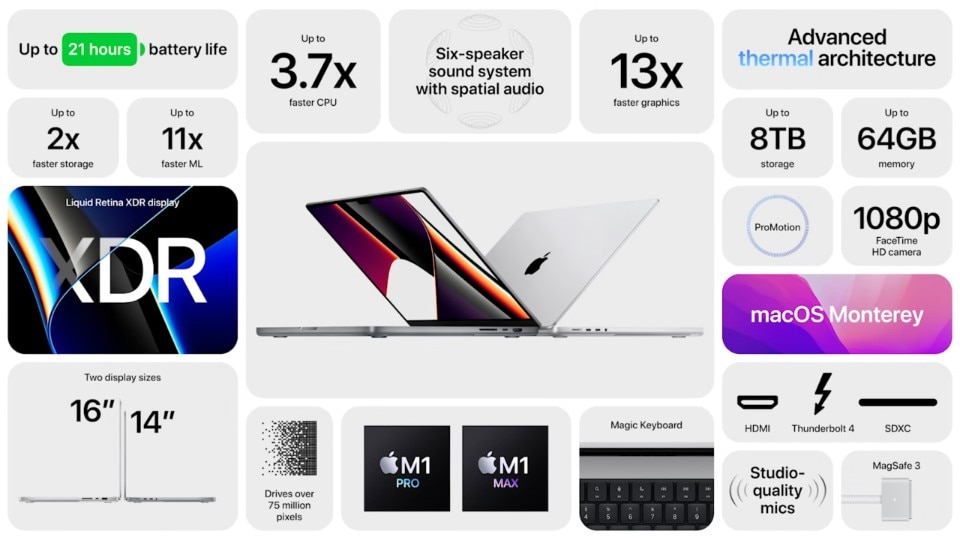 The new MacBook Pros are not just vastly more powerful than their Intel-based predecessors. They also sport a new design, with a thinner chassis, a thinner lid holding a new superbright Mini Led screen panel, and slimmer bezels. 
The new bezels contribute more than anything else to the laptops' new look: they're 24% smaller on the sides and 60% on top. That's possible thanks to a design solution that users will hate or passionately defend, while competitors will inevitably start to copy: the camera notch.
Like the iPhones, the new MacBook Pros have a small black bump on top of the screen surrounding the new 1080p webcam. Apple has implemented a clever solution on macOS Monterey that blends it with the menu bar. However, from what we can see in the promotional pictures, the bar is not entirely flush with the notch, with a few pixels showing under the black bezel bump. It's a small detail, but we expect designers to complain about it on social media pretty soon.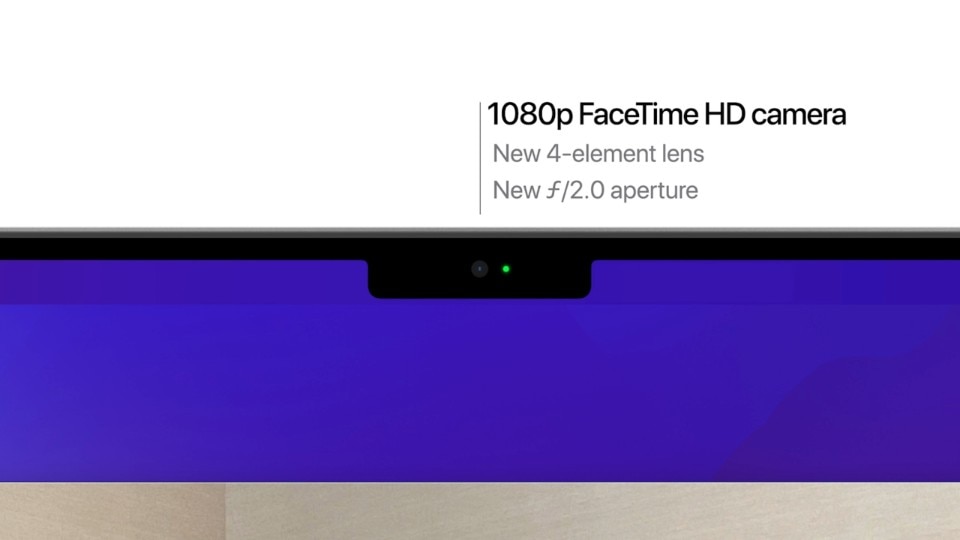 On the other hand, designers and creatives won't probably complain about the flurry of multimedia ports. Along with USB-C/Thunderbolt 4 ports on both sides, the new MacBook Pros regained an HDMI port, an SD Card slot, and, above all, the good old MagSafe charging connector. Apple's designers have also finally accepted that nobody ever liked the OLED Touch Bar and proceeded to remove it from the new machines.
The new MacBook Pros feature a full-fledged row of function keys and a Touch ID sensor in place of the useless gimmick. Sometimes, even for Apple, a good design iteration means reverting to a previous - and better - design. It's not an admission of defeat; it's just what works better for the professionals that will need to fork out a lot of money to buy these two new, extremely powerful, professional laptops.