"At home, I've got the whole collection of Domus, on a very strong bookcase", says with a smile James Dyson, engineer, inventor and entrepreneur, founder of the company that brings his name. One mostly renowned for its powerful and futuristic vacuum cleaners, Dyson has enlarged its scope in the last few years, launching product lineups for home and personal care (and lights,). Today, we're here with Sir James– virtually, obviously, as the current times demand – to discuss with him about the relevance of air quality at home and at work, a question dramatically underestimated, and get some fresh insights about the new air purifiers, just launched by the brand, that for the first time included devices designed for commercial spaces in the lineup. 
Dyson has been working on air quality for quite a time. While home pollution is perceived as a urgency in South-Eastern Asia, it was almost ignored in Europe and the USA. Now multiple lockdowns caused by the Covid-19 pandemic have slightly changed this scenario. A recent study conducted by Dyson in 10 different countries shows more interest in home spaces, increasing attention in cleanliness, a change in the relationship with homes, and a rising perception of danger the lies in domestic environments.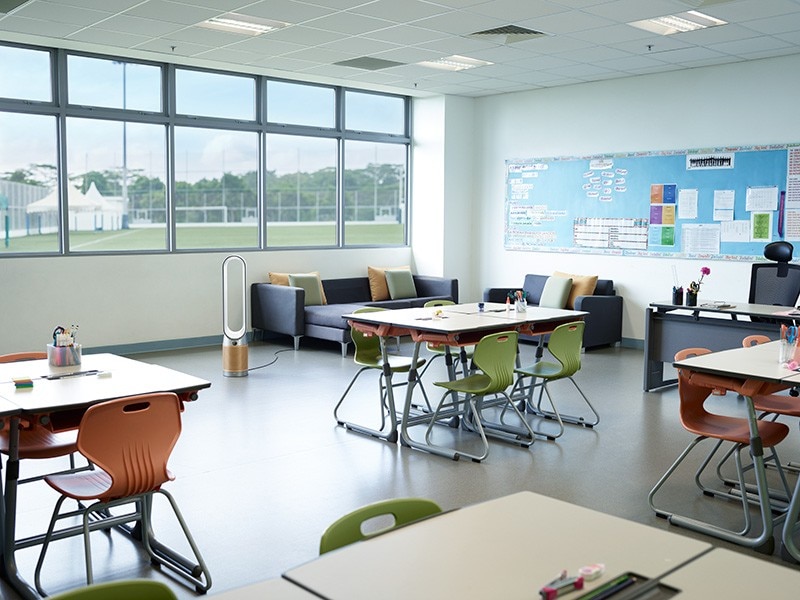 "Formaldehyde is one of the most overlooked pollutants in the home", bewares James Dyson. His company's latest generation of purification machines was designed to capture ultra-fine dust and allergens, even destroying potentially dangerous VOCs, including precisely formaldehyde, which will have a protagonist role – or better, the antagonist one – throughout our conversation.
In the new models, the machine airflow pathways was re-engineered to achieve fully-sealed HEPA 13 standard filtration. This means Dyson's latest purifiers remove 99.95% of particles as small as 0.1 microns, including the H1n1 virus. And for the first time, Dyson designed purifiers also for commercial spaces, offices and classrooms. 
"Houses are a lot more polluted than people think", James Dyson says, as he explains how much this has to do with how houses evolved in the last decades. "Historically, a house had very natural things in it. With no chemicals involved. And they were very well ventilated because people had chimneys and leaking windows and doors". But now, homes are much more sealed than they used to be. "There's very little change of air, and many products have formaldehyde in them, for example, furniture. Clothes may contain formaldehyde, that they emit during the life of the product. When you paint the house, the paint releases formaldehyde. But also candles, and cooking".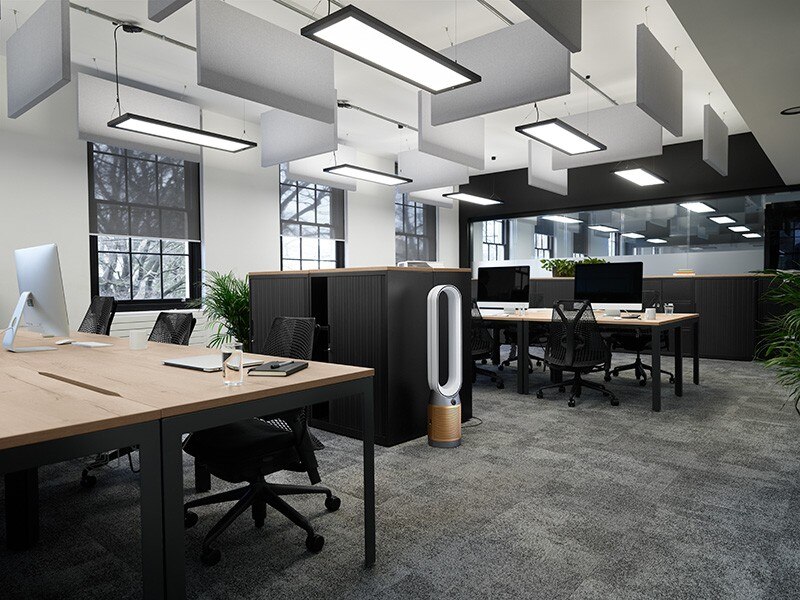 Formaldehyde is a colourless gas pollutant , and being 500 times smaller than particles the size of 0.1 microns, it is particularly difficult to capture. James Dyson adds that, at his company, they're very concerned by formaldehyde. But not only about it: air pollution at home also comes from "chemicals now used in the production of things that you have in your home" and even clothes, but also bacteria, "like human skin bacteria", or diesel exhaust pollution, "and obviously it can be viruses, and more". 
James Dyson adds that all this is part of what he calls our modern lifestyle, and somehow a consequence of it, "and when I say lifestyle, I mean the things we have around us in our home and the clothes that we wear, but it's also the fact that our homes are much more sealed now".
So, the first step is to analyse the environment and trace all these different sources of air pollution.
Yes, we produce purifiers that deal with these issues, and I don't know if you've seen one of our purifiers, but they have sensors that detect pollution, and then it switches itself on and deals with it. And you can go back historically over the last week and see what's happened to that particular dust, or gas during the past. And at the moment, in real time. 
Do you think that we in the Western world have been underestimating this problem?
That's exactly what's happened. And now that we're all spending more time in our homes, then we're starting to be aware of viruses. You know viruses can go beyond dust. They can be on your skin, which falls on the floor. Southeast Asia has been much more aware as they're much more aware of things like the danger of formaldehyde. Which is why, in China, for example, they weren't moving into a new house before six months from its contruction, because they know that paints and new materials are bad for you. They're very, very aware of formaldehyde, whereas we in the West have candles everywhere. But at the same time maybe Asia is less aware of the danger of frying things. In the end, you know, we want people to be aware of these things.
Now that we're all spending more time in our homes, then we're starting to be aware of air pollution in interiors
When we opted for sealed environments to live in, we never questioned ourself if the air would clean. We just assumed that pollution was outside.
Yeah. CO2 is another  issue, you know? If your bedroom is sealed, carbone dioxide will be bad for you during the night, if you don't have a window or the door open, and good circulation.
When did you first tell yourself "Ok, we have to launch a device that enhances air quality at home"? 
About 20 years ago when I was first developing cyclone technology I wanted to size and count particles. It's no use just having a filter and working out what it has removed gravimetrically because that would only tell me if it's removing the larger particles. I was much more concerned with removing the smaller particles which weigh nothing and are the most harmful ones because they can penetrate the lungs. So I really wanted to understand that my vacuum could remove it.
On top of that airflow and filtration, which are both in purifiers, are two core technologies for you.
Yes, purifiers were a natural route to follow. However, we needed to understand what problems existed with conventional machines before developing a better solution. Most indoor pollution is invisible, so we knew we needed to create an intelligent purifier that could sense and react automatically to pollution. Poorly sealed purifiers are another common problem, meaning that dirty air can easily bypass the filter. We also discovered that many air purifiers don't project air very well. They don't have a fan function to push clean air to the other side of the room. Luckily, we had already invented Air Multiplier technology for our bladeless fans and fan heaters to purify the whole room evenly.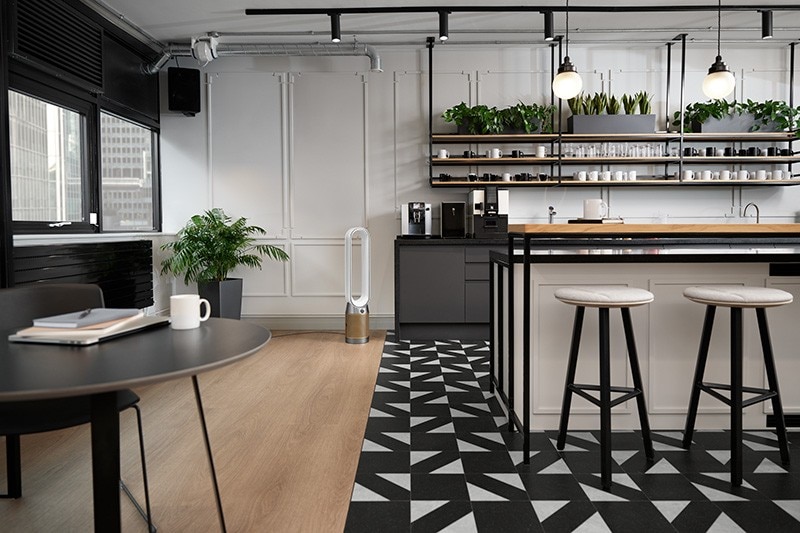 Why did you develop your own way of testing air purifiers, called Polar?
That's a very interesting point. The existing test method, which was developed in America, involves that you have the purifier in a very small room, with a ceiling fan, and there's just one sensor. Okay, so it's totally unrealistic. If you then use that same machine in a larger room, for example, or if there's no ceiling fan, you won't get the result that the standard calls for. 
And so, you introduced this new method.
It's different because it involves a bigger room, no ceiling fan and sensors all over the room to get various measurements, not necessarily where the purifier is. We've been developing it with the Chinese government. And the Chinese are very keen on this standard, and I think it's a new standard that's coming in. Whether other countries will adopt it or not, I don't know. We're keen on it because it's no use having a purifier just pushing air in one part of the room. It's not going to reach you. So, air purifiers are about room circulation, making sure that the whole room is pure, not just a bit where the purifiers are.
Your new purifiers lineup is oriented to "healthy spaces", which is a much larger concept than the previous "healthy home". 
I think everybody has suddenly realised keeping the home clean – floors and surfaces and the air – is much more important than they could ever imagine. The change is drastic. But it also extends to where we work, schools and elsewhere. Fortunately, this is what Dyson technology focuses on solving.
All pictures courtesy of Dyson.