A couple of months ago, Matthew Ball, a venture capitalist specialised in interactive media, dedicated a long post on his blog to the concept of the metaverse, examining its nature, where it can be found and who its constructor will be. Drawing on science-fiction for answers, the metaverse can be defined as a virtual space within which an effective reality can exist.
If on reading this definition, films such as Matrix or Ready Player One, come to mind, then your brain has made the right connections. If these initial thoughts were immediately followed by the memory of the last time you connected to Second Life, then no further explanation is required.
In Matthew Ball's vision of the internet of the future, the metaverse plays a central role. He claims that it is around this concept that interfaces will be constructed, allowing us to interact with each other in the coming future. If you think this is just a simple exercise in speculation or the fantasies of a nostalgist trying to defend protocols that technological development appears to have declared dead and buried (Second Life, again), perhaps you should take a closer look at the development of "videogames" such as Fortnite and Minecraft.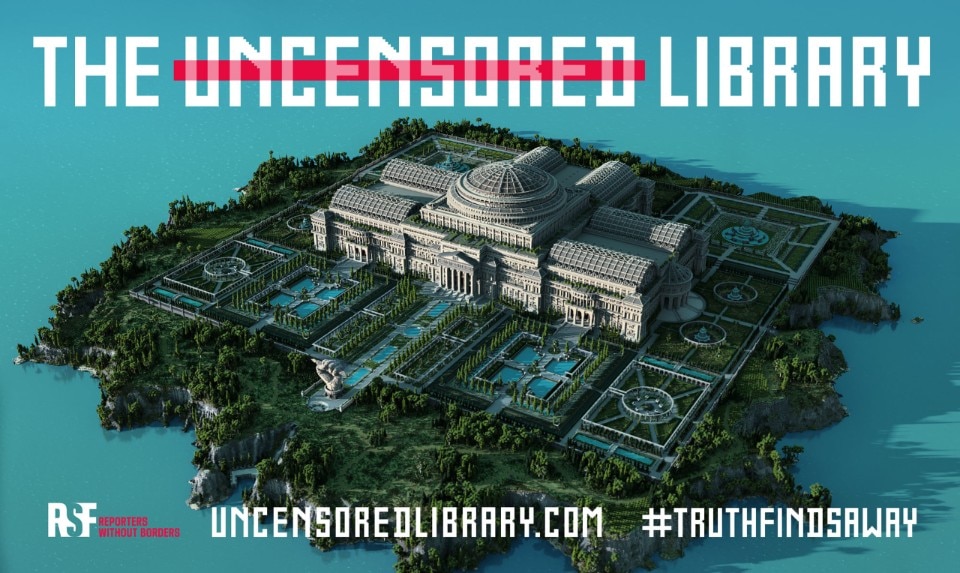 The latter is particularly interesting, because it has been chosen by Reporter sans Frontiers as the location for a project launched on 12 March on the occasion of the World Day Against Cyber Censorship. The project is called The Uncensored Library. It is a mammoth digital architectural work created by the Block Works collective, a library built in the neo-classical style of grand national institutes, which exists exclusively on a Minecraft server, and which contains 5 areas, each dedicated to a country where censorship has real and tangible consequences.
Each area is dedicated to a journalist – Jamal Khashoggi for Saudi Arabia, Yulia Berezovskaia for Russia, Nguyen Van Dai for Vietnam, Javier Valdez for Mexico and the portal Mada Masr for Egypt. The library contains over 200 books containing more than 200 posts and articles censored in Saudi Arabia, Russia, Vietnam, Mexico and Egypt. These are countries that censor the press, but which guarantee access to Minecraft, thanks to which this information has a new channel through which to reach people deprived of free and courageous voices that allow them to properly examine the reality that surrounds them.
This is a taste of the power of the metaverse. It is a reality that seems to have the strength to open a new stage for the creative and productive skills that characterised the explosion of the web 2.0, and which now appear fully absorbed by the capitalist dynamics of the platforms. It is still to be seen when and how the governments will react when they realise that Minecraft and the metaverse are not simply idle pastimes for teenagers, but rather extremely relevant geopolitical matters. It would be wise to learn from the errors of the past, and make sure we are ready for when that moment comes.