Along the Nordkette mountain chain, above Innsbruck, Snøhetta created Perspektivenweg (Path of Perspectives), a series of architectural elements placed along a 2.8 km trail in the Austrian Alps. The ten installations include benches, stairs, platforms and suspended shelters offering a view on the landscape and moments of rest.
Each element fits into the environment through shapes that seem to emerge from the side of the mountain and materials inspired by the site. The larch wood of local forests is used for the seats and it can be found in the steps of the auditorium overlooking the valley. All the elements of the trail are made of corten and are inspired by the already existing avalanche barriers made of the same material.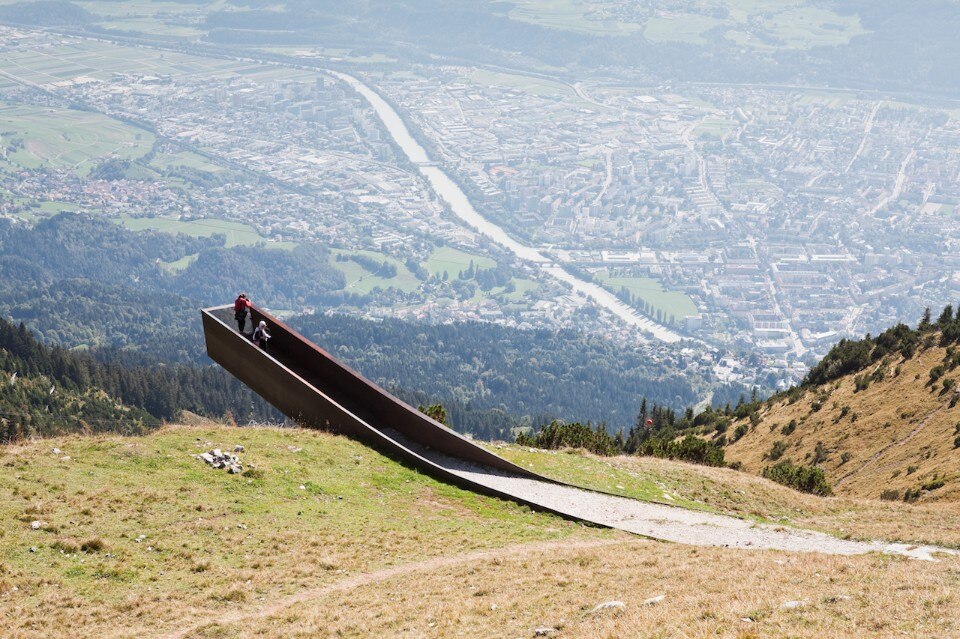 A platform projected on the valley overlooks the panorama and, thanks to a metal grid on the floor, creates a feeling of vertigo for the visitor. On the interventions by Snøhetta some quotes by the philosopher Ludwig Wittgenstein are inscribed. One of these, on one of the benches: "Lass die Natur sprechen", "Let nature speak". The Path of Perspectives joins other architectural works made by well known architects, such as the Hungerburg funicular stations designed by Zaha Hadid and the stations of the Nordkettenbahn by Tyrolean architect Franz Baumann.
Project:

Perspektivenweg

Architects:

Snøhetta

Where:

Nordkette mountain chain, Innsbruck, Austria