In March 1985, the Product Design column of Domus 659 reported to its readers – alongside a Rifle shirt, a Krizia scarf and a pair of Ferrè shoes – the drop of the new collection of Memphis ties.
The accessory had actually already been part of the production of the Milanese collective-studio for years, which had extended to lifestyle too the subversion of domestic life through the postmodern irony of its furniture. In the 1983 Memphis catalogue, alongside cornerstones such as the First chair by Michele De Lucchi, the City table by Ettore Sottsass and the Santa Fe lamp by Matteo Thun, cotton fabrics appeared in a variety of patterns matching those that much contributed to the fame of the brand and its furniture.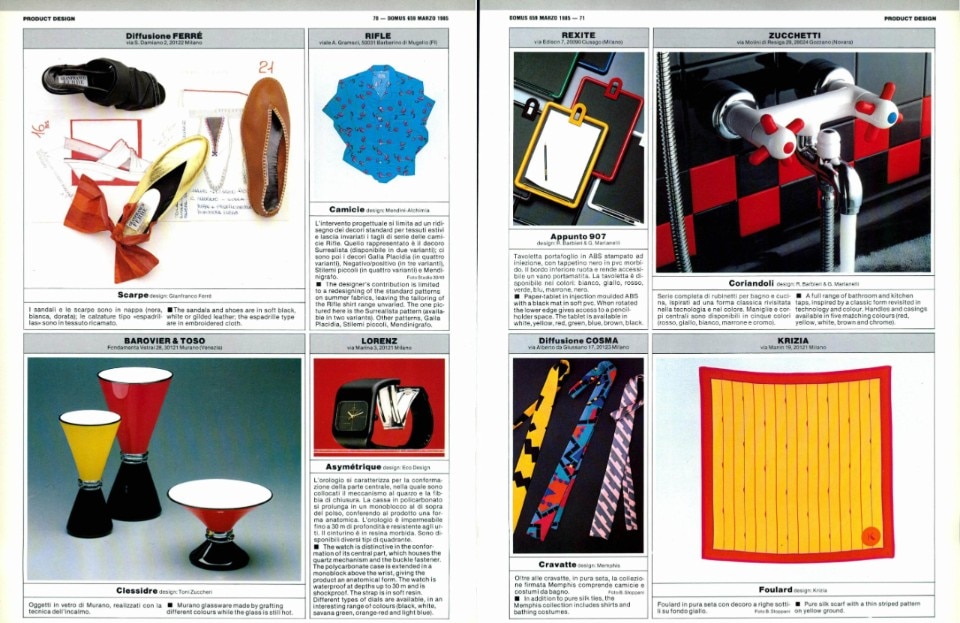 After all, the futurists had already grasped – with the patterns designed by Giacomo Balla in 1914 – the potential of this garment to break free from the conventionality and monochromatic formality of men's fashion of the times.
"It was Balla who removed those stupid block colours from the ties that communicated senility, resignation, fear, weakness and tobacco," wrote the Sicilian Guglielmo Jannelli in issue 34 of Futurismo magazine in April 1933.
Similarly, Francesca Picchi on Domus 945, March 2011, recalls the artistic and destabilising connotation assigned to the tie by the avant-garde movements between the two wars, quoting a 1926 write-up by Theo Van Doesburg in De Stijl magazine: "If one wants to put a bucket on the ground: immediately the high priest of the Art comes to tell us 'that it disturbs the harmony of the street, or the harmony of the city or the landscape'...Postcards, stamps, pipes, tickets, pot de nuit, umbrellas, towels, pajamas, chairs, blankets, handkerchiefs, lamps, stoves, ties… everything is Art".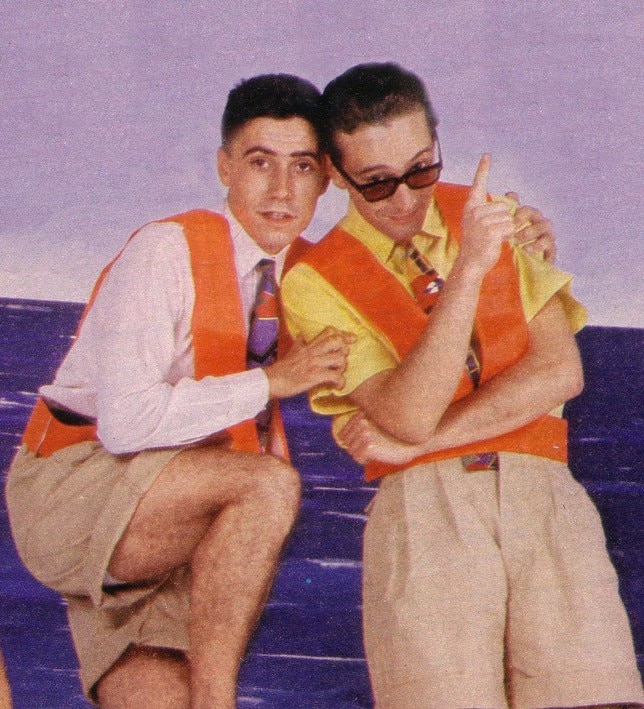 Decades later, to grasp this concept better than anybody else was Righeira, a duo from Turin who had jumped to the top of the Italian and international charts with a flawless string of singles including Vamos a la Playa, No Tengo Dinero and L'Estate Sta Finendo – now turned into a popular football chant from the supporters of Napoli and Liverpool.
It can be argued that their overall image – which extended from stage costumes to artworks, from videos to the deeper philosophy behind their compositions – Righeira embodied in the music industry and popular culture of the early 1980s what Memphis represented in the more elitist sphere of design.
Their television performances, which combined '80s haute couture (Jean-Paul Gaultier, Calugi and Giannelli) with aesthetic references of a post-atomic Space Age and a playfully autarchic new wave touch, were often embellished with ties featuring Memphis prints, like Sottsass's Sketch or George James Sowden's pink-and-black one used for his Oberoi armchair. In some cases, ties were even worn two at a time, hence accentuating the hyperbolic, but certainly not superficial, dimension of Righeira's nonsense.
Righeira used to wear Memphis ties in their live performances

"Memphis was a staple for us. Once they also introduced me to Sottsass and Mendini, but there were no further acquaintances," says Stefano Righi, aka Johnson Righeira, founder of the duo and now head of Kottolengo Recordings & Wine, a label combining music and wine production.
"It was a very stimulating period from the point of view of menswear, which otherwise is usually much more conventional. One of the merits of the 1980s was that of generating widespread creativity across all industries.
We got to Memphis, like to many other things, through a logical path and through an interest for fashion, design, architecture and futurism. When Memphis first came out with furniture by Sottsass and its other designers it was a blast. You can imagine when the ties arrived how enthusiastic we were, we ran to grab as many as we could. One of my favourites was pink with the Sottsass Bacterio pattern."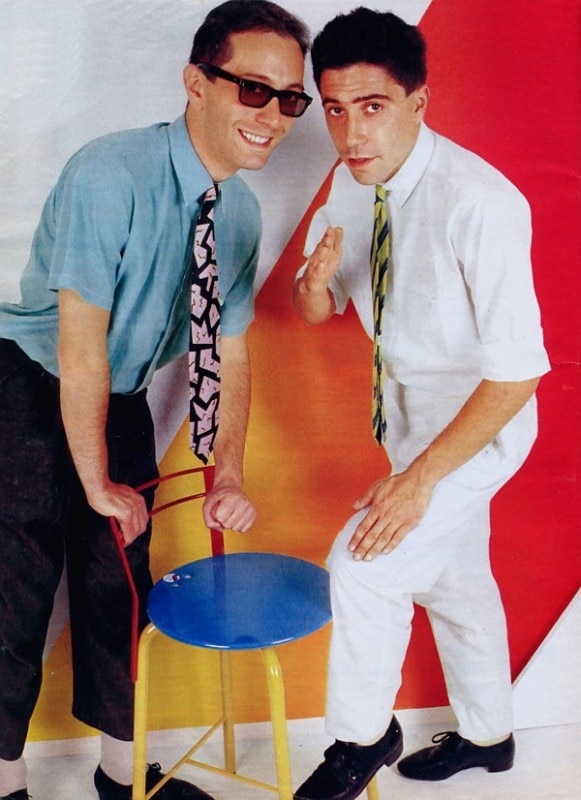 In 1983, their self-titled debut album saw them posing on the cover with Memphis ties in an imaginary museum suspended between hints of futurism and an environment in the style of Alchimia; who, only a few months later, would design the artwork for Matia Bazar's Aristocratica LP. The promotional video for No Tengo Dinero, directed by Pierluigi De Mas, a heavyweight of Italian illustration and an award-winning author of television commercials for RAI, brings this environment to life, introducing references to Mondrian's De Stijl and reproducing the drawings of Antonio Sant'Elia and his La Città Che Sale. "It is obvious that this was not explained to [popular television anchorman] Pippo Baudo when the song was chosen as the theme tune for his show Buona Domenica", jokes Johnson Righeira.
Righi now reflects on how, back then, the instant and widespread success of Righeira eclipsed their most profound research on design. It alienated them from the favours of the countercultural underground they felt to belong to and, at the same time, forced them to dialogue with an audience who, despite having contributed to their fame, did not understand their artistic references.
Regularly mentioned for their looks by the fashion magazines of the '80s and coming with crazy hairstyles by cult Bolognese coiffeur Orea Malià, Righeira would travel across Italy and Europe in search of unique garments they would use to interfere with the styling of the costume designers, providing a totally personal and edgy twists to their performances. One example is the Memphis ties that Johnson remembers were bought by the duo out of his own pocket.
The video of No Tengo Dinero animated by Pierluigi De Mas for the Righeira reproduces the drawings of Antonio Sant'Elia and the works of Mondrian

"If they had made the shirts we would have bought those as well," says Johnson. As testified by Domus 659, they would come too by 1985. A lot of 12 pieces belonging to the Memphis collection by Dennis Zanone (one of the largest in the world together with those of the designer Karl Lagerfeld and David Bowie) went up for auction in 2019.
The use of the tie made by Righeira was anything but that of a mere accessory with a retro flavour: it was a vehicle of zeitgeist. And the fact that their choice fell on Memphis is certainly not a coincidence. As Pier Vittorio Tondelli noted in his Un Weekend Postmoderno (Bompiani, 1990) the new wave youth of the '80s, thanks to figures such as the B-52s, David Bowie and Patti Smith as portrayed by Robert Mapplethorpe on the cover of Horses, had been reconciled with the tie, no longer an institutional and parental imposition to which the generation of the Sixties had rebelled, but "a prestige", "strictly black, very thin, silky" with a "usually tight knot in the shape of an inverted trapezium".
Something now more relevant than ever, with the ongoing revival of ties as a disruptive, punk-edged and loosely-worn staple of youth fashion and Tik Tok creators.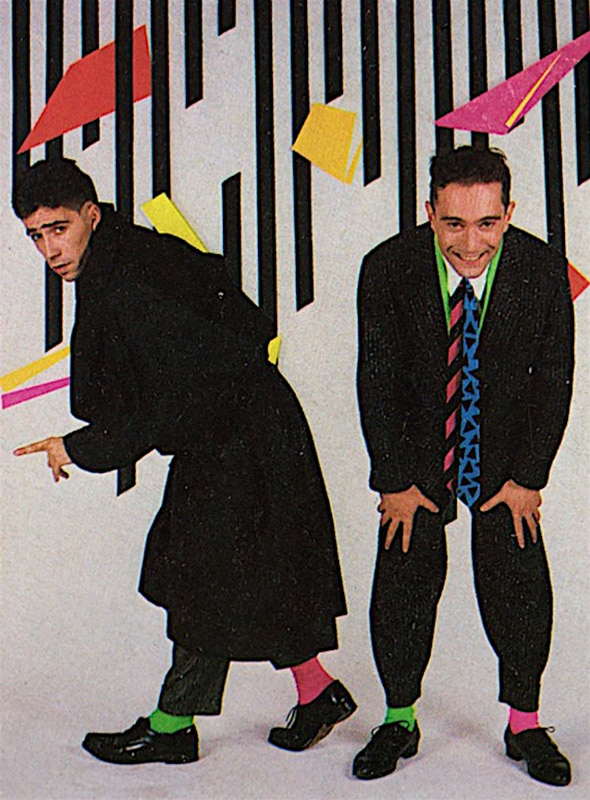 An attitude that, according to Johnson, has to be traced back to the cultural environment of the time, an exciting and fervent wave of which Righeira and other contemporary creatives were part of.
There was Milan, the city where the duo moved once Vamos a la Playa topped the charts, where the cultural scene was bursting with the innovations of Memphis, the creations of Jean-Paul Gaultier, and where the pace of mundane eclecticism was set by the visions that took shape within the walls of avant-garde queer club Plastic. 
But also the scene of the painters of his native Turin, with names such as Raffaello Ferrazzi, Pierluigi Pusole, Daniele Galliano, Bruno Zanichelli aka Pennarex and Ugo Nespolo, with his futurist trait shared by many of Righi's creative intuitions.
Futurism did, in fact, represent a conceptual fil rouge for Righeira, who saw it as a reset of the artistic and aesthetic status quo, just like punk: one of the first inspirations of the artist and still a prominent component of his mindset.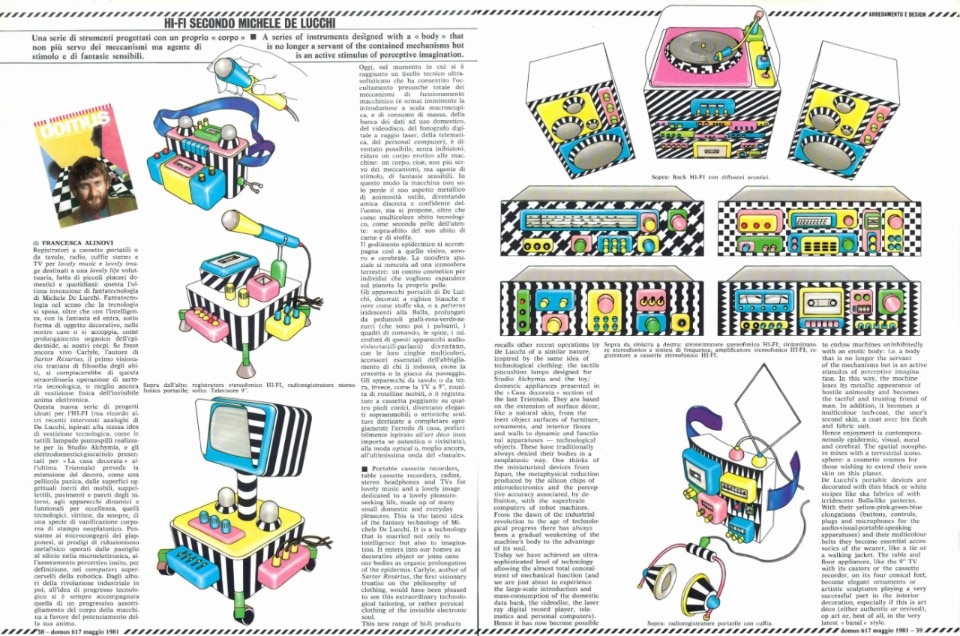 Memphis and Righeira had no doubt understood this. Those were the years in which accessories decorated with post-modern textures were all the rage, flirting with a bubbly underground that, setting aside the political militancy of the previous decade, broadened its taste for art and design. A taste that inevitably happened to go beyond the counterculture alone, influencing dominant culture, also thanks to magazines like Frigidaire or music TV shows like Mister Fantasy, with its studio notably hosting pieces by Memphis Milano.
Francesca Alinovi observed this on Domus 617, May 1981, commenting on the stereo recorders and portable 9" televisions designed (but sadly never produced) by Michele De Lucchi for Memphis.
"De Lucchi's portable devices, decorated with black and white stripes like ska fabrics, or with iridescent Balla patterns, prolonged by yellow-pink-green-blue peduncles, become with their multicolored straps essential accessories of the wearer's clothing, like a tie or a walking jacket".

We are sure that they would have made a certain impression around the neck or waist of Righeira, alongside their beloved Memphis ties, offering a glimpse of the future from the stage of a RAI studio or a summer music festival.
Opening image: On the cover of the 1983 debut album of the same name, Righeira encloses their iconographic universe, between futurism, postmodern design and new wave