It is not a house interpretated as an articulation of volumes, rather a summation of heterogeneous surfaces, fragmented scenographies, emblematic and hyper-narrative objects that fit into the social network format it was conceived for and that contributes to liven up: TikTok.
As an Italian response to the Collab Houses model born in the United States, the Defhouse is a 500-square-metre penthouse that has started housing eight Italian influencers between the ages of 16 and 20 for some weeks now. Nursery, or rather training hub for its promoters, the digital company WSC® specialized in strategic marketing for influencers – over three and a half billion views recorded in 2019 by its representatives – Defhouse has the aim of renewing the interactions and the aesthetics of this new social life frontier. "The Collab Houses all around the world have a very similar style: very soft, very enlightened, with a few objects and a few coloured elements, making the social connect to the person and not to the space", Giuseppe Greco, artistic director of WSC®, says. "We wanted to do the opposite: we put a lot of colour, a lot of elaborate patterns that maybe create confusion, but make the contributions unique".  
"The house is our paradise, is tailor-made for us", Simone Berlini states, a 20-year-old influencer whose very thick tuft imposes itself at every step on TikTok, where he reached two million followers. "Every wall and object can be used as a background and as props: we can use any element to get an idea for a video. It's another life for us, having all these possibilities," he explains when we ask him about his life tools as an influencer. And it is precisely in the ability of objects and patterns to instigate new contents, seen as facilitators of a message based on a small cheerful choreography, on the lip-sync, on the rhythmic and stereotyped mimicry, comprehensible at any latitude precisely because immediate and speechless, that the mechanism regulating this house evolution and transposition into the social media is supported. Therefore, a new opacity between real and virtual, with respect to the instagrammability concept so much invoked in the recent architecture debate as well, in which the taste for the glance celebrated by the performances of likes and followers is accompanied by criticism against the primacy of the formal research on the content, on the message value.
"These eight influencers are children of pop, of a pop renewal," the art director, John Pentassuglia, explains. That's why our idea was to reinterpret this imagery starting from the past, and Memphis was the first reference that could accompany us in this adventure". Reduced to a few essential patterns, trivialised to favour the global hyper-digestibility, the more or less philological citation of the geometries and patterns of the movement founded by Ettore Sottsass is accompanied by emblematic objects from Seletti's Toilet Paper collection, another vehicle capable of generating empathy in the Generation Z by means of its desecrating and immediate impact.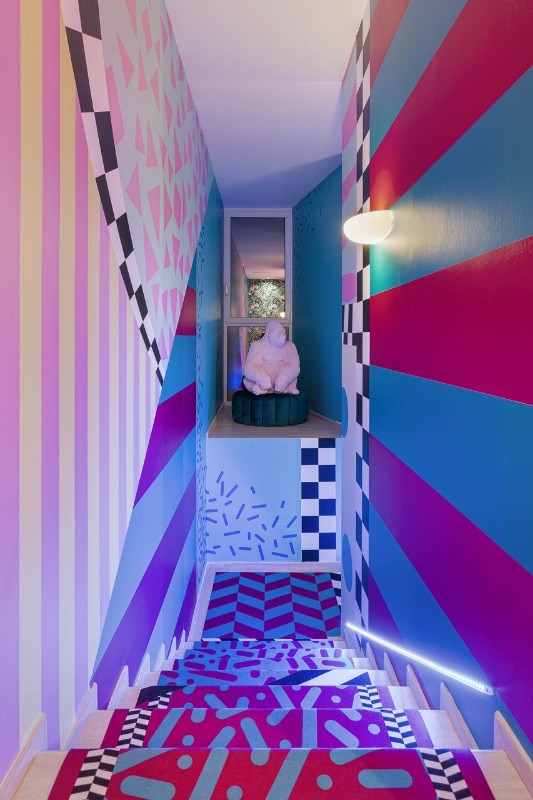 "There is a lot of competition on socials, and when we talk about teenagers we talk a lot about the importance of being unique, because beyond fashions and trends we believe that socials are important means of expression for them. For this reason, the house tries to be unique in its imagination too. Introducing Memphis, colours and patterns is an opportunity to stimulate them not to be like others", Giuseppe Greco adds. It is difficult to say, beyond the experience of these stars kissed by dizzying numbers, whether even for ordinary users the time spent on TikTok corresponds to an enrichment or, as anyone who has seen a preadolescent blending in with his screen, to a totalizing, almost feverish addiction. With its two billion downloads in the third quarter of 2020, largely the result of what has been defined as the best recommending engine algorithm, the Chinese social network – which in China is called Douyin – is the most downloaded app of the year, even more than Zoom.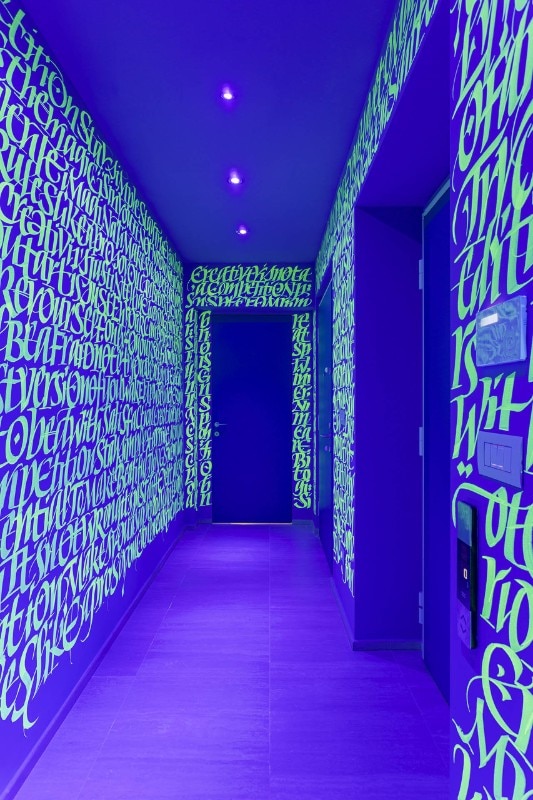 Accused by Anonymous of being a Beijing government malware, transformed into a geopolitical challenge by Trump who threatened to obscure it in retaliation in the middle of the election campaign, TikTok overrides the classic phenomenon of costume with its dizzying numbers, imposing itself among the very young people as a new lens through which facing the world. Is this the social destined to take over? It is impossible to give an answer. Instead, we are content to record its short circuits, such as the unsuspected one between Memphis and teen-culture. And we are waiting for its evolutions, such as the three-minute duration for each contribution, which should, at least a bit, relieve us from the improbable trash dominance of jokes and folk dances.