A winery made of bricks, three metro stations that celebrate the underground and a thesis project that combines landscape and archeology. These are the three winning projects of the 16th Tile of Spain Awards, that have common ground in the virtuous use of ceramics and in the Made in Spain. Prized in Valencia during the last Cevisama edition, architects Jorge Vidal and Víctor Rahola (Architecture Prize), Garcés – De Seta – Bonet Arquitectes (Interior Prize) and Rafael López-Toribio (Degree Prize), have been selected by a jury chaired by Spanish architect Iñaki Abalos.

Along with the winners, a number of projects have been mentioned in the three categories. The Hotel SantaCreu by Diego López Fuster + Subarquitectura, the Talleres Gon-Gar offices by NUA arquitectures, a villa renovation by Arquitectura-G, the Can Picafort interiors by TEd'A arquitecte, and the two graduation projects by Ricardo Fernández González and Laia Reventós Recasens.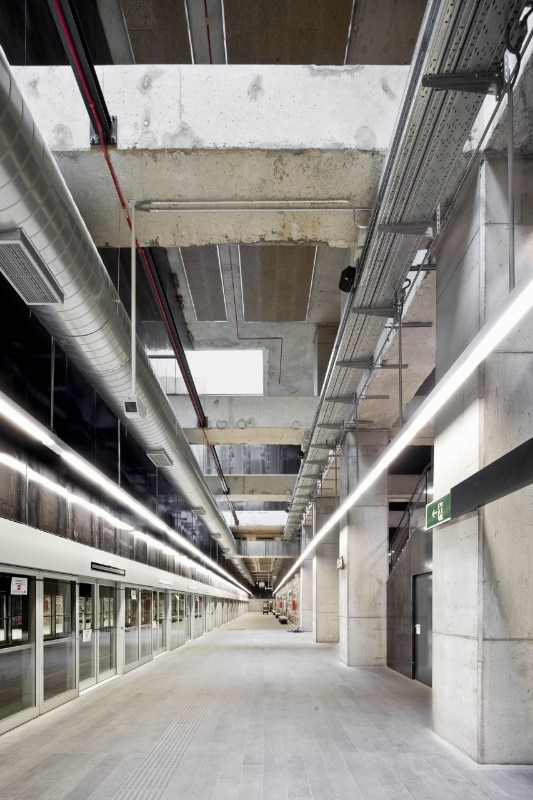 Barcelona. Three line L9 metro stations
Designed by studio Garcés – De Seta – Bonet Arquitectes, this project wins the Interior Prize for the domestic use of ceramic flooring, in a public space marked by radical roughness. "The engineering work was already done," Daria De Seta explains. "We found the excavations, the tunnel and the station shape. We realized that this underground landscape – that theoretically the architect tries to domesticate to make it more comfortable, inhabitable – it was actually a true landscape that we could stand out. We were truly interested in its geothecnical aspect, and its powerful excavation structures. Trying to domesticate it with coverings would have meant reducing this expressive potential. We wanted to accentuate pathos and spectacularity, without overlapping layers and layers of materials and shapes."

"Everything had to appear for what it is, all the technical installations are at sight, but extremely tidy. The flooring had a very important role, since it is what it makes the space livable and lets us stay in the excavation, in 'hell', as someone said. It allows us to descent a geography that is different to what we are used to, that is specular, it's another side of the city, an urban landscape that is a negative, inverted. We chose a common floor, porcelanic, that due to its security, comfort and maintenance qualities, looks like a smooth carpet that contrasted its context. It became something very calm, reassuring."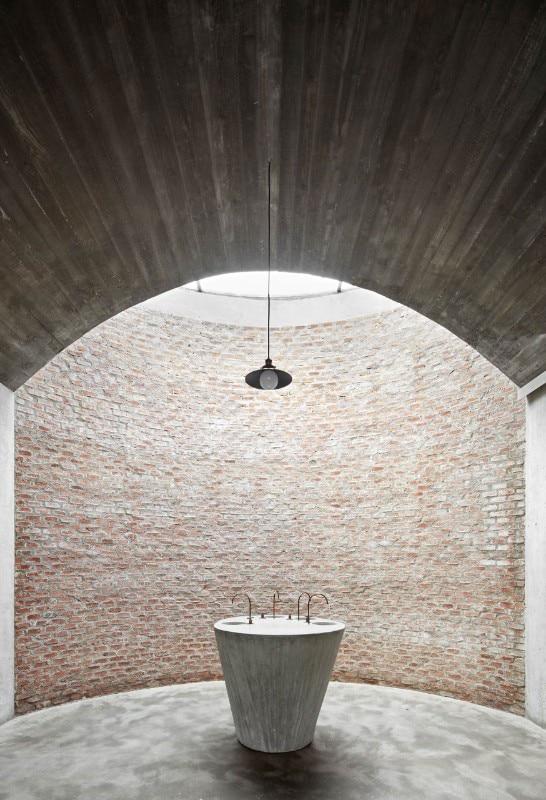 Bodega Mont-Ras
The last project by duo Jorge Vidal and Víctor Rahola wins the Architecture Prize. Their Bodega, a winery set in the wine yards near Girona, was chosen for the archetypical use of traditional and industrial materials, and their ability to adapt to the surroundings and the time flow. "This project was born from the understanding of the wine-making experience," Jorge Vidal explains. "It is a product that requires tranquility, patience and a process made of sensations. We believed that the building had to accompany somehow this process in harmony. For this reason we designed very logical building that raises from the ground, from humidity, to create an environment suitable for wine production. The other important aspect was depth, darkness and light. Coming out of the ground, the building is dark at its core and light at its access."

A Landscape Garden
The graduation project by Rafael López-Toribio Moreno was selected for the implementation of architectural elements in acomplex archaeological area in the El Albacín district, surrounding the Zirí Wall, in Granada. The concept is a new residents' center and a tourist office where building solutions created a route dotted with a variety of settings and landscape perspectives. Ceramic tiles convey a sense of unity to the entire project.
Prize:

XVI Tiles of Spain Awards

Jury:

Iñaki Abalos

Winners:

Jorge Vidal and Víctor Rahola, Garcés – De Seta – Bonet Arquitectes, Rafael López-Toribio

Fair:

Cevisama 2018