With the exhibiton "Dermapoliesis" by designer Matteo Cibic, Seeds gallery launches its new programme in the temporary space at Thurloe Place Mews: not only exhibitions in the main headquarters but a series of events set up in special places. "Dermapoliesis" (launched during the London Design Festival) is a nearby future utopia, an imagined place not linked to technology but instead to organic forms. It is a world with a new flora and fauna that self-produces its own processed materials to meet the needs of the day.
Though we currently live in the technological utopian design of the 70's and 80's, it is one that instills a dystopian vision of the future, where robots will take our jobs and artificial intelligence will usurp our control. Matteo Cibic's vision is the organic alternative.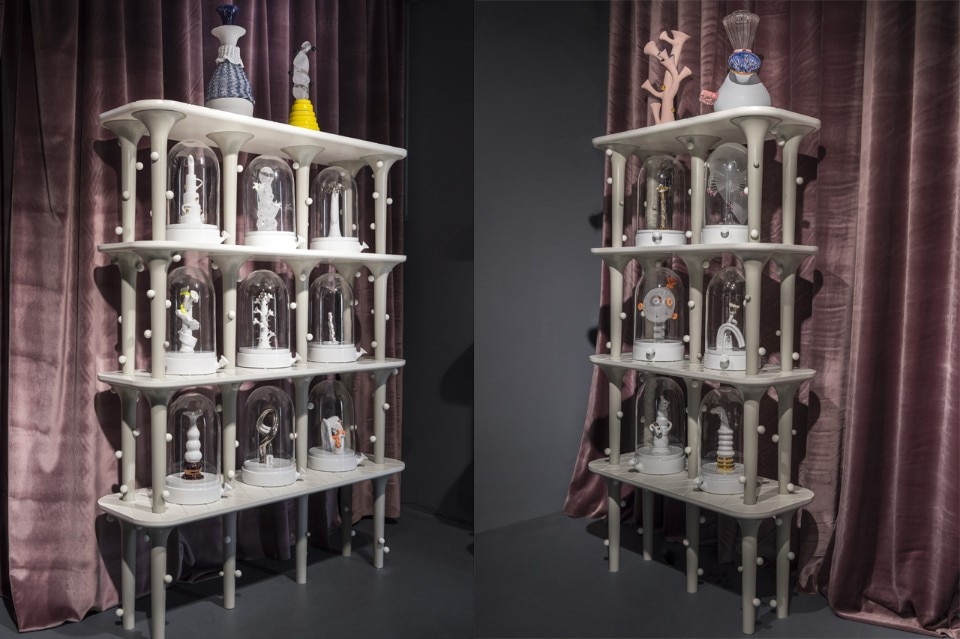 Since the beginning of civilization, man has tried to subvert nature instead of harnessing the life forces that we do not wholly appreciate or understand – plants and animals with networked intelligence, emotion, the ability to communicate, regenerate, to taste and smell. In "Dermapoliesis", Cibic hopes to inspire future scientists to study the organic, even reprogram the organic, in order to create new synthetic and organic materials and plants. This is Cibic's vision of the future – an organic environment that lives and grows, provides our furniture, clothes us and feeds us daily.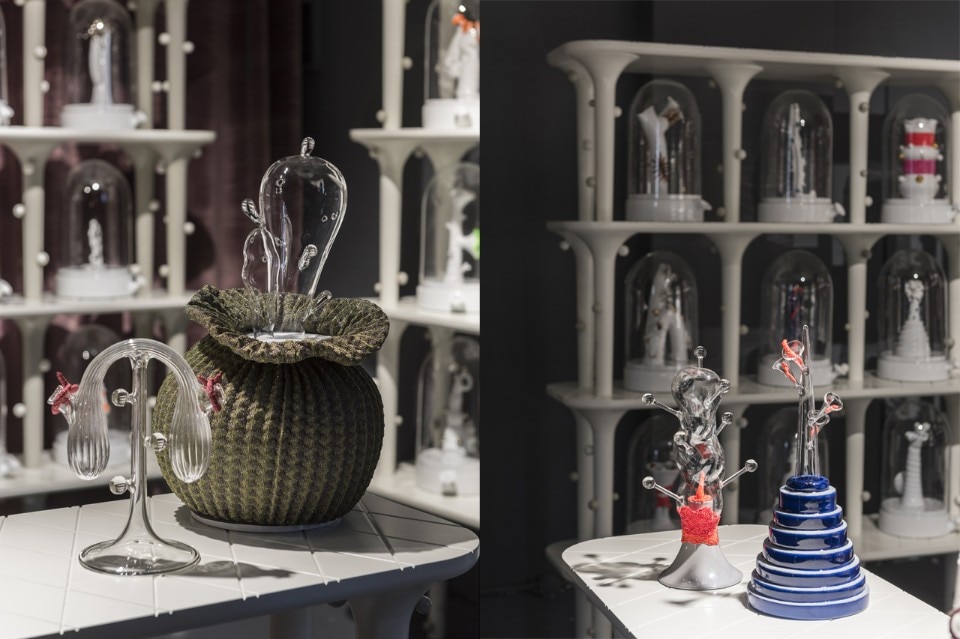 Dermatholos is a collection of new plants and organic forms that inhabit Dermapoliesis. Protected beneath glass domes, these organisms offer the scents of the future, distilling them throughout the day via a small trumpet at the base. Dermapolka are all prototyped experiments. Some of the organisms found here produce processed knitwear, other raw materials like plastic and rubber, while others bear fruit to eat. The biggest sculptures, called Dermallow, are prototypes for producing gum, tar and oxygen. The largest refills glass containers with oxygen, the pink form is a new type of plant that grows gum and the grey organism produces tar to use in the production of objects. With Dermalite, the concept is the same. An organic form that not only gives light but also produces a knitwear to be used for clothing. Here a processed material is produced, completely skipping the machining process and again leaving no waste.
Dermawanga is a self-growing plant animal hybrid. Avoiding most of the steps that are linked to today's production methods, these hybrids become the furniture of tomorrow. Everything is grown directly, nothing is wasted. If they break, they regenerate. Dermiderma is a selection of organic self-growing objects with a function. This series of plants grow as a single bench, console or stacked shelving system to display the organisms of the future. Each of the units can be stacked for a height size of choice. Specially sized commissions also available on request.

until 8 October 2017
Matteo Cibic. Dermapoliesis
Seeds
4 Douro Place, London