Lorena del Río e Iñaqui Carnicero from Rica Studio designed the flagship school of English for Fun, in Madrid. The school promotes learning through the five senses and the design had to boost kid's creativity and imagination.  
Rica Studio, English for Fun, Madrid, 2016
Rica Studio, English for Fun, Madrid, 2016
Rica Studio, English for Fun, Madrid, 2016
The architects first studied the Reggio Emilia approach, based in a self guided and very open interpretation of learning, based on the principles that children should be an active part of the learning process, the built environment is considered a teacher itself and the learning process should be visible.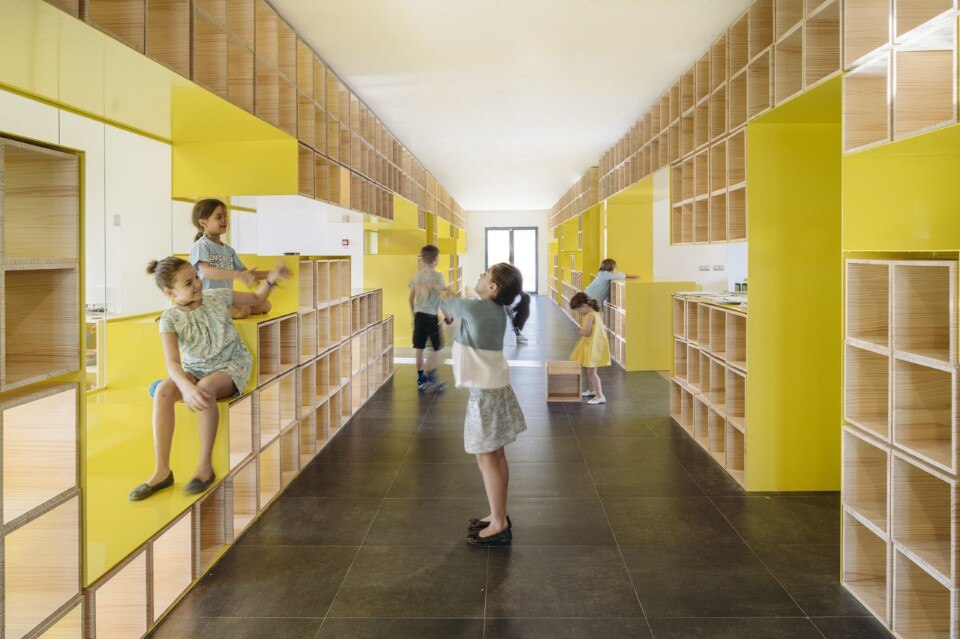 The goal was to create a space in the spirit of the adventure playgrounds where the play-objects, not toys, develop their full potential through the interaction with the kids. The design operates both at an adult and kid's scale, with spaces that only children can inhabit and own. The space is divided by a thick structure instead of thin partitions, to configure the class room space, an inhabitable wall that can storage furniture, making the reconfiguration of the class very easy. 
The main element is a generic module that can be used in multiple ways, transforming the corridor into a showcase of the learning process, blurring the limits between the classrooms, and expanding the perception of the space, without any conventional compartmentalization of the classrooms.
Rica Studio, English for Fun, Madrid, 2016
/Users/Monica/Google Drive/2016 English for fun/02_Schematic Design/01_Drawings/EFF_20160729_FINAL_RAIZ.dwg
Rica Studio, English for Fun, diagram
/Users/usuario/Google Drive/01_RICA/01_WORKS RICA/IN PROGRESS/2016 English for fun/02_Schematic Design/01_Drawings/FINAL (1)/DWG/EFF_02-03_Planta de acceso y planta primera.dwg
Rica Studio, English for Fun, floor plan
/Users/usuario/Google Drive/01_RICA/01_WORKS RICA/IN PROGRESS/2016 English for fun/02_Schematic Design/01_Drawings/FINAL (1)/DWG/EFF_02-03_Planta de acceso y planta primera.dwg
Rica Studio, English for Fun, floor plan
EFF_16.10. 31_Sección_animada_Paula_desaturada
Rica Studio, English for Fun, elevation
Imprimir
Rica Studio, English for Fun, diagrams

English for Fun flagship, Madrid, Spain
Program: school
Architects: Rica Studio, Lorena del Río, Iñaqui Carnicero
Team: Takuma Johnson, Monica Molinari, Paula Manzano
Area: 1,050 sqm
Completion: 2016