KAAN's new De Bank office is housed in the piano nobile of a quintessential historical building originally designed by Prof. Henri Timo Zwiers in 1950–1955, on the grounds of a former synagogue, which was destroyed during the WWII bombings. The brick faccade on Boompjes Street stands out against the river skyline and is characterized by an entrance hall enriched by the mosaic of Dutch artist Louis van Roode, who decorated several public spaces in Rotterdam during the post-war period.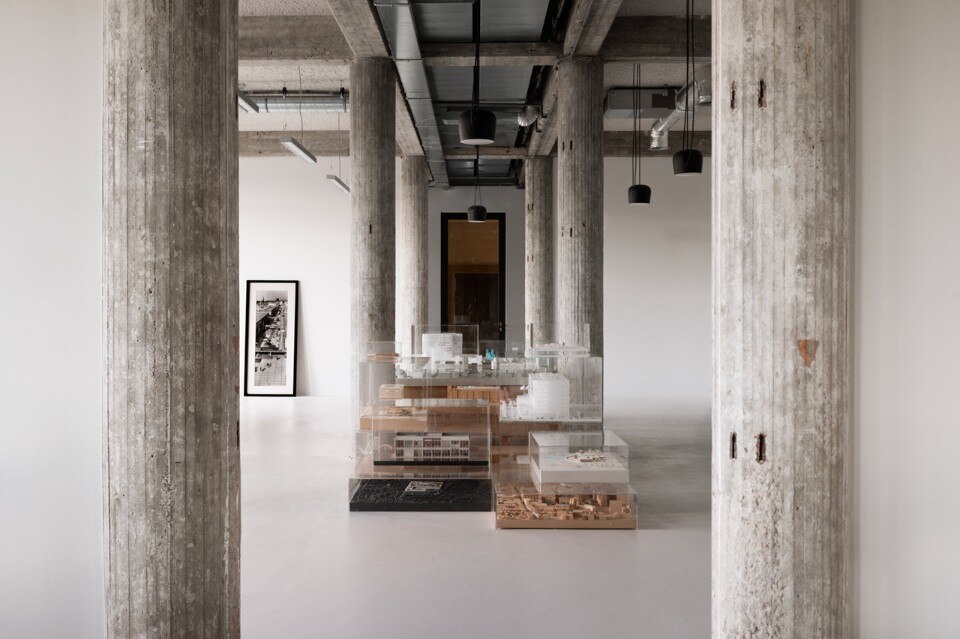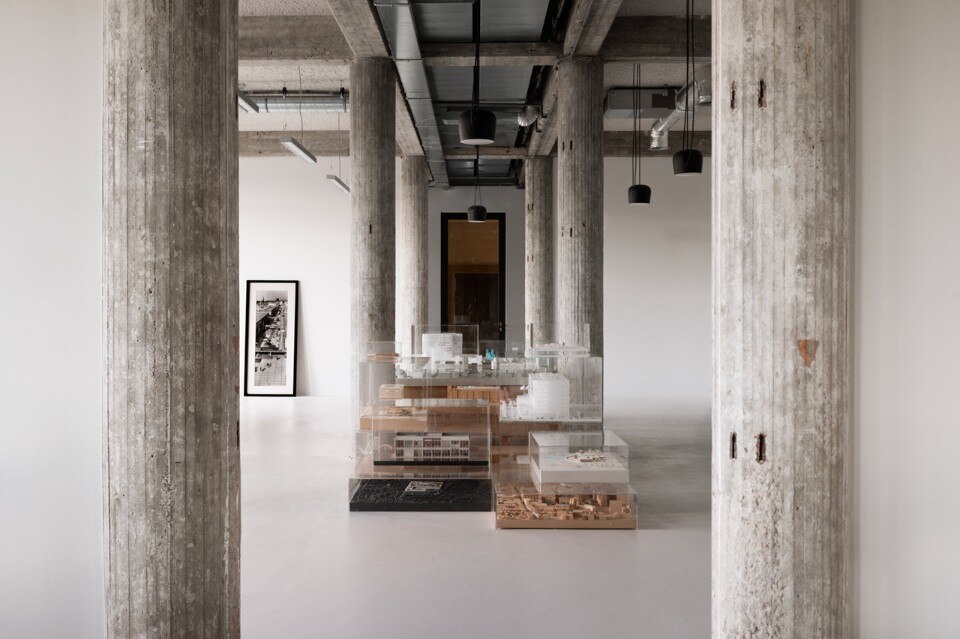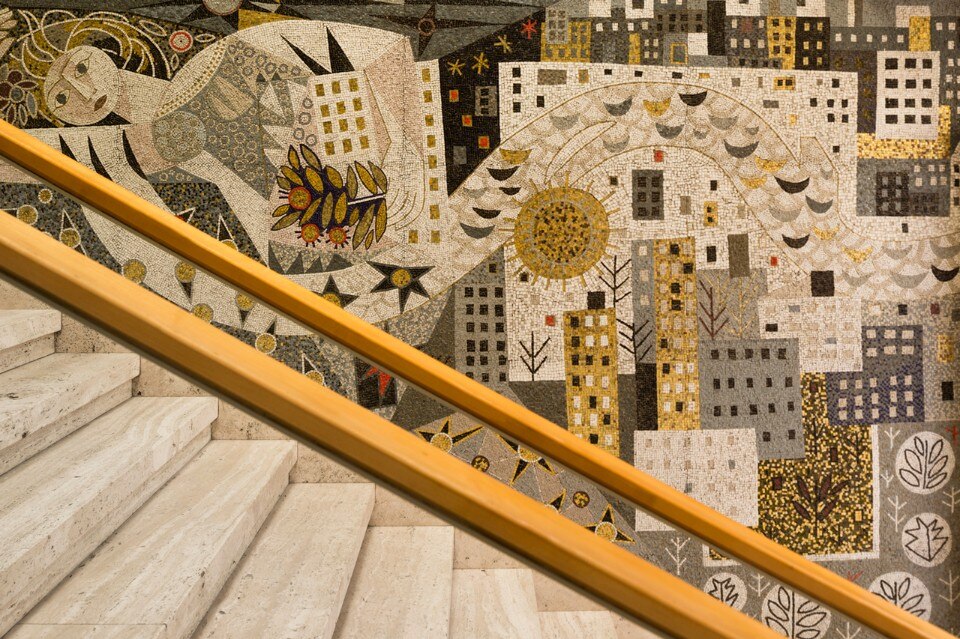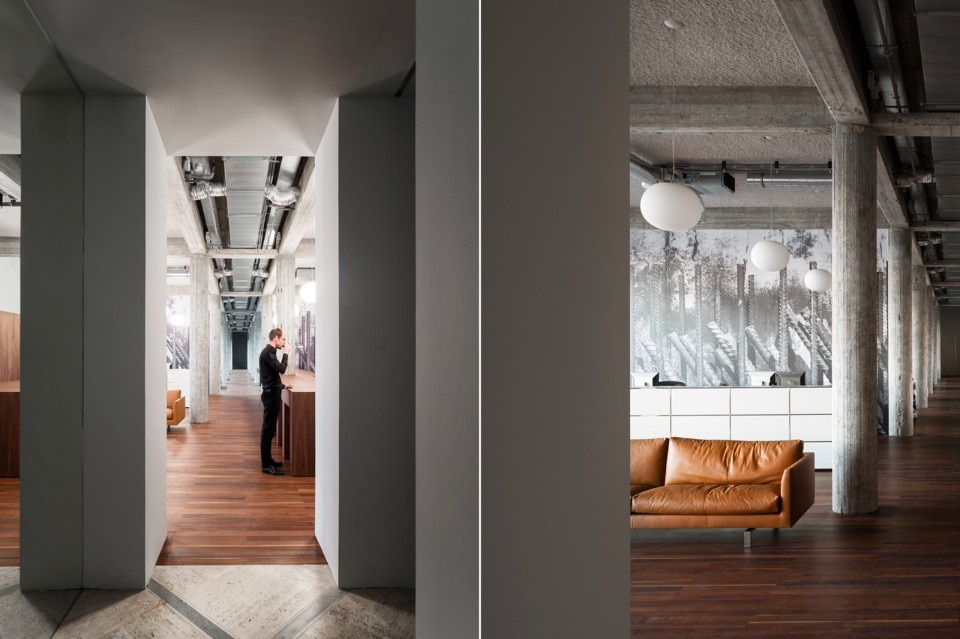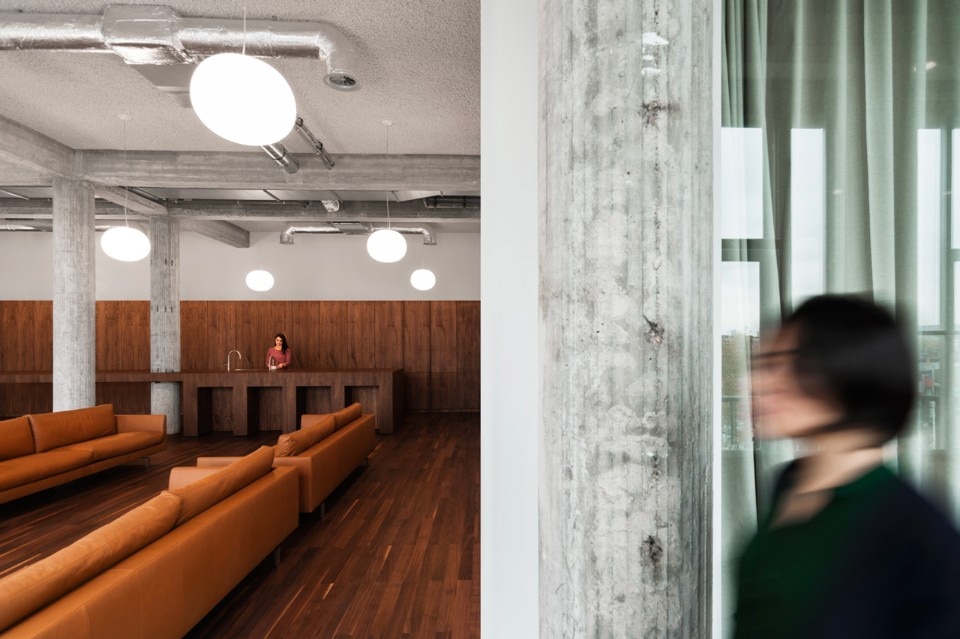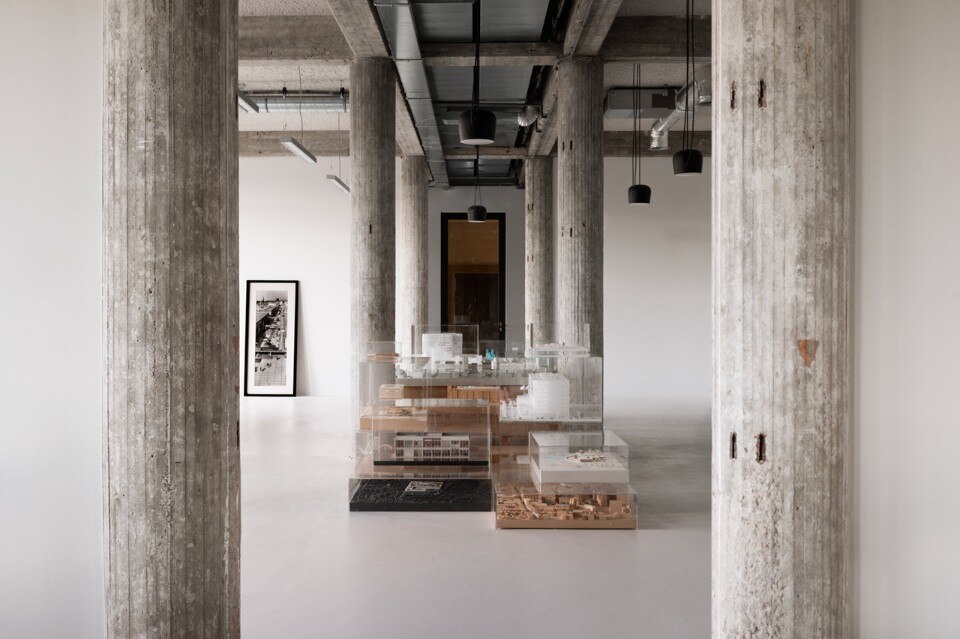 KAAN Architecten, De Bank, Rotterdam, 2016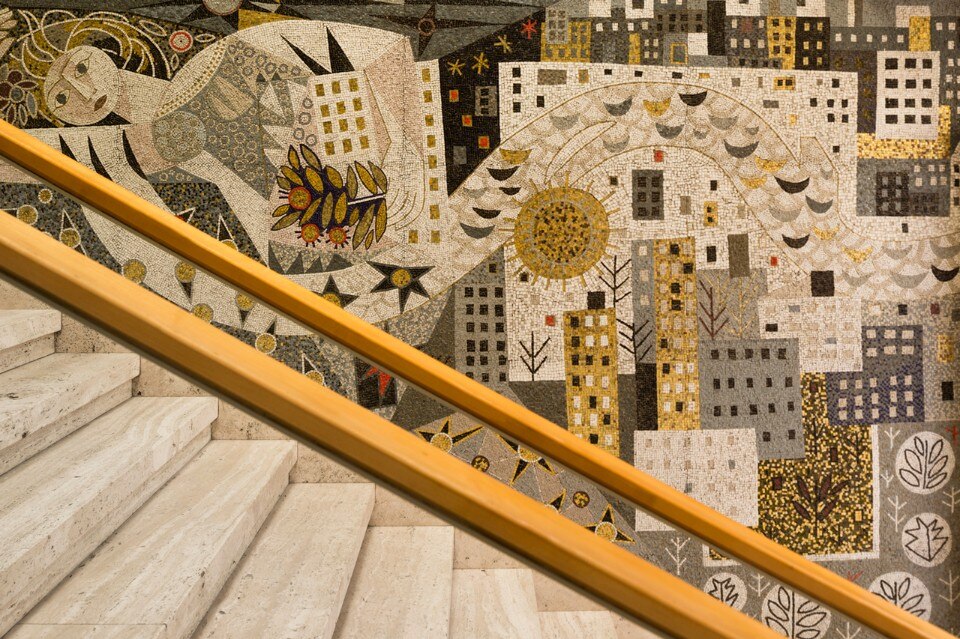 KAAN Architecten, De Bank, Rotterdam, 2016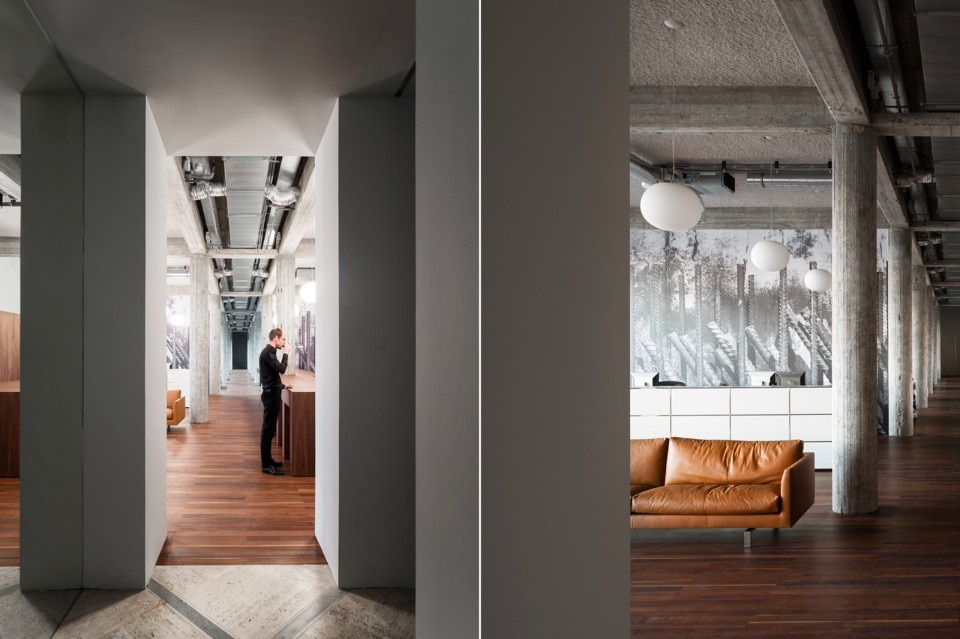 KAAN Architecten, De Bank, Rotterdam, 2016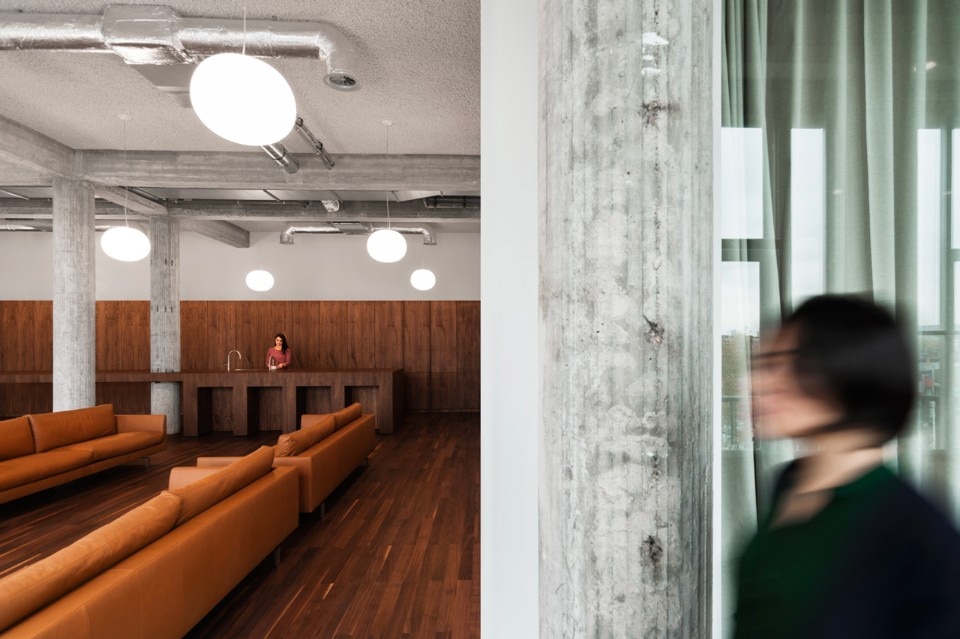 KAAN Architecten, De Bank, Rotterdam, 2016
The building's striking character and its wide, bright spaces offered the perfect base for KAAN Architecten to design their new office. The beating heart of the project is an extensive working area dedicated to architects. This space is blessed by intense daylight on both sides and offers a unique view of the surrounding water-front.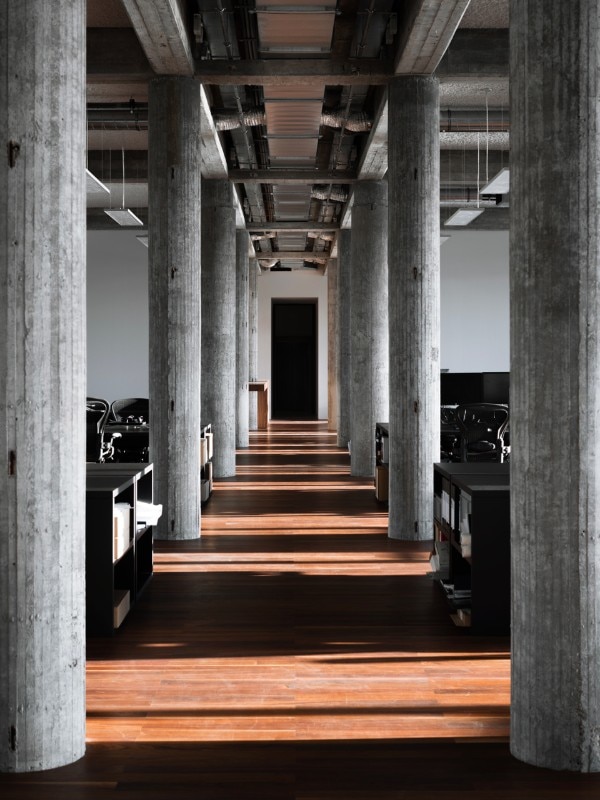 The rectangular floor plan, with its clear proportions, is designed to effectively connect working, meeting and leisure spaces through several long monumental corridors and passages, enhancing fluid interactions between employees, visitors and partners.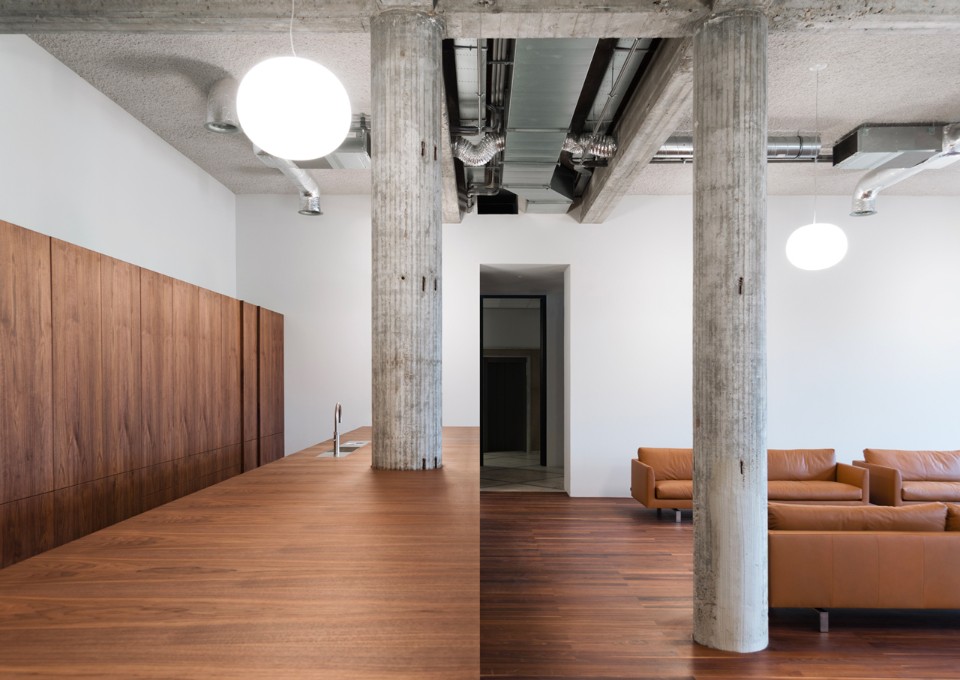 Spatial rhythm is generated by the finely restored industrial concrete structure. The rough essence of the material is balanced by a counterpoint of elegant dark walnut wood, which constitutes the main component of the interiors. The harmonious interaction between the warm comfort of the wood and the pre-existing concrete structure, envelopes the atmosphere in a graceful yet monumental feeling.
KAAN Architecten, De Bank, Rotterdam, 2016
siteplan2_S_with street names
KAAN Architecten, De Bank, site plan
siteplan2_XL
KAAN Architecten, De Bank, building area
Model
KAAN Architecten, De Bank, plan
Model
KAAN Architecten, De Bank, section
K006 - sections AA BB 2
KAAN Architecten, De Bank, section

De Bank, Rotterdam
Architects: KAAN Architecten – Kees Kaan, Vincent Panhuysen, Dikkie Scipio
Design team: Beatrice Bagnara, Dennis Bruijn, Marten Dashorst, Luuk Dietz, Giuseppe Mazzaglia
Contractor: Pleijsier Bouw
Installations: Van Panhuis
Area: 1,400 sqm
Completion: 2016