Serpantina is a simple linear shading element. Completed in Tel Aviv by Point Supreme – an Athen-based studio which participates at the Chicago Architecture Biennial – is made up of modules of standard metal profiles and shading fabric widely available in the market.
This way it can be easily reproduced, adapted to different locations, transported and assembled on any site.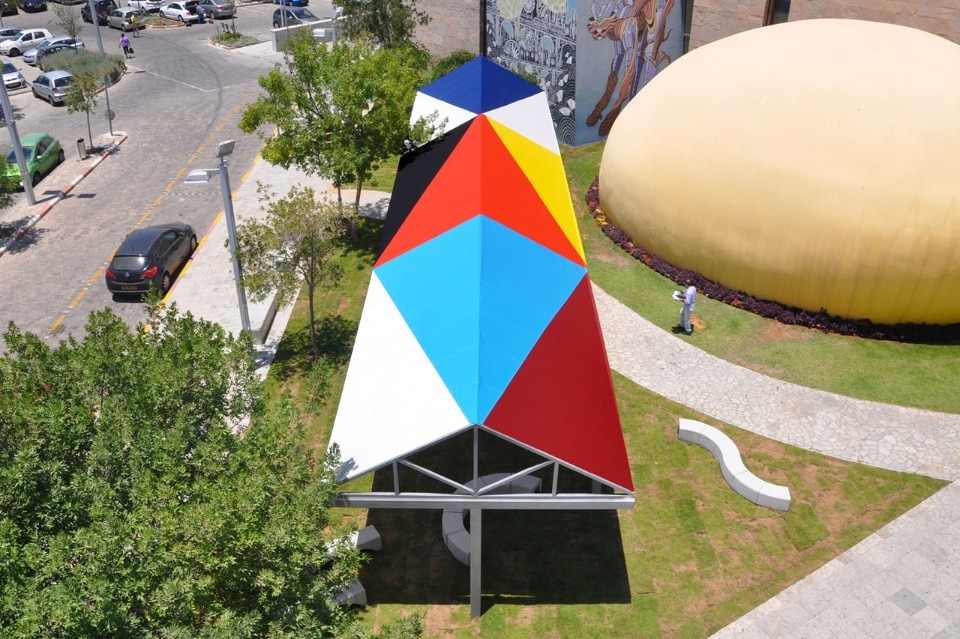 Serpantina appears as an extremely long and thin building. The original competition design is 60mx5m. Although extremely affordable, its monumental dimensions and graphic character make it automatically recognizable, optimistic and iconic, therefore maximizing its urban effect.
Underneath, a dense sequence of events take place in the linear shaded space in correspondence with the neighborhood needs. The long, narrow space promotes cross programming and is in its entirety ideal for social programs. The strategy of the line heightens the contrast between the complexity of the city, and the precision of the canopy.
The first built case study comprises 3 modules (30mx5m) and hosts a sequence of public seating, a ping pong table, a platform, lunch tables and long benches. It is built in front of the Holon Design Museum in Tel Aviv following a first prize in the Urban Shade invited international competition.


Serpantina, Tel Aviv, Israel
Program: pavilion
Architects: Point Supreme (Konstantinos Pantazis, Marianna Rentzou, Stauros Kotsikas)
Structural engineer: Thanasis Kontizas
Client: Holon Design Museum
Collaborators: Robert Ungar, Reineke Otten
Area: 120 sqm
Completion: 2015