Pierre Charrié carries on his research about sound and its potential uses in the field of design with Surfaces Sonores, a project that was exhibited in Musée des Arts Décoratifs in Paris during Les D'Days.
Surfaces Sonores play sound without speaker, resonating like a musical instrument thanks to a buzzer attached to the back of the object.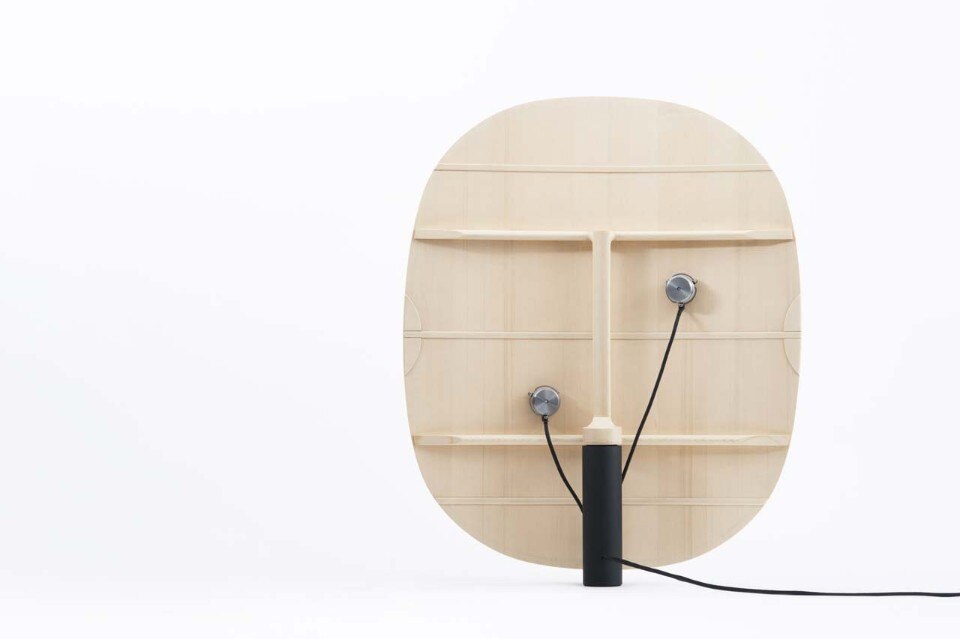 Made of maple plywood, they are shaped in a press mold. The curve obtained gives them both stability, rigidity and lightness for optimum sound quality. Depending on their size, the surfaces allow the amplification of high frequencies, midrange or bass. Each surface plays the partition of a different instrument, reproducing the listening conditions of an acoustic set (string quartet, for example). While playing with the codes of musical instruments, the designer questions the home audio speaker archetype and invents new sound objects.
Pierre Charrié, Surfaces Sonores
Pierre Charrié, Surfaces Sonores
Pierre Charrié, Surfaces Sonores
Pierre Charrié, Surfaces Sonores. View of the installation at Musée des Arts Décoratifs, Paris. Le Tambour Augmenté showcases an instrument with unusual dimensions manufactured by a drum maker. Geometric patterns drawn by the sand (Chladni figures) change depending on the pitch of the notes played by acoustic vibrators attached under the membrane. The sand reacts to acoustic waves and thus reveals the effect of sound on matter
Pierre Charrié, Surfaces Sonores. View of the installation at Musée des Arts Décoratifs, Paris
Pierre Charrié, Surfaces Sonores. View of the installation at Musée des Arts Décoratifs, Paris
Pierre Charrié, Surfaces Sonores. View of the installation at Musée des Arts Décoratifs, Paris
Pierre Charrié, Surfaces Sonores. View of the installation at Musée des Arts Décoratifs, Paris