Seeing Red is a contemporary dance performance initiated and directed by Takayuki Fujimoto, choreographed by Jung Young Doo, with scenography by Megumi Matsubara.
The title is taken from English psychologist Nicholas Humphrey's book that explores the sensation created by the act of seeing the colour red. What's involved in "seeing red"?
"Consciousness matters," Humphrey concludes with a striking paradox, "because it is its function to matter. It has been designed to create in human beings a Self whose life is worth pursuing." Deeply inspired by this paradox, the performance piece challenges the very act of seeing. Through exploring the act of "seeing red", we challenge our consciousness with which we create a Self in us as a basis of human value that connects with other Selves.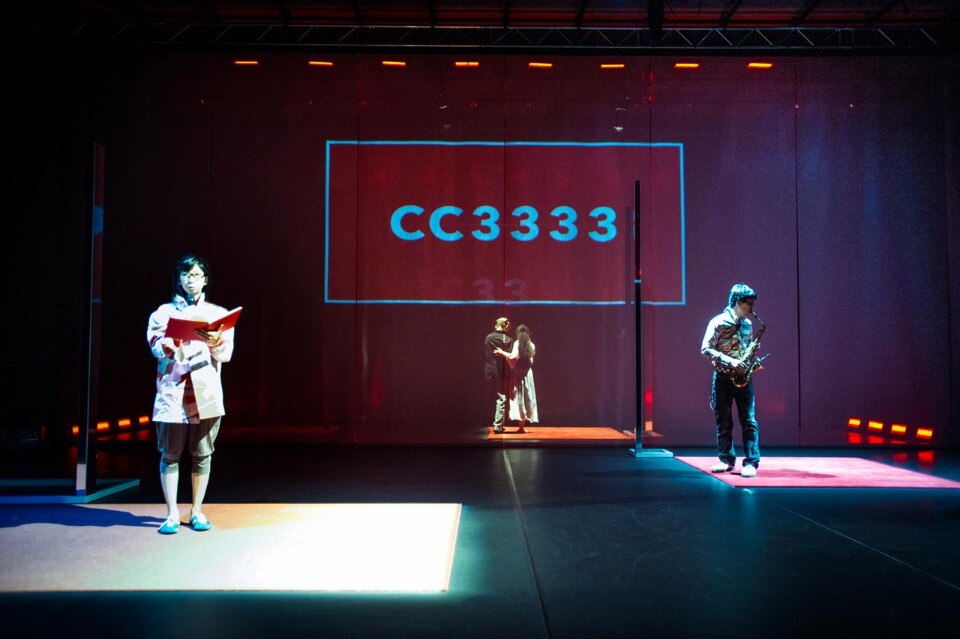 Megumi Matsubara is known for her obsessively accurate use of shadows and reflections in her architectural approach. She orchestrates immaterial elements produced by light. With Seeing Red being the first stage that Matsubara ever worked on, she naturally ignored many constraints that stages normally require. Abstract, minimal, yet extremely vibrant in responding to lights programmed by Fujimoto, her stage set only focuses on the series of phenomenon it creates.
Megumi Matsubara and Takayuki Fujimoto realised a stage fetish for light, where space and light are completely inseparable, creating an extreme balance of reality and fiction. In that state of being, human bodies choreographed by Jung Young Doo become no stronger than any elements floating in the space such as shadows, reflections, or projections. Bodies merge into space; space into bodies. The space is designed to shrink and expand as light shifts its effect. The result is an unparalleled spatial experience that challenges one's perception of the world.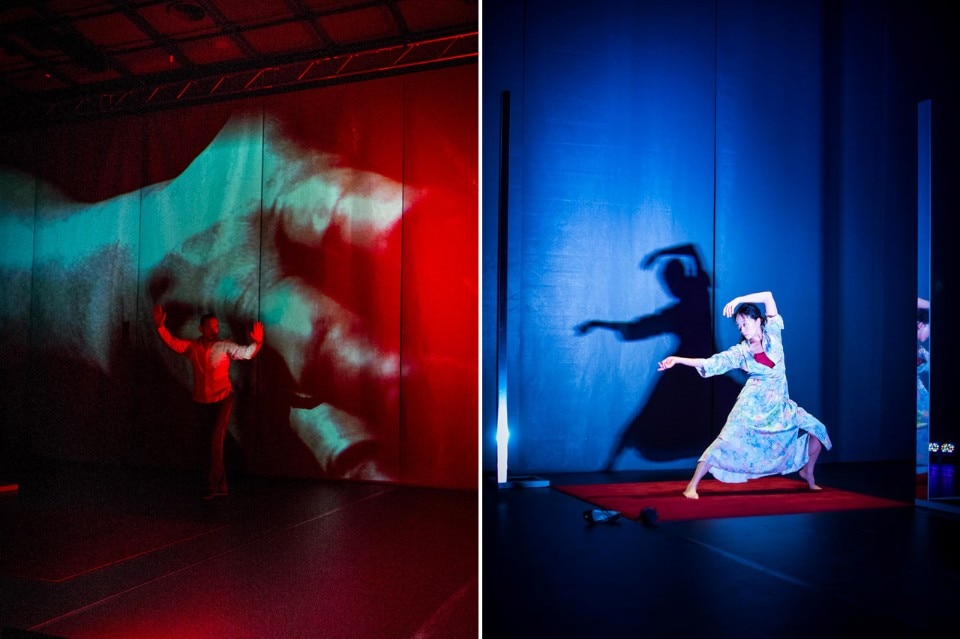 The scenography consists of installation of self-standing triangular prisms made of mirrors, as well as translucent screens; one screen being a noise control curtains used for building sites, another being a special PVC specifically developed for professional projector use. The stage is divided into two layers by those two screens, upon each of which moving images are projected. Responding to the effect of light and projection, space behind the screens emerge and disappear, creating eclectic illusional effects. The triangle pillers made of mirrors reflect light towards all directions in accordance to the movement of light, at times stretching the stage to the audience seats. The perception of the space changes from a moment to another and from one angle to another, offering an experience undeniably unique to each audience.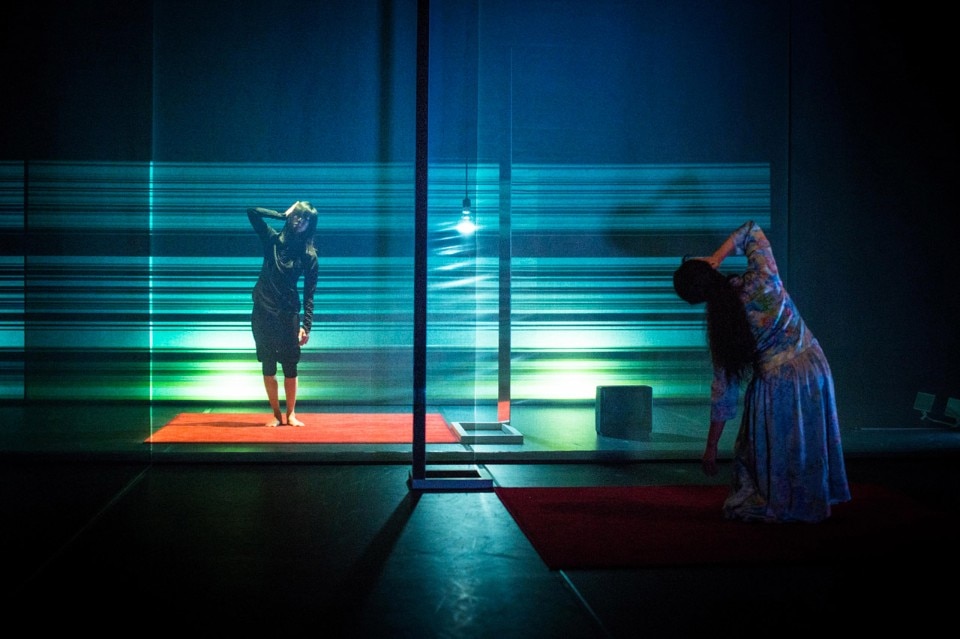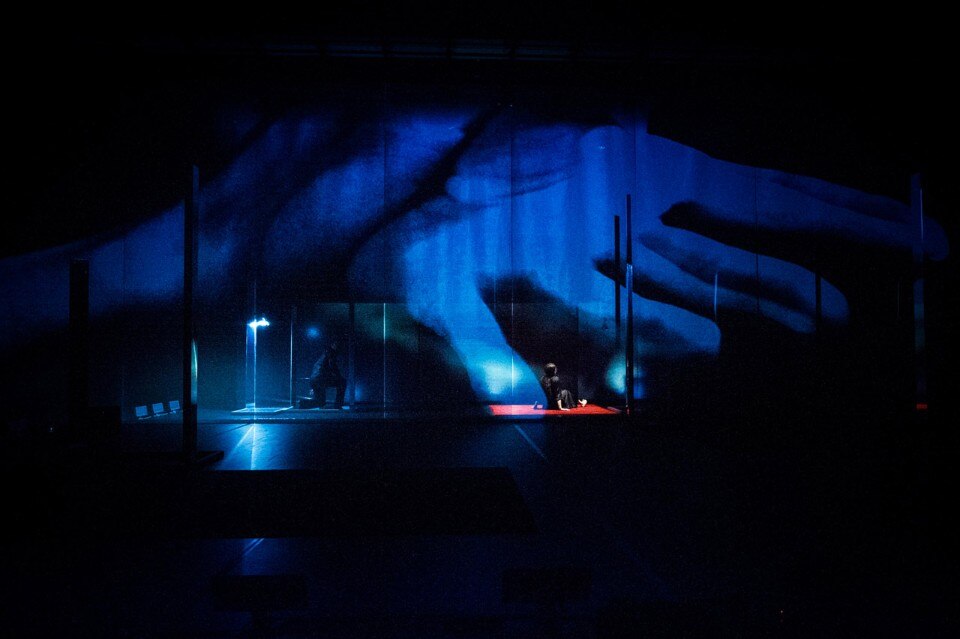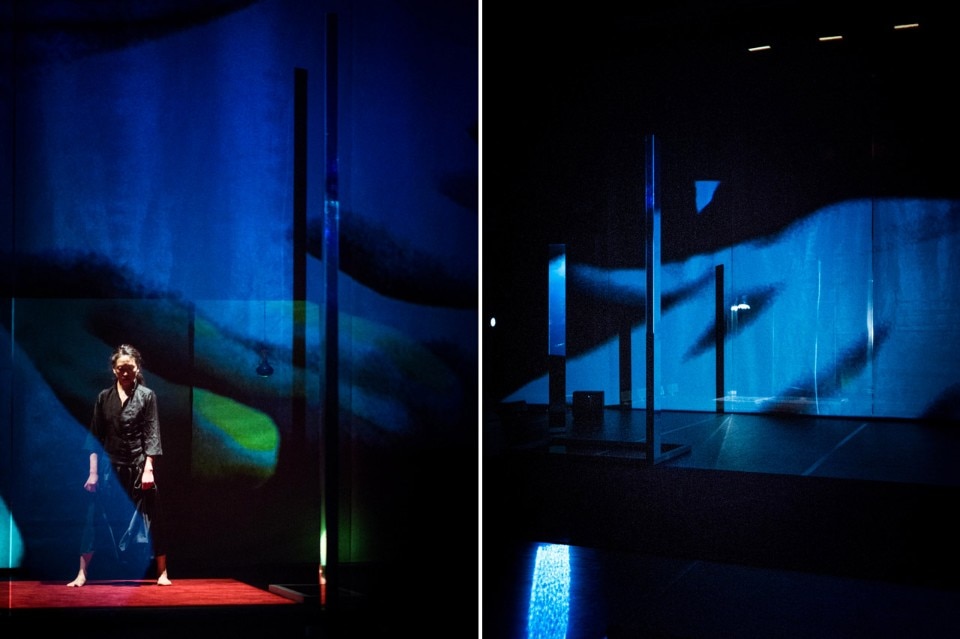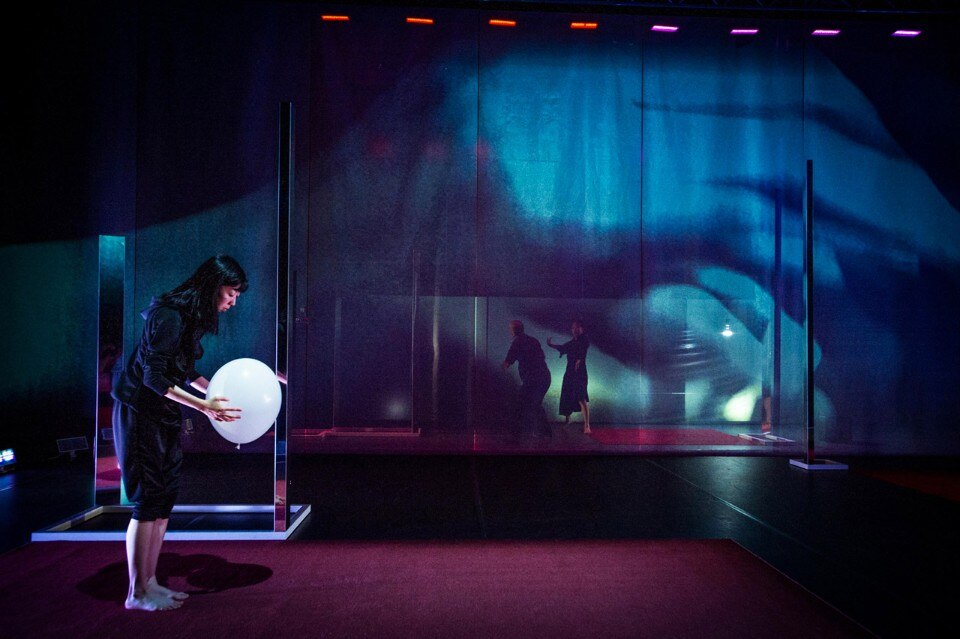 Megumi Matsubara, Seeing Red, KAAT - Kanagawa Arts Theatre, Yokohama, Japan. Photo © bozzo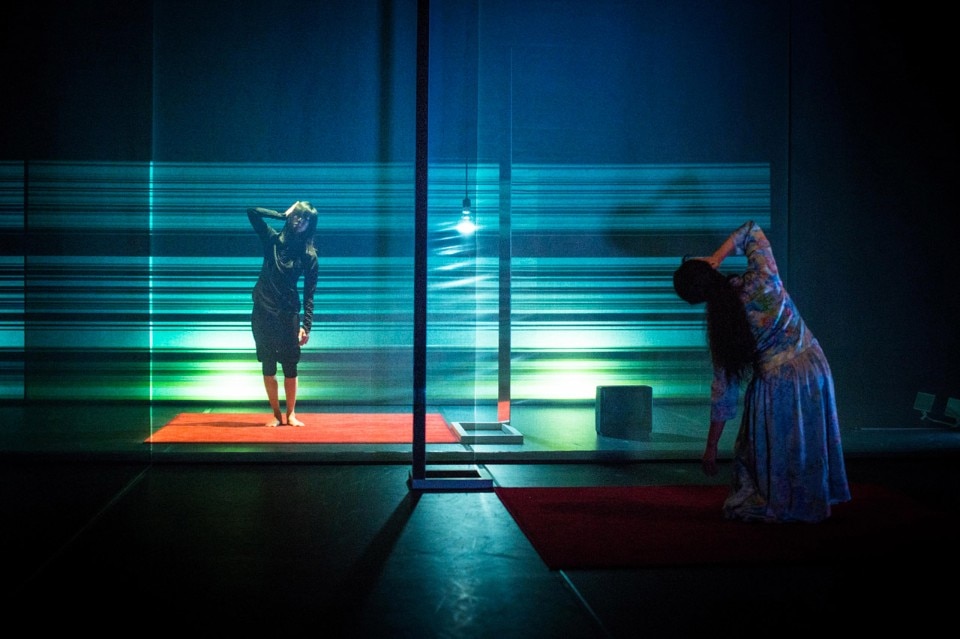 Megumi Matsubara, Seeing Red, KAAT - Kanagawa Arts Theatre, Yokohama, Japan. Photo © bozzo
Megumi Matsubara, Seeing Red, KAAT - Kanagawa Arts Theatre, Yokohama, Japan. Photo © bozzo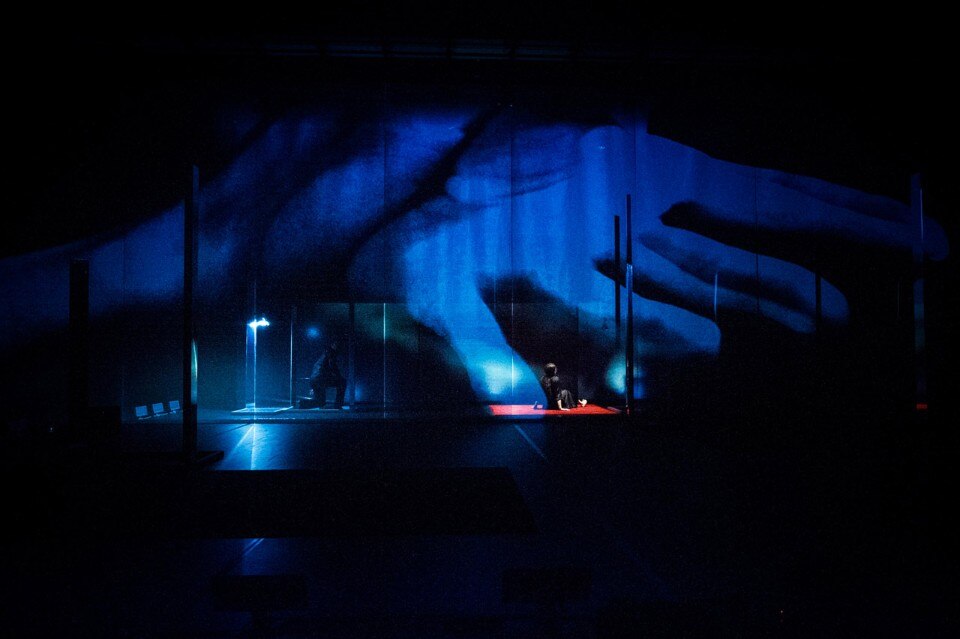 Megumi Matsubara, Seeing Red, KAAT - Kanagawa Arts Theatre, Yokohama, Japan. Photo © bozzo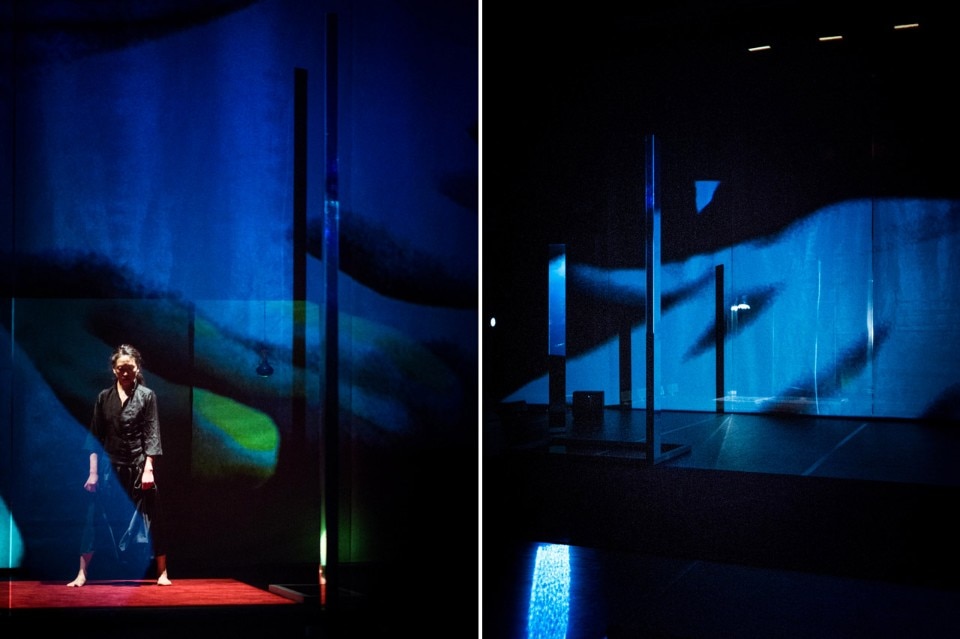 Megumi Matsubara, Seeing Red, KAAT - Kanagawa Arts Theatre, Yokohama, Japan. Photo © bozzo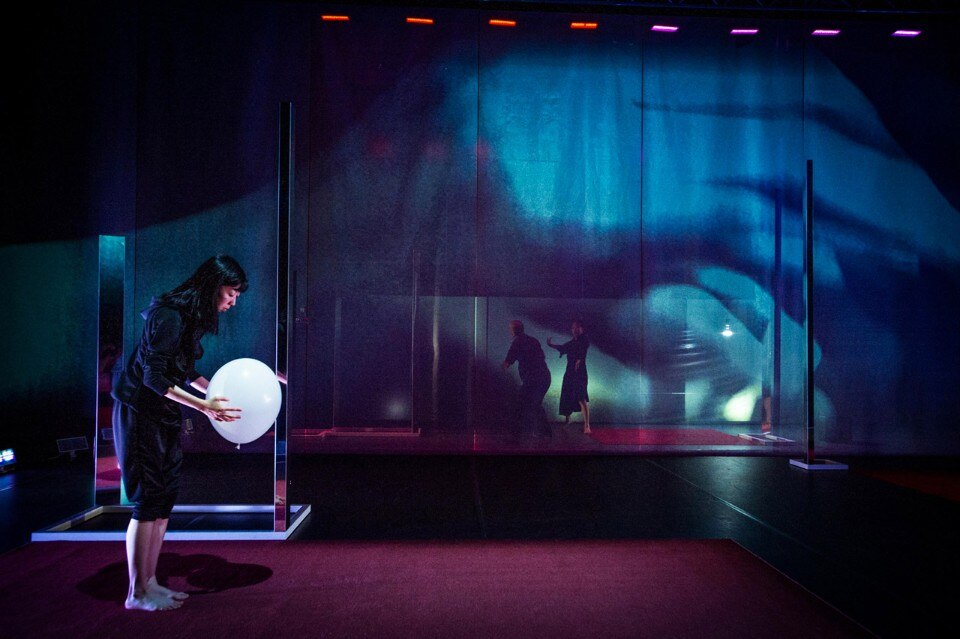 Megumi Matsubara, Seeing Red, KAAT - Kanagawa Arts Theatre, Yokohama, Japan. Photo © bozzo
Megumi Matsubara, Seeing Red, KAAT - Kanagawa Arts Theatre, Yokohama, Japan. Photo © bozzo
Megumi Matsubara, Seeing Red, KAAT - Kanagawa Arts Theatre, Yokohama, Japan. Photo © Megumi Matsubara

Seeing Red, KAAT - Kanagawa Arts Theatre, Yokohama, Japan
Program: contemporary dance performance, installation and scenography
Direction & Lighting: Takayuki Fujimoto (Kinsei R&D)
Choreography: Jung Young Doo
Scenography: Megumi Matsubara
Sound: Yosio Ootani
Performers: Myung Hee Yun, Yuko Hirai, Kosi Hidama
Media authoring: Ken Furudate
Video programming: Ryo Kanda
Video image: Masashi Nagara
Sound technique: Shintaro Kamijo (TMUG/+MUS)
Costume: Noriko Kitamura
Device production: Masaki Teruoka
Stage manager: Ichiro Awazu
Scenography architectural adviser: Hiroi Ariyama (Assistant Co., Ltd.)
Scenography set-up support: Yoshiyuki Nakagawa, Mao Sakai
Production: Hazuki Sato (Hiwood)
Producer: Koichiro Takagi (Hiwood)
Support: Tetsushi Nonaka, Junko Manabe
Organized by: Kinsei R&D
Co-organized by: Community Art Center Plats, Kinosaki International Arts Center
Cooperated by: KAAT - Kanagawa Arts Theatre
Supported by: Japan Arts Council, Shiseido
Completion: 2014