Daybed – also known as 'modèle 118', the name given to it by its manufacturer at the time, Meubles TV (Thevenin et Vecchione) – is the Pierre Paulin settee without arms which won him so much approval from the Salon des Arts Ménagers and the press from 1953 onwards.
A revolutionary piece on the French market of the early Fifties, its minimalist elegance has every chance of achieving even greater success today, given that views on such economy of form have been developed over decades. A new feeling for natural materials such as wood, a return to a form of 'low consumption' centred on just the right products, those which are essential, Fifties nostalgia and a return to favour of Scandinavian design are just some of the factors which make Daybed such an attractive proposition today.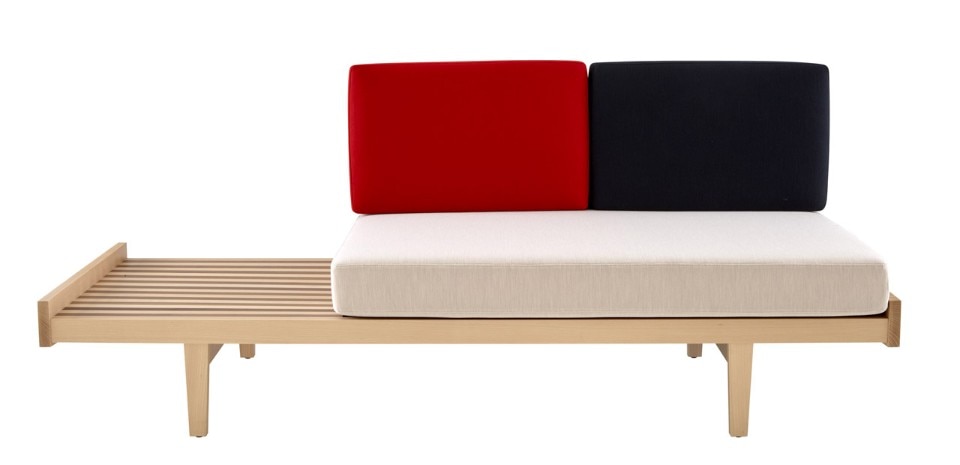 Daybed is one of the products showed in the "100 sièges français 1951–1961" exhibition organized by gallery owner Pascal Cuisinier in September 2014 with objects selected for their functionality, their innovation and the elegance of their design.
Designed as a small settee with integral low table, it becomes a large banquette for 3/4 persons when the two back cushions are positioned on the low table as an extension of the seat cushion, and even an occasional bed for 1 person. The version proposed by Ligne Roset uses beech and walnut and the elastic-webbed suspension mounted transversally on a steel frame guarantees a soft seat without the risk of sideways tipping.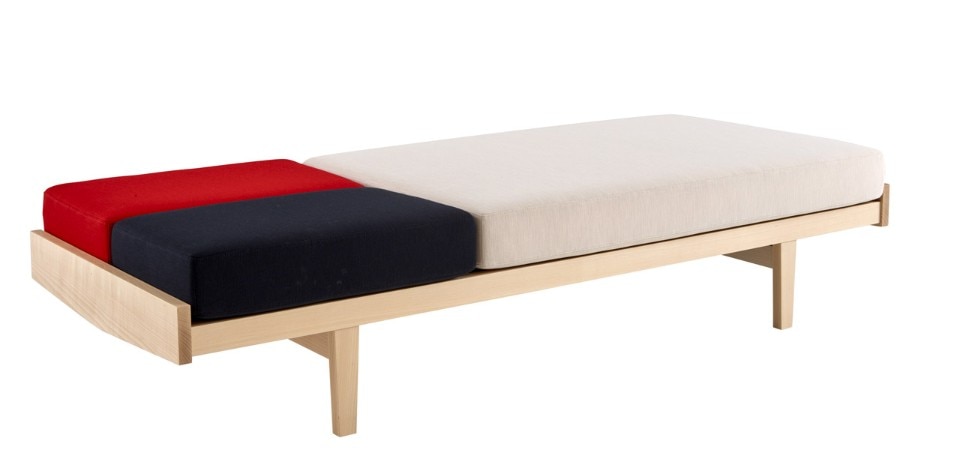 Elegant, pared-down Japanese-influenced style which shows off the wood species with a pleasant contrast between blond wood and a darker wood. If Pierre Paulin's Daybed banquette comes after that designed by George Nelson in 1948 for his country home in Long Island or his Platform Bench from 1946, it fits precociously into a trend that also saw the birth of Charlotte Perriand's Refolo banquette in 195, the precursor of her banquettes with storage and Lit simple, designed for the Chambre de la Maison du Brésil (Cité Internationale Universitaire de Paris) between 1956 and 1959, or George Nakashima's Daybed from 1958.

Its qualities did not escape its first manufacturer, Meubles TV, which added it to its range alongside pieces from Pierre Guariche, Alain Richard or André Monpoix. A second version with a black lacquered tubular steel base was to be produced: considered too modern for the time, it did not sell well with the public preferring the all-wood version, the one which is now being reissued by Ligne Roset.

23–27 January 2015
Ligne Roset
Hall 8, Stand D61/F62
Maison&Objet
Paris Nord Villepinte