Uli Westphal transformed Stedelijk Museum Bureau Amsterdam into a greenhouse, with an extraordinary collection of tomato plants that traces the evolution of the tomato from a wild plant into an industrial product.
It includes ancient, pre-Columbian precursors of modern tomatoes, traditional cultivars from all parts of the world, as well as game-changing industrial varieties, such as the first variety that was bred solely to withstand handling by a mechanical harvesting machine. Once the tomatoes have ripened, visitors can sample their unique flavors and textures, learn how to extract and save their seeds, and adopt individual plants. The project fits perfectly in the space of SMBA, with its transparent roof that sometimes causes greenhouse temperatures during the summer.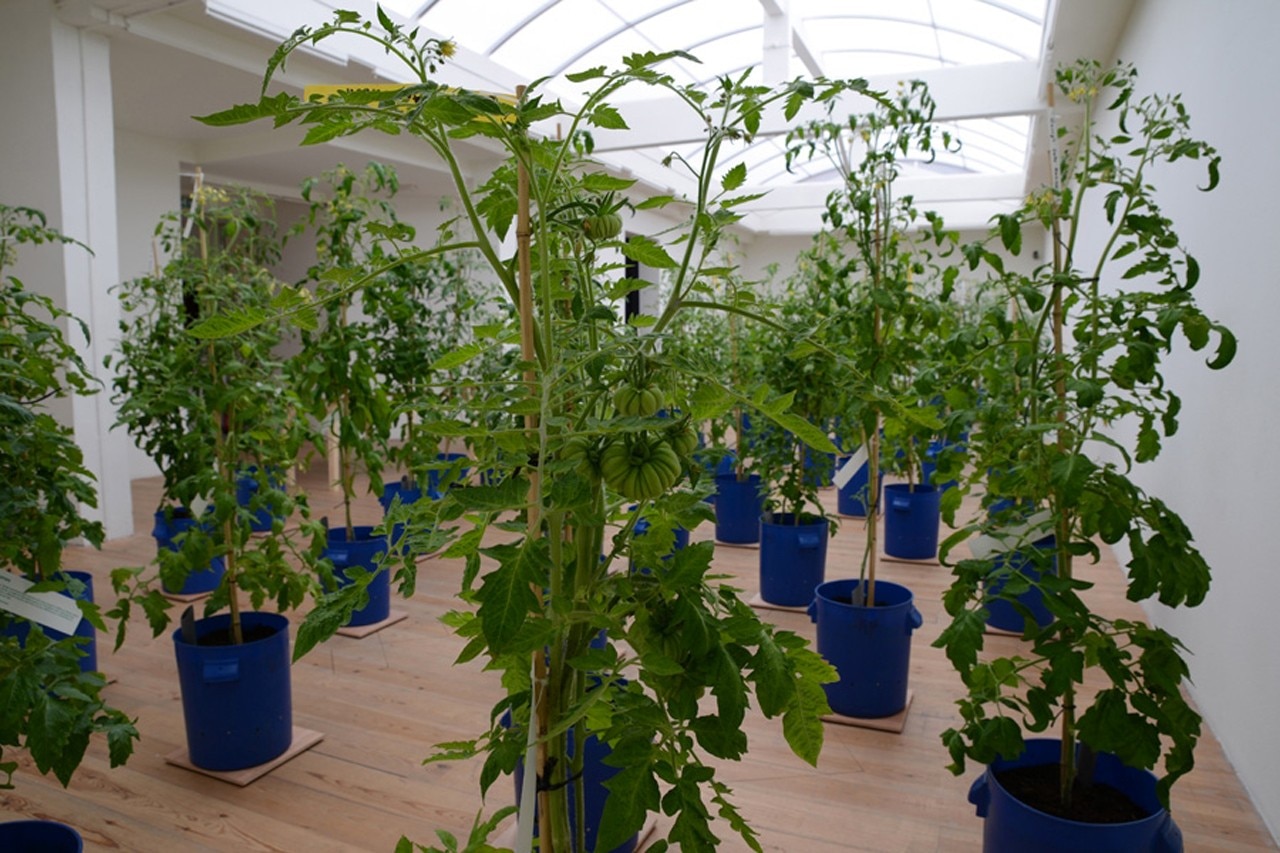 The exhibition reflects one aspect of Westphal's long-term research on crop diversity, in particular the tomato as a model species. He has spent years searching for and documenting obscure fruit and vegetable specimens, many of which are excluded from the consumption market due to trade regulations and cosmetic standards. He collaborates with NGOs, genebanks and farmers, and also grows all kinds of plants himself. The core of the exhibition is a literal transplantation of his small research farm from the roof of his studio in Berlin to the exhibition space of SMBA in Amsterdam. The plants are accompanied by a series of works that deal with the effects of the food system on the human relationship with the natural world. Society's increasing detachment from the origins of its food has created a knowledge gap, which the industry fills with a romanticized image of agriculture; a stark contrast to the actual methods of food production. Often the only remaining link between producers and consumers are supermarkets. In Westphal's work, the supermarket acts as a key site to investigate this detachment from our food.

"Uli Westphal – Transplantation" is thematically connected to SMBA's earlier projects focused on the effects of global trade on contemporary life and art. Crop plants are immensely affected by global trade and are currently, to a large extent, in the grip of the global food market. This market is controlled by a small number of players who promote and export a monocultural model of agriculture, which is heavily dependent on external inputs such as irrigation, petrochemical fertilizers and pesticides. Not only does this lead to the rapid decline of the crop genetic diversity, but it also displaces traditional/local agricultural systems in the so-called Global South. It is in Africa, Asia and South America, where the farming communities are the chief guardians of the remaining biodiversity of this world. "Uli Westphal – Transplantation" raises questions on the state and future of our agricultural and culinary heritage.