At Euroluce 2013, Vibia presented a series of new illumination concepts for indoors and out that favour prefect integration between object, light and space. Among them is the Meridiano collection by Jordi Vilardell, whose design process has encapsulated multiple functions in a single hybrid object.

Domus: With Meridiano (and with another lamp-cum-book shelf project) you have made a hybrid that is at once lamp and stool (or book shelf). Does one function prevail over the other? What was your departure point for the creative process? Were you planning to make an outdoor lamp or outdoor seating?
Jordi Vilardell: At the basis of the Meridiano project lies the contrast between the light emitted and the shadows projected, both modulated by the structure of the lamp itself. Initial studies aimed at obtaining an outdoor lamp that gave comfortable light and at the same time generated a highly decorative play of shadows. For this reason, we began with a downward directed light hanging at a fixed distance from the ground, held up by a structure of metal rod. Besides holding up the light, the structure's decorative morphology is clearly reminiscent of the shape of cacti.


During the project's evolution, we considered a variety of formal concepts for the structure, a multiplicity of sizes and compositional possibilities between the different forms, playing with how the structure allows for the partial screening of the light. All this was an invitation to transgress beyond orthodox functionality and to explore new possibilities. This led to the emergence of numerous functions for the elements, including ottomans, small tables and planters. The process inevitably led to a challenge, because functional reinterpretation is a tricky thing. On one hand, the design risks telling a superficial or confusing story; on the other, it offers the opportunity to create luminous compositions that produce highly alluring indoor spaces and outdoor areas.


With Suite, we began by reflecting upon the use of space and light in areas of domestic repose. Here, the most common solution is a shelf provided by a nightstand, upon which cohabit a table lamp and other useful objects that might be ornamental, personal or media-based. The subdivision of this shelf in a number of surfaces fixed at different levels and pointing in different directions generates a dynamic structure where each surface can be equipped with a light that has different characteristics, in order to obtain a multi-functional lamp.
During the evolution of both projects, we established a functional diversity that is much like hybridisation. At the same time, these products maintain an equilibrium where the use of each object as a lamp remains explicit, without detracting from its use as a piece of furniture. Had this prerequisite not been reached, the hybridisation process would have remained unaccomplished.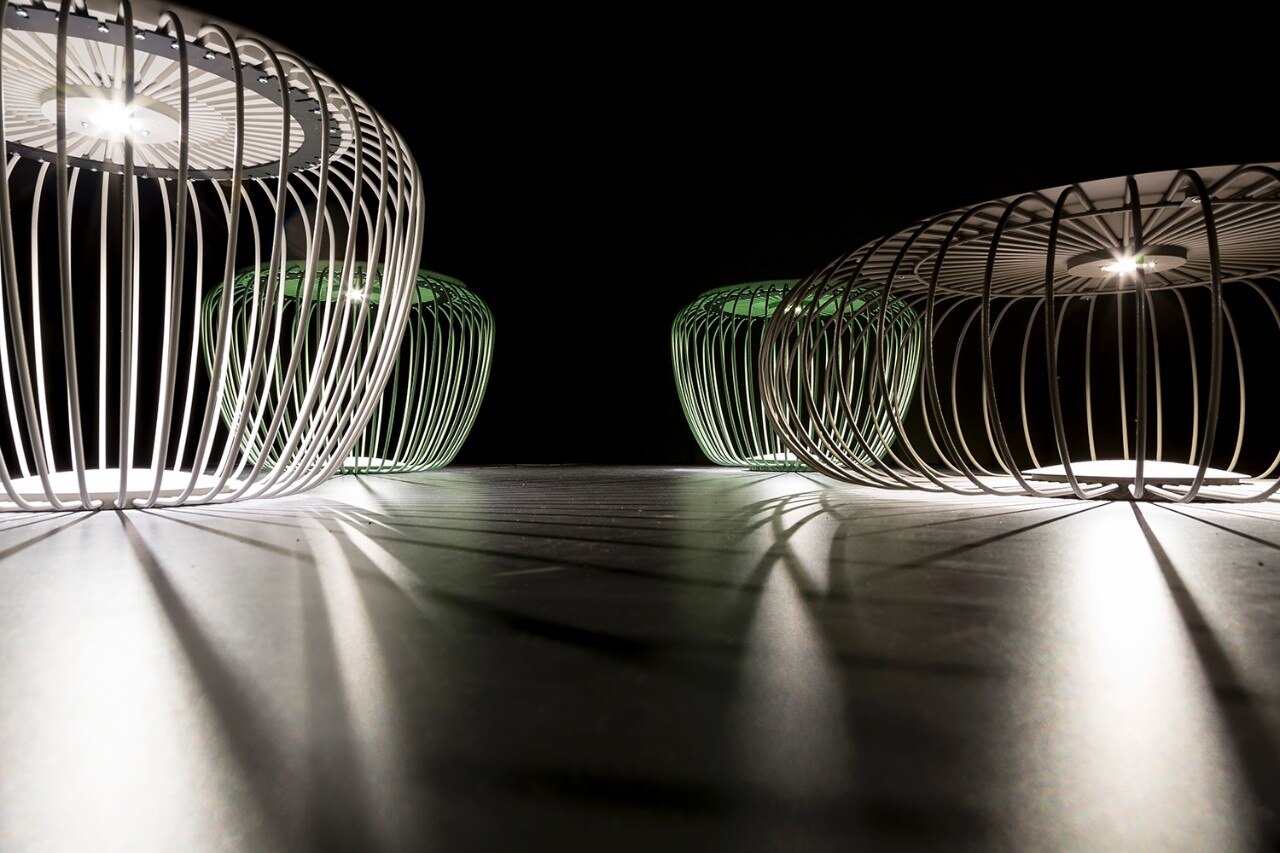 D: The immateriality of light seems to be key here. In these two projects, light seems to lose its physicality in favour of the object. Moreover, light is the true hybrid here: immateriality becomes material. Is this the wanted result? Does designing light allow you to manipulate immateriality?
JV: Light in its immateriality allows us to perceive space and create atmosphere. It defines the area as having sharp or blurry limits. In designing a lamp it is fundamental to think of the area where it will be used, the degree of its implication in transforming the space, and what the visual perception of the created ambient will be. In that sense, the project evolves without losing sight of this immateriality, which is a constant factor that repeats itself in all the projects I've done in collaboration with Meritxell Vidal.

D: How is Meridiano produced? Is the steel structure made in the same factory as the light source, or is the lamp assembled in the Vibia factory with parts produced elsewhere?
JV: With Meridiano, the metal part of the lamp is produced in a factory specialised in bending and building with metal rod, and then it is assembled by Vibia. This is common practice in cases where multiple specific technologies are used. It wouldn't be possible to find all the techniques in one and the same factory.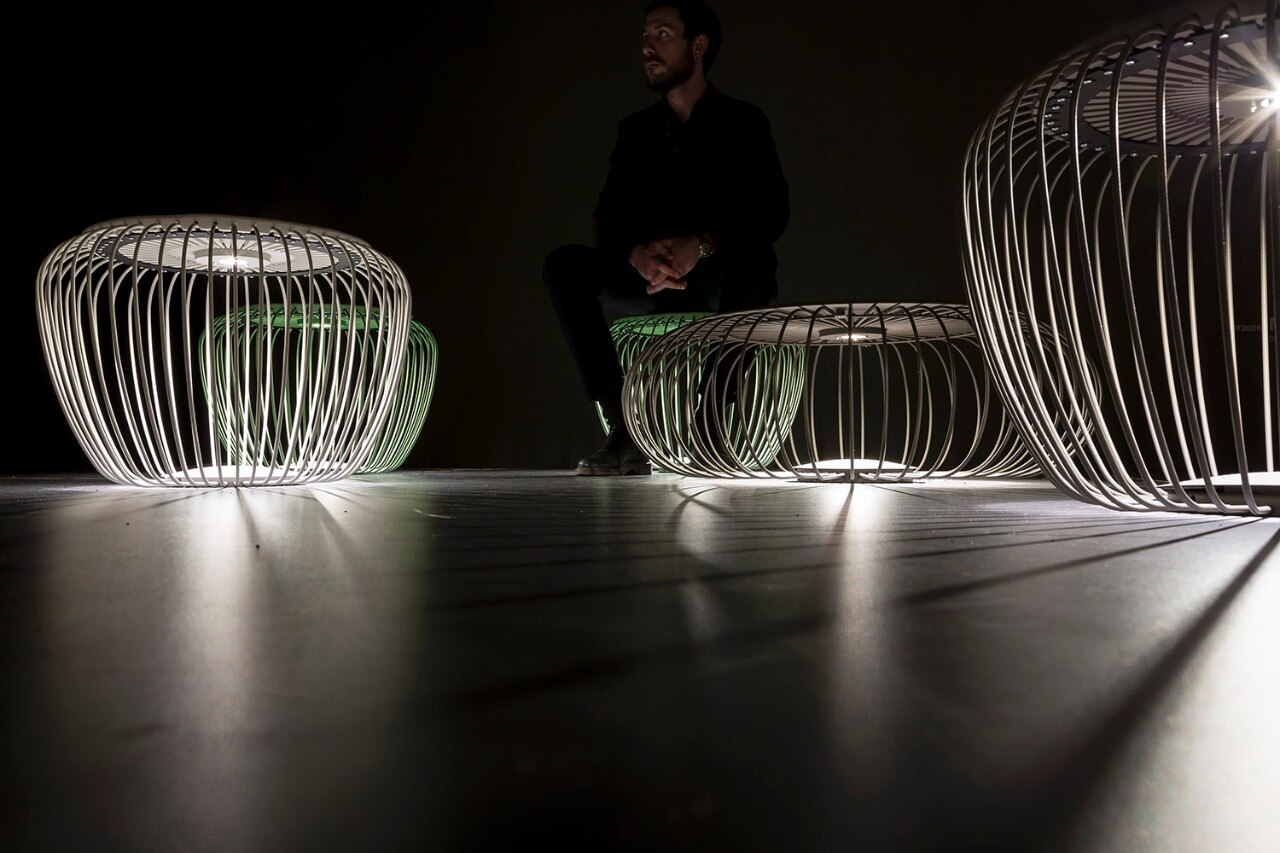 D: You have always worked on designing light systems. Which aspect prevails in your projects: aesthetics or function?
JV: My independent career as a designer began 15 years ago. My first projects were mostly illumination, and to a lesser degree technological projects done in collaboration with engineering offices. The trajectory of lighting projects in collaboration with Meritxell Vidal began 5 years ago with the Halley lamp for Vibia. In a certain way, Halley set the standard for the research and creation of all our projects after that. We strike a balance between form and function, but with specific challenges in each case: new structural typologies, the reformulation of functions, or experimentation with new formal possibilities.

D: How important is the choice of light source? How important is it today to design illumination that has a low impact on the environment?
JV: In every project, the choice of light source is determinative, so in this sense LED technology plays a fundamental role. Its technical characteristics and small size it allows for increased creativity and a wider range of possibilities with less technical restrictions. This offers the opportunity to create types of illumination that are innovative and lightweight.
As for impact, it's increasingly important to design lamps with less environmental impact, not just regarding energy consumption, but also light pollution. We are convinced that visual comfort is very important, because beyond diffusing a positive feeling to the user, it is a direct step toward diminishing light pollution. In this sense, we believe in the need for public awareness and the evolution of consumers towards softer night-time lighting that is discreet and pleasing without harshness or excessive brightness, wherever possible.