Brooklyn Heights isn't a neighborhood that sees many art events — it's residential, with a few restaurants and shops, minimal foot traffic, occasional tourists and peacoat-wearing people, often walking dogs along the old slate sidewalks. In an apartment building on Willow street, a block from the promenade (and houses down the road from where Truman Capote wrote Breakfast at Tiffany's), it can feel kind of timeless and a bit removed from the rest of New York City, and especially the sleek galleries of Chelsea. Late in 2012, New York-based painters Emily Weiner and Sharona Eliassaf started hosting one-night art shows there for precisely that reason, in an exhibition series called The Willows.

The idea for the show came out of a conversation they had over the summer. "After being in New York for over a decade, finishing our master's degrees in painting here [at The School of Visual Arts], and just meeting people, we realized that we know so many artists — and a lot of the most interesting work we see isn't being shown yet in commercial galleries," state Weiner and Eliassaf. "When it is, the conversation can be stilted because of the ceremonial atmosphere at openings. We had an idea to designate a time and place where we could see and talk about our work together, like we had in graduate school. Where you could wander into your friend's space and mull over what you were thinking about comfortably. I was thinking about the format of the salon, like Gertrude Stein's in Paris, but here in Brooklyn involving people we know or want to meet."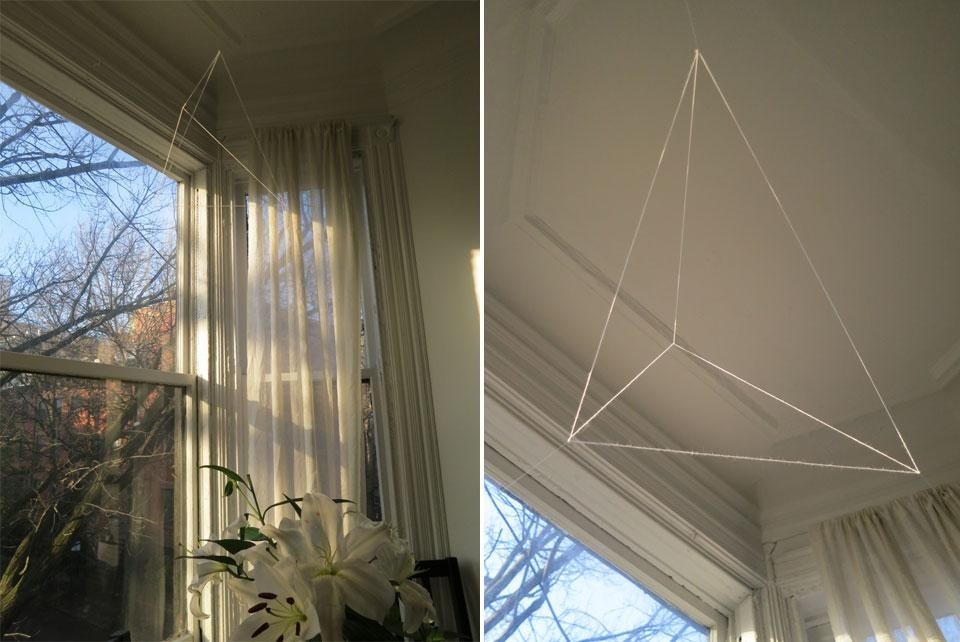 Weiner had moved into the Willow Street apartment in early 2012, and after repainting the living room — with big bay windows and a generous amount of light — saw potential in the wallspace. "I had started to make a film that summer, and collaborating with the musician Michael Hix, and I wanted people to see and hear the work, even if it seemed like an aside to my paintings." Sharona, who grew up in cities in Israel and has lived in NYC since, had spent the past summer at a residency in the woods of Skowhegan, Maine, and her work had changed quite a bit too. "We talked to others and the art they were excited about was also often the work in progress, or temporal ideas."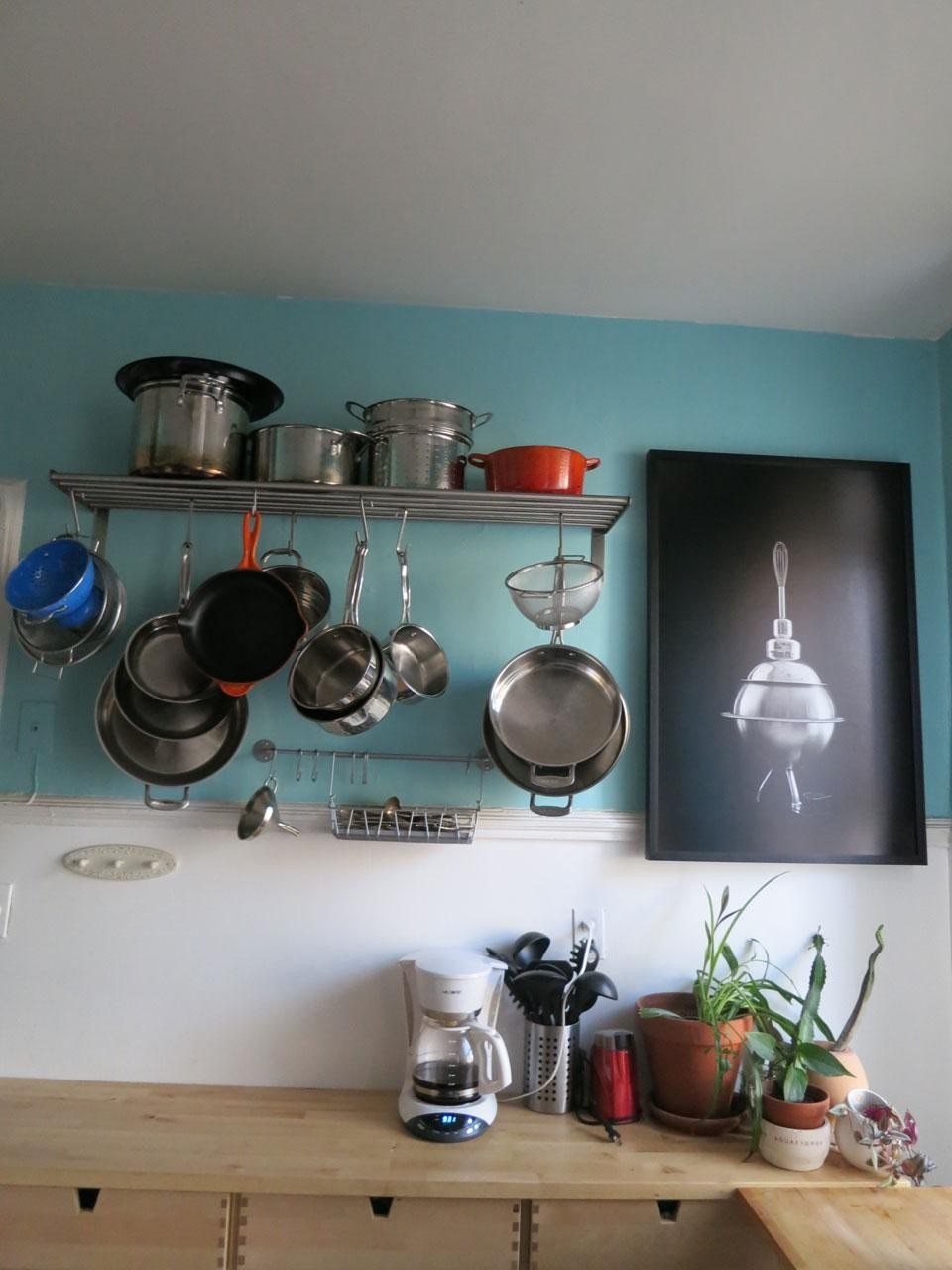 Their first show, in December 2011, was based loosely on the theme of home and company. As Eliassaf's invite explained, "We imagine the exhibition as an opportunity to get artists together to show experimental work in an informal way, and to have conversations in a hybrid gallery-apartment party." They invited about ten contributing artists to take place in the first show of the series, though everyone was welcome to attend the opening — which is also the full run of the exhibition (one night, 19:00 to 23:00). Artists were asked to "respond to one specific object that is generally found in a NYC apartment (door bell, fire escape, floor, plug, alarm, etc.), or to some phenomenon of a building or apartment itself." If the work was an object, for example, it could be placed anywhere in the living room or apartment, next to, behind, on top of, or away from the fixtures already there. "Several of the artists were not from New York — like Sandy de Lissovoy in Los Angeles, or Vanessa Disler who runs a gallery called Exercise out of Vancouver," Weiner said, "so I skyped them to tour my apartment, so they could virtually install the work they sent us."
The current show, opening Saturday 9 February (in time for Valentine's day), asked artists to contribute something that revolved around the theme of "love and collaboration, in all of its permutations."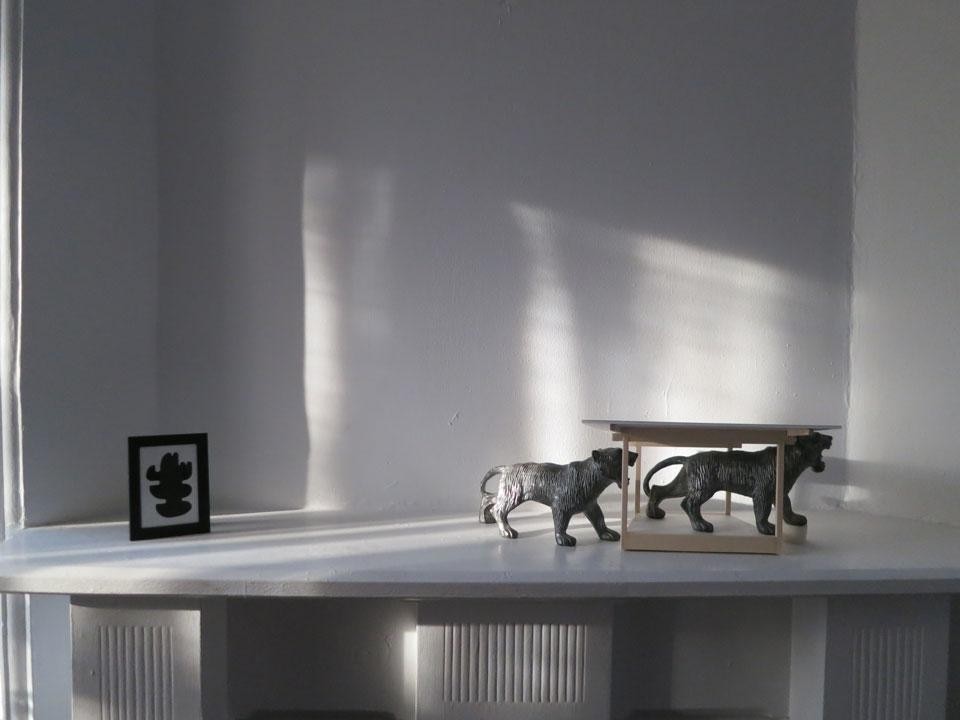 The current show, opening Saturday 9 February (in time for Valentine's day), asked artists to contribute something that revolved around the theme of "love and collaboration, in all of its permutations." Included are several collaborators: couples ranging from the platonic to romantic variety. Icelandic artist Ragnheidur Gestsdottir (who, early in her own career, worked with Björk documenting the 2001 Vespertine tour) made a film called Still Life that teleports viewers into her own home in Reykjavic: in it, the camera rotates around and around Gestsdottir's big apartment, as she and her partner Curver Thoroddsen run in circles behind the scenes — ruffling blankets, moving objects, and opening doors — and speaking in increasingly breathless voices. Another video, made by Meredith James in collaboration with artist-friend Jonathan Ehrenberg, is a somnambulist take on old master paintings like that of the vegetable-portraits of Giuseppe Arcimboldo: in James and Ehrenberg's version, paper maché fruit rearranges itself in strange, chiaroscuroed configurations. A third film — also projected in a bedroom-made-screening room — is by Swedish artist Johan Björck and Canadian Laura Piasta (who started dating at the Umeå Academy of Fine Arts in Sweden in 2010). Weiner met the two at the Banff Centre last year: "Johan thought baseball was pretty exotic, which led to the subject of their film, Practice, which captures Johan playing a solo ball game in the Canadian pine forests, with Laura recording his motions and sounds."
Some surprising relationships also came to the surface when planning the show, Weiner explains. "I was corresponding with another Icelandic couple, Guðmundur Thoroddsen and Arna Óttarsdóttir who were about to send work, and I listed the names of other artists participating. Guðmundur ended his email response: 'PS: How do you know [the painter] Benny Merris? I showed with him in Iceland and we drove around Thingvellir National Park together.'"

9 February 2013
Love at The Willows
Hosted by Sharona Eliassaf and Emily Weiner
37 Willow Street, Brooklyn Heights, New York