Portuguese architect Miguel Marcelino has recently completed a single family house in Vila Nova de Santo Estêvão, Benavente, in the centre of Portugal. In a typical "montado" landscape, the site features sweeping views to the north with a lake, and a skyline punctuated by cork oak trees.

The house is designed as a compact volume of two floors, complemented by three courtyards. Each courtyard presents a different size and purpose. Located in the south of the house, the first courtyard is secluded and intimate, embracing a big, pre-existing cork oak. Next to the back entrance there is another smaller patio, meant for daily service needs.

The third courtyard works as a key element in the relationship between the house and the north side. A slim space with a large horizontal opening that frames the landscape, it has the atmosphere of a "inner space outdoors".

Here, the light is soft, by reflection on the outer wall that receives direct sunlight. The third courtyard communicates with a staircase, which leads to an open terrace. This is the last element of the sequence of spaces: all the courtyards generate diverse, sequential atmospheres — from introspective and private to open and public.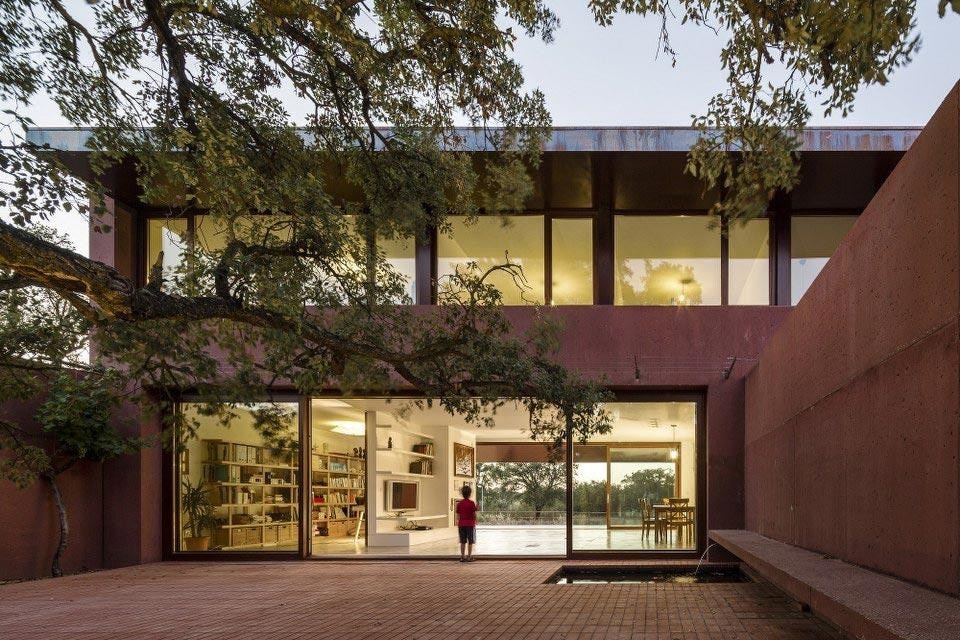 Miguel Marcelino, Three Courtyards House
Architecture: Miguel Marcelino
Collaboration: Pedro Dourado
Structural Engineering: Pedro Monteiro
Plumbing Engineering: Pedro Monteiro
Electrical Engineering: Orlando Sousa
Landscape Design: Ana Amaro
Phases: 2009-2010 (project), 2010-2012 (construction)
General Contractor: Campelo & Campelo
Gross Floor Area: 282 square metres
Gross Volume: 854 cubic metres
Building Footprint: 173 square metres
Site Area: 2175 square metres
Energy Efficiency Class: A+
Location: Vila Nova de Santo Estêvão, Benavente, Portugal
Client: Private