Maltese studio Architecture Project (AP) is the latest winner of the Creative Re-use category at the Inside Festival of Interiors Awards in Barcelona. The victorious project is located in Valletta and contains three major programmatic zones. The first is a contemporary office space in an old building which has light, comfort and easy access. The second is a high end, luxury residential space on the building's uppermost level. The third was an area with separate entrances: one for the residential space and one for the office space. Planning regulations require separate entrances to areas of different use.

The different uses envisaged in the programme were to be accommodated in different areas of the property as follows: the ground floor would be a common reception space, creating a transition between the street and the special environment on the interior. The first floor is taken up by rentable offices. Here, to maximize on space, a mezzanine level was introduced. The second floor is taken up by the clients' offices, whilst the third is the penthouse floor, the residential section of the project which is also rented out. The vistas of the Grand Harbour from the penthouse and the offices are the principal factors in the composition.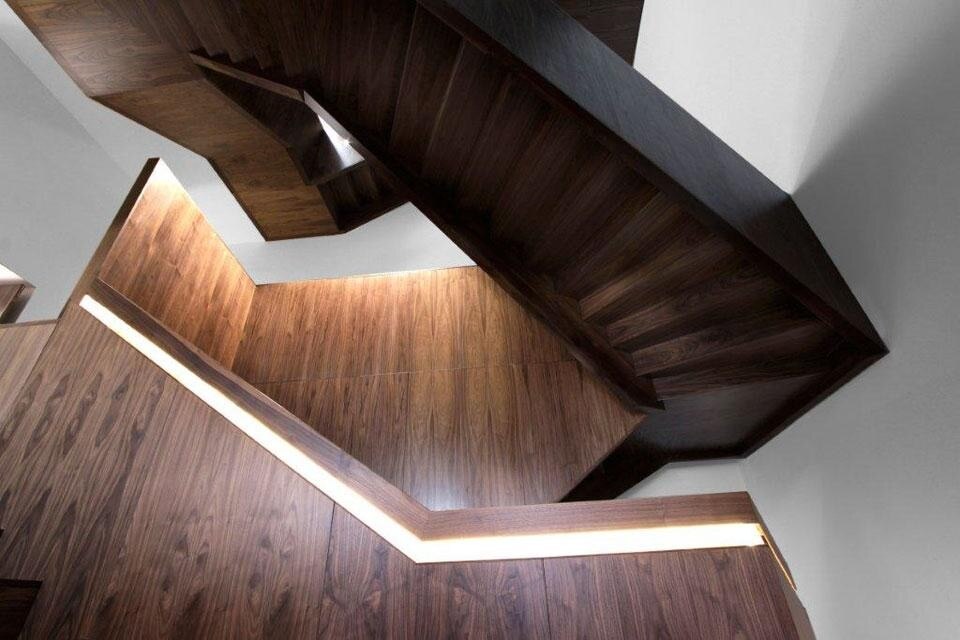 The "double-helix" style structure is one sculptural mass combining two separate winding staircases which lead to the office and residential levels independently. The design is a re-interpretation of the helical structure, and it has a dark, eerie atmosphere. The lighting in the space is minimal it guides the visitor through the space rather than actually filling the area with light. Moreover, the source of light is hidden and the resulting glow creates a sensation of walking through giant tree bark, or through a cavernous passageway where natural light has nearly been cut-out.