Sticks , a concept by Paris-based studio Djuric Tardio Architectes , envisions a series of temporary micro-nurseries that can host up to 12 children. The idea initially arose from the lack of children-dedicated spaces, in the urban fabric of Paris and surrounding areas.

The wooden structures are equipped with the latest technologies in sustainable and bioclimatic development. The nurseries were also designed to be mass produced and low-cost.

Sticks was devised to have a "keys in hand" logic, bypassing classic, complex decision-making processes. With a temporary 6 year licence, the project avoids the statutory fates which can restrain this type of urban intervention.

"From a simple socio-urban analysis," says Mirco Tardio, "it's possible to notice that gardens and public parks in Paris are placed uniformly in the intramuros and are opened in regular time slots, with curves of influx which are exactly complementary with the nurseries functioning".

For that purpose, Sticks was devised to be installed in unused spaces inside the gardens and public parks of the city, traffic circles and residual spaces.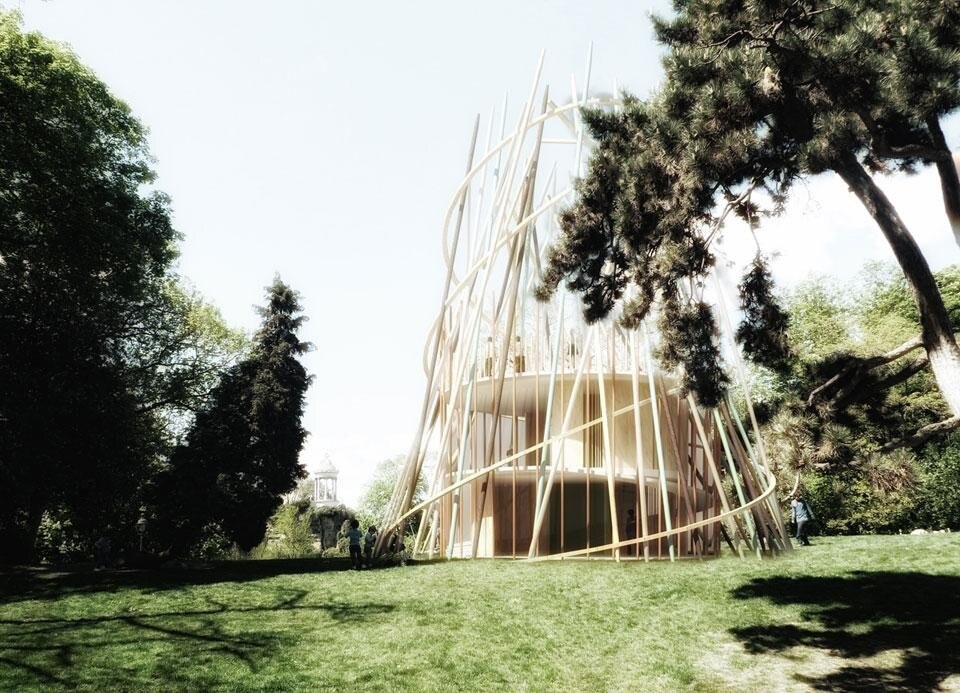 These nursery-kiosks will be by definition temporary. The mass produced wood and remaining materials allow for a clean and fast construction site, with very few reversible adaptations of the site. Kids could enjoy these green spaces in the off-speak hours of public influx, while simultaneously being close to home.
Sticks concept
Djuric Tardio Architects: Sticks concept Architects: Djuric Tardio Architects
Partner: Nest Design
Concept: 2012
Area: 114 mq
Costs: 450,00 euro
Materials: structure in pine wood; flooring in oak wood; rubber; glass mosaic; wood cladding.