Everything is changing, but nothing will disappear. This project is to transfer a traditional Shanghai style barbershop into a women's life experiencing museum. The client expects some breakthrough to happen here, a design that can be accepted by the trend, but is not limited to existing aesthetics. For Mur Mur Lab, every exceeding they made is with the anticipation from various people, after keeping discovering the boundaries between architecture, construction, design and humanity. They believe that to create a new space in the existing shell will be a self-consistent design, like building a house in a room.

The site is within a three-floor building, facing a commercial plaza. From the outside, the façade is like a face, expressing its attitude towards the surroundings. From the inside, the inner space becomes a self-sufficient system. Communication is the fastest way to gain some information, and on the other hand, introspectiveness is the best way to build up an internal order. Now space becomes the connection between those two ways, and the objectified medium between communication and introspectiveness.  
Mur Mur Lab have been focusing on this topic for some time. In this project, it's more like a collage of many magical dreams: atmosphere created within the space, noise from the nearby airport, daily reality, fairy tales and the dark. It's a future store displaying dreams, filled by a feeling that is unreal but fantastic.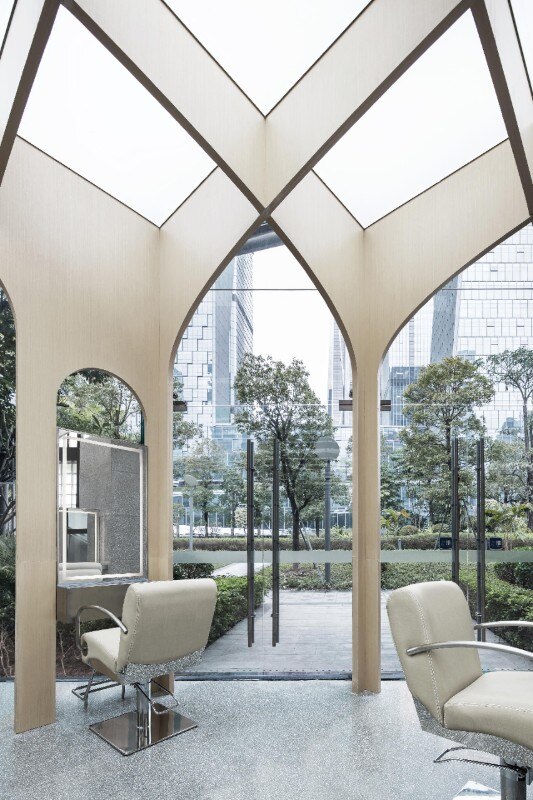 Project Name:

July

Built Area:

300㎡

Architect Firm:

Mur Mur Lab

Lead Architect:

Samoon, Lee, Mi Zhang