Limestone Gallery is located on the palisade of 'Haiwei' north, from where you can see the whole canyon, jagged rocks down the bottom, the river, the pit and Tourists' Center in one view. Heads up, you can enjoy immense peaks from miles. Between sunrise and sunsets, see the changing of clouds, you will feel the happiness from the fairyland. 
The total floor area of Limestone Gallery is about 800 square meters with two floors inside, including the exhibition, conference and service area. Rooftop is used for sightseeing and the very bottom floor is designed as an outdoor lounge space. Because the site condition is too complicated (Variation in topography and existence of unstable giant rocks), the shape of the building looks like a non-symmetrical crescent. A large portion of the construction work, such as site leveling and large size materials transporting, was done manually by local labors, due to the particular location of the site. The team went back and force on site measuring and schematic design to work out the final floor plan.
The facade of Limestone Gallery is designed with curved glass wall, creating magnificent panoramic view of the Haiwei canyon for users. Meanwhile, glass texture helps communicate with its context, by using transparency to make contrast with solid mountains. The reflection of the glass also makes the building hidden on top of the cliff. There is no bump or obvious volume changes on the periphery to make it a sophisticated architecture piece. We believe that no man-made pieces are not comparable with the magic of nature, who 'designed' great mountain, river and special landscapes. Thus, the best way of communication is to be modest, using the simplicity of architecture to reflect the complexity of nature.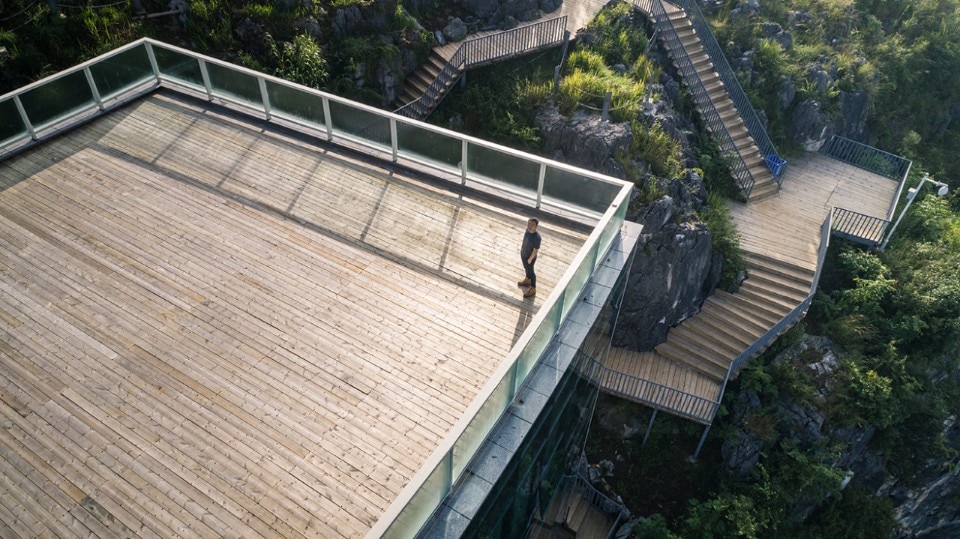 Project Name:

Limestone Gallery

Client:

Anlong HeyunTourism and Cultural Development Co.,Ltd

Principal Architect:

He Wei

Consultant:

Nie Jian, Wang Bin

Building area:

1350 sqm

Resident Engineer:

Jin Leizhu, He Xiugen

Interior Construction Drawing:

Hongshang Design

Interior Furnishing:

TYMJ Home Furnishing