In 2015, Detroit was named a UNESCO "city of design", an important recognition that banks on design as a factor that could help relaunch a place marked by a profound economic, social and cultural crisis.
Working in the former Motor City with originality, intensity and creativity is the Akoaki collective, coordinated by Anya Sirota and Jean Louis Farges. Their work involves the reappropriation of the public space through the sharing of spaces and organisations that do not make people and their relationships superfluous. In this process, design works to create inclusive enterprises, ones that are naturally technological and intentionally social. It is producing an ensemble of places, concrete opportunities and possible alternatives. Thanks to the work of Akoaki, Detroit is creating a way out for a system that has failed miserably. We met Anya Sirota, who gave us a preview of their approach to participation in the tenth Saint-Étienne Design Biennale.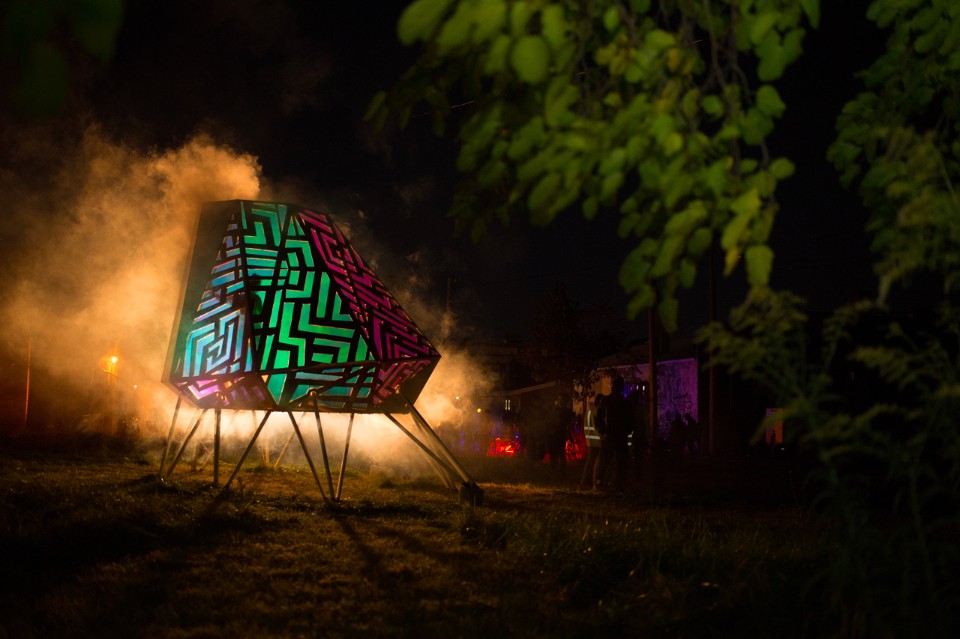 Marco Petroni: What is your approach to the public space and how would you define it within the O.N.E. Mile project, one of the projects you are developing in Detroit?
Anya Sirota: Our work on O.N.E. Mile is the product of a powerful bond with the city: the identity of a place can be theoretical, projected, performed, constructed, made visible, even mythologised, and design can participate in the manifestation of symbols and synergies that work towards the greatest possible inclusiveness and social diversity. So we imagined the creation of a public space as a scenario in precarious balance, one brought to life by events and networks that have a broad margin of instability. By combining the features of the setting, the legendary North End of Detroit, with a series of installations and cultural events embedded in the local context, we worked to investigate and renew the collective experience of a city endowed with many spaces – but of which few are public. In this situation, a public space is not a neutral amenity, but a place of expression, protest and validation.

Marco Petroni: An intense engagement with the translation of local attitudes emerges from your work. In this process, design is a crucial means of examining cultural connections that take shape in public installations, music and objects. Do you agree with this point of view? Can you explain the type of processes you have activated in the North End district?
Anya Sirota: The term "translation" is very appropriate. In our work, the research phase is lengthy, intense and really in a state of flux. We start by developing multiple relations with a huge network of cultural and intellectual producers, some strongly connected with the material reality of the space, others completely free. The aim is not complete consensus. Rather, this is about assembling and activating a critical, plural mass. Using this kind of operational framework, people can connect, design improvements, change and grow. The key process of the project lies in establishing a method of communication between a large number of actors who are not always in favour but ultimately share a series of political values.

Marco Petroni: Do you think that your design approach is connected with the real requirements of the local community? How do you identify those needs?
Anya Sirota: The situation in the North End and in many communities in Detroit is very serious: the infrastructure is decrepit, the public education system has been pummelled, access to water and energy is erratic, there are problems with healthcare, there is a lack of economic opportunities, and so on ... These basic needs remain unresolved and are made visible by the absence of investment in the area. They are the consequence of specific social injustices that Detroit has suffered for many years. Design alone, unfortunately, does not have the force to answer these pressing social needs. What design can do is to create an environment for every single individual, a protected space where they can give voice to their own opinions, experiences, aspirations and problems, allowing us to modify the common perception of the city and reveal a multitude of stories that would otherwise remain hidden.

Marco Petroni: How are you working on your forthcoming participation in the tenth Saint-Étienne Design Biennale with the Out Site project?
Anya Sirota: In recent years, Detroit has received the attention it deserves. It has been used as an arresting backdrop for numerous exhibitions, workshops and debates, and design experts have often employed it as the ideal tabula rasa for a series of experimental ideas. Faced with the curatorial task of framing this urban context in a new and frankly non-colonial way, my partner – Jean Louis Farges – and I laid down some rules. We aim to show projects 1-1; that is, no models, drawings or prototypes, just direct translations. We want to deploy all the interventions in Detroit initially, and then send projects to the Biennale that are already "tested/completed". In other words, we privilege their evolution in the field and export them to deepen their effectiveness based on their real functionality. Lastly, we avoid working with scale projects, or with representations that show the citizens of Detroit as instrumental users. Instead, we want to treat the Biennale as an opportunity to raise funds and bring in as many as possible of the partners, performers, artists, farmers and urban activists who we have involved in recent years. The result is an exhibition that will occupy the central courtyard of the Biennale building with three large-scale installations, experimental music performances, and a cultural programme showcasing a multiplicity of scenarios and forms of professionalism adopted by Detroit. In the process, we hope to produce a commentary on the ways in which design can be employed beyond the normative relationships of capitalism.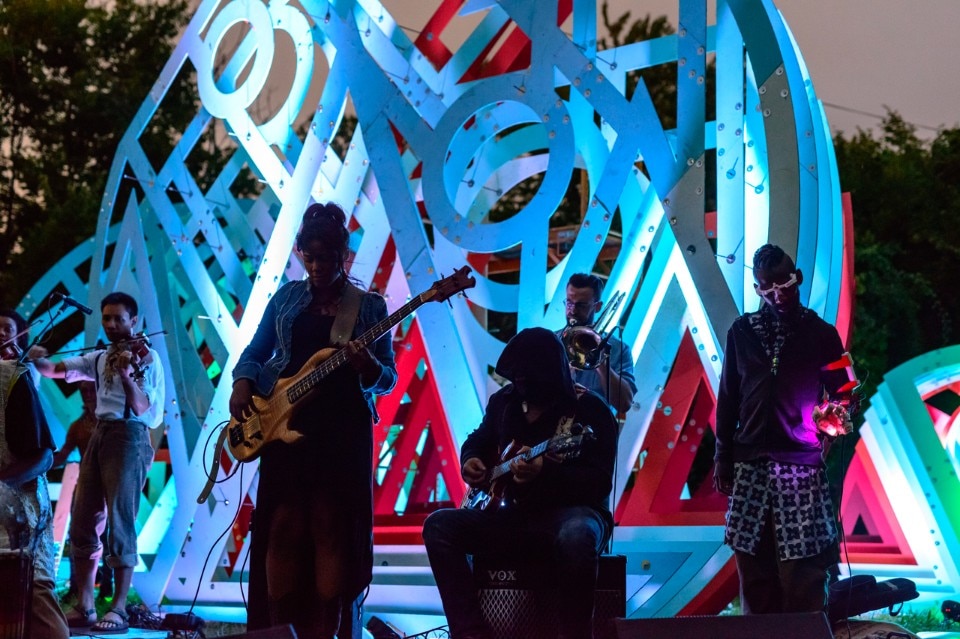 Marco Petroni: You define design as a catalyst for change. To us, your work seems a social and economic platform for the local community. Do you agree?
Anya Sirota: It is a fact that change has emerged as a central battle cry and a mechanism for resistance. If change aims at the transformation of something, it does not imply at all that it will be for the better or for the common good. We have seen, for example, how Barack Obama's call for change was easily co-opted by the current government of the United States. For us too, change is a key word but not the final objective. We reflect and work on the will to absorb and reinvent standard models of urban regeneration so that people who are often excluded by the process can identify a platform for expression, if not for reconciliation with their context.

Marco Petroni: Your project is an ambitious one and opens up a space for new practices in design. What is your personal opinion of the design of the future, and how should it differentiate itself from today's design?
Anya Sirota: The projects that we have created as designers have deep political affinities, and inevitably they sustain values open to wider sharing. In the immediate future, design will continue to contribute, intentionally and otherwise, to current trends, reinforcing our entrenched social and political divisions. In Detroit, this takes the form of a confrontation between the aesthetic of a regime devoted to nostalgia and one more open to the future. Someone has said, in adoration of past industrial glories, that the city is geared towards "making America great again". But our view is that the encouraging thing about design is its capacity to create the desire to break the social bubbles generated by the algorithms entangling us. So, I hope to see design use its intrinsic ability to take the fullest part in public debate and in the political affirmation of a more inclusive world.

Marco Petroni: Could you tell us who benefits from your interventions and how? Has the area become more attractive? Were these your aims?
Anya Sirota: In economically depressed environments, design is often deployed to enhance the appeal of an area and point to its availability for regeneration. The idea that design can lead to gentrification and the involuntary transfer of people is not new. In the North End of Detroit, it is difficult to say whether we have improved the area's attractiveness. Many other regeneration projects are already taking place. We have definitely contributed to its visibility. The point is that this was one of the goals – making the cultural value of a place more visible by reinforcing its stories, from the African diaspora to its musical history, from techno to the birth of the Afrofuturism movement. We have learnt the hard way how this activity attracts attention from outside, bringing in economic investment too. Our projects also involve lawyers, economists, developers and sociologists. We have developed with them new models of collective ownership that secure areas and spaces to the advantage of local residents.

Marco Petroni: What is your goal for the future and how do you intend to improve your work in Detroit and abroad?
Anya Sirota: Sun Ra taught us recently that the linear notion of time is overvalued. The future is already here. We must tackle it now.