Josè shows me the house before we start the interview.
Three steps and we are on the soft rubber roof. He says "Look, the crown of the tree is resting on the ground like a bush." This unexpected up-side-down effect overturns the (natural) order of things by which the crown of a tree should tower above our heads. Reassuring clichés fall by the wayside and academic architecture disappears as the foliage of the trees is now in contact with bare feet, in a new harmony between humans and nature, on rubber roofs. Good, now we can start.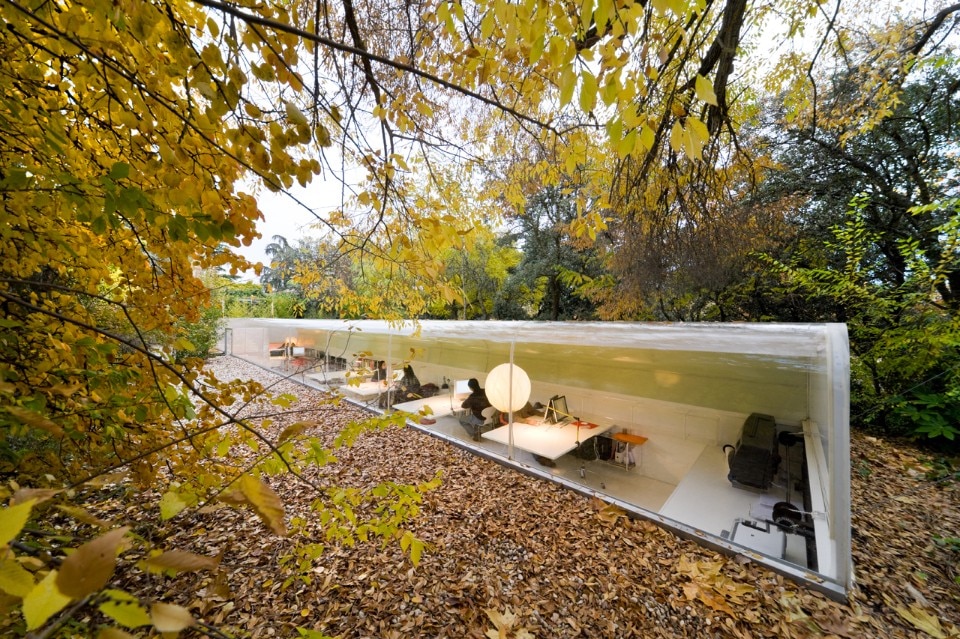 Emilia De Vivo: SelgasCano is well known in Spain, less so on the international scene and almost totally absent from the Internet. Before the Serpentine storm erupted, that is. This is an uncommon choice compared with the obsessive self-affirmation that fills the media. Is there a reason? 
SelgasCano: We like designing for people among people. We are rooted in society and we are more present in this way than if we were all over the media. We blend in with the crowd. An architect's power lies in being inside things in order to change them. It's not a question of false modesty but one of realism, of knowing exactly who we are and being aware of our place in the world. Our reality is in the day-to-day life of the normal world, with all our anxieties, disquiet and desires. A media image could, of course, spread our name globally but inevitably detaches it from reality and creates a detachment between architecture and people.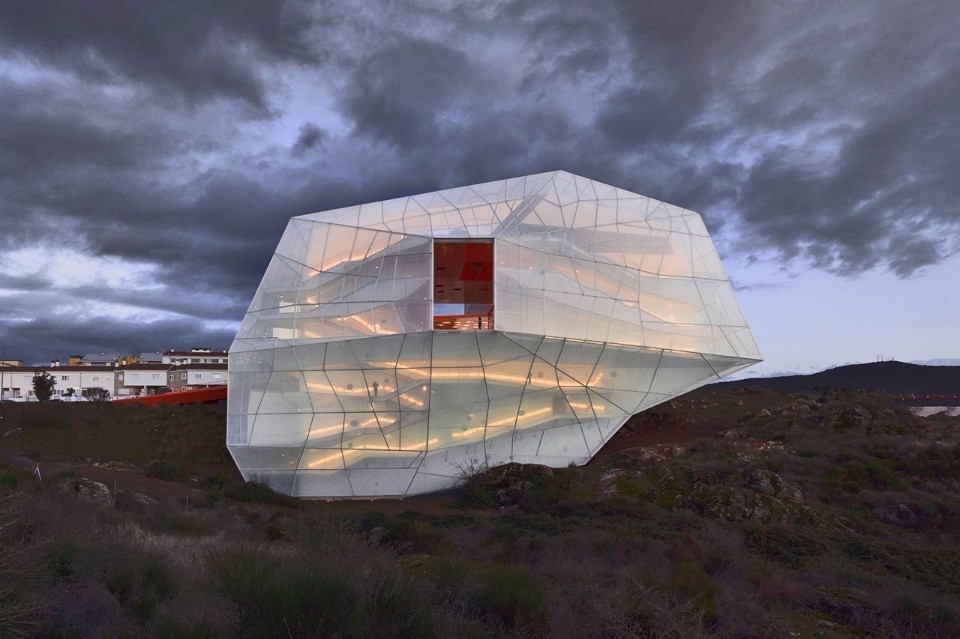 When they contacted us for the Serpentine Pavilion, we thought long and hard about this because we realized that everything would suddenly change. We are a presence in Spain, everyone knows us, but with the Serpentine commission we became aware of the global visibility to which we would be exposed, with no way back. It's always been our intention to stay hidden from both the media and the academic world, and focus exclusively on our projects. Over the years, we have always refused to lecture in universities. The only time we agreed to do it was last year, at MIT in Boston, where we opted for a total immersion in a new academic life that would become our lives. We decided to move there for a year and live this opportunity to the full as a life experience. It was a fantastic year, full of stories and travels.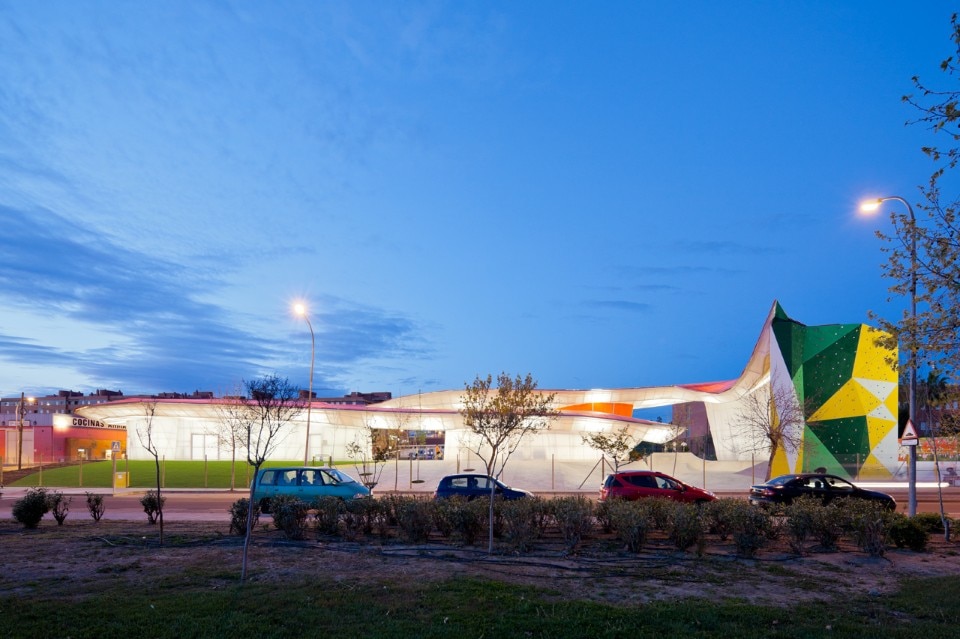 Emilia De Vivo: Architecture as a life experience is an old approach that is radical, revolutionary and innovative all at once. Who are your masters?
Josè Selgas: I worked in Naples for a while with Francesco Venezia and learnt that things do not come out of you but from the way you interpret the things around you. With a little sensitivity, you can see them. There's no inspiration genius or "creative personality" but our training stems originally from Lucía and her family, three brothers who are architects with one of the five best-known practices in Spain and her father, Junio Cano Lasso, a master of Spanish architecture.

Lucía Cano: Yes, we worked with him in the early years. We have always been very close to him, both in our work and shared lives. My father's office was part of the home and part of our lives when we were young. Everything he did, designed and the way he gradually adapted the home to the way we changed was done in constant harmony with nature. This is an important element that is now in what we do. It's a lifestyle that actually shapes you culturally.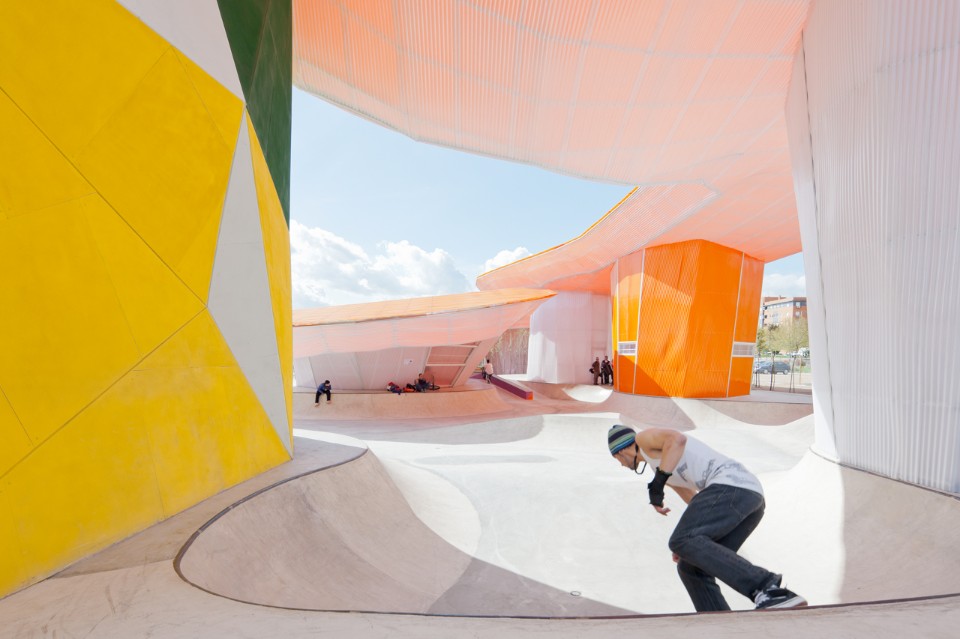 Josè Selgas: Lucía knows all the plants and trees that surround Silicon House by heart; she knows every characteristic and every need of the plants we have around us. Nature is part of our architecture and this is only possible when it comes from a lifelong education, one that generates contact, a sort of enduring pact between thought, nature and humans. We grew up with the idea that the only form of architecture and of possible space is that shaped by people's natural needs. The relationship between humans, space and nature shows that, essentially, everything is part of a unicum that is life. This applies to the city, too. Architecture should not be the protagonist (and nor should the architects) but stand among things, among the people for the people. Architecture as an isolated episode, a gesture, doesn't interest us. We believe in total freedom to try and respond to concrete needs, which we express via play and the use of colour. We have no set forms, styles or concepts; our architecture is generated by reading the places and the lives of those who will live there. We were inspired by Cedric Price, Future System and Archigram, with whom we share the search for freedom and irony.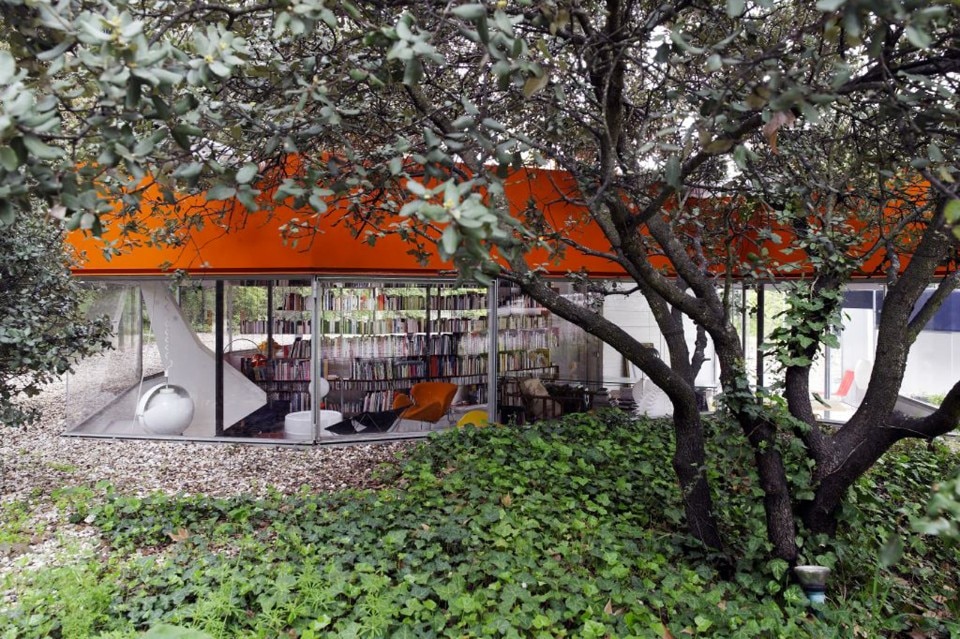 Emilia De Vivo: If architecture is experience and real life, what happens to academia and a university education?
Josè Selgas: The locus of freedom ought to be in society rather than in a specific (architectural) place. I believe that this concept is totally obscured and hidden by today's academic training, necessary of course but as it is imparted it ends up crushing the reality of things. We have worked to free ourselves of all the clichés absorbed during our university education, dogmas that have blocked us without us knowing why. Designing is spontaneous and natural. Rejecting the clichés allowed us to grow and become what we are today. The architecture already exists but it can only be discovered through an encounter with reality. Knowing and coming up against reality also teaches the economy of things; architecture is that too but they don't really tell you it at university. They lead you to believe anything is possible in the design world. Financial issues are seen as mere dissuaders in the negative pairing: no money = no architecture. Architecture serves to resolve problems and make people feel better; if there is no or little money, you find a way to design something good with the money available. That is what we did in Badajoz on a very tight budget.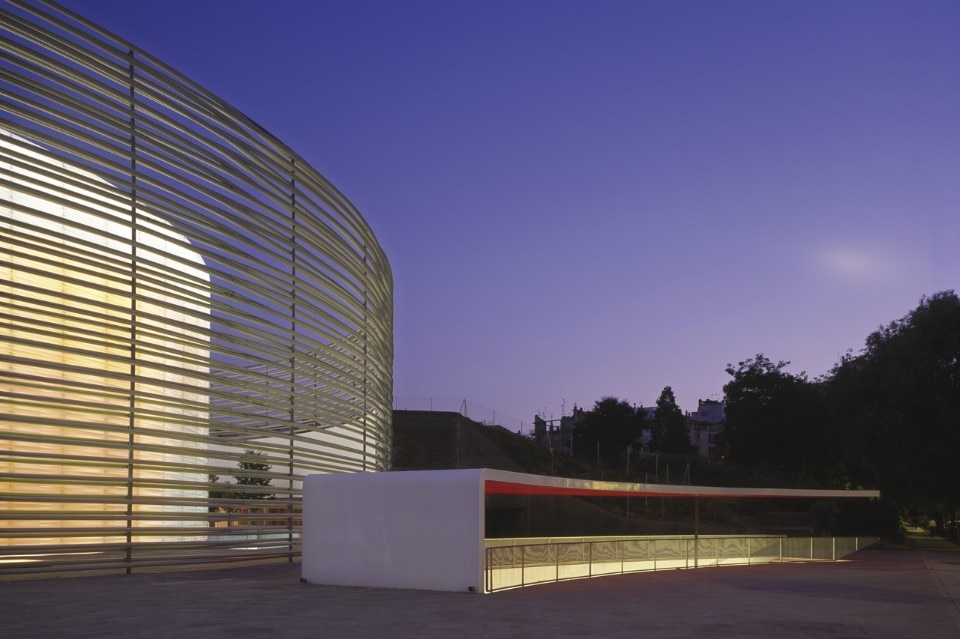 Emilia De Vivo: So, financial problems stimulate design research.
SelgasCano: Cedric Price said that architecture does not exclude the use of any material. So, we realised that not excluding any material can mean excluding the most costly ones but, to say it is a choice would be wrong; the truth is we have always done it when working on low-cost designs. This has prompted us to look where there was nothing, and seek different materials but always the least expensive one. In Badajoz, we brought together Plexiglas tubes transparent to build entire facades in unexpected weaves.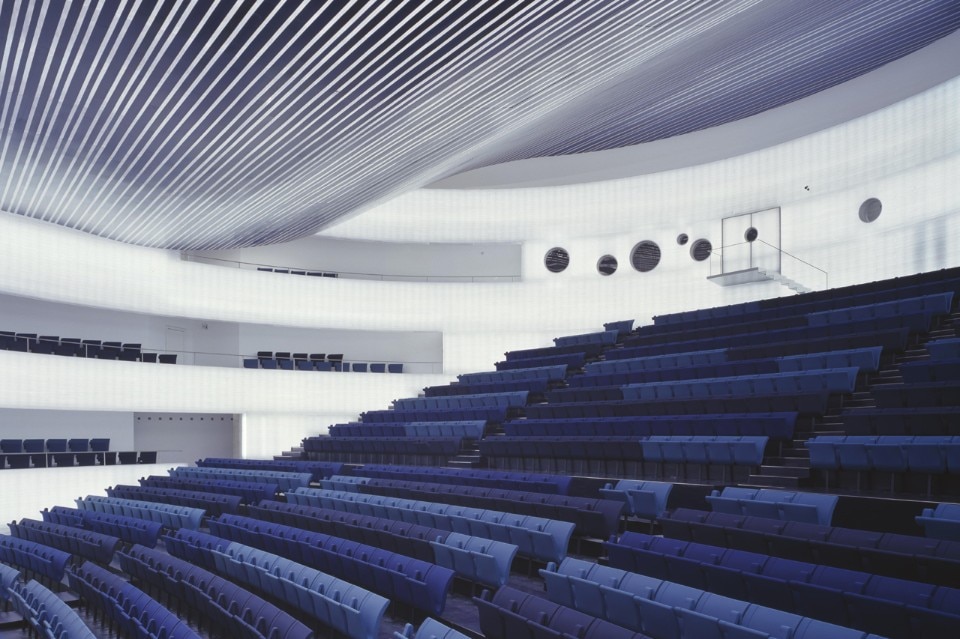 Emilia De Vivo: Your architecture seems to have a metaphysical look in terms of space, lightness and mood, and a craft manufacture as regards touch and matter. A major part of your work takes place on site, in contact with the workers. Does creating architecture call for that, too?
SelgasCano: The way something is built is key and we are convinced that much depends on how those involved work and how they are involved in their work. Active worker participation and being in tune with their manual skills and expertise are crucial factors in the success and quality of a work. We learn a great deal from the workers; it is they who suggest new angles when an unexpected problem arises. The new and concrete design environment created on site is complementary to that of the design. A university education teaches nothing about the true links with this world. Basically, things are built by people.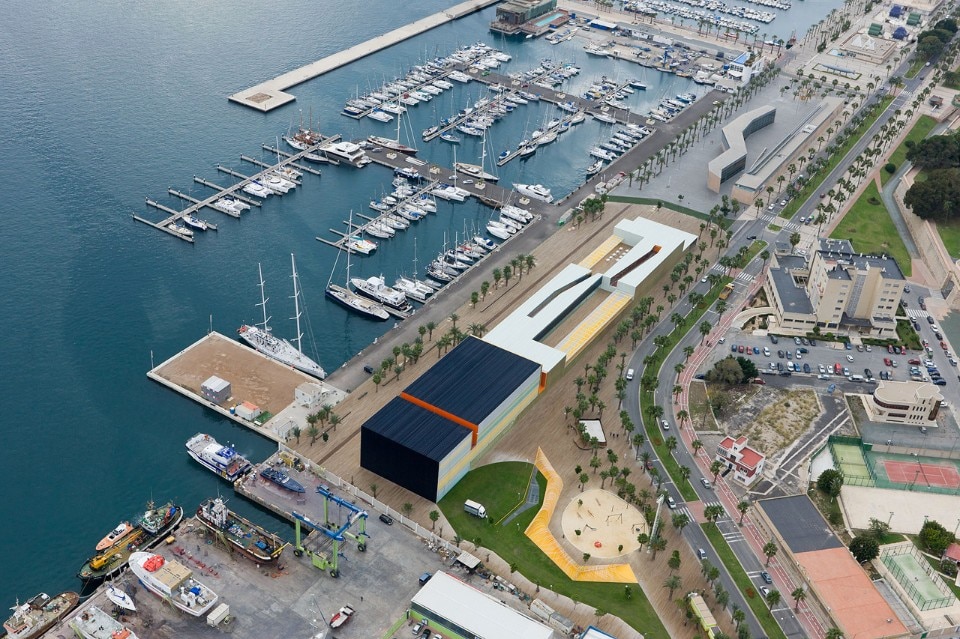 We see craft as assembly using human hands, hence the imperfections, which we consider a value. We like the idea of using industrial material to craft things. Our projects in Cartagena and in Badajoz have a whole host of imperfections, movements and irregularities, many of which intentional, sought, provoked and accepted. There is no perfection. Take a close look at Palazzo Farnese and you realize that the strict linearity admired in the whole consists in many micro imperfections. From close up, you see that the surface is uneven and it is askew, so you realise that the human presence goes far beyond the architecture. The building in Cartagena is very long, 200 m, but everything can be taken back to the size of a hand because everything is done by hand on site. This process doesn't end with a single work, it is ongoing research.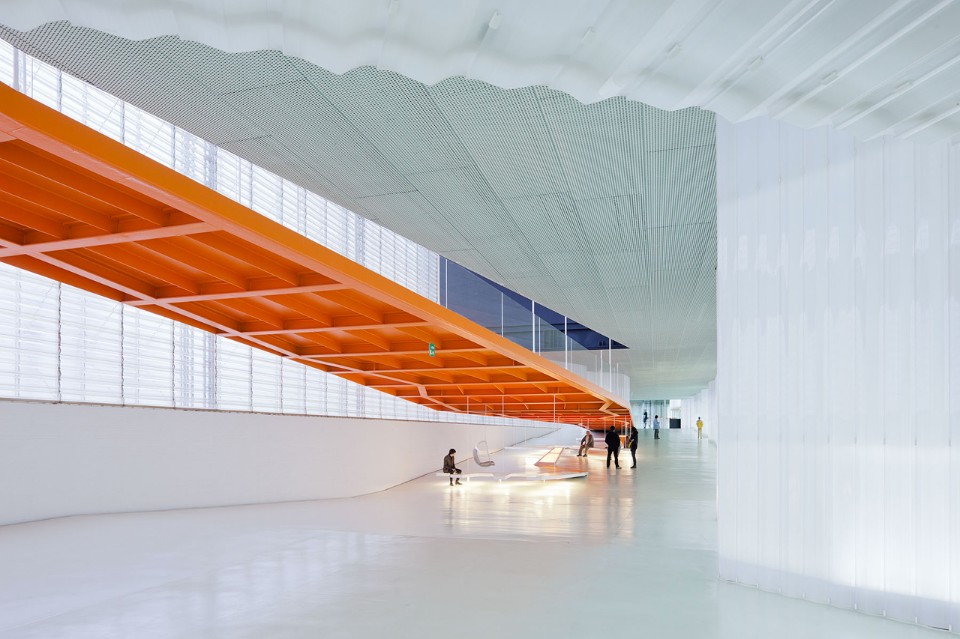 Emilia De Vivo: Your professional development has absorbed, moved through and destructured your academic training, to the degree of suggesting it is refounded in the name of an architecture of doing. Why don't you turn this into a school?
SelgasCano: That is what happened, albeit unknowingly, at our course at MIT in Boston. The way we do things was a brutal shock to academia, the epitome of technology, abstraction and scientific experimentation, all things that do not directly interest us. We are, perhaps, interested in how those scientific parameters relate to reality. The human scale is not a parameter at MIT, where they study maximum systems, big data and the global impact of human actions. We based our teaching on the physical creation of the designs we were studying with the aim of conveying the financial aspects of what we were doing. We tried to use the scientific assets available in terms of analysis and simulation technology to resolve the elementary problems of a tribal community in Turkana, Africa. The two worlds could not be any more different. The technology helped us understand the environment, its climate, the sunshine, temperatures, currents and ventilation, an extremely sophisticated level of study to resolve the most primary problems such as constructing a shelter in one of the world's great desert zones.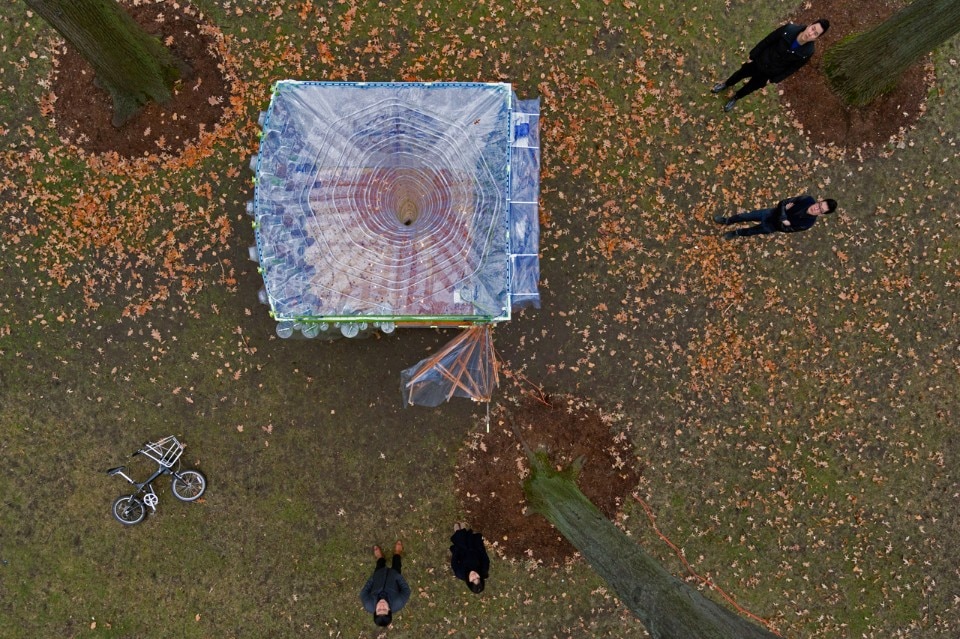 We were highly criticised at the final project presentation as it seemed a whim. Turkana was not considered close to reality and so could not be a model but our task was to push the boundaries and show how tackling situations, all the better if extreme, generates design. Our provocation was to being together the most cerebral and technological people in the world with the world's most primitive and instinctive people. This is the only way that academia can make sense, when we demonstrate its usefulness for primary human needs.

The Boston experience was an important parenthesis in our work. The academic life was part of a life lived with the students, which was a part of our own lives. If we speak of academic re-foundation, we mean it in the sense of a fusion of teaching and real life, without which academia is only arid. The legacy of our teaching cycle at MIT is an architectural practice founded by a group of students who lived the experience in Turkana with us.