This classic Parisian apartment, deconstructed and renovated after carefully analyzing its exposure and panoramic position, is characterized by a subtle interplay of references. Matali Crasset redesigned a conventional apartment by daring to take risks together with her client. In fact, the secret of the project's success stems from the close dialogue between the French designer and Michèle Monory, daughter of Rémy Monory, former president of the French Senate and owner of the original apartment: the friendship and collaboration between the two have lasted for over a decade.
Michèle not only is a keen admirer of the French designer, but also has constantly managed to involve her in many of her projects: for example, Matali Crasset has created a range of rings for Monory's French jewellery brand Le Buisson, and wonderfully renovated her farmhouse in Ludin, not far from the Loire Valley (this is what the "Bousquet" refers to), often used as a set by Matali Crasset (Voyage en Uchronie) and the many artists who often collaborate with the designer.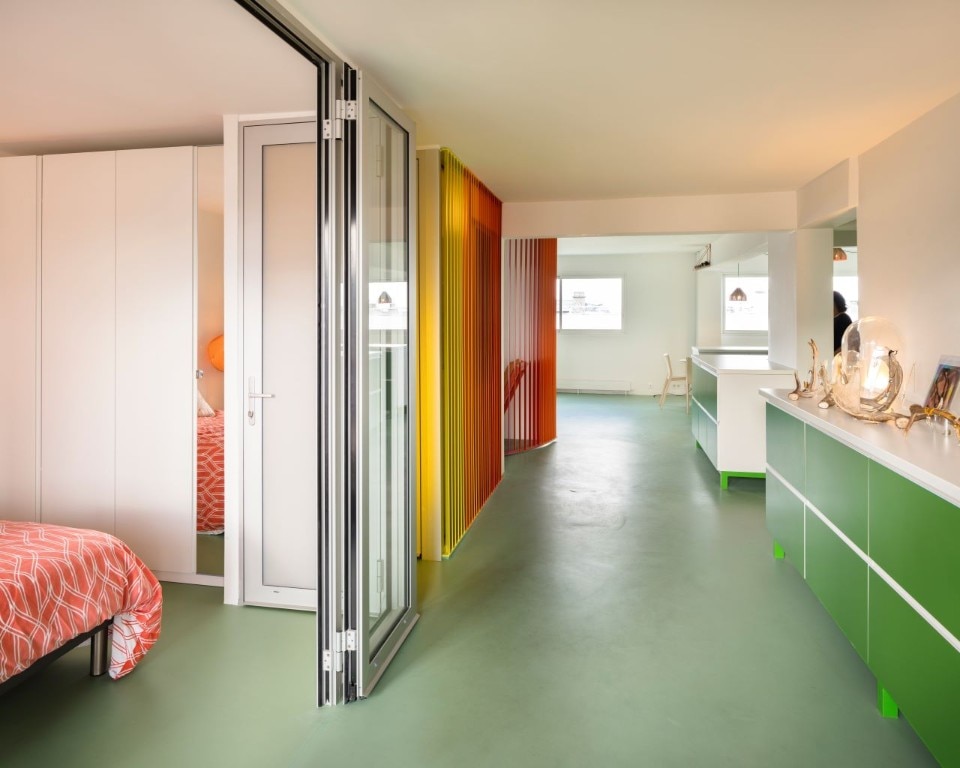 "I wanted to create a space suspended somewhere between two of the main places that define the modernity of Paris, the Eiffel tour and the tour de Montparnasse: you can see both of them from the windows of this apartment," says Matali Crasset, "after having completely cleared out the original plan, I made the radical choice of playing with color and a near-absence of furniture". There's just a double chaise longue that seems to be floating in the void, hidden behind a 'modular rainbow'. Some radical Italian pieces of furniture, such as the low table by Superstudio or the lamps Matali designed for Danese enhance the iconicity of the project, and they come straight from Michèle's personal collection.
For the kitchen, Matali Crasset chose the lamps that she designed for Regenesi and "the rest is just a skillful calculation. I wanted the rainbow to be not just an accessory, but also a structural element". An open space in which to live and enjoy the spontaneity that characterizes Michele Monory's events: here she organizes yoga classes and meetings with artists and friends. Is this a successful experiment that joins the series of "who's afraid of colors?" projects? The bright, playful colors seem to reference the dreams of the young Dorothy, from the famous movie The Wizard of Oz. For Matali and Michèle Monory, it is evident that somewhere under the rainbow "there's no place like home".
Project:

Rainbow et le Bosquet

Location:

Paris

Program:

Apartment

Designer:

Matali Crasset

Area:

80 sqm