The world of Olivetti has always been attracting the attention of different worlds: more than in any other developer of technological products, art, architecture, literature, philosophy and social sciences – and design, of course – have always converged in Olivetti. Through the years, many institutions have wanted to study and narrate such world: in 2022, ADI Design Museum has dedicated an exhibition to the sixteen Compasso d'Oro awards won by Olivetti; but in 1970, as the Ivrea-based global giant was at the height of its success and expansion, it was the Musée des Arts Décoratifs in Paris to ask Olivetti to tell its story in an exhibition, which should have been nomadic, capable of being replicated in different locations. Gae Aulenti conceived a layout that combined the machine suggestions of the radical scene and the metaphysical geometries of a newborn postmodernism, with suggestions of form and graphics that would be repeated on several occasions to this day. Domus published the project in December 1970, on issue 493.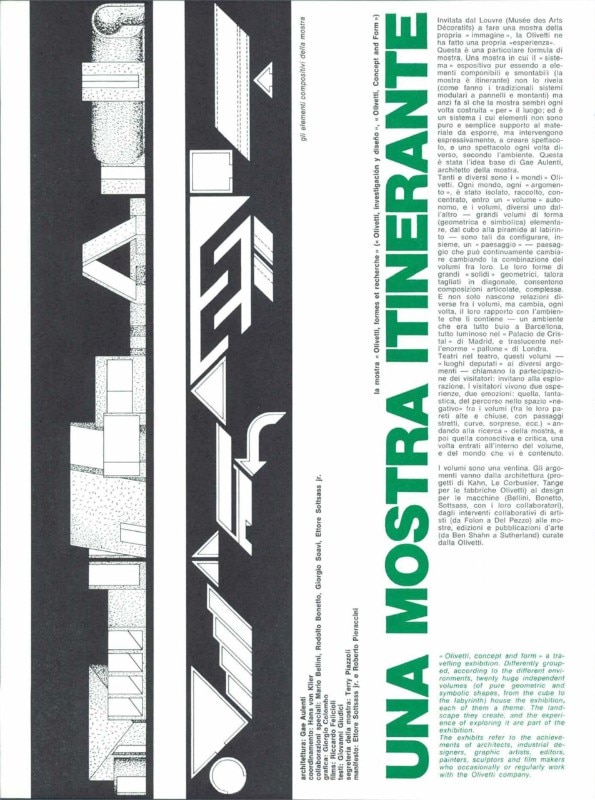 A travelling exhibition
"Invited by the Louvre (Musée des Arts Décoratifs) to make an exhibition about its 'image', Olivetti turned it into an 'experience' of itself. This is a particular exhibition formula. An exhibition where the exhibiting 'system' does not reveal – as traditional modular systems with panels and mullions would – its composition, made of modular and dismountable elements (the show is itinerant): it rather makes the exhibition seem to be built 'for' the place each time; and this is a system whose elements are not a mere support for the exhibited material, intervening instead expressively, to create spectacle, a spectacle that is different each time, according to the setting. This was the basic idea of Gae Aulenti, the exhibition architect.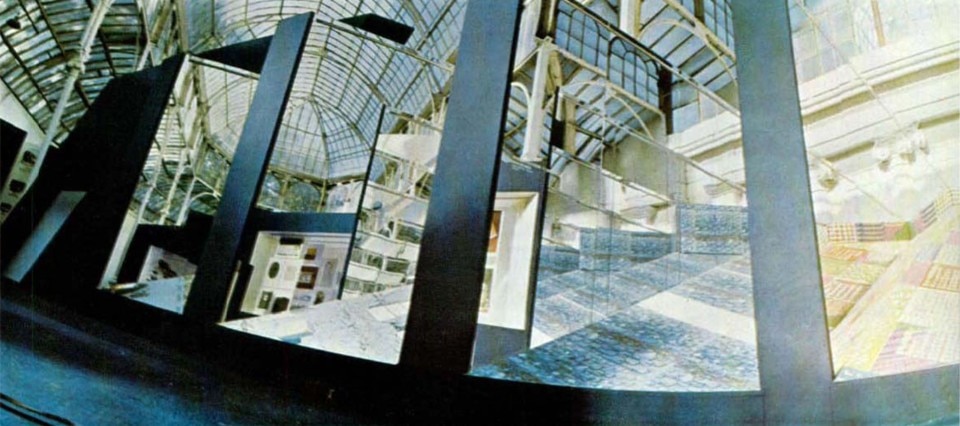 There are multiple and different 'worlds' within Olivetti. Each world, each 'subject', has been isolated, synthesized, concentrated, inside an autonomous 'volume', and the volumes, different from one another – large volumes of elementary (geometric and symbolic) form, from cube to pyramid to labyrinth – are conceived singularly in order to create, once together, a 'landscape' – a landscape that can change constantly, by modifying the combination of volumes with one another. Their shapes of large geometric 'solids', sometimes cut diagonally, allow for articulated, complex compositions. And not only are different relationships created between the volumes, but their relationship with the environment containing them changes each time – an environment that was all darkness in Barcelona, all light in the 'Palacio de Cristal' in Madrid, and translucent in the enormous 'balloon' in London.
Theatres within a theatre, these volumes – 'sacred places' to different topics – call for the participation of visitors: they invite exploration. The visitors have two experiences, two emotions: the fantastic one of walking through the 'negative' space between the volumes (between their high and closed walls, with narrow passages, curves, surprises, etc.) 'searching for' the exhibition, and then the cognitive and critical one, once they have got inside the single volume and the world it contains.

About twenty volumes are on display. The topics range from architecture (projects by Kahn, Le Corbusier, Tange for Olivetti factories) to machine design (Bellini, Bonetto, Sottsass, with their collaborators), from collaborative interventions by artists (from Folon to Del Pezzo) to exhibitions, editions and art publications (from Ben Shahn to Sutherland) curated by Olivetti."